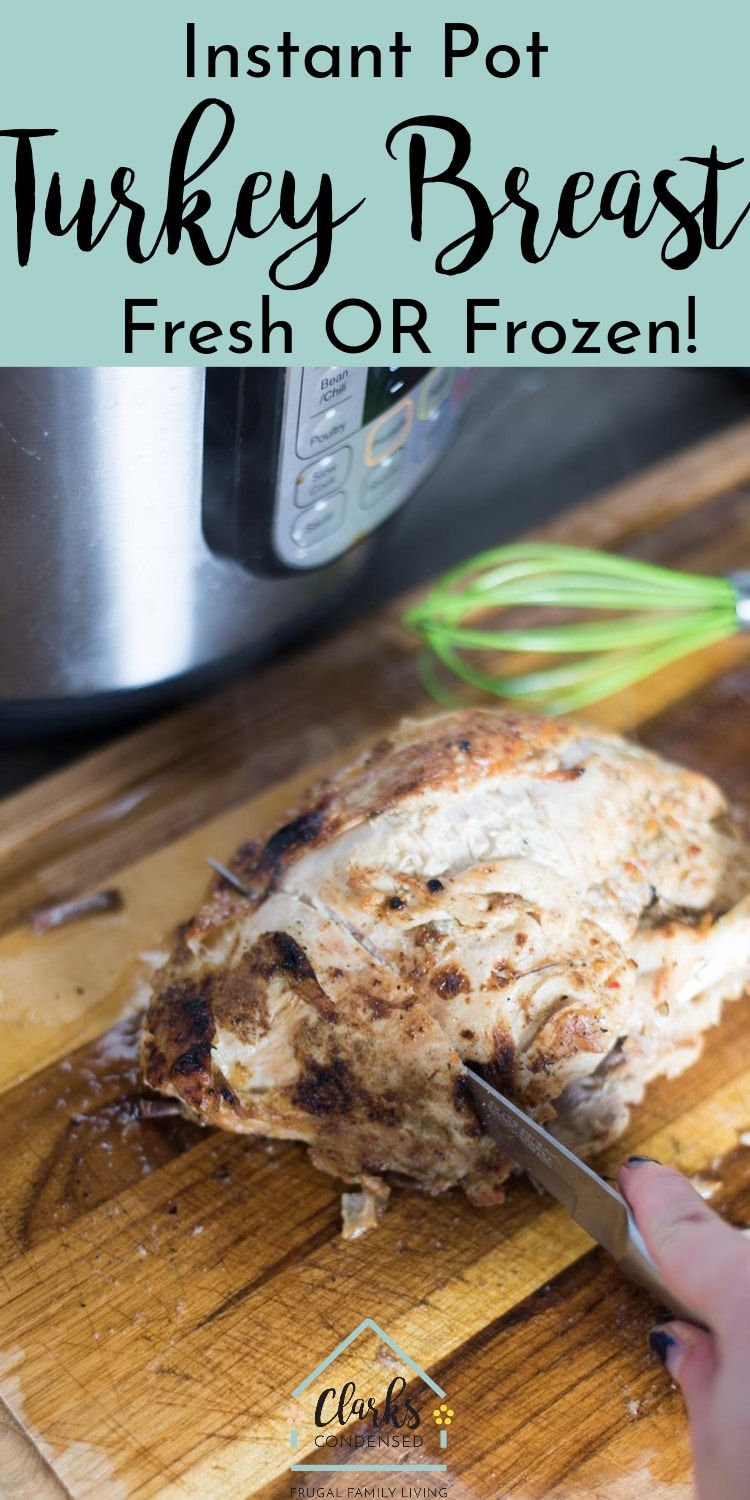 This easy Instant Pot Turkey Breast is the perfect dinner all year long. It includes an easy way to make a gravy to top it with!

Pressure Cooker Turkey Breast
I know that Thanksgiving has come and gone, but I think any time of year is a good one for a delicious turkey breast.
Ever since I saw this one smoked turkey breast my brother-in-law made, I have been wanting to make one at home in my Instant Pot.
A few weeks ago, we had some out of town guests who were traveling a long distance, so I wanted to make them a nice and delicious meal.
My mom and I had made my Quick Dinner Rolls Recipe earlier that day, so I thought it would be the perfect time to make a turkey breast in my Instant Pot.
Thanksgiving had just been a few days previous…but I figured no one would care 🙂
I spent a while trying to find the correct cooking time for a turkey breast in the Instant Pot, and I feel like I kept coming across different calculations.
One website said to plan on six minutes per pound of turkey, but I thought that seemed a little bit low to me. I ended up doing a 2-pound turkey breast for 25 minutes based one chart I saw with a ten-minute pressure release.
The internal temperature when I took it out was 180 degrees – so 165 degrees higher than what is ideal. However, it didn't taste dry at all, and it confirmed my belief that the Instant Pot makes some of the juiciest meats.
I think if I were to do that small of a turkey breast again, I would do it for around 12-16 minutes and try out that six minutes per pound of turkey breast. As I've done more research, this does seem to be the general consensus amongst most.
If the turkey breast is frozen, double that time.
But, mine still tasted good 🙂
Anyways! I went with pretty simple seasoning, and it tasted great. I was able to make a simple gravy afterward using the drippings and adding a little bit of cornstarch while turning the Instant Pot to saute.
Everyone really enjoyed this meal, and I can't wait to make another turkey breast in the Instant Pot again. Another win!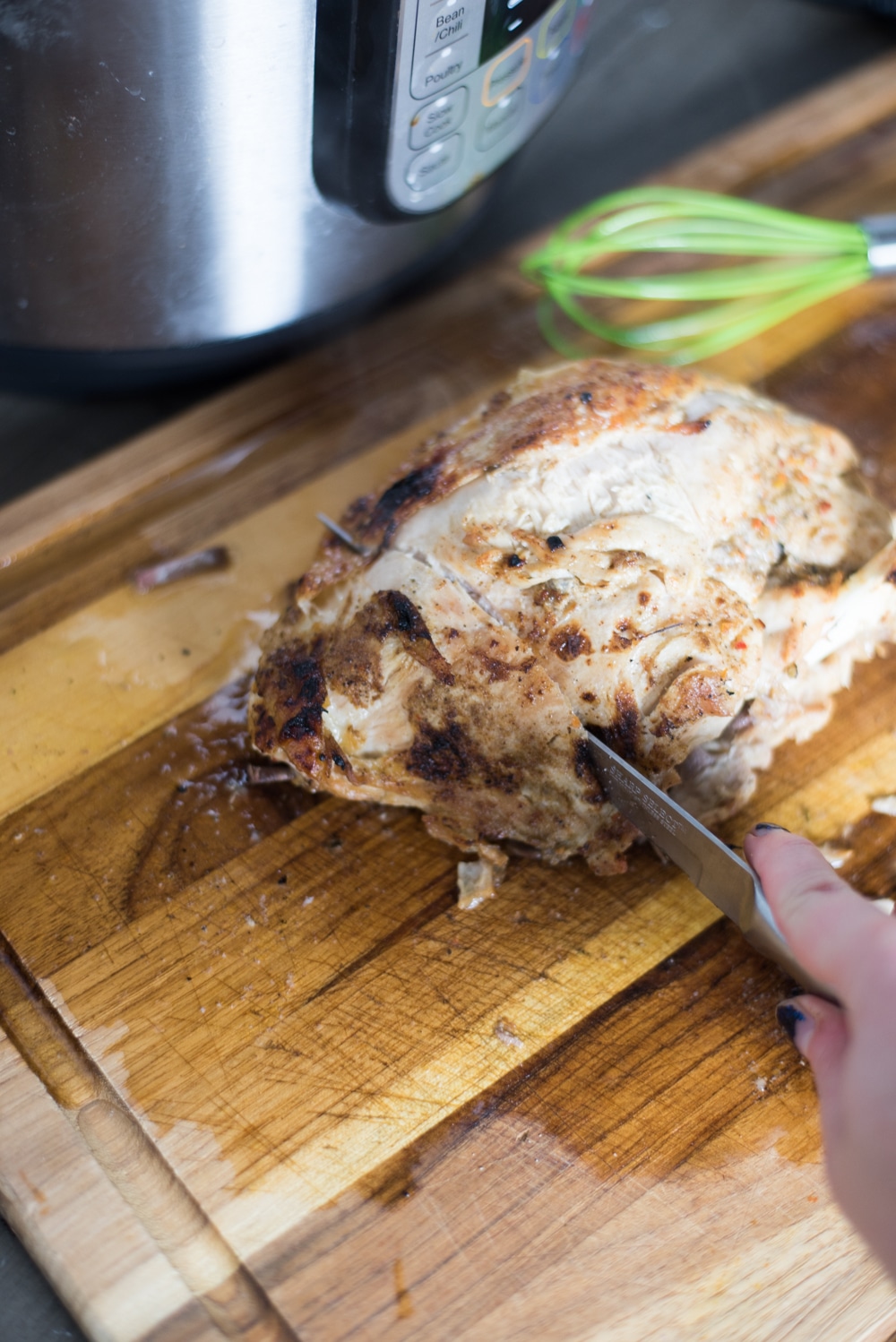 Turkey Breast Instant Pot
Equipment
Meat Thermometer (optional but helpful to make sure it's done)
FAQ
How large of a turkey breast can I do? I have a 6 quart Instant Pot, and I just used a two-pound turkey breast with plenty of room. I think the largest I would be able to fit into my Instant Pot would be five pounds.
What kind of liquid should I use? I used chicken broth. I poured chicken broth into the bottom of the bottom, placed a trivet down, and then put the turkey breast on top of that.
Isn't it soggy? Nope! It wasn't soggy at all, and we could have easily eaten it straight out of the Instant Pot (well, after letting it rest). However, I do like crispier skin, so I threw it under broil for about three minutes in the oven, and it was perfect.
Resting time? I recommend letting it rest for 15-30 minutes.
What should the internal temperature be? 165 degrees Fahrenheit.
Turkey Breast in Instant Pot
Printable version available in the recipe card below.
Ingredients
2-5 lb turkey breast – thawed (if not thawed, double cooking time)
Olive Oil
Paprika
Garlic powder
Salt
Black Pepper
Costco organic no salt seasoning (or any other savory seasoning blend you have on hand)
Butter
Cornstarch
Gravy Mix (optional)
Directions
Wash and dry the turkey breast
Spritz a little bit of olive oil all over the turkey breast
Season liberally with all the seasonings – I didn't have exact amounts. I just sprinkled a bunch on each side and then rubbed it all in.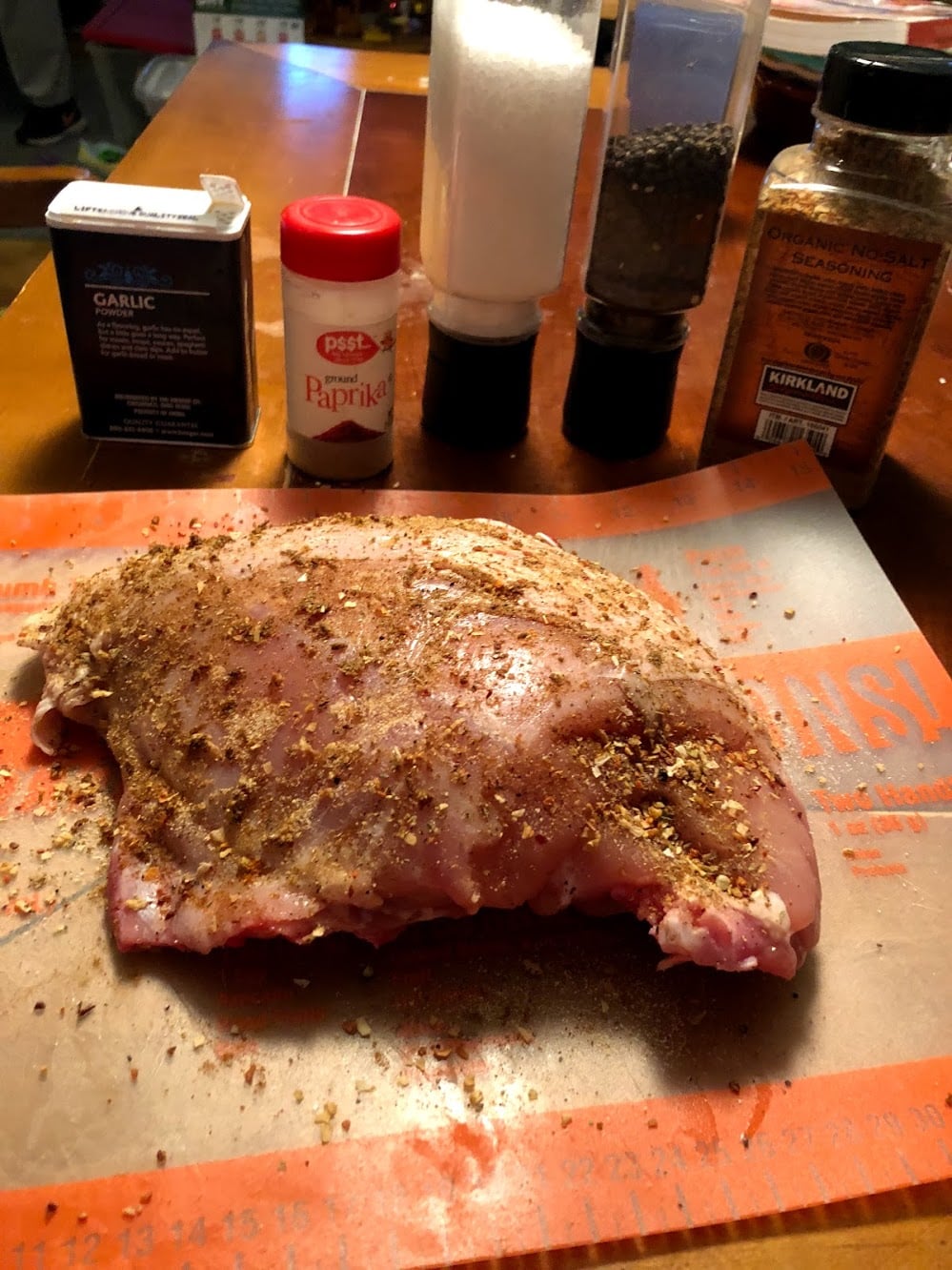 Turn the Instant Pot to saute and put a tablespoon of oil in the bottom
Once it starts to sizzle, sear each side for about 2 minutes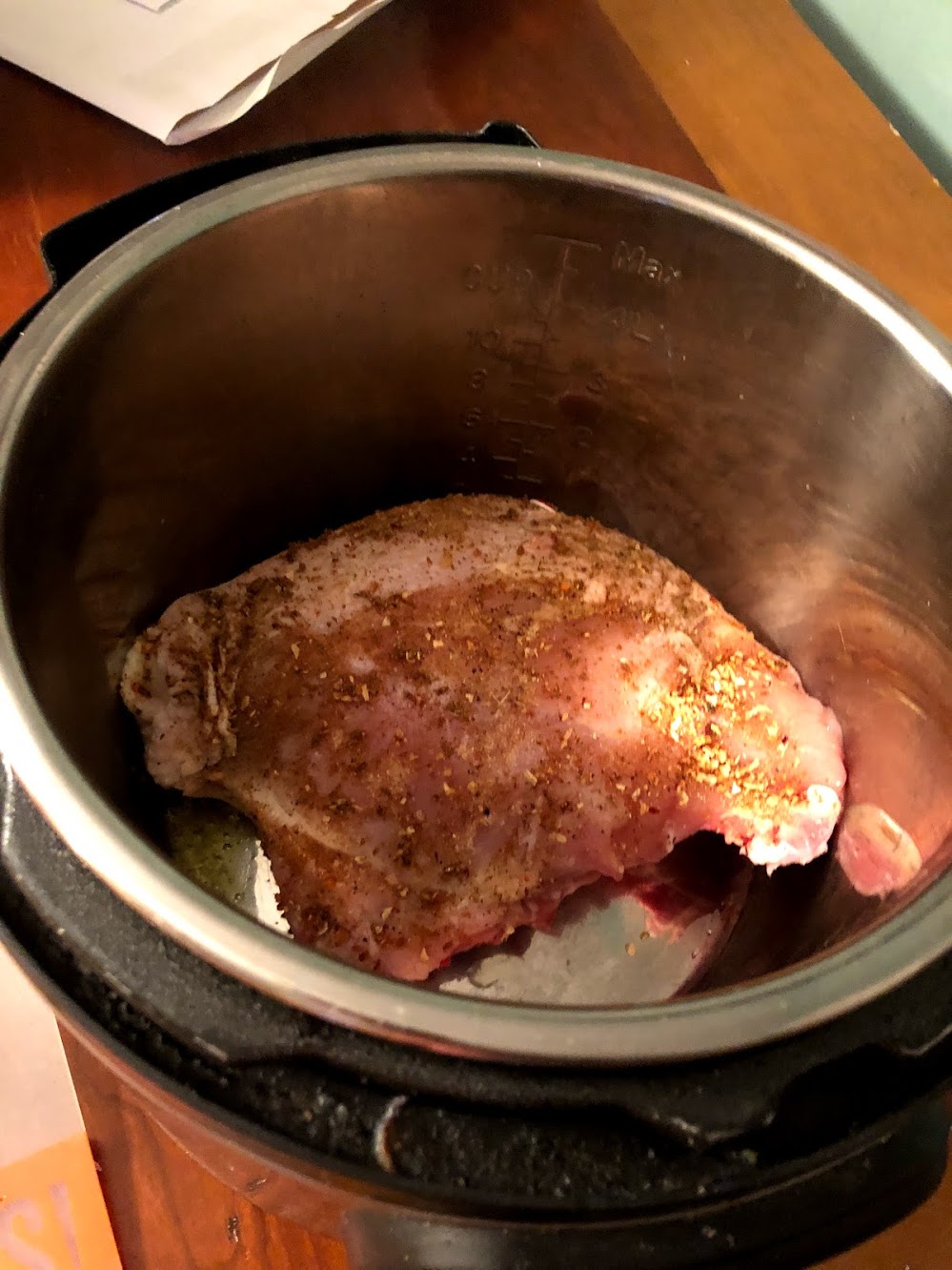 Pour 1 cup of chicken broth in the bottom of the Instant Pot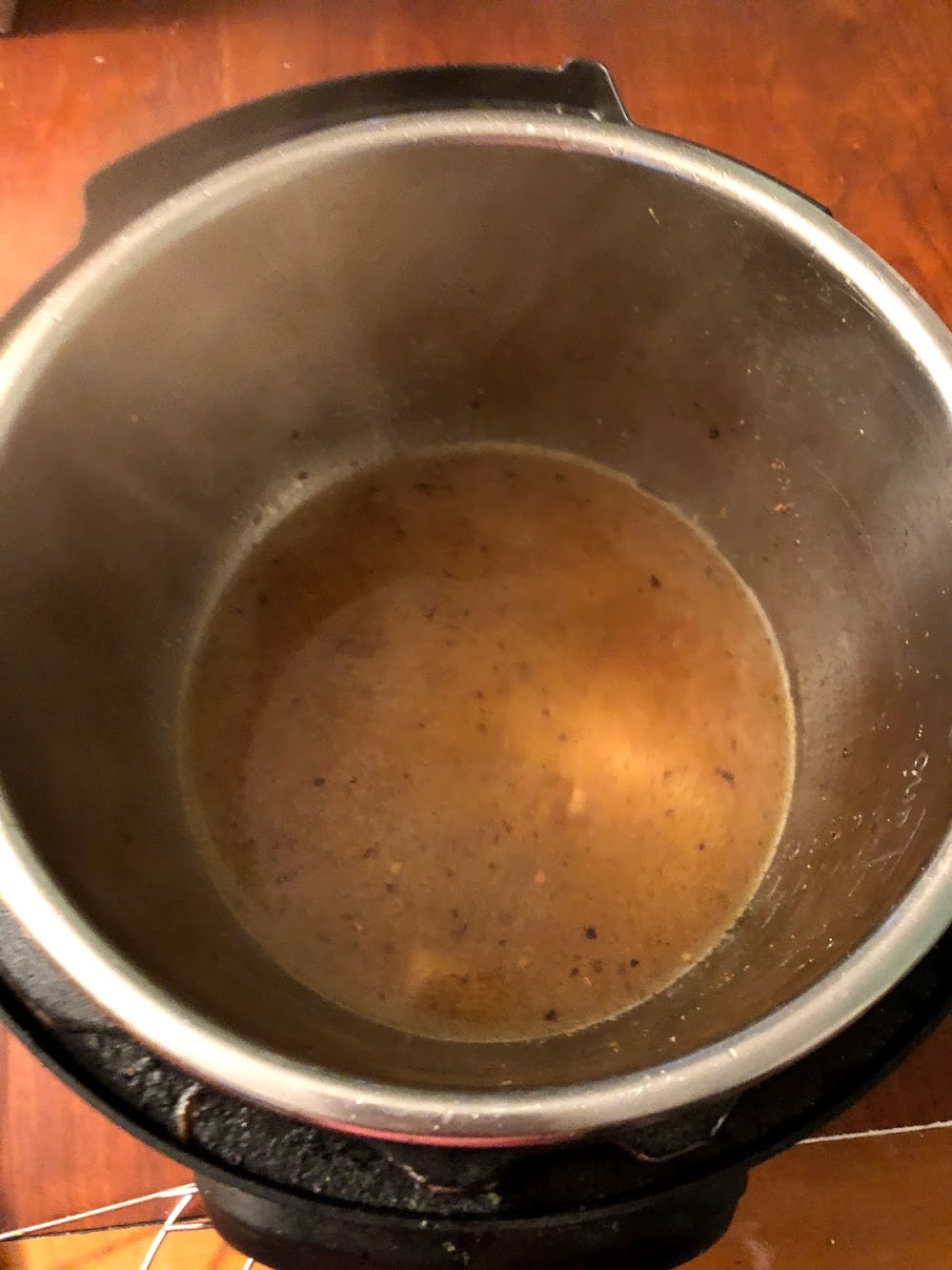 Place your trivet down
Put turkey breast on top of the trivet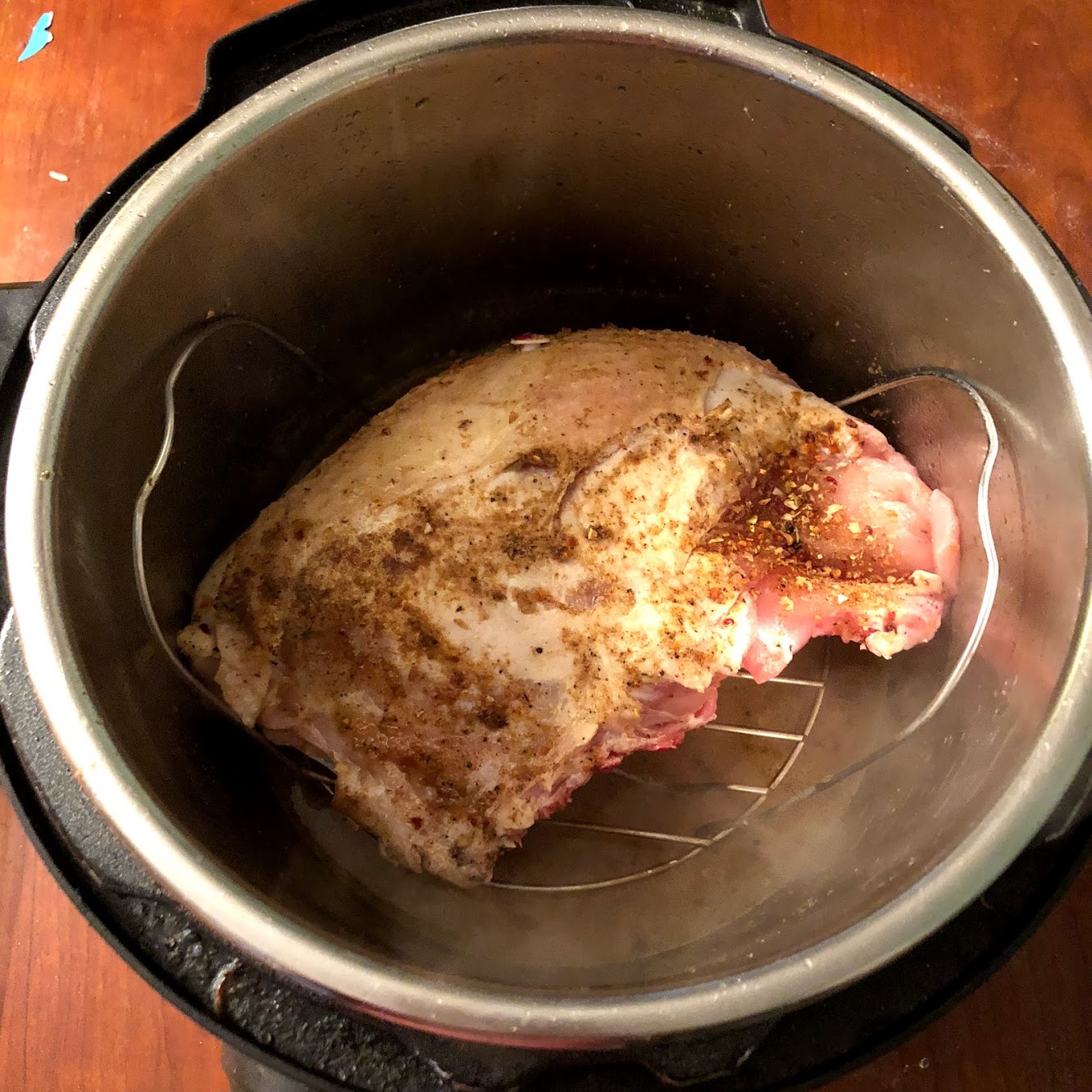 Place lid on top of Instant Pot
Set to manual high pressure for 6 minutes per pound of turkey
After the timer goes off, let the pressure naturally released for about 10 minutes, and then use the quick pressure release tool for the remaining pressure
Remove from Instant Pot and place on tin foil
Add three tablespoons of butter (cut into one Tablespoon pieces) on top of the turkey breast in different spots
Wrap in more tin foil for 15-30 minutes
If crispier skin is desired, place under an oven broiler for 2-3 minutes
Slice immediately
If you want to use the drippings for gravy, turn the Instant Pot to saute, add in 1 tablespoon of cornstarch, and whisk until thickens. We also added a little bit of Costco Gravy mix – you could add in a few tablespoons of any gravy mix you have on hand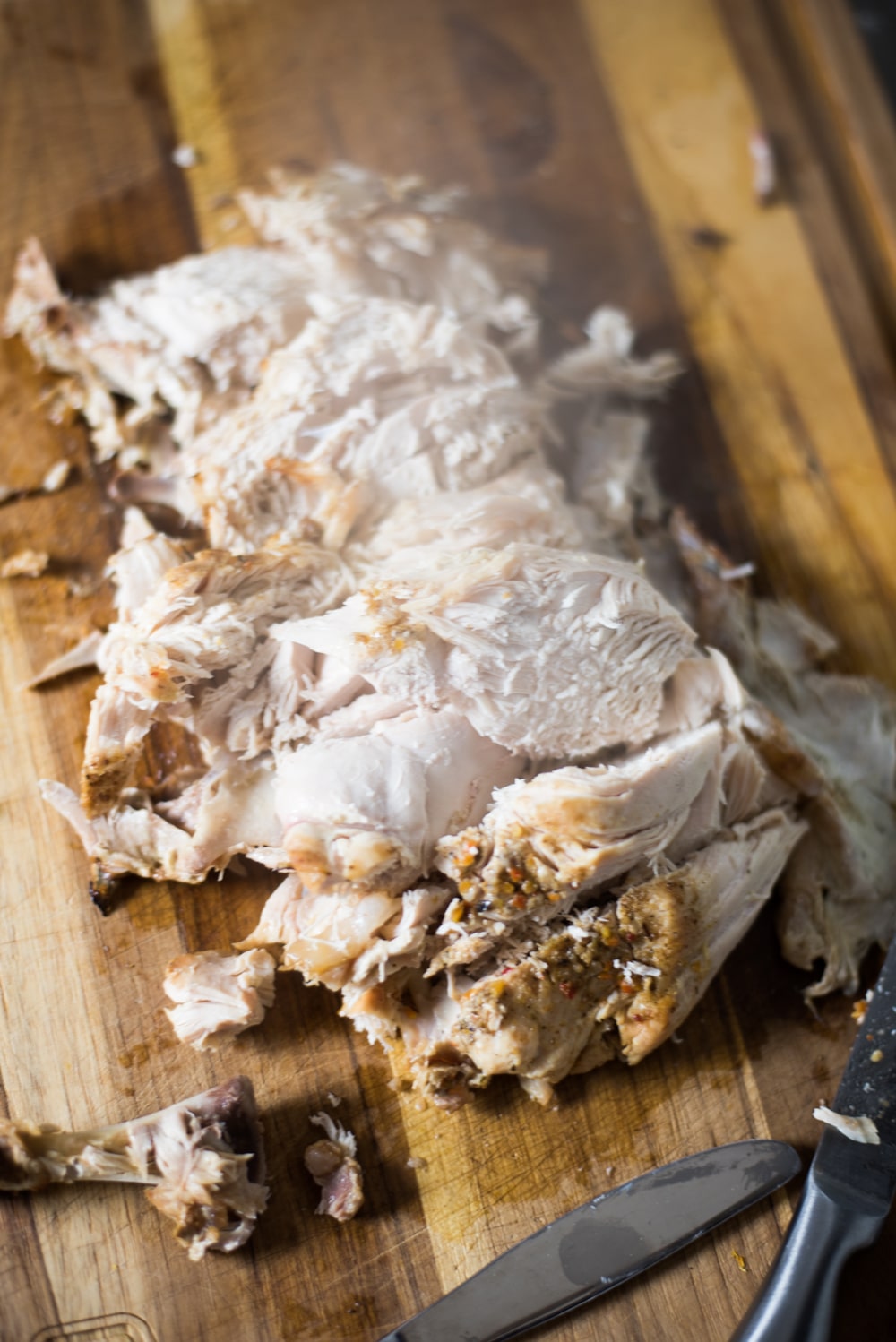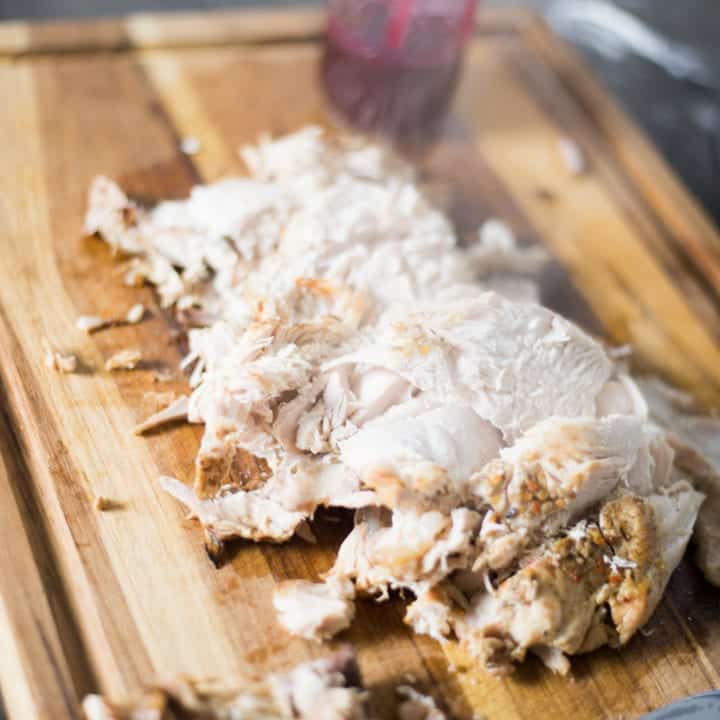 Instant Pot Turkey Breast
A delicious and easy turkey breast recipe made right in your Instant Pot.
Ingredients
2-5 lb turkey breast - thawed, if not thawed, double cooking time
Olive Oil
1 Tablespoon Paprika
1 Tablespoon Garlic powder
2 teaspoons Salt
1 teaspoon Pepper
1 Tablespoon Costco organic no salt seasoning, or any other savory seasoning blend you have on hand
3 Tablespoons Butter
Cornstarch
Gravy Mix, optional
Instructions
Wash and dry the turkey breast
Spritz a little bit of olive oil all over the turkey breast
Season liberally with all the seasonings - I didn't have exact amounts. I just sprinkled a bunch on each side and then rubbed it all in
Turn the Instant Pot to saute and put a tablespoon of oil in the bottom
Once it starts to sizzle, sear each side for about 2 minutes
Pour 1 cup of chicken broth in the bottom of the Instant Pot
Place your trivet down
Put turkey breast on top of trivet
Place lid on top of Instant Pot
Set to manual high pressure for 6 minutes per pound of turkey
After the timer goes off, let the pressure naturally released for about 10 minutes, and then use the quick pressure release tool for the remaining pressure
Remove from Instant Pot and place on tin foil
Add three tablespoons of butter (cut into one Tablespoon pieces) on top of the turkey breast in different spots
Wrap in more tin foil for 15-30 minutes
If crispier skin is desired, place under an oven broiler for 2-3 minutes
Slice immediately
If you want to use the drippings for gravy, turn the Instant Pot to saute, add in 1 tablespoon of corn starch, and whisk until thickens. We also added a little bit of Costco Gravy mix - you could add in a few tablespoons of any gravy mix you have on hand
Nutrition Information:
Yield: 6
Amount Per Serving:
Calories: 287
Saturated Fat: 4g
Cholesterol: 137mg
Sodium: 1294mg
Carbohydrates: 1g
Protein: 49g
Other Instant Pot Recipes You May Enjoy: