Creamy and delicious Instant Pot beef stroganoff. This is a great introductory recipe for the Instant Pot!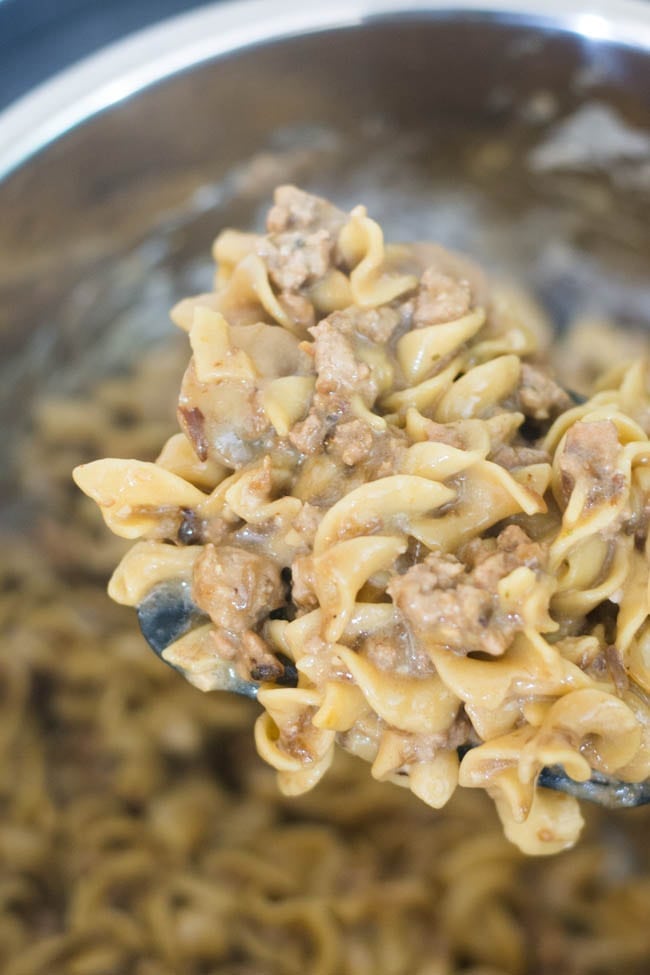 Be sure to join our instant pot made easy group!
Have you jumped on the Instant Pot train yet?
Interested in a skillet version for stove-top cooking? Check out this classic beef stroganoff!
I bought my Instant Pot back in August when there was a sale, but it took me awhile to really try it out.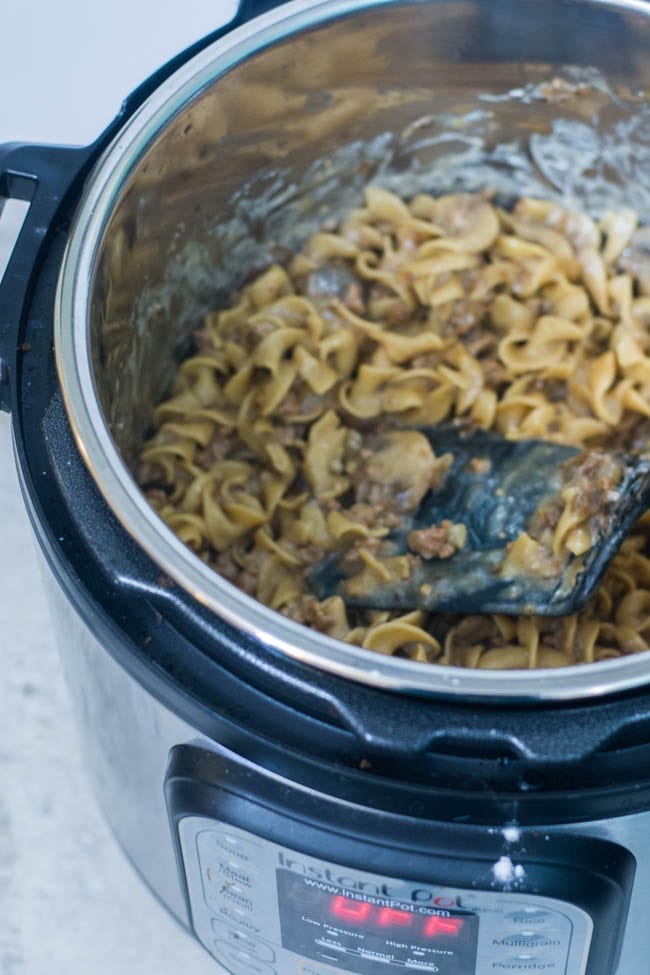 And then when I tried it out, I almost ruined it (I used it without the pot in it…ugh!), so it took me a little while longer to want to experiment again.
Then Forrest made the most perfect hard boiled eggs with it a month or so ago, and I became determined to try it out again.
Well, I tried to make a roast beef, followed the instructions perfectly…and it was an epic fail. It was totally raw!
I have since figured out why, and I decided that I was going to use the Instant Pot several times during the next week to try and master it.
Fortunately, those subsequent experiences were much, much better – and one of them resulted in this yummy Instant Pot Beef Stroganoff.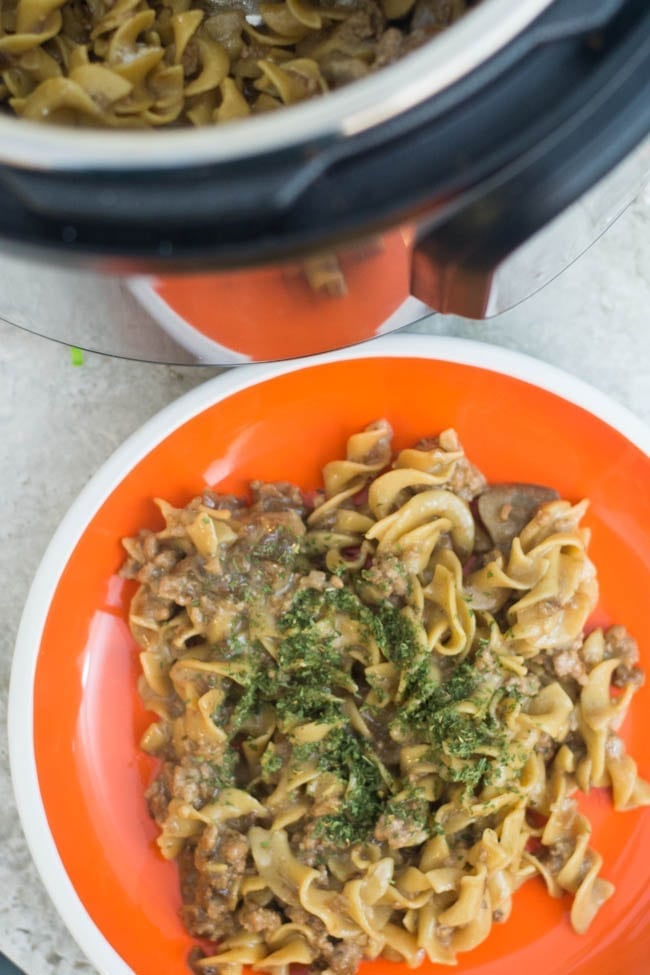 Forrest loves stroganoff, so I thought this would be a fun recipe to come up with. I haven't really seen any other Instant Pot recipes for it, so it was fun to experiment.
The total cook time is six minutes, but, as with all IP recipes, you have to factor in the pressure release time. But it was done in under 30 minutes, and it turned out delicious!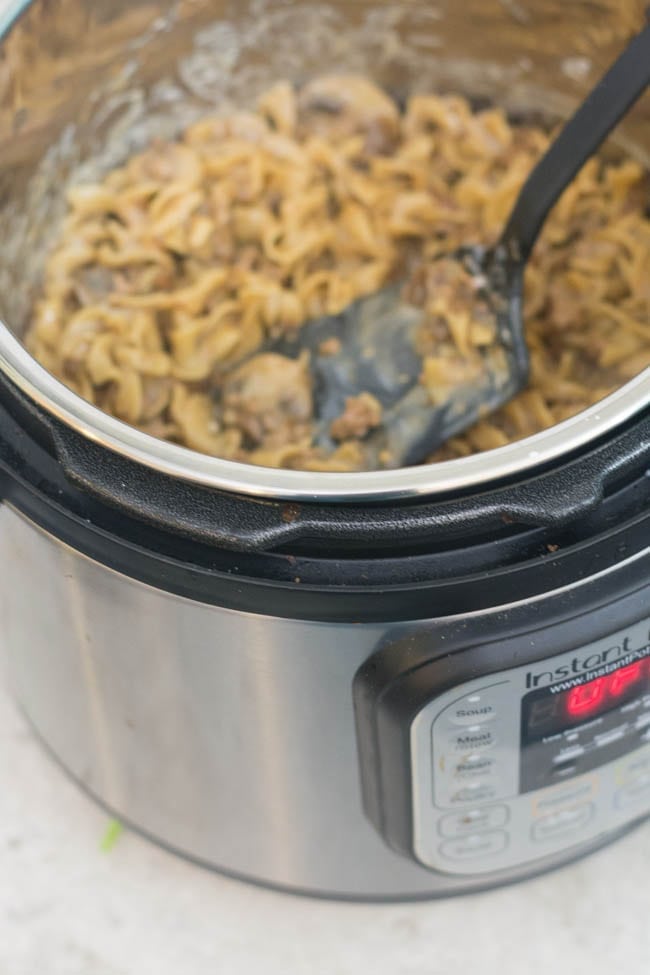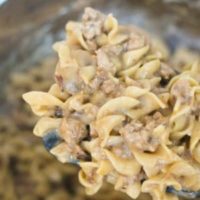 Instant Pot Beef Stroganoff
Ingredients
2 Tablespoon Olive oil
3/4 lb ground beef or turkey
1/2 cup chopped red Onion
1 Tablespoon Garlic
4 ounces sliced Mushroom
2 10.5 ounce cans Campbell's Condensed French Onion soup
2 cups water
Salt, to taste
Pepper, to taste
1 Tablespoon cornstarch)
3/4 bag Egg noodles
1/2 cup Greek yogurt, or sour cream
Instructions
Spray Instant Pot interior with cooking spray. Set to saute.
Drizzle about a Tablespoon of cooking oil (I used olive) and brown ground beef or turkey, onion, and garlic.
Drain excess grease and return to pot.
Add mushrooms with saute another minute or two.
Add water, onion soup, and salt and pepper. Mix. Whisk in cornstarch
Add noodles.
Place lid on Instant Pot.
Set to high pressure for 6 minutes.
After it is done, let the pressure naturally release for about five minutes, and then change to quick release until all the pressure is gone.
Stir in Greek Yogurt until combined. Enjoy!