We LOVE this easy Thai Peanut sauce recipe, especially when served over chicken and veggies. The sauce is so good, you might just want to eat it by the spoonful!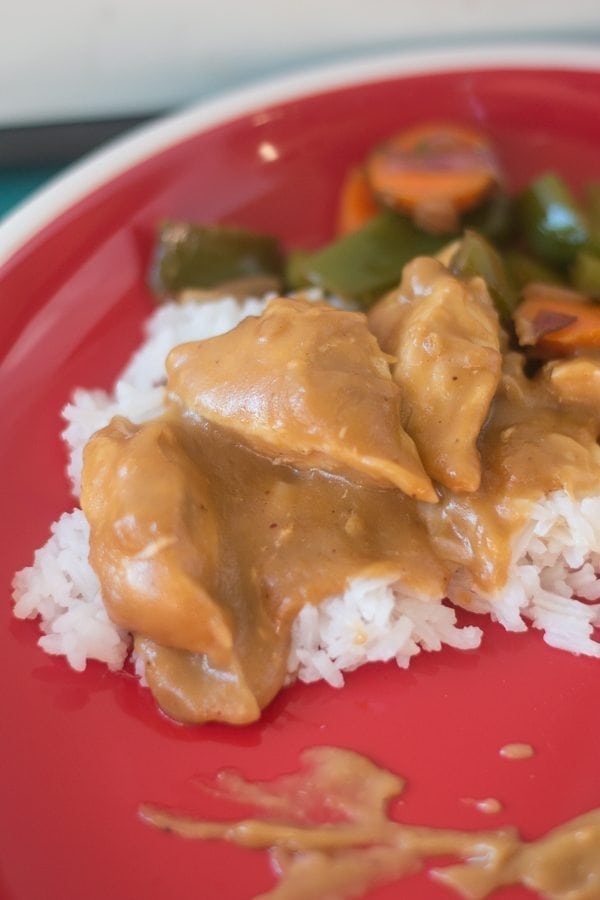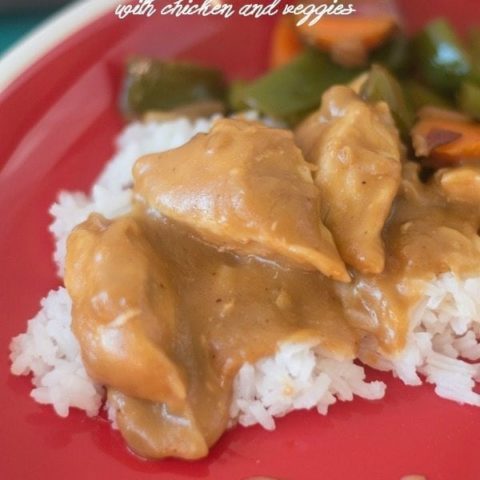 Thai Peanut Sauce Recipe with Chicken and Veggies
Ingredients
One cup chicken broth
1/3 cup creamy peanut butter
3 tablespoon brown sugar
1 teaspoon garlic powder or minced garlic
1 tablespoon cornstarch
1 tsp soy sauce
2 chicken breasts, chopped into bite size pieces
Red and Green peppers
Red Onions
Carrots, chopped
Pea Pods
Instructions
Cook chicken in a little bit of cooking oil. Then, saute the vegetables. Keep warm until sauce is done.
Serve over rice or noodles.
Place chicken broth, peanut butter, brown sugar, garlic, cornstarch, and soy sauce into a sauce pan.
Bring to a boil, stirring with a whisk until the sauce thickens.
Turn to a simmer until ready to serve.
Enjoy!
Several weeks before Jack was born, my mom sent me an email with a bunch of different ideas of meals she could make while she stayed with us (she was quite the saint – stayed with me for almost two weeks! I'm not sure how I would have survived otherwise!) She sent a list of lots of yummy recipes – many of which I grew up loving. Forrest and I looked through the list, and it was so hard to pick what sounded best. One of the recipes we chose was a thai peanut sauce recipe with chicken and veggies, and it has been one of our favorites ever since. This thai peanut chicken recipe is one of those recipes that Forrest and I often forget that we love, until we make it. Then we ask ourselves why we don't make it more often. The sauce is SO creamy, and the flavor is fabulous. When it's combined with sautéed vegetables and chicken, there's nothing quite like it.
It is a rather simple recipe and chances are, you have all the ingredients in your pantry already! Those are my favorite types of recipes – the ones that you can usually make when you are running out of grocery budget for the month and you are hoping to use ingredients you already have – and it still tastes delicious! Whenever my mom makes this, she usually serves it with linguini, which is delicious. However, we like it just as well with rice (especially since we bought our rice cooker – which is arguably my favorite kitchen tool.) Either way, it's pretty tasty. I always top mine with a little bit of parmesan cheese, but Forrest thinks that's weird. I think it's tasty!
COMMENT POLICY:
All we ask is that you be kind. We welcome differing opinions, but any comments containing personal attacks, sarcasm, etc. will be removed immediately. Keyboard warriors aren't welcome 🙂 All comments are moderated and may take time to be approved. Anything not pertaining specifically to the content of a post will be removed (including comments about ads).