This post contains three great Bajio copy cat recipes — sweet, shredded chicken, delicious sweet rice, and something that combines them both — the Bajio Mexican pizza. One of our favorite recipes!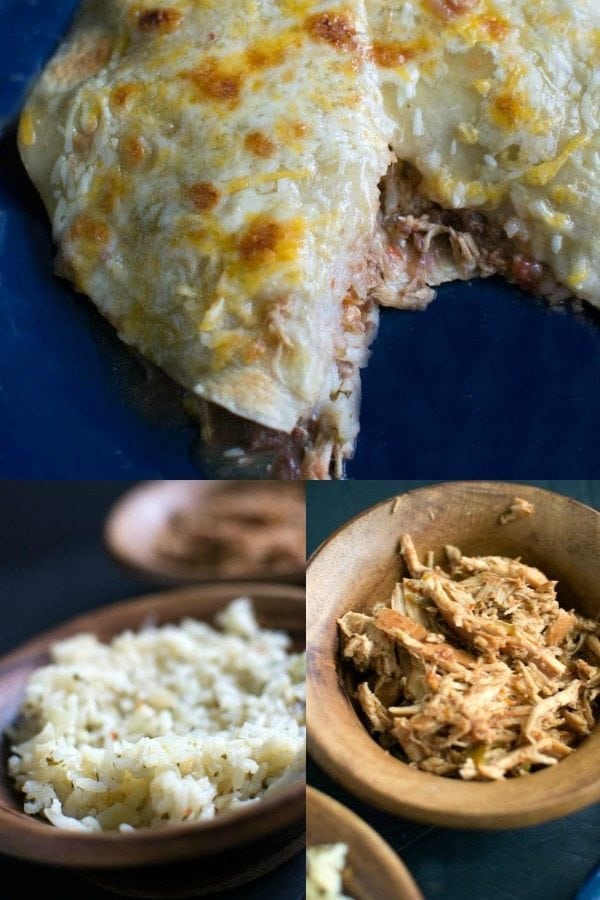 I feel like I always hear people talking about Cafe Rio versus Costa Vida, or even Chipotle. However, I never hear anyone talk about Bajio…and because of that, I've really never been there! There's one a few miles from where we live, but during the whole time I've lived in Utah, I never have once gone. For some reason I thought it wouldn't be very good (don't ask me why!)
A few months ago, we were at a local outdoor mall, and we were getting hungry. Jack was grumpy, I was grumpy, and I'm sure that was making Forrest grumpy, too. So, we saw Bajio and decided to go in — at that point, I was ready to eat anything! When we looked at the menu, I saw that they had a Mexican Pizza, and I really wanted to try it. As I said in my Taco Bell Mexican Pizza recipe post, I love Mexican Pizzas, and I couldn't wait to try this.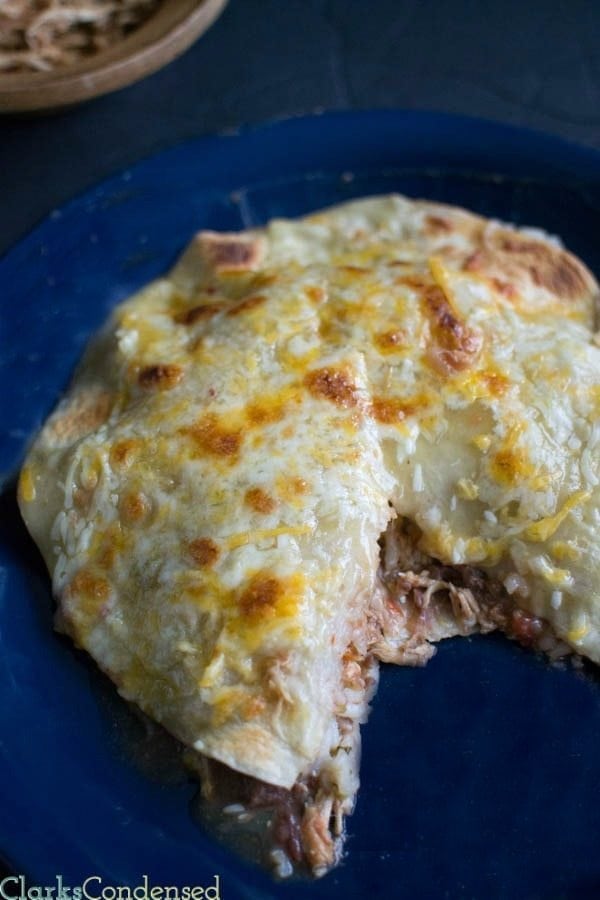 After one bite, I was done for. It was SO good, and I couldn't understand why I had avoided this restaurant for so long. We went back again a few weeks later, and it was just as good. So, I decided I would try and find some copy cat recipes so I could make it at home. Unfortunately, my search didn't come up with a lot of recipes, especially for the Mexican Pizza, so I decided I would just try a few things out at home until I came up with a great substitute.
I was able to find a copy cat version of the sweet shredded chicken, as well as the sweet rice, and I adapted those for my liking. From there, I just went off of what is listed on the Bajio website, and just kind of improvised from there.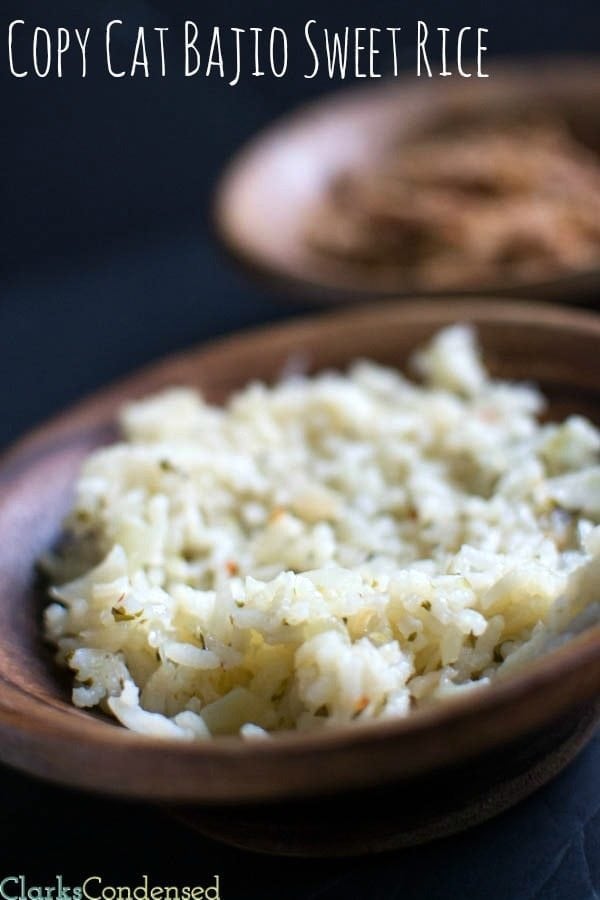 NEVER Miss Another Recipe!
Sign up for our food and recipe newsletter today
Free eRecipeBook upon signup
Free Meal Planning Bundle
Easy and Family Friendly Recipes EVERYONE Will Love!
With the shredded chicken, the original recipe called for five chicken breasts, but I thought that would be too much. We have rather large chicken breasts that we buy from Zaycon Foods (best place ever!), and we used two, but even if you use smaller ones, I think you'd be fine with three. We had TONS of chicken from this, and lots of leftovers.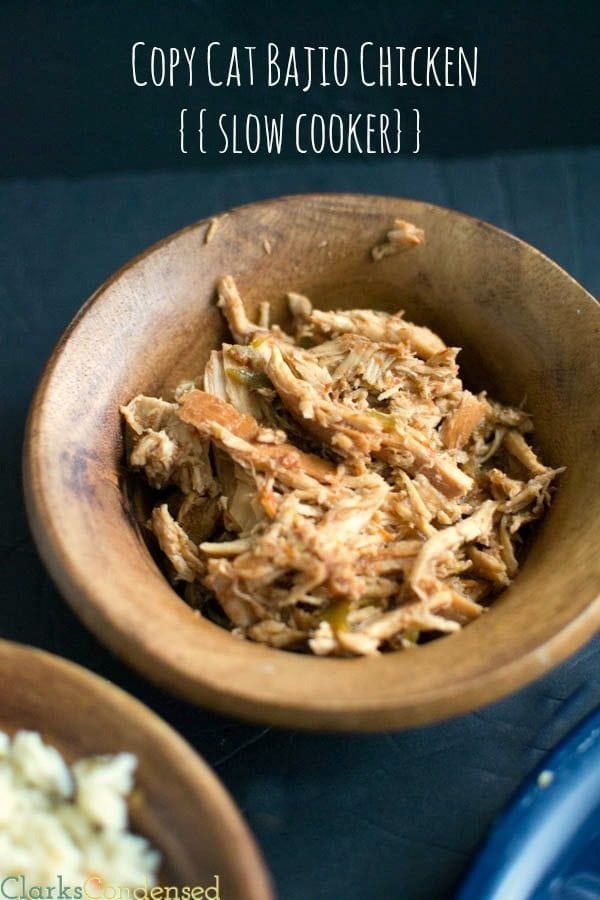 I also used my awesome Ninja Cooking System that I was sent from Ninja awhile back. I've been wanting to tell you all about this amazing machine (and I will in another post), but if you don't have one…get one! It's perfect for summer cooking, because not only is it a slow cooker, but it acts as an oven and a stove top too. I seriously can't stop telling people about it!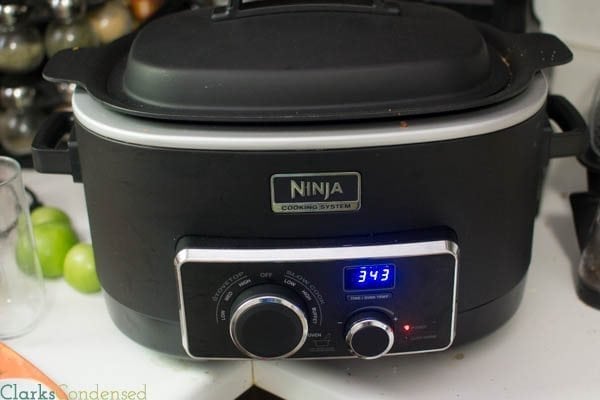 I really thought all of this turned out really well. I actually ended up eating the rice and chicken for leftovers for the next few days, and I really don't like eating leftovers. Forrest thought that the Mexican Pizza tasted pretty similar to Bajio, so I considered it a win!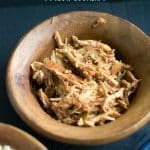 Bajio Shredded Chicken
Ingredients
2 large chicken breasts
1/2 cup red salsa we used Pace mild
3 teaspoons cumin
1/2 cup brown sugar
1 4 oz. can diced green chilies
1/2 can Sprite
Instructions
Place all ingredients in a slow cooker and cook on low for about five hours.

Shred chicken after five hours, and then cook it for another one.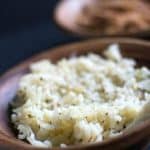 Bajio Sweet Rice
Ingredients
1 tablespoon olive oil
1/4 white onion chopped
1 tablespoon Gourmet Garden's Cilantro paste OR about about 1/4 of a bunch of cilantro chopped
2/3 cup white rice
1 1/2 cups chicken broth
1/4 cup white sugar
Instructions
In a small bowl, combine chicken broth and sugar, stirring until sugar dissolves.

Put oil and onions into a sauce pan, and cook until the onions are cooked through.

Add cilantro and saute for a minute or two more.

Add uncooked rice until it starts to brown.

Stir chicken broth/sugar into sauce pan.

Bring to a boil.

Cover and let cook on a low temperature until rice is done (about 25 minutes.)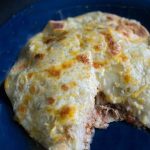 Bajio Mexican Pizza
This recipe for a Bajio Mexican Pizza is sized for one person -- just double, triple, etc. the
Ingredients
2 flour tortillas
Oil For frying
About 1/2 cup bajio chicken see recipe above
About 1/4 cup bajio sweet rice see recipe above
1/4 cupGreen enchilada sauce
1/4 - 1/2 cup Mexican Blend Cheese
1/4 cup refried black, or pinto beans
About 3 tablespoons salsa
Sour cream optional
Instructions
Preheat oven to 400 degrees

Fry tortillas until very crispy (not burnt) in a pan. Remove from pan and soak up excess grease.

Assemble pizzas as follows -- tortilla, rice, chicken, beans, salsa, 1/2 the cheese, another tortilla, green enchilada sauce, cheese.

Bake for about 10 minutes. Turn to broil for a minute or two if cheese doesn't brown.

Top with extra salsa and sour cream if desired.
COMMENT POLICY:
All we ask is that you be kind. We welcome differing opinions, but any comments containing personal attacks, sarcasm, etc. will be removed immediately. Keyboard warriors aren't welcome 🙂 All comments are moderated and may take time to be approved. Anything not pertaining specifically to the content of a post will be removed (including comments about ads).