This easy bible quiet book template is inexpensive, super easy to put together, and helps teach your child Biblical stories in a fun and educational way!
A few weeks ago, I decided that I wanted to make Jack a quiet book for Easter. Of course, the more I looked into it, the more I realized it was more than a last-minute project idea, and that it might be a better idea to have a later completion date…like Christmas.
Still, I wanted to make something that we could take to church with us that would keep him occupied during Sacrament meeting and that didn't involve electronics. I was browsing around the Internet when I came across some templates that Mother's Niche offers for quiet books. I had originally wanted to do a felt quiet book, but when I looked at all the adorable pages, I quickly got on board with the card stock pages.
I purchased a couple of different templates from her Etsy shop, but today, I'm going to talk about the Bible quiet book template. I thought this was perfect for an Easter gift and for church.
If you just want the basics of what I did, here's what I ended up using (then read on if you want more specific details!)
Bible Quiet Book Template
Velcro Mini Fasteners
Printed on heavy card stock at Staples
Amazon Basic's laminator with Plastic lamination sheets
Loose Binder Rings
Plastic Ziplock Bags
There are about eight pages in this book, and the activities are simple and not only teach the basics of biblical stories and principals, but it is also educational. There are pages that have to do with colors, shapes, counting, and more.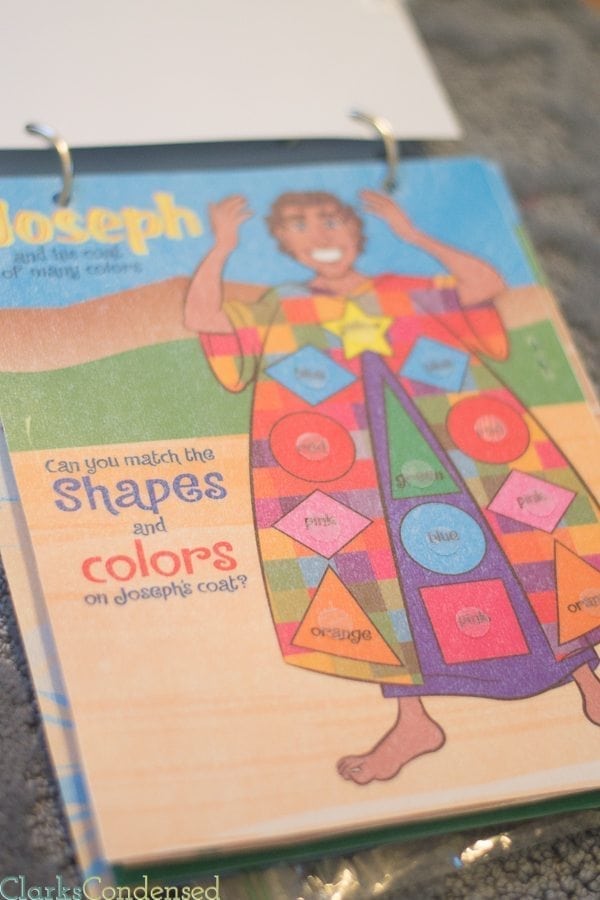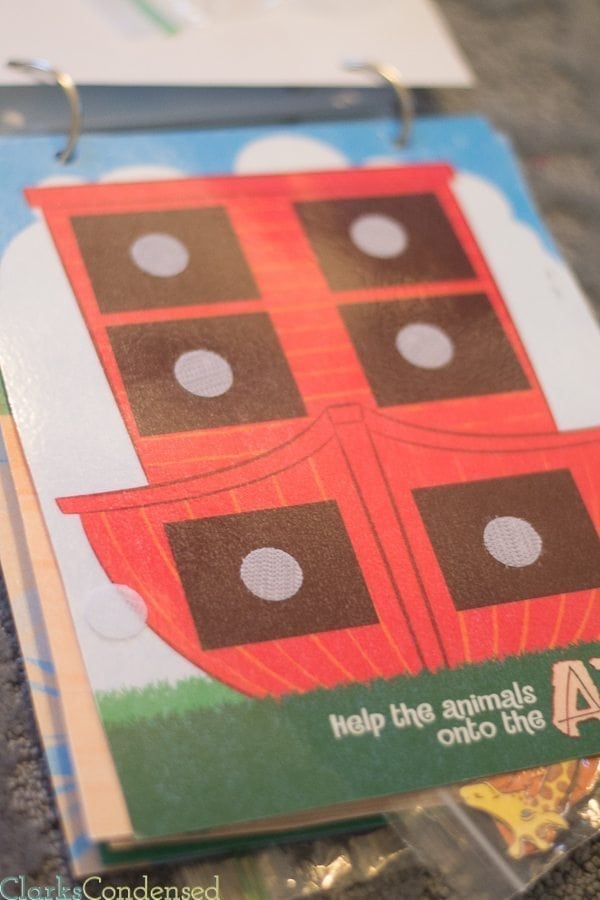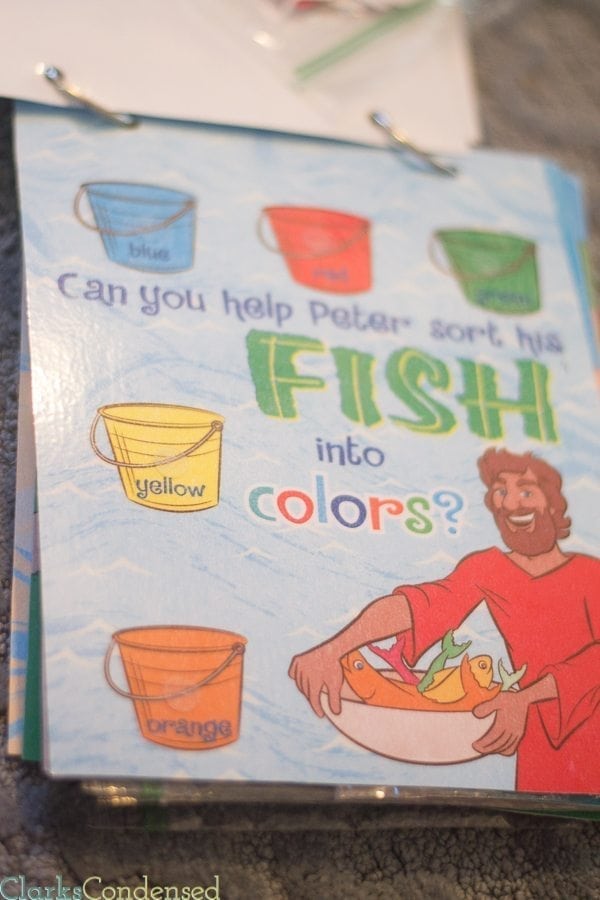 I printed off the pages on card stock at Staples. Originally, I was going to have them laminate them, but I decided that it was more cost-efficient to order a laminator from Amazon. I purchased the Amazon Basic's laminator with 100 plastic sheets, and I'm so glad I did. Definitely a purchase that will more than pay for itself in the future.
After I laminated all the pages, I cut out all the pieces. I'm not going to lie, this was a bit tedious. They weren't the easiest things to cut out, but it was totally worth it, because the pages turned out so cute.
I bought these Velcro Mini Fasteners for all the pieces. This was much affordable than the bigger pieces of Velcro, plus, they worked better on the small pieces. I used one package of 56 for this quiet book.
You can bind this book in a variety of ways, but I just chose to use a hole punch and loose binder rings. It makes it easy to turn the pages, and it was inexpensive to do. Also, I wanted an easy way to store the pieces and not get them mixed up with other pages. So, I just stapled little Ziploc Bags to the back of each page. It's worked perfectly so far.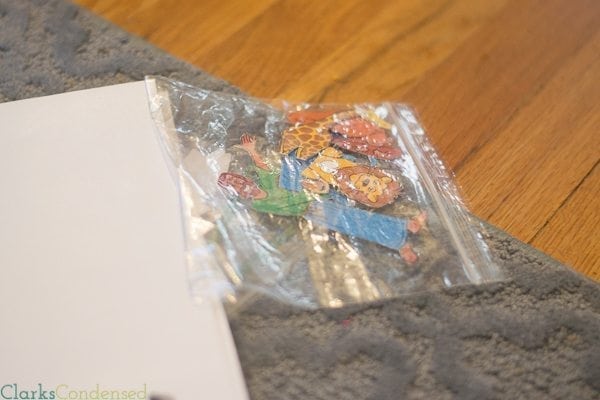 Overall, I was so pleased with how this turned out. Jack absolutely loves it, and I think it will keep him occupied for many Sundays to come. I think it's a great way to teach basic Bible stories to your children. This is a great quiet book for those who aren't very crafty, since it's just cutting out pieces, but it's one I think anyone can enjoy making and giving to their children. I'd say the best age for this book is 3-5.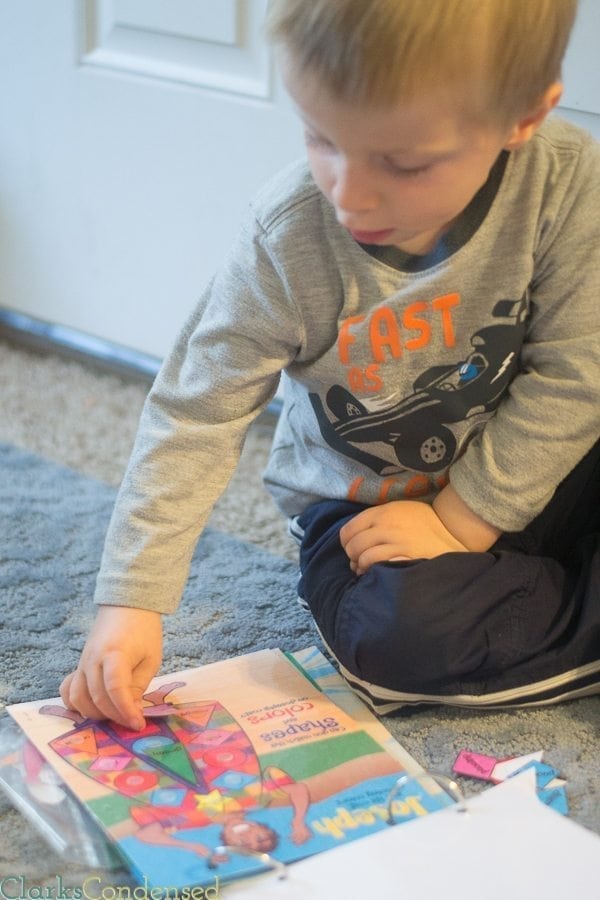 I talked with Kristina at Mother's Niche, and she has agreed to give all of my readers a discount on her templates. You can get 50% off any template of your choice, including the Bible Quiet Book, using the code CLARK50.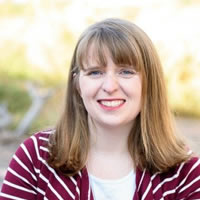 Katie is a Colorado-native, BYU graduated, and most importantly, wife to one and mother to three beautiful boys. She is passionate about sharing her experiences with others – especially about pregnancy, breastfeeding, cooking, and crafts. She is an International Board Certified Lactation Consultant. She loves spending time with her family and helping others find joy in family life.