The DreamCart by Create Room is a handy crafting station that is perfect for any size space you might have! Here is everything you need to know to help you decide if it's the right storage solution for your home!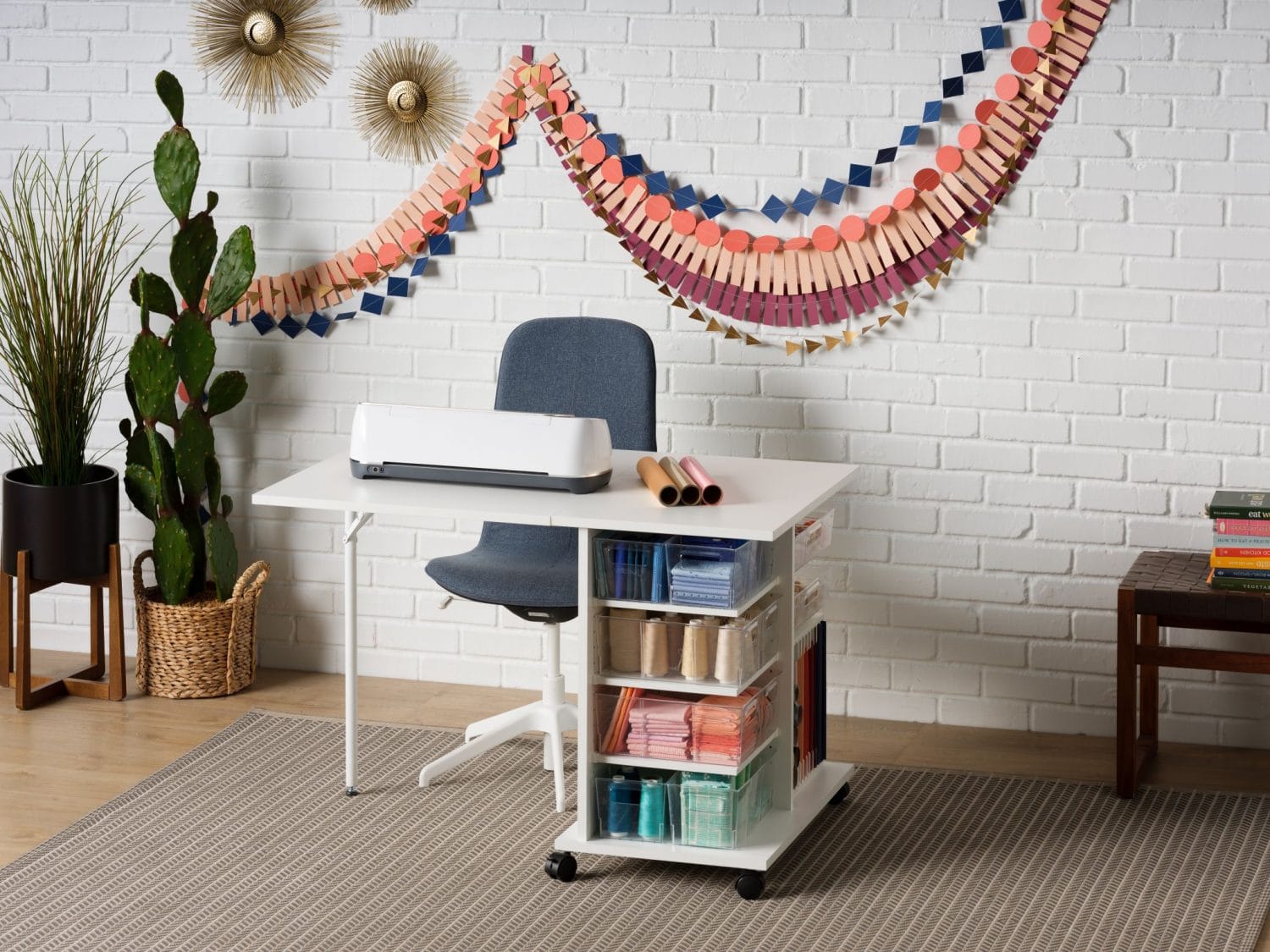 For the past few years, I've raved about the WorkBox 3.0 and the DreamBox from Create Room because they truly transformed my life.
With that said, I know that the DreamBox is quite the financial investment, and it's just not one that everyone can justify. 10000% understandable.
Create Room actually offers other furniture options that are in a lower price range, and today, I wanted to share one of those with you – the DreamCart.
I don't actually own a DreamCart, but I've done a lot of research into them – and after my experience with the DreamBox, I think I have a pretty good idea of what you can expect with these. It is on my wish list though, and as soon as I am able to get one, I will be sharing my own personal experience along with a video!
So I've gathered all that information for this post – including reviews from other people – to help you decide if this is the right craft storoage solution!
Photos are courtesy of Create Room
What is the DreamCart?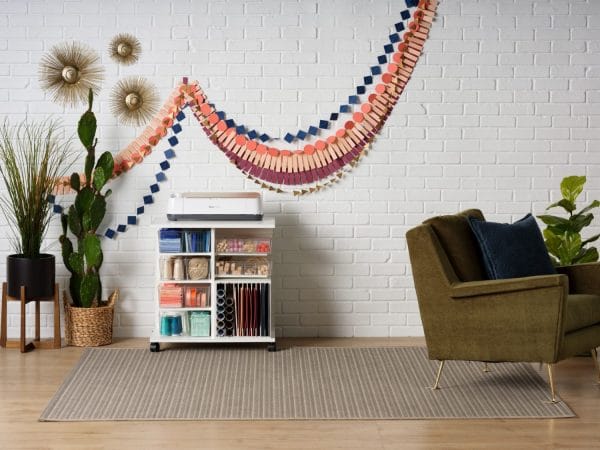 The DreamCart is an amazing, mobile crafting solution. It makes it so you can organize your most important crafting materials easily and have an amazing workspace dedicated to crafting.
Create Room describes it as a pop up craft station, and that's exactly what it is – an easy-to-setup crafting table that you can have ready to go in no time. It has a smaller footprint than some crafting stations – like the DreamBox – and it actually has a good amount of storage space.
It is on wheels so it makes it easy to move around and store wherever you need to. It also folds up nice and small so you can store it in just about any space that you need to.
If you already own a DreamBox, it can be added on to give your crafting space even more workspace and storage.
How Much Does the DreamCart Cost?
The DreamCart is $499, and it includes free freight shipping. They also offer financing for as little as $12.66 a month. This is significantly less than the DreamBox, so if your budget or your space doesn't have a place for the DreamBox, the DreamCart is a great option to consider.
DreamCart Coupon Code
To make the DreamCart even more affordable, we are able to offer you $50 off the purchase of a brand new one with the code CLARKS50. Make sure you enter that code at checkout to maximize our savings.
What Comes with the DreamCart?
The DreamCart comes with:
Two Table Leafs
13 InView™ Totes (these are the popular totes that are used with the DreamBox)
Latch system to help lock it in place to the DreamBox (if you want to do this)
7 moveable shelves so you can configure it however you like it to
The DreamCart weighs about 80 lbs. It's certainly not light, but it's light enough that most people shouldn't have any issues moving it around – especially with the wheels!
What Accessories Should I get?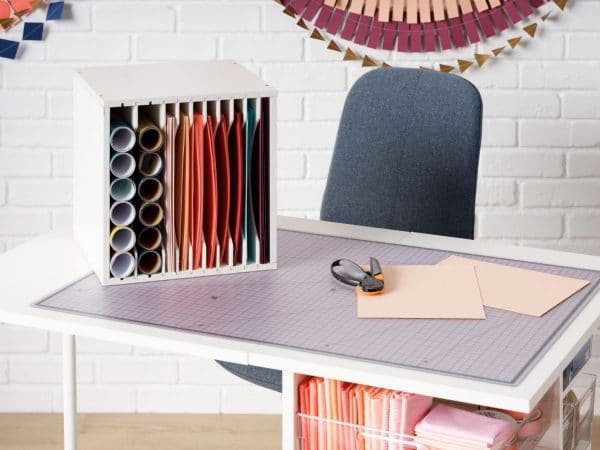 Create Room has so many great accessories that you can add to your purchase to make your DreamCart better than ever. While some of them are specific to the DreamBox, many of them can be used in whatever fashion you'd like.
You can check out all the accessories here, but the ones that I think would pair nicely with the DreamCart are:
Who Should Get a DreamCart?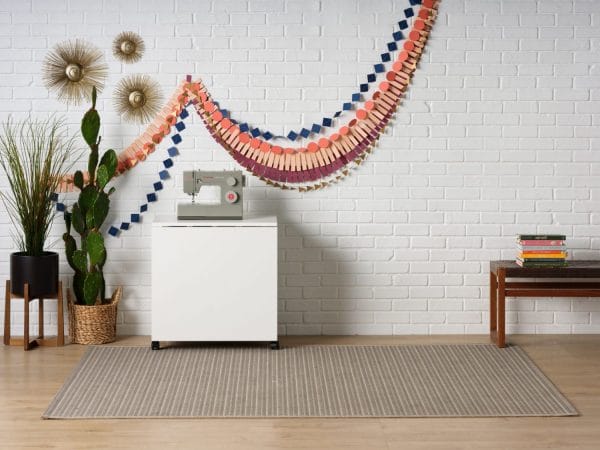 I think the DreamCart is a great option for just about anyone, but it may be suited more for certain individuals. You might want to consider the DreamCart if:
You already have a DreamBox and you want additional crafting and storage space
You have a smaller crafting area but need something that can be dedicated to crafting which also has good storage options
You need something compact
Any type of crafter – this would be great for a Cricut or Silhouette user, a Seamstress, a painter…really, anyone
Someone who feels "less is more"
You are on a budget and can't justify the cost of a DreamBox
You need a great space for your kids and all their creativity – I think this would be perfect for homeschoolers!
DreamCart versus DreamBox
Although they are made from the same company – and you can absolutely expect both to be high quality – but they are very different pieces of furniture.
I don't really think they can really be compared fairly, just because they serve different purposes and audiences. But here are a few key facts to keep in mind:
DreamBox
DreamCart
Price
Starts at $2299
$499
Financing Available
Yes
Yes
Weight
About 660 lbs
80 lbs
Totes Included
13
Dimensions
6'H,3'1″W,2'10" (closed)
6'H, 4.08'd, 9'W (open)
Two leaf total table size is 69 1/2″x 28 1/2″ (folds up smaller)
Shelves
7 Moveable Shelve
Assembly Time
4-8 Hours (pre-built option availabe)
30-45 minutes
Coupon Code
CLARKS100 for $100 off
CLARKS50 for $50 off
Purchasing Process
It's super simple to make your DreamCart purchase. First, start out by going to the DreamCart Page and click "Add to Cart".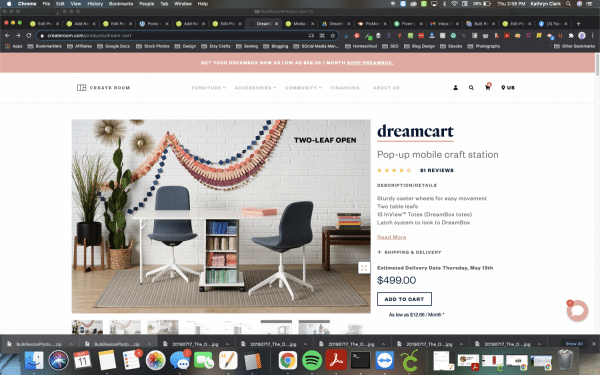 Then you'll be brought to your cart where you can make sure everything looks right. There aren't any options for you to add on, though before you continue, you can add any accessories from the Accessories Page to your cart as well.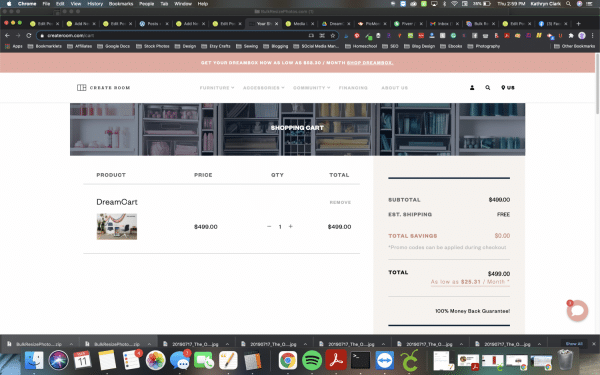 Then click, "Proceed to Checkout". Here you will type in your address, phone number, and of course, don't forget the $50 coupon code – CLARKS50.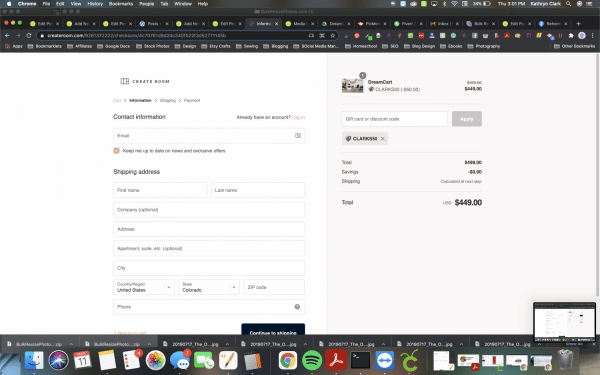 Then you'll add your shipping information, and you can play your order.
It generally does take some time for the DreamCart to be shipped – but when it is ready to be delivered, you will be called by a freight shipping company. Make sure you check all your messages!
The freight company will arrange with you a time to deliver the DreamCart – usually within about a week of them contacting you – and then you can get started!
What Others Think
Since I can't give personal, first hand experience on this (yet – the DreamCart is on my wish list), I thought I would share some of the highlights of different reviews of the DreamBox.
"This thing is brilliant! I've never been this organized in my life, and it's wonderfully easy to customize the shelf locations so everything fits."
"Doesn't really fit much in the bins. Lots of things didn't fit in there at all. Nice size when table tops are opened. Handy to have it on wheels."
"Love , love , love it! I can roll it out to the dinning room to do my sewing💕 it is a little hard to push but I love it"
"This unit is a bit heavier and harder to move on carpet that I expected, but I love all of the extra storage and table space! Well worth it"
"LOVE LOVE LOVE this cart! It was the perfect addition to my new craft room. The quality and workmanship of it all was just amazing and perfect. It was all so beautifully organized and the instructions were laid out clearly."
"Love using it to craft and plan. It has added so much more space to my crafting and planning"
More Posts You May Enjoy: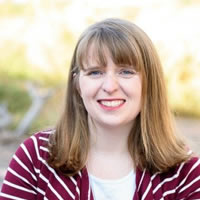 Katie is a Colorado-native, BYU graduated, and most importantly, wife to one and mother to three beautiful boys. She is passionate about sharing her experiences with others – especially about pregnancy, breastfeeding, cooking, and crafts. She is an International Board Certified Lactation Consultant. She loves spending time with her family and helping others find joy in family life.