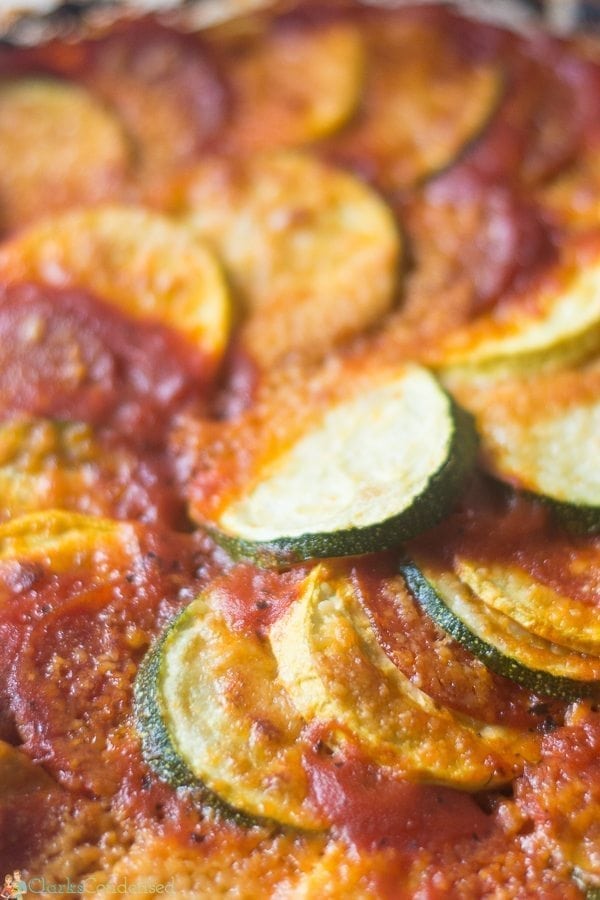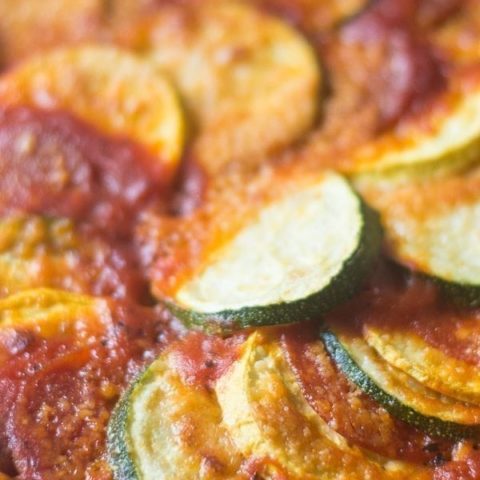 Easy Squash Tian Recipe
Yield: 4 servings
Prep Time: 10 minutes
Cook Time: 35 minutes
Total Time: 45 minutes
Ingredients
About 15 ounces spaghetti sauce
1 zucchini
1 yellow squash
20 pepperonis, feel free to omit if you don't want them!
About 1/2 cup grated parmesan cheese
Instructions
Preheat oven to 375.
Slice squash and zucchini into about 1/2 inch slices.
Pour spaghetti sauce into the bottom of a pie pan or 8x8 glass dish.
Arrange squash, zucchini, and pepperonis overlapping each other, starting at the edge of the dish and making your way to the center.
Top with grated parmesan cheese.
Bake for 30-45 minutes (check starting at 30 minutes to make sure it doesn't start to burn)
I love anything with a sauce. If we have something to eat that doesn't have a sauce, I usually end up using BBQ sauce, or Ketchup, or salsa on it. Don't ask me why – I just like the add flavor and texture sauces add.
Of course, because I love sauces so much, Italian-type foods are always my favorite. Red sauces, cream sauces…I love them all! Sure, they aren't the best things to eat when you have acid reflux like I do…but I can't resist them. Oh so yummy!
The other day, I was wanting to make a simple dinner – we had some squash and some pepperonis, as well as some parmesan cheese, and I thought that I could come up with something with all those ingredients. I had seen recipes before that had vegetables in a pan with parmesan cheese on top, so I decided to do something like that, but I added some pasta sauce, pepperonis, and parmesan cheese to make it a little heartier, and I made what turned into a crustless pizza! Apparently this kind of dish is called a Tian, so I guess this technically could be a pepperoni and squash tian recipe…but if you are trying to please a picky eater…just call it a crustless pizza!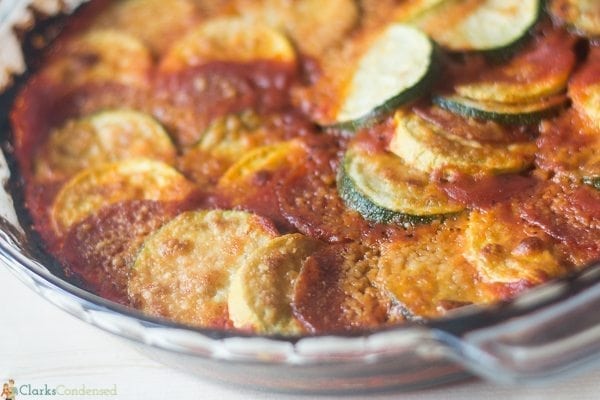 This really is a better-for-you dish that can easily be served as a side dish (it would be great with chicken!) or a main dish (though you may want to do two layers for a main dish.)
Overall, we really enjoyed this dish. We ate it with some traditional hush puppies, and it was a perfect summer night meal! And if you don't want pepperonis in it, feel free to omit them. It would be delicious with just the zucchini and yellow squash!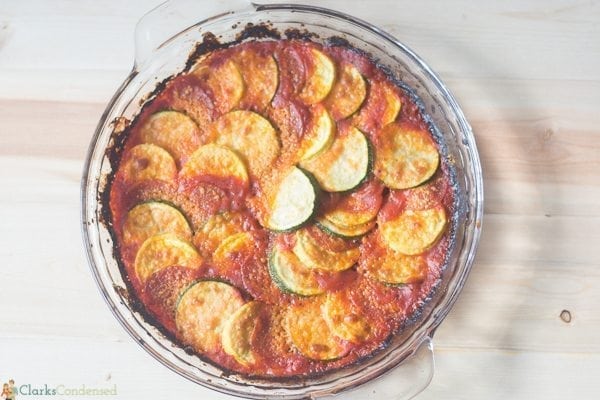 Step-by-Step instructions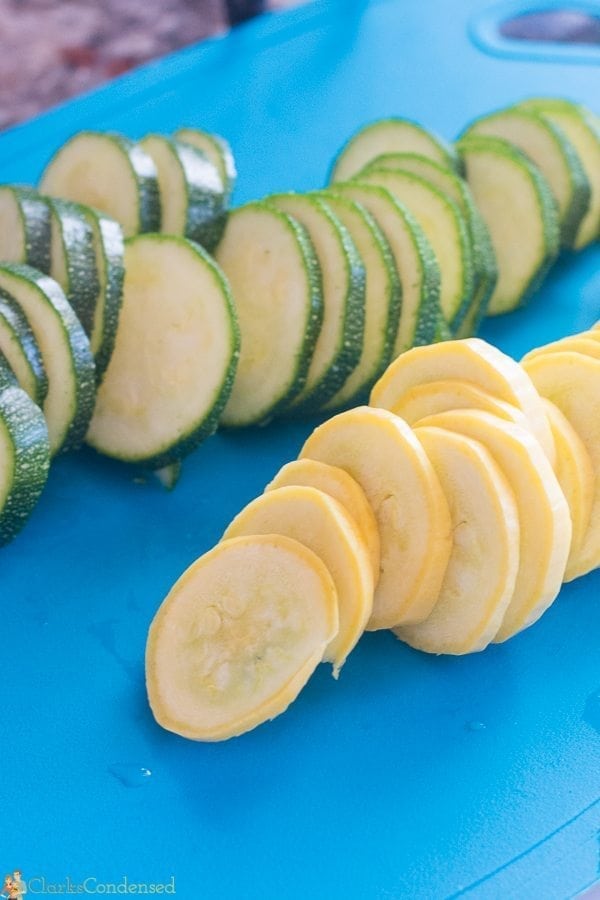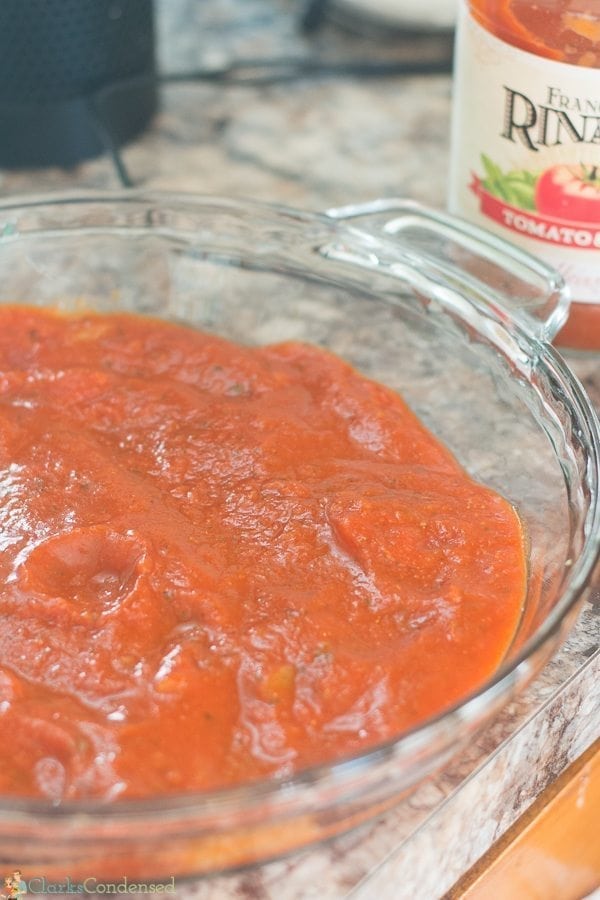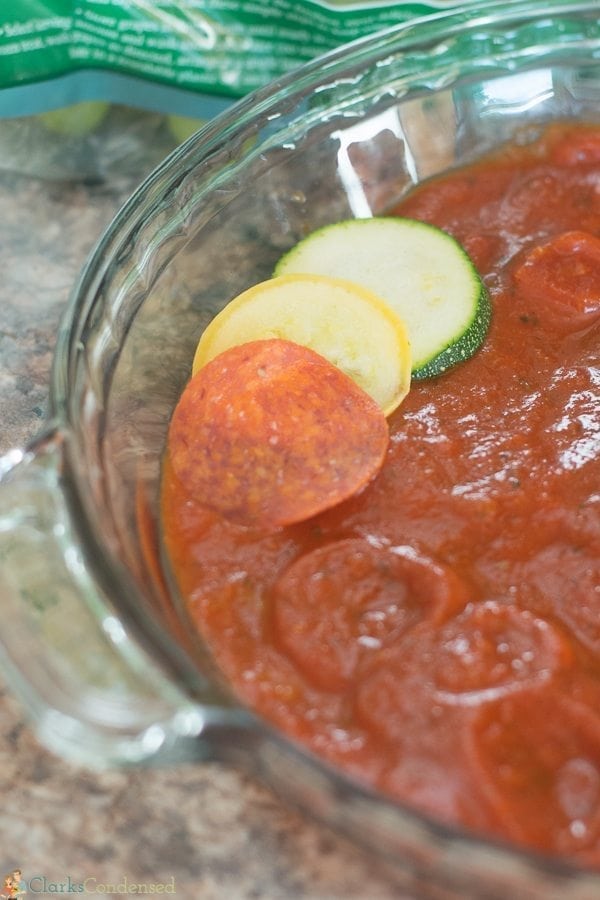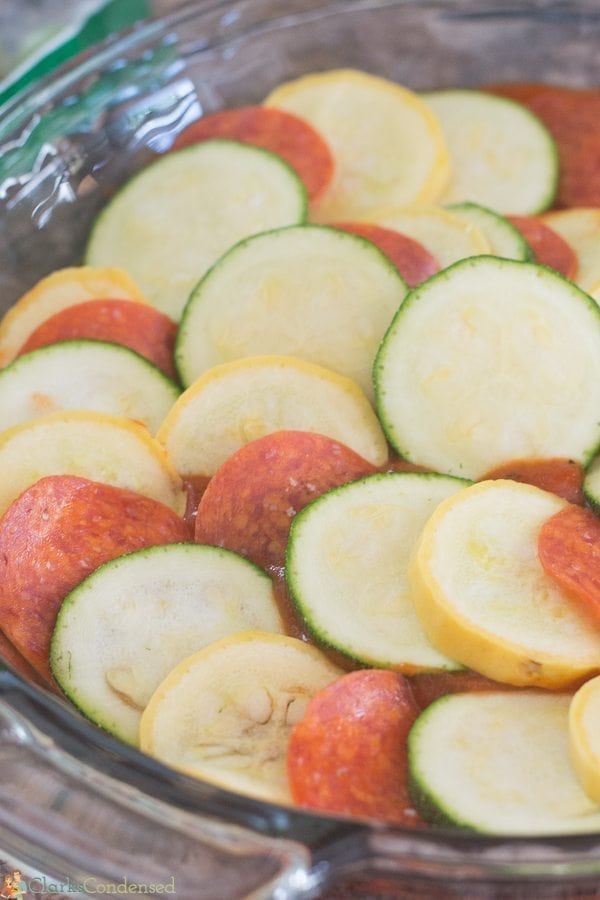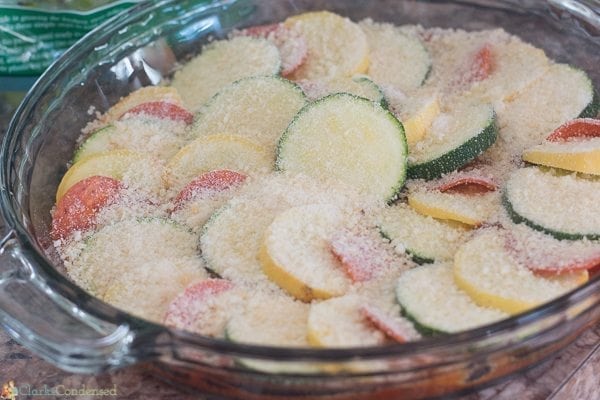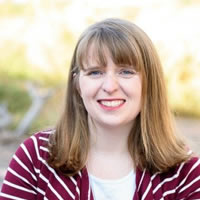 Katie is a Colorado-native, BYU graduated, and most importantly, wife to one and mother to three beautiful boys. She is passionate about sharing her experiences with others – especially about pregnancy, breastfeeding, cooking, and crafts. She is an International Board Certified Lactation Consultant. She loves spending time with her family and helping others find joy in family life.