This copycat Applebee's 4 cheese mac & cheese with honey pepper chicken tenders is simple and delicious – it's great for children and adults. Even those who don't like mac and cheese love it!


Applebee's Mac and Cheese Recipe
Macaroni and cheese is not one of my favorite foods. The thought of eating it usually makes me feel a little bit sick. Jack loves it though. I don't get it. Well, a few months ago, I went to Applebee's with my mom. As I looked at the menu, I kept looking at the 4 cheese mac and cheese with honey pepper chicken tenders. Normally, I would pass anything that says "mac and cheese" in the title, but it just looked so good. Plus, it didn't appear to have cheddar in it, which is probably one of the main reasons I don't love most macaroni and cheese recipes. The honey pepper chicken tenders sounded absolutely delicious.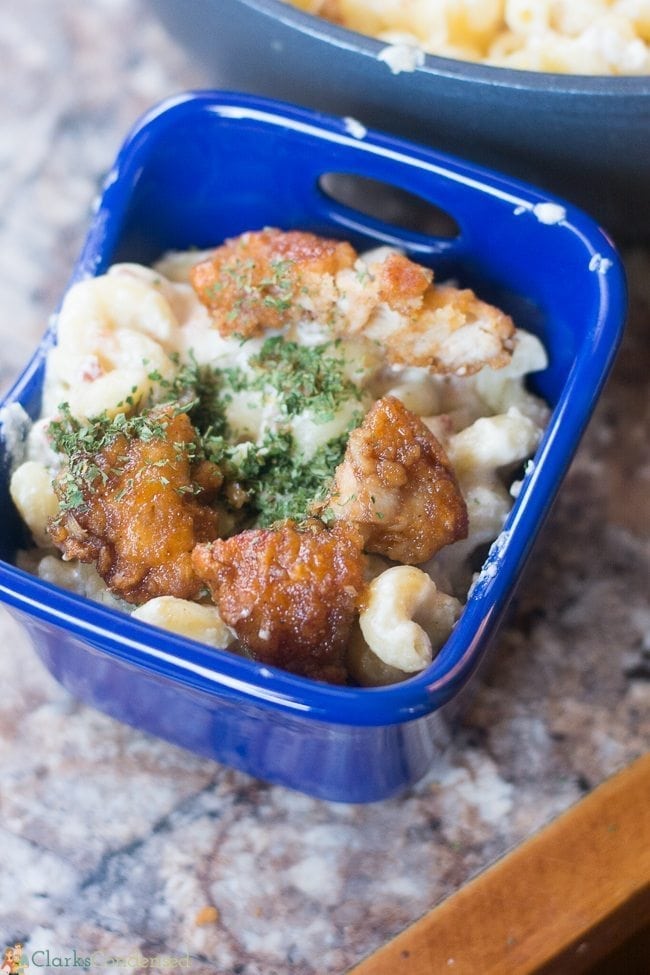 So I ordered it. And I'm so glad I did – it was absolutely delicious! I even ordered it again when we went a few weeks later with Forrest's sister. I don't know what it was about this dish, but I really enjoyed it. We invited my sister and her kids and my little brother over for lunch and to play games recently, and I thought that it would be fun to try and make a copycat version of this dish. I found a version of it someone else came up with, but I made a few changes. The sauce for the chicken is basically the same, but I decided to use pre-breaded chicken instead of making my own chicken tenders. I also changed the cheese sauce as well – I just used a bag of shredded Italian cheese (instead of buying four different kinds of cheese), and I also used evaporated milk instead of cream.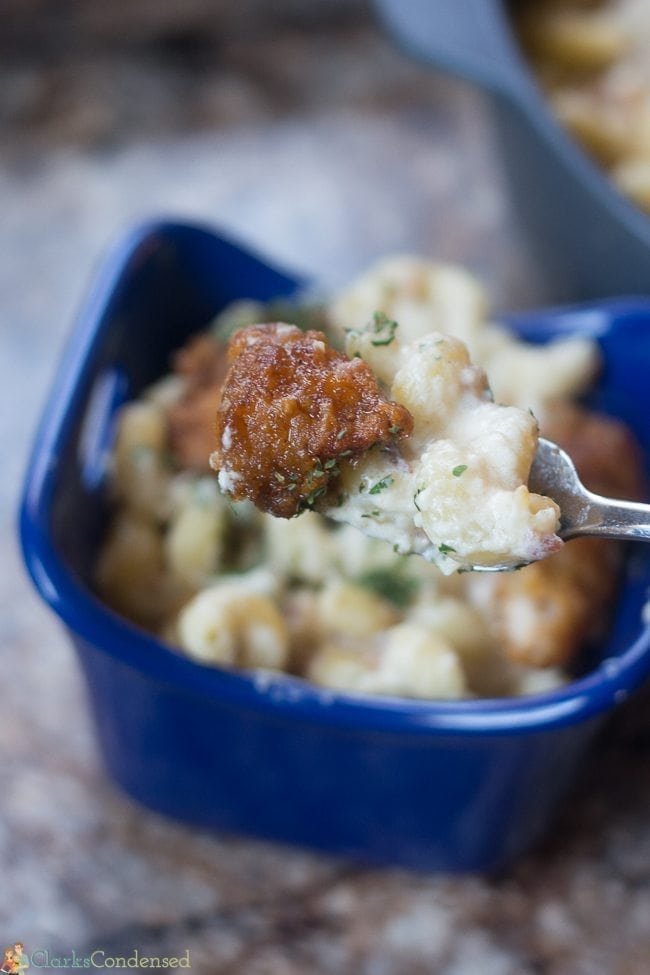 Everyone LOVED it. My niece and nephew both told me how delicious it was. Jack said he wanted me to make it again. My little brother even said he was going to try and make it at college when he went back (and that's big – I think he's made dinner like four times since he's been there. Haha.) My sister wanted the recipe too, because she couldn't wait to make it again. I really loved it, too! The sauce on the chicken tenders was delicious. My little brother said he never would have guessed they weren't even homemade tenders. By using frozen ones, it made this even easier to make. There's a lot of components, but they are all simple to throw together!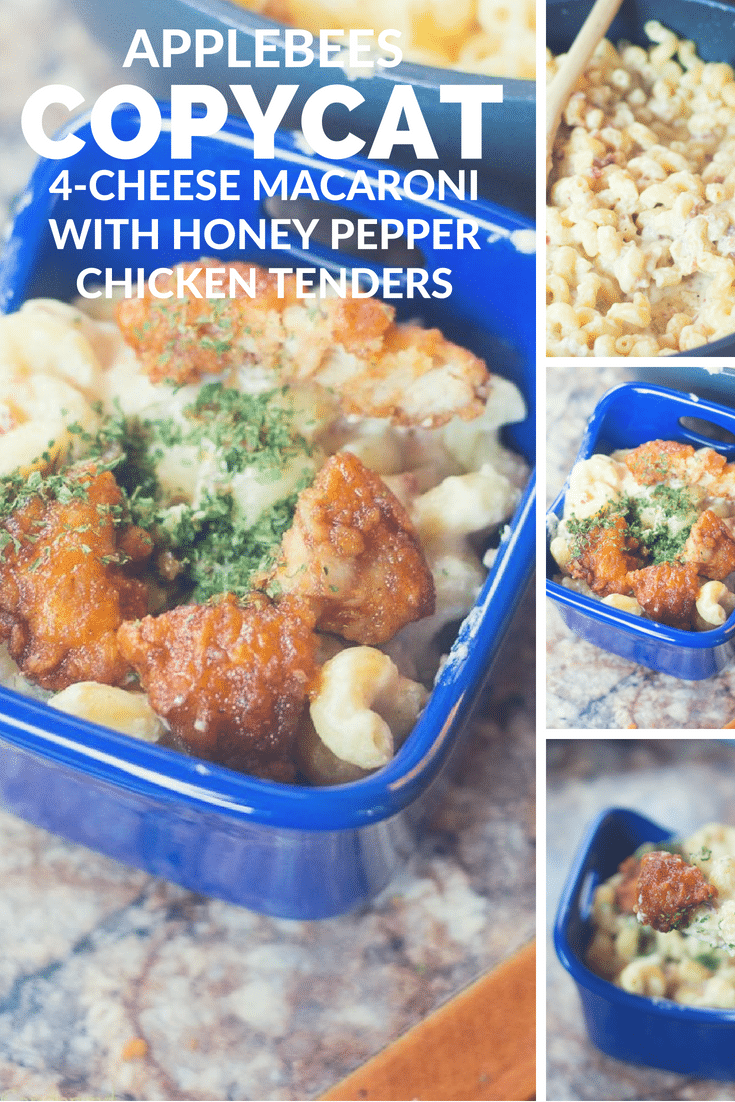 [thrive_leads id='30808′]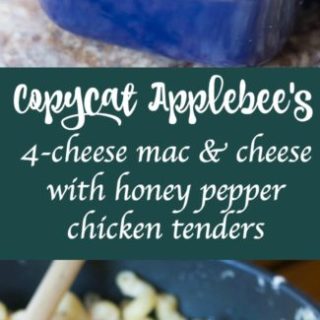 Copycat Apleebee's 4 Cheese Macaroni and Cheese with Honey Pepper Chicken Tenders
Ingredients
6 frozen, precooked chicken tenders (I used Tyson brand)
1 lb uncooked cavatappi pasta
2/3 cup honey
1/3 cup lite soy sauce
1/4 cup brown sugar
1/3 cup pineapple juice
1 tablespoon white vinegar
1 teaspoon black pepper
1/2 teaspoon cayenne
2 cups Italian blend shredded cheese
1/2 stick butter
2 cups evaporated milk
1 teaspoon parsley flakes
1 1/2 teaspoon minced garlic
1 teaspoon corn starch
Bacon bits
Instructions
Cook and drain pasta. Set aside.
Cook chicken tenders in the oven according to instructions.
While chicken tenders are cooking, combine honey, soy sauce, brown sugar, pineapple juice, vinegar, black pepper, and cayenne in a saucepan. Bring to a boil and boil for 2 minutes, stirring the whole time. Bring down to a simmer and let simmer for 15-20 minutes, stirring occasionally.
In another pan, combine cheese, butter, evaporated milk, parsley flakes, and garlic. Melt over medium-high heat until it starts to lightly boil. Add corn starch and whisk until it starts to thicken then bring to low heat until ready to serve, stirring occasionally.
When chicken is done, remove from oven and cut into smaller pieces. Cover chicken with the honey sauce.
Add pasta to the cheese sauce and mix until coated. Add bacon and chicken and serve.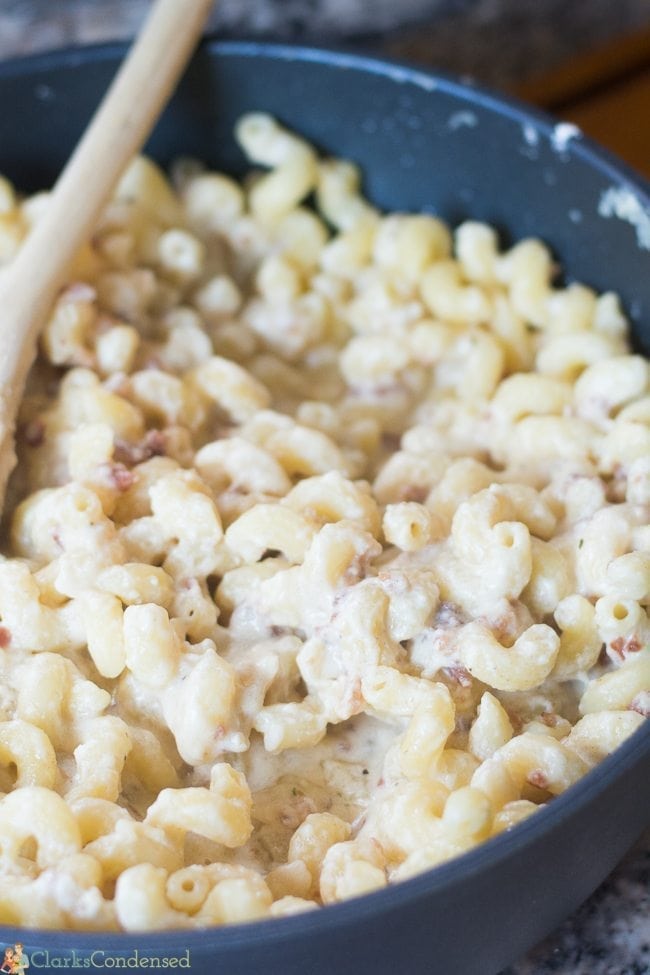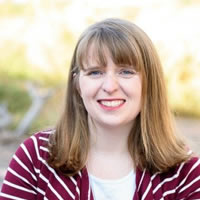 Katie is a Colorado-native, BYU graduated, and most importantly, wife to one and mother to three beautiful boys. She is passionate about sharing her experiences with others – especially about pregnancy, breastfeeding, cooking, and crafts. She is an International Board Certified Lactation Consultant. She loves spending time with her family and helping others find joy in family life.