Diapers are a necessity of life for the first few years…why not have them delivered to your front door? Here are some of the best subscription diaper services for every budget (and a fun way to try different brands at once!).

Diaper Subscription
As parents or caregivers, I'm sure we've all been there.
You go to change your little ones diaper only to realize you are completely out. If you're lucky you'll find one packed away in a diaper bag or shoved at the bottom of a drawer but if you want to avoid the stress all together then might I suggest signing up for a diaper subscription box plan.
They are becoming more popular and parents everywhere are seeing how reliable, affordable and convenient they can be.
They work similarly. It's just a matter of deciding what brand, company and price point you are comfortable with.
But after you sign up and choose a delivery plan, you can sit back and relax knowing your diapers will be delivered to you on a schedule that keeps you fully stocked on diapers.
I've researched the top subscriptions out there and have detailed everything you need to know below. These would also make for great gift ideas (especially gift ideas for a second-time mom!).
Before you look into these, though, make sure you've read our diaper stockpile post to determine just how many diapers per month you will need!
Diaper Delivery Service
Here is a brief overview of the subscriptions listed below so you can do a quick comparison. However, make sure you read the post in order to get the most details and links to where you can learn even more and signup!
[compareninja tableid="129405″]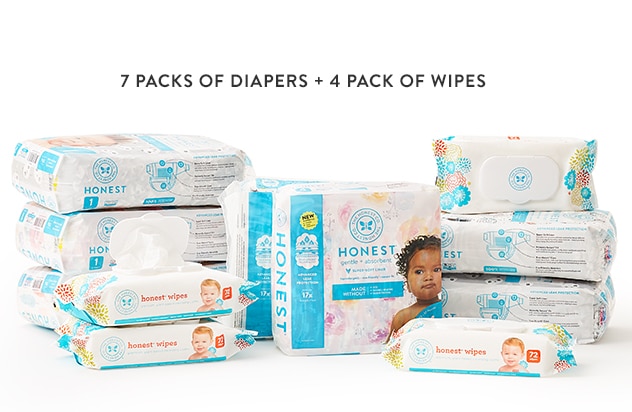 The Honest Company offers a variety of bundles including a diaper and wipe bundle.
These are delivered monthly and you choose the duration of each delivery. For one month it will be 79.95, three months 235.95, six months 205.95 with the best value being for 12 months at 859.95.
With each bundle, you will receive 7 packs of stylish, super absorbent diapers (amount of diapers varies for each size)  + 4 packs (288 wipes total) of soft, plant-based wipes. These are premium eco-friendly & super absorbent diapers and all natural wipes. Mix & match honestly cute designs each month.
Click Here to Start Your Subscription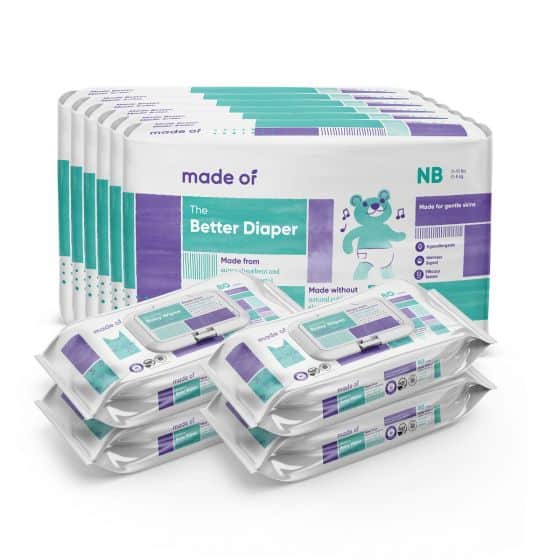 The Made of subscription box offers two bundles including a basic and deluxe bundle.
The Basic Bundle costs $80 a month and includes:
6 packages of diapers (you choose the size)
4 packages (80 count each) of wipes.
Their wipes are saturated in organic plant ingredients and oils. Their diapers are made without petrochemicals, phthalates, and parabens.
The Deluxe Bundle is $110 a month and includes: 
6 packages of diapers (you choose the size)
4 packages (80 count each) of wipes
Soothing Organic Baby Wipes travel pack that are saturated in organic ingredients and oils.
Organic Diaper Rash Cream that calms irritation with an organic blend of oils and non-nano zinc oxide.
Calming Organic Baby Powder that is Made Talc Free and of only organic plant starches and oils.
Diapers come in newborn to size 6 and you can even start a risk-free trial before subscribing.
To get this deal you will need to be a member of Amazon Family. Click here to get 20% off diaper subscriptions when you sign up.
The price varies depending on the brand and quantity of diapers. Once you do so you will receive a box of name-brand diapers delivered straight to your door as often as you'd like.
Best of all, you get to choose from popular diaper brands like Pampers, HUGGIES, Luvs, GoodNites, and Pull-Ups, just to name a few.
In addition to diaper subscription benefits, you can get discounts on other baby products, all the benefits of Amazon Prime, and a welcome package just for signing up.
Click Here to Signup for Amazon Family
The cost of each monthly subscription varies depending on the brand and quantity that you choose each month.
Simply go online and put what you would like in your shopping cart. If you choose to have it delivered monthly you will get a 5% discount when you subscribe.
Deliveries are made every 4 weeks and shipped within 1-2 days.
Choose any products you like that will be delivered on schedule. You can manage your account and subscription easily on the Target website. When you buy two boxes get a $15 gift card to use on other baby essentials. They also offer free shipping, free returns and the option to return or exchange in store.
Click Here to Signup for a Target Diaper Subscription
Ordering Diapers online from Sam's Club using your member's card is so easy.
You select the diapers from their online selection. You can choose from Huggies, Pampers, Member's Mark, Luv's and Seventh Generation. After choosing a size and how many boxes, you choose the schedule you want for delivery and then wait for your products each month.
Prices vary depending on the brand and size of diapers. Shipping is free with your membership card.
Be sure to check often as they do have Instant Saving coupons regularly. Keep in mind that you do need an active Sam's Club membership in order to take advantage of this, but they are pretty affordable and have a lot of great perks (need I mention their Scan 'n Go app. Lifechanging).
Click Here for a Sam's Club Diaper Subscription
For $70- $80 a month, plus free shipping you'll get a monthly box of disposable, ultra-soft diapers for babies.
Their diapers are baby-safe and made from eco-conscious materials that aren't rough and bulky.
To get started, just choose if you want diapers and wipes or just diapers, thee choose how often you want them delivered (3, 4, 5, or 6 weeks).
Click Here to Signup for Parasol
When you sign up for monthly delivery you are able to choose multiple sizes of diapers in your order. Pick from 3 custom designs and choose the frequency of your orders ranging from every 2 to 5 weeks.
For diapers only it starts at $45 for 3 packs with quantity depending on size. If you want to add wipes it starts at $55 a month with 4 packs of wipes (240 total).
With high absorbency, superior comfort, and most importantly, no harmful chemicals or substances -you can rest easy knowing you are providing your child with an amazing diaper.
With each monthly box subscription, they will donate a diaper a day to families in need. That means every time you receive a box, they are donating 30 diapers right here in the U.S.
You are also able to cancel at any time.
Click Here to Signup for Abby and Finn
This isn't exactly a diaper subscription service, but it is a great way to try out different brands of diapers without buying huge packages of them. You can order a box that contains a variety, or you can create your own bundle where you select which diaper brands you would like included.
Other Posts You May Enjoy:
Cindy Maudsley lives in Utah with her husband and five children. Aside from writing, her passions include her family, faith, and spreading infertility awareness. She also loves a good book or podcast, true crime documentaries , Netflix binge, diet Coke and Target run