When you think of road trip food, what comes to mind?
For me, it's chicken salad sandwiches.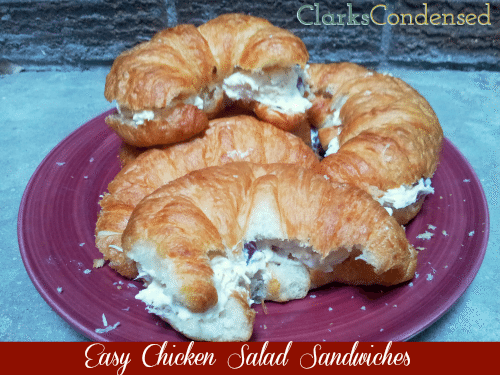 Kind of different, I know, from your typical road trip foods of beef jerky and chips. But it's what my mom always made (and still does) whenever our family set out on a road trip. She always likes to joke that she makes them for lunch, but my dad has usually eaten one or two before we even get to the mountains.
Even though I don't really go on road trips with my parent's anymore, I've continued the tradition for when Forrest, Jack, and I hit the road. And let me tell you, it's still as delicious as ever. For some reason, whenever I'm on the road, the thought of a nice, delicious chicken salad sandwich waiting for me in the cooler on a flaky croissant makes the road trip more bearable (and believe me, I go to great lengths to make those trips not miserable. I hate driving for long periods of time!)
So when we moved back to Utah, we wanted to avoid having to stop and eat for too many meals, since were leaving on a Sunday. Of course, I knew that making these chicken salad sandwiches would be the best option, and I was right! Much like my dad, we had a hard time waiting too long into our trip to dig in (though, in our defense, it was around lunch time!)
This recipe is a little different than the one my mom always made, but it's just as good, and includes a few of the key ingredients — grapes, cashews, and croissants. I made it a little healthier by doing a half mayo-half Greek yogurt combo, and added some Parmesan cheese. I was a little nervous about how they would turn out, but I was pleasantly surprised with the yummy flavor.
These would also be yummy to make for a bridal or baby shower, or just for lunch any day!
NEVER Miss Another Recipe!
Sign up for our food and recipe newsletter today
Free eRecipeBook upon signup
Free Meal Planning Bundle
Easy and Family Friendly Recipes EVERYONE Will Love!
Simple Chicken Salad Sandwiches
Ingredients
1 can of Kirkland Canned Chicken (or 1 cup of shredded chicken)
1/2 container plain Chobani Greek Yogurt
2 tablespoons mayonaise
1 teaspoon onion powder
1 teaspoon garlic powder
1 tablespoon parmesan cheese
10 grapes, halved
1/2 cup cashews (optional)
Instructions
Break chunks of chicken into shredded pieces with fork. Add remaining ingredients and mix together. Store in the refrigerator until ready to serve. Serve on croissants or other slices of bread.
7.8.1.2
982
https://www.clarkscondensed.com/recipe/simple-chicken-salad-sandwiches/
This recipe was created on ClarksCondensed.com. Feel free to distribute as needed, but if you post it on your own site, please link to back to ClarksCondensed.com
COMMENT POLICY:
All we ask is that you be kind. We welcome differing opinions, but any comments containing personal attacks, sarcasm, etc. will be removed immediately. Keyboard warriors aren't welcome 🙂 All comments are moderated and may take time to be approved. Anything not pertaining specifically to the content of a post will be removed (including comments about ads).