Take a break from the traditional meatloaf with this fancy, yet simple, buffalo meatloaf recipe. It has great flavor!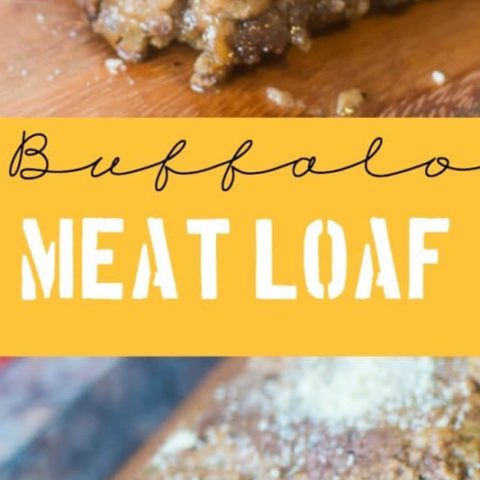 Fancy Meatloaf Recipe
Ingredients
1.5 pounds ground buffalo, uncooked
3/4 cup evaporated milk
1 cup Italian style bread crumbs
1/4 cup prepared pesto
1/4 cup parmesan
3 tablespoons ketchup
1 package of healthy solutions meatloaf seasonings, or you could do 1 teaspoon garlic powder, 1 teaspoon onion powder, and 1 1/2 teaspoons Italian seasoning.
Instructions
Preheat oven to 350 degrees.
Combine all ingredients in a bowl and mix with hands until combined.
Place meat into a greased bread pan.
Bake for 60-70 minutes, or until the meat is completely cooked.
Invert onto serving dish.
Sprinkle with parmesan cheese.
I know people have good reasons for being vegetarian…but it's not something I think I ever want to do.
I just enjoy the flavor of a good cut of meat – there's so much you can do with meat, and there are so many varieties. I was recently sent a sampling of different meats from D'Artagnan Foods, a company that sells fresh, healthy meats. They have so many yummy cuts of meat – some that I've never even heard of (and when you order using Ebates, you can even get 3.5% cash back.)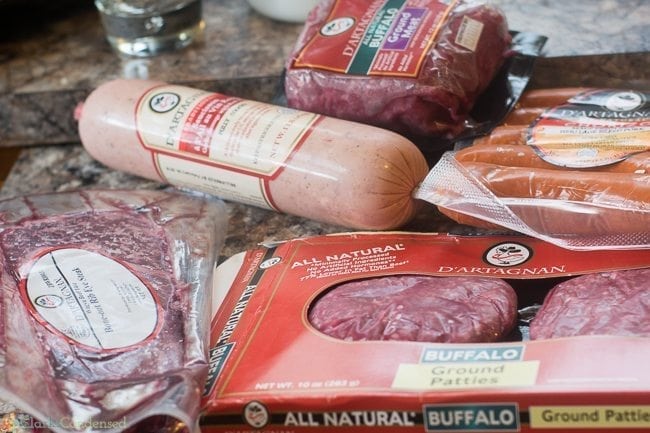 I've really enjoyed sampling the meats we were sent – and I was particularly excited about the ground buffalo. I've had buffalo in the past, and it's always a treat. I feel like it is more flavorful and moist than ground beef, and it's just so delicious. Forrest and I decided to make a "fancy" meat loaf recipe using the ground buffalo meat that we were sent.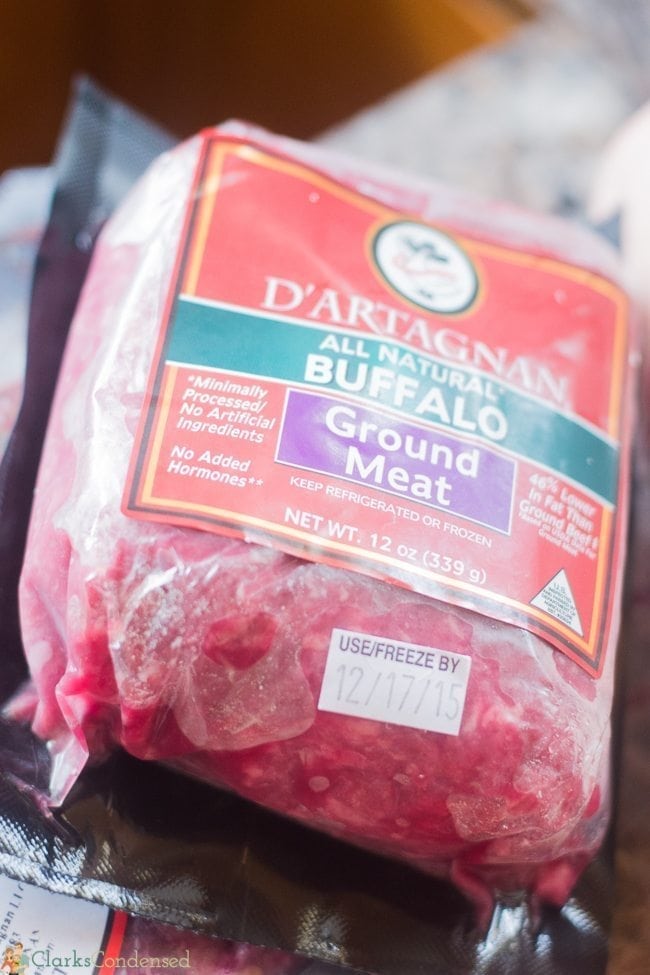 Now, this is a little bit different than traditional meatloaf, because it doesn't have a tomato-y sauce on top. I also used evaporated milk instead of whole milk, and I threw in some pesto as well.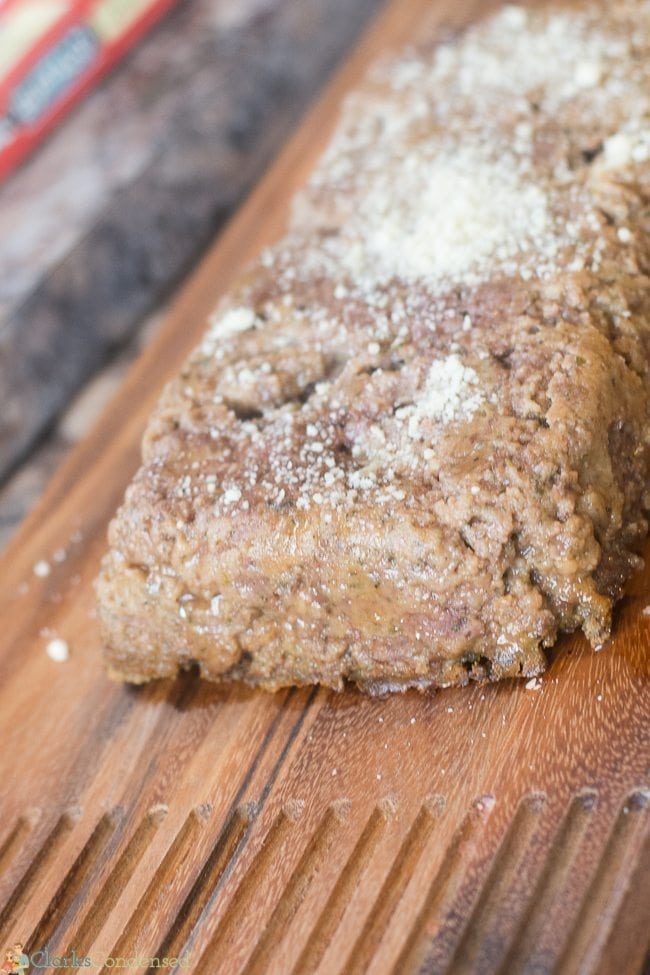 It turned out so delicious though. It was very moist, and the flavor was delicious. I used a meatloaf seasoning packet from Healthy Solutions, and it was SO good! At the last minute, I threw in some pesto just for an added twist, and it turned out to be a great idea.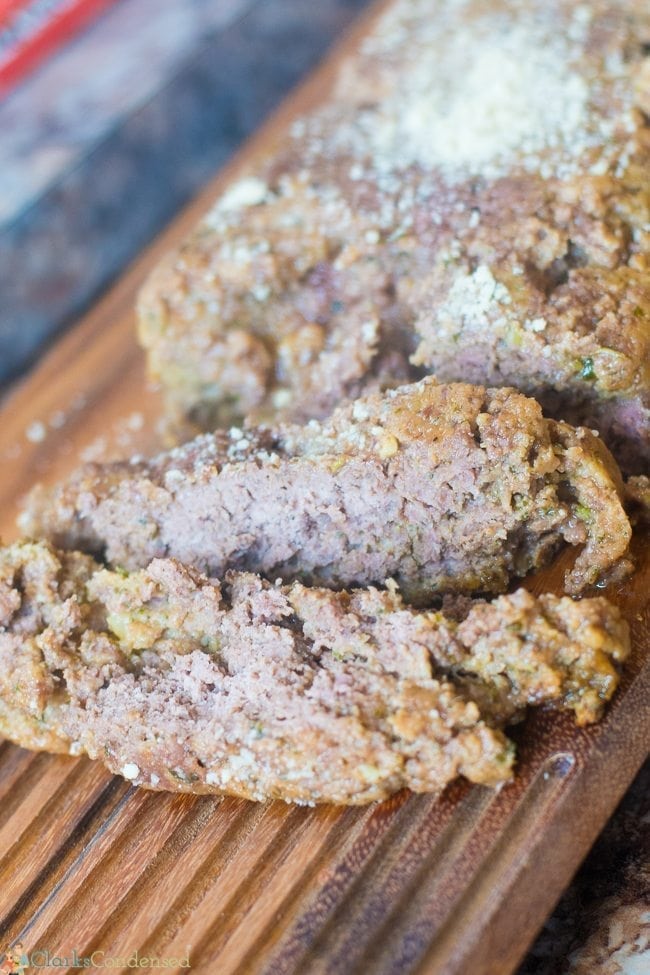 I know ground buffalo isn't the most common ingredient, but it's worth trying to find. I highly recommend purchasing it from D'Artagnan – it's pretty affordable, if you ask me. You can also enter below for a chance to win $5000 to spend on D'Artagnan products – which would be awesome! You can also follow them on Facebook, Twitter, Instagram, and Pinterest for yummy recipes and other contests.
Thank you to D'Artagnan for providing me with a variety of meat products to try!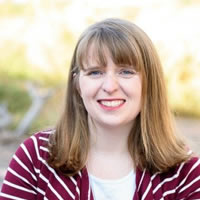 Katie is a Colorado-native, BYU graduated, and most importantly, wife to one and mother to three beautiful boys. She is passionate about sharing her experiences with others – especially about pregnancy, breastfeeding, cooking, and crafts. She is an International Board Certified Lactation Consultant. She loves spending time with her family and helping others find joy in family life.