If you are a parent who is looking for a way to help your child develop their musical skills or want to introduce them to music, or perhaps you are wanting to learn yourself, then Piano Marvel is the perfect app! It's an award-winning educational app that helps children learn how to play the piano from home. There's no better time than now to get your kids started on this wonderful journey of learning music and creativity. This blog post will give you all the basics about what Piano Marvel can do for you and your family as well as offer a coupon code so you can try it out for an even more affordable price.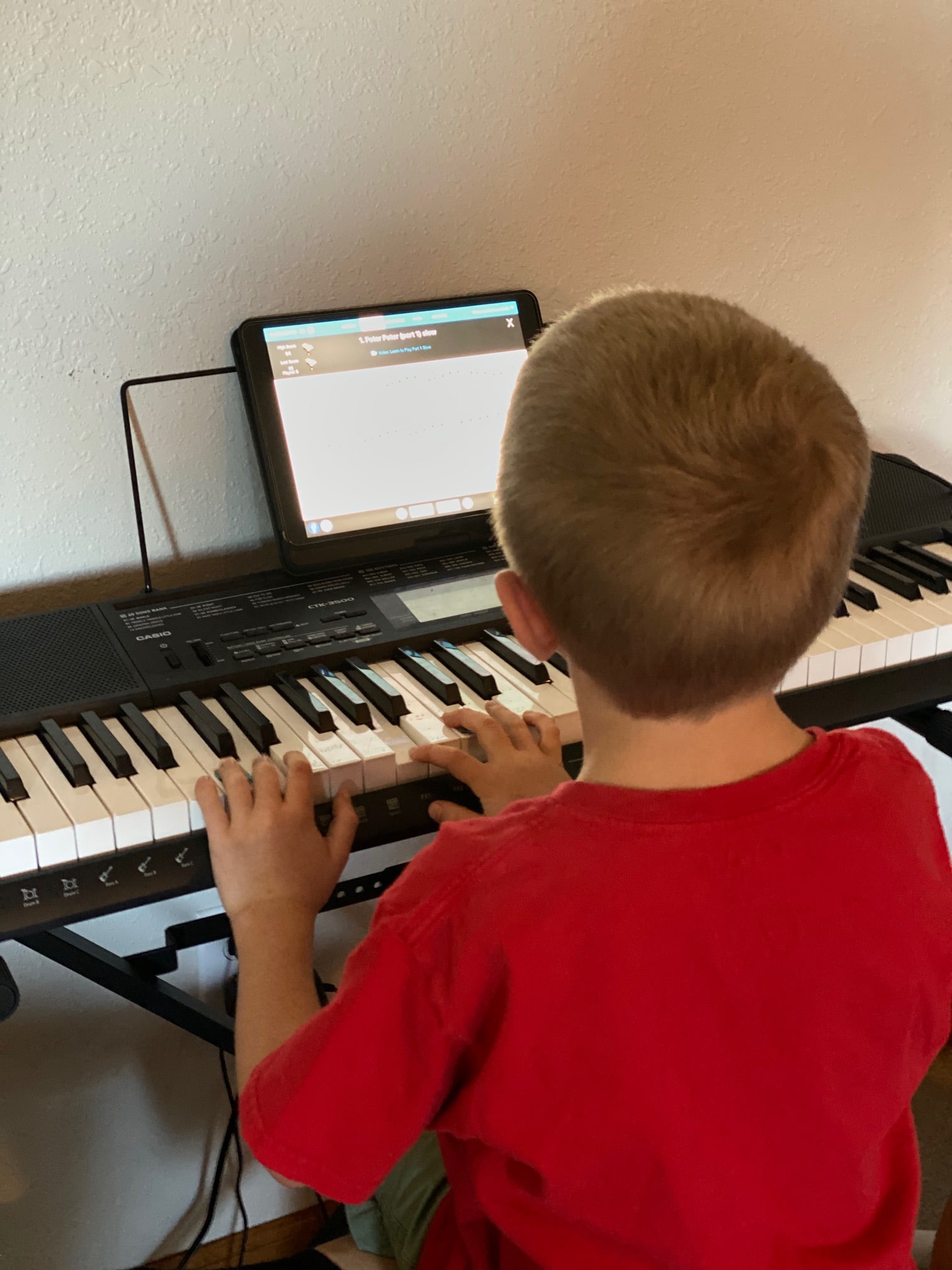 When I was little, my parents signed me up for piano lessons.
8A while back, my sister mentioned how her kids were learning to play the piano using a program called "Piano Marvel", which was created by someone they went to church with.
So when Jack expressed interest in learning to play the piano at the end of last year, we decided to try it out before investing in actual piano lessons.
I also decided that it would be fun to take some of the lessons myself. I took piano lessons off and on as a child, and I can usually dink around with the top line of most songs. But not learning how to play the piano better is one thing I regret a lot.
So for the past few months, we've had a lot of fun trying out Piano Marvel. I had tried some other apps I had found in the Apple Play store in the past, but I think that Piano Marvel is one of the better options out there.
It's great for all levels and ages. I can even do it while holding the baby!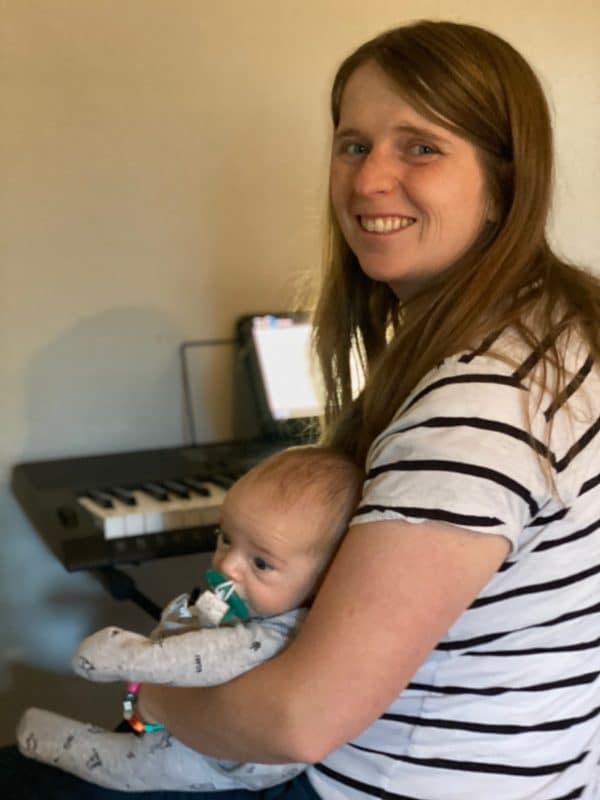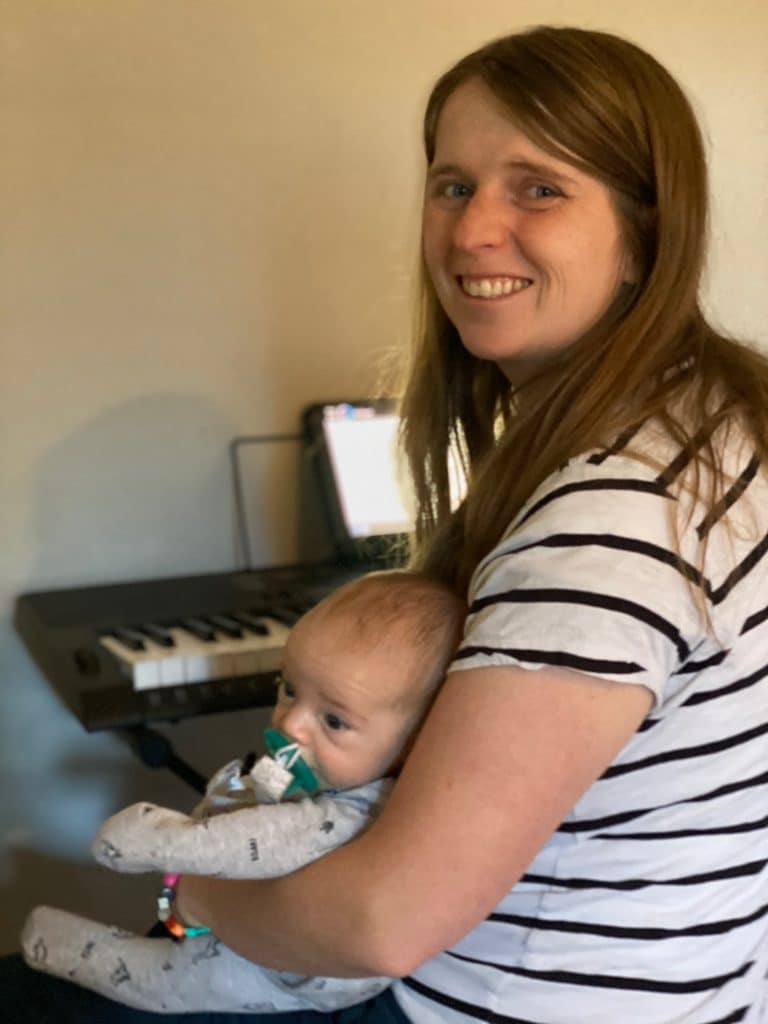 What is Piano Marvel?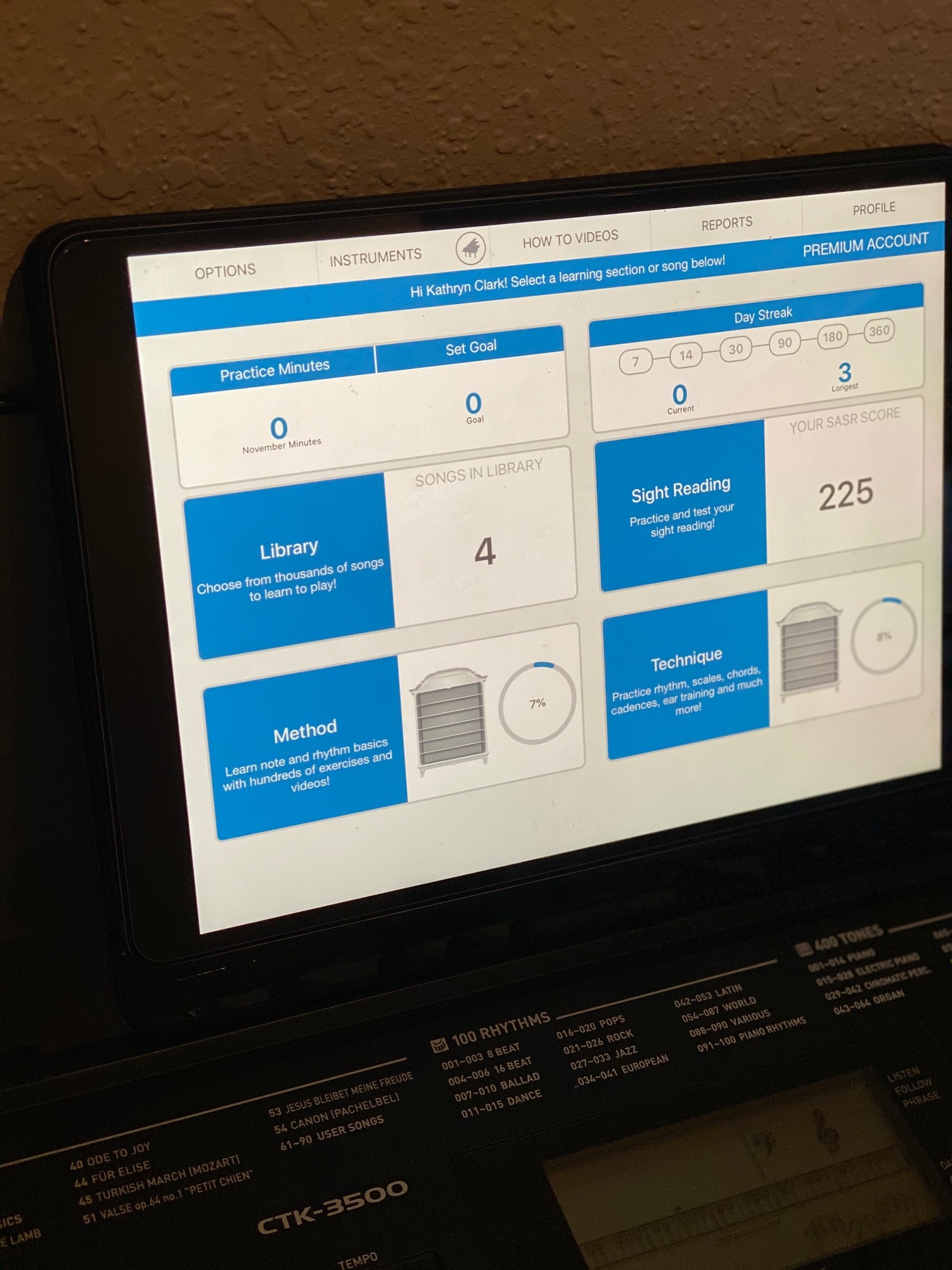 Piano Marvel is a program that is designed to help people of all levels and backgrounds learn to play the piano.
They have tons of lessons on multiple levels that help you learn, step by step. They have a library with thousands of popular songs to make it even more fun.
You can use it on its own or as a practice tool for piano lessons!
Equipment Needed
To use Piano Marvel, you will need an electric keyboard with a MIDI connection, as well as a laptop (Mac or PC) or iPad.
I had a lot of trouble finding an electric keyboard with a MIDI connection, so that was a little frustrating. However, Piano Marvel has some that they sell on their website if you want to order one that will definitely work.
Here is the keyboard we ended up buying from a local music store – Casio CTK 3500. This is the one sold through the Piano Marvel website as well.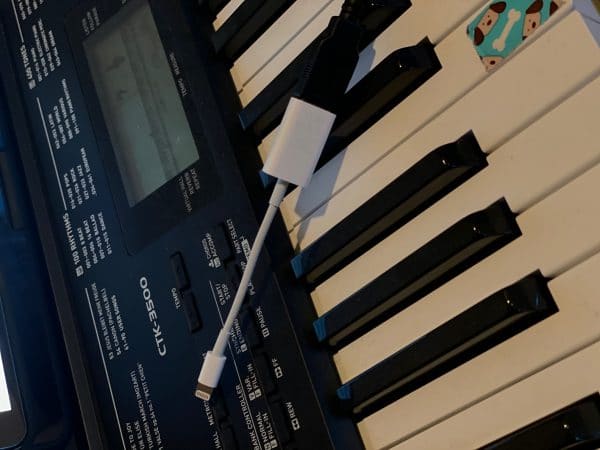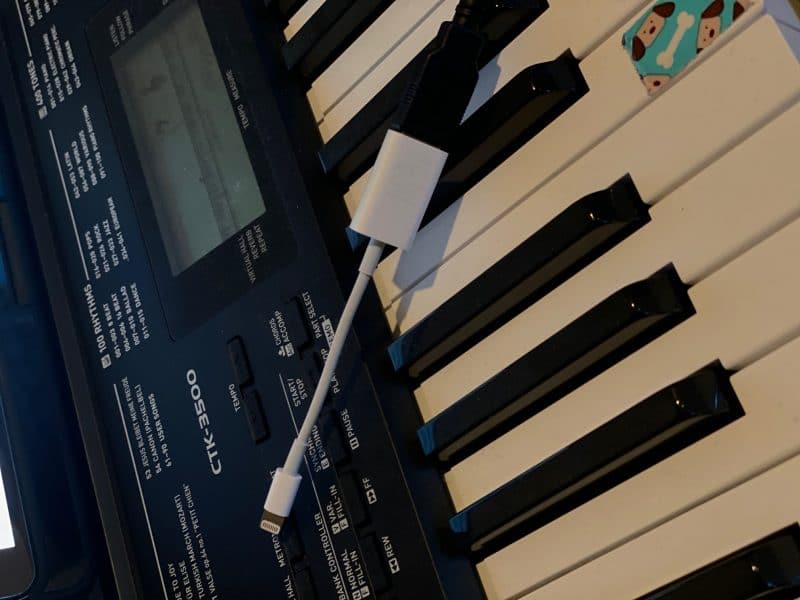 Because I have a newer MacBook and iPad, we had to use adapters to connect them to our devices. This is an added expense you will need to consider if you are using one of these newer devices.
Does Piano Marvel Replace a Real Teacher?
I don't think anything can really replace the benefit of having individual attention from an experienced teacher.
As we talked with the creator of Piano Marvel, he said that teachers really help a lot with the expressive side of learning to play the piano and perfecting your skill. Piano Marvel can't really do that.
However, I do think it's an awesome resource, and it can teach you a lot. It's an affordable option, and it's flexible.
We signed my oldest son up for piano lessons last year, and he really benefited from that. However, he had such a great foundation that stemmed from his time with Piano Marvel. We took a break over the summer, and he's continued to use Piano Marvel on a regular basis, and we've just seen him continue to improve.
Because it starts from the bare basics and then builds upon that, it can really give you great knowledge and start learning to play the piano.
There are lots of different levels, too, so even if you aren't a beginner, there should be something for your level.
A lot of people use this in addition to working with a teacher. In fact, there are plenty of piano teachers who will have their students sign up for Piano Marvel to help with practice.
What I thought was pretty cool is that Piano Marvel is actually used at several different universities in their piano classes, such as BYU, CU, Snow College, TCU, and Mesa University.
But – going back to the initial question…Piano Marvel can't completely replace a teacher, but it can help you learn the piano. We've all been using it at our house, and we have improved. I figure if any of my kids show a real interest, we can sign up with a teacher.
Piano Maravel Price
The first level is free. For someone who is proficient in piano playing, this will probably be too basic. However, there are quite a few lessons, and it will take a while to get through them. My son took about a year to get through level one.
After the first level, it is $15.99 a month per player. I think this is a really good value considering all the instructions you get.
If you pay for Piano Marvel for a year, you can get it for less than $10 a month ($110.99 for a year)
Pros
Sight-reading
One of the highlights of Piano Marvel is that they try and teach you how to sight-read from the beginning. This can be so helpful when playing the piano, and I love that they focus on it.
They have a sight-reading test that you can take every few weeks to help see if you are improving, as well as to help you find your sight-reading level.
Boot Camps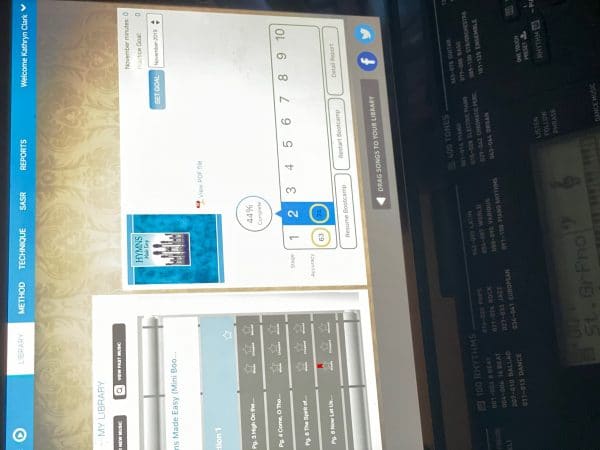 Piano Marvel has some music "boot camps" where they just throw you right into learning to play the piano.
It's a really interesting concept – you are given thirty seconds to look at the music, and then you play it three times. It increases in speed each time.
You go through tons of songs playing the right hand, and then you go back through later with the left hand, and then you put them together.
The creator of Piano Marvel likened this to learning to talk before you learn the alphabet. They have seen a lot of success with this method!
I'm currently doing the "Hymn Bootcamp", and I really enjoy it. I love that it just throws you right in.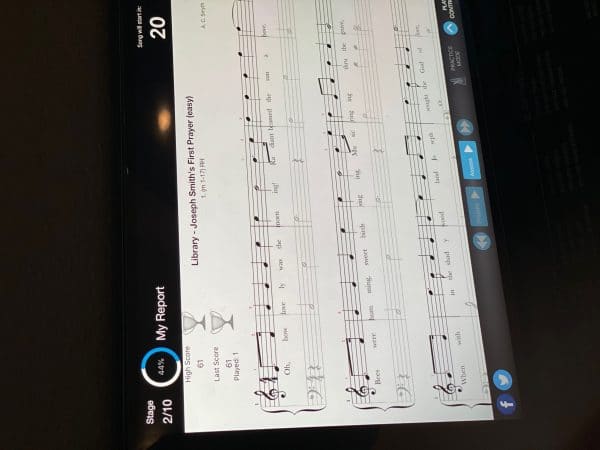 First level is free
There are multiple levels that you can take from Piano Marvel, and the first one is free. For someone who is new to the piano or doesn't have a ton of past experience, this will keep you busy for a while.
It's nice to be able to try before you buy.
Huge Library of Music
They have tons of songs that you choose to play at every level! They are constantly adding new songs as well.
You'll find classic songs, currently popular songs, religious music, and so much more. I love the selection.
YouTube videos for each lesson
For each lesson, you can click on a video that teaches the concept and goes over it a little bit. I found this helpful several times when I got a little confused about what exactly I was doing.
Prepare Mode
We really like this – it's a way to prepare to play the lesson before you actually do for "credit".
The music doesn't play continually – it just moves on a note by a note when you hit it. It's a great way to go at your own pace and not get overwhelmed, especially with trickier pieces.
Incentives
Occasionally Piano Marvel will host competitions (for prizes!) to incentivize students to practice more. We have participated in a couple of them, and they really do get you motivated!
Teaches to Play by Ear
A big part of Piano Marvel is teaching you to play by ear. I love that it incorporates that.
Less Expensive than Piano Lessons
Obviously, nothing can really replace piano lessons, but these are less expensive than if you were to pay a teacher.
I think it's a great place to start if you aren't sure if you want to invest in lessons and just test the waters a little bit.
Lots of levels
I believe there are six different levels, so Piano Marvel is for every level of musician.
Individualized Feedback – very specific to you.
Self-paced
This is a pro and a con, in my opinion! There's no one there telling you to practice, but it also takes the pressure off. If you decide to take a break, it will be there when you get back!
Cons
The platform can be a little confusing
This was more true with the older app – I found it hard to navigate and a little bit overwhelming. The new app is MUCH better laid out and easier to work with.
Have to pay separately for each person using it
If you have multiple people using Piano Marvel (and they are beyond level 1), you have to pay full price for each person. I would love to see a family option because it adds up fast!
Can't use a regular piano
With some of the piano teaching apps, you can use a regular piano.
With Piano Marvel, you need to be able to connect the computer or iPad to your piano, so unless you have a piano that has been designed to have a MIDI connection, you have to use an electric keyboard.
I can understand this, as it gives you direct feedback, and it can tell exactly what you are playing. When I used another program, it allowed you to just have the app listen to you playing – but it always registered by the keyboard as everything being one key lower…which isn't the best way to learn the piano!
Not Always Kid-Friendly
When Jack (7 at the time) started with Piano Marvel, he would easily get frustrated while doing different levels. At the age of 9, he flies through them. I think for someone younger, it would be better to do this along with lessons from an actual teacher.
I would love to see a "Piano Marvel Junior" that is a little easier for younger kids to follow.
No accountability
One of the best parts of having a teacher and regular lessons is accountability.
I don't know about you, but I am not always the best at staying accountable to myself – if I have someone else tracking my progress that I have to report back to, I'm far more likely to keep doing it!
I got really gung-ho in the beginning when I started with Piano Marvel, but it became too easy to find an excuse not to do it.
Videos aren't always matched up to the correct lesson
With the update of the platform, we have found that some of the lessons don't have the correct video matched up with it. This may have been corrected since we last logged in, but it's just something we noticed.
Piano Marvel Coupon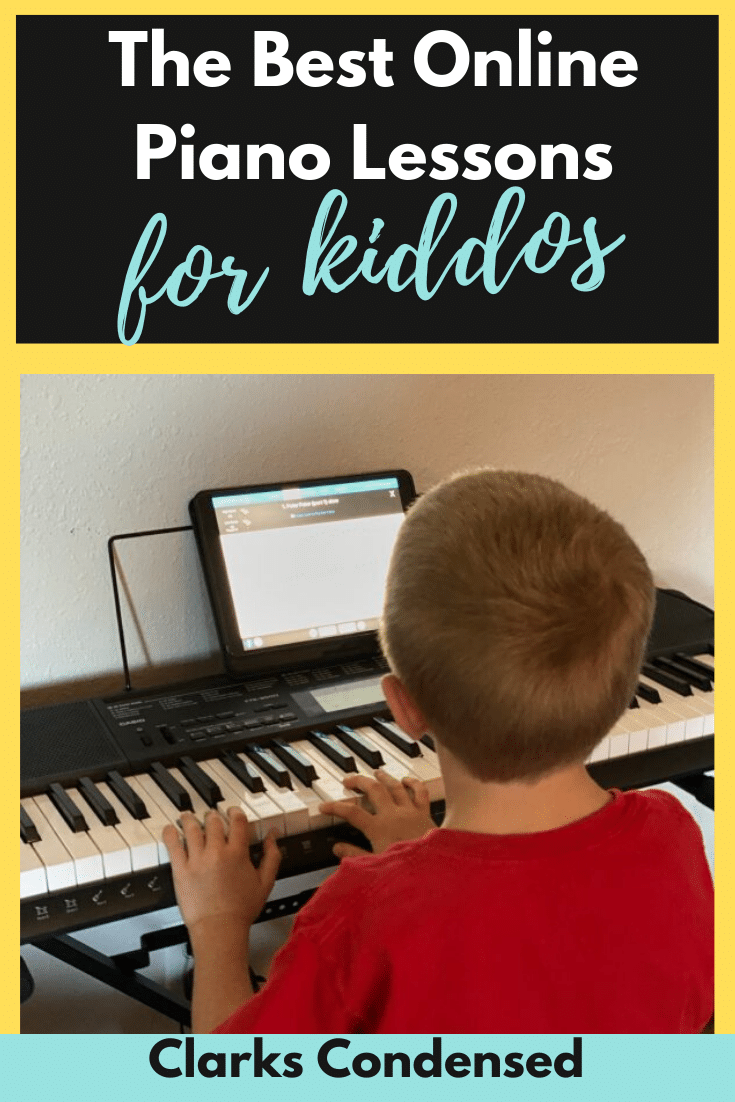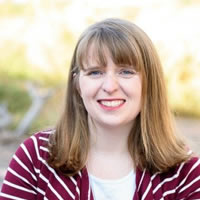 Katie is a Colorado-native, BYU graduated, and most importantly, wife to one and mother to three beautiful boys. She is passionate about sharing her experiences with others – especially about pregnancy, breastfeeding, cooking, and crafts. She is an International Board Certified Lactation Consultant. She loves spending time with her family and helping others find joy in family life.