If you are wanting to make a face mask but don't have a sewing machine – here are over 12 no sew face mask ideas and instructions. All of these ideas are made with common household items and can be constructed in about 10 minutes (or less!)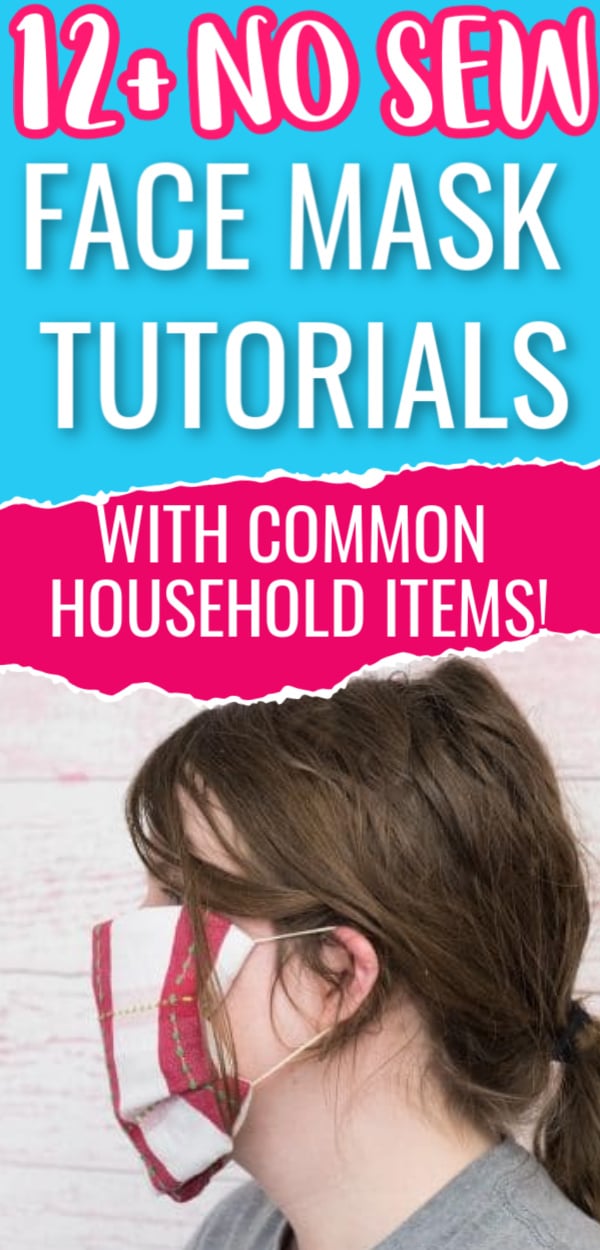 We have shared a few different tutorials for face masks recently – but they all require a knowledge of basic sewing skills (and are much easier with a sewing machine).
But I am sure there are many, many people who don't have a sewing machine, don't know how to sew, or don't have any desire to sew right now…but need some kind of make-shift face mask.
Thankfully, there are a good amount of ideas out there for no sew face masks that will work for those times you absolutely have to go out in public.
I thought I would share some of the tutorials and videos I have found that seem to be most helpful.
Keep in mind not all of the options listed are going to be super effective, but, they can work in a pinch.
Here is what the CDC suggests in regards to homemade masks:
Cloth face coverings should—
• fit snugly but comfortably against the side of the face
• be secured with ties or ear loops
• include multiple layers of fabric
• allow for breathing without restriction
• be able to be laundered and machine dried without damage or
change to shape
You can read more about their recommendations for wearing masks in current conditions here.
These masks are not meant to be used in a medical environment!
If you do want to sew one, here are a few of our posts that you can look through:
And now for some no sew tutorials:
Our Favorite Option from Mask Builders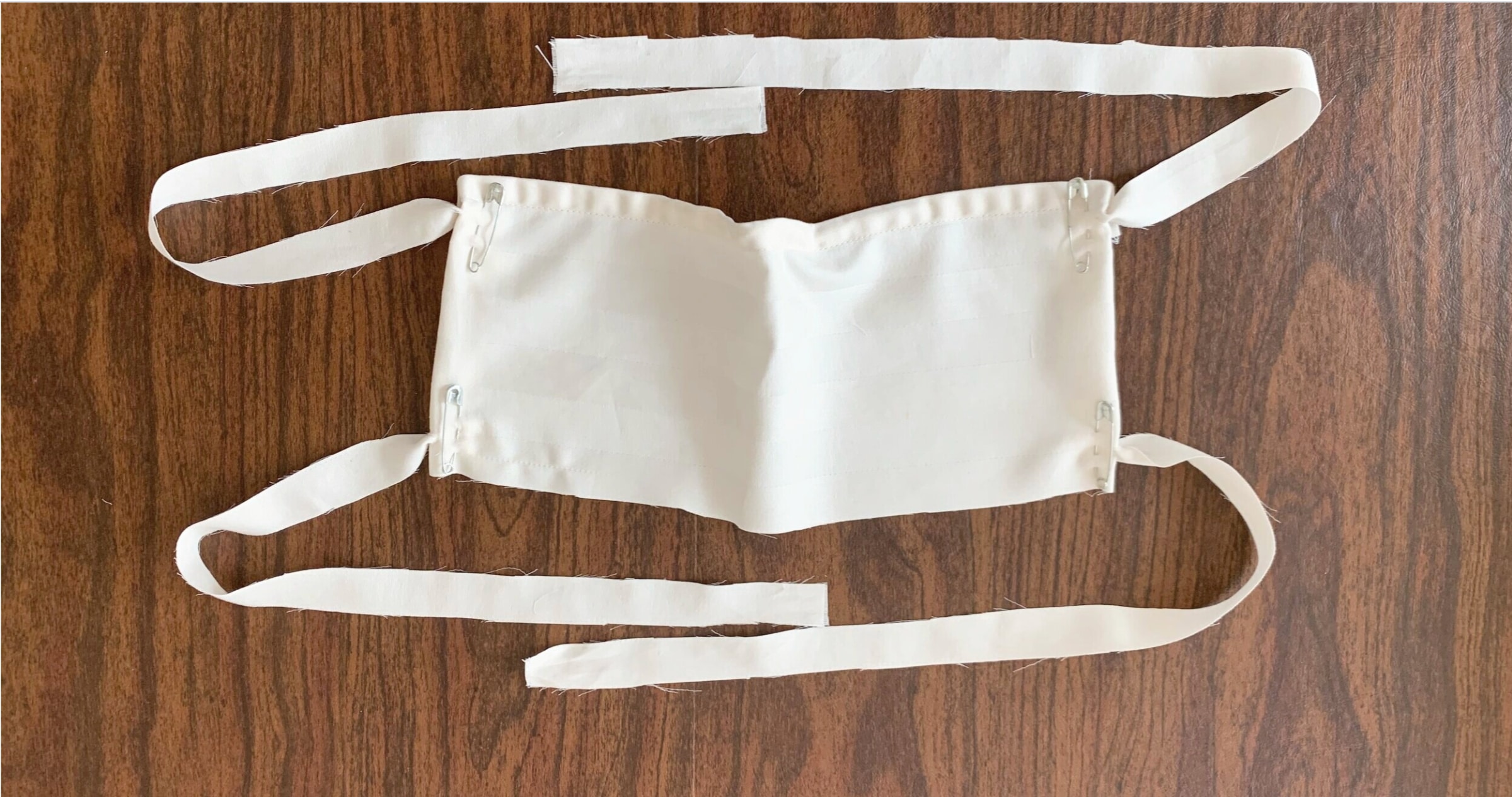 Forrest and I looked at lots of different no-sew options, and this one from Mask Builders is our favorite.
It was "was designed by a hospital epidemiologist to simulate a surgical mask and can be created in 10 minutes
It features two key features: a nose pinch to keep the mask secure and a bottom tie that tightly fits the contours of your face. Bandanas or loose-fitting pieces of cloth will not give you the same level of protection as they allow air leaks. 100% cotton fabric has been evaluated in studies and is comparable to approved surgical masks, not an N95."
For this mask, you will need:
Clean flat bed sheet with side hems
(100% cotton, tight weave) – a queen sheet will make about 20 masks
Scissors
Measuring tape (or 8.5'" x 11" piece of paper to approximate)
Large paper clip
Safety pins (or stapler)
You can read the full instructions here.
CDC Recommended Homemade Face Masks
The CDC lists three different options in this article, two of which are no sew.
The first one uses a t-shirt. This is one we decided to try out – it didn't look as nice as the one in their drawing does, but it works.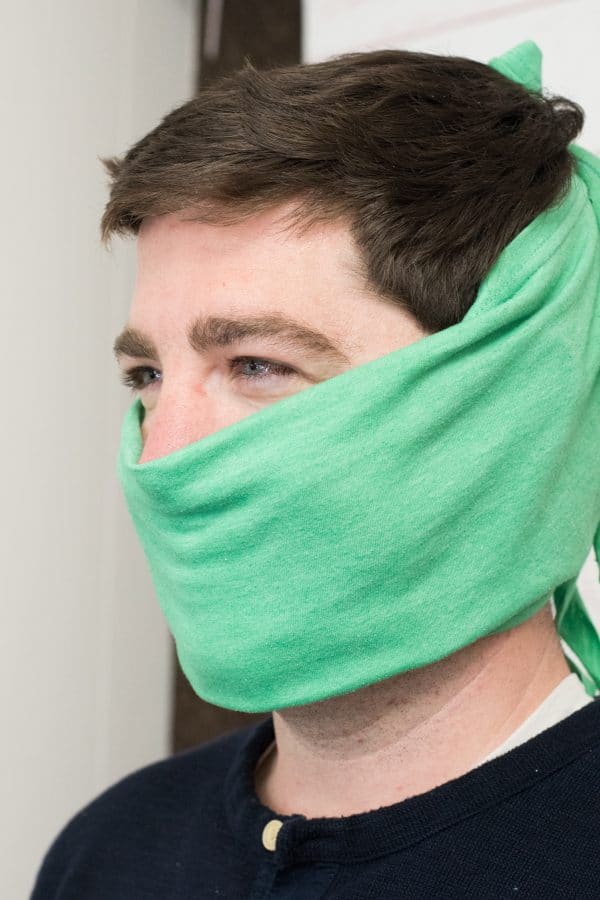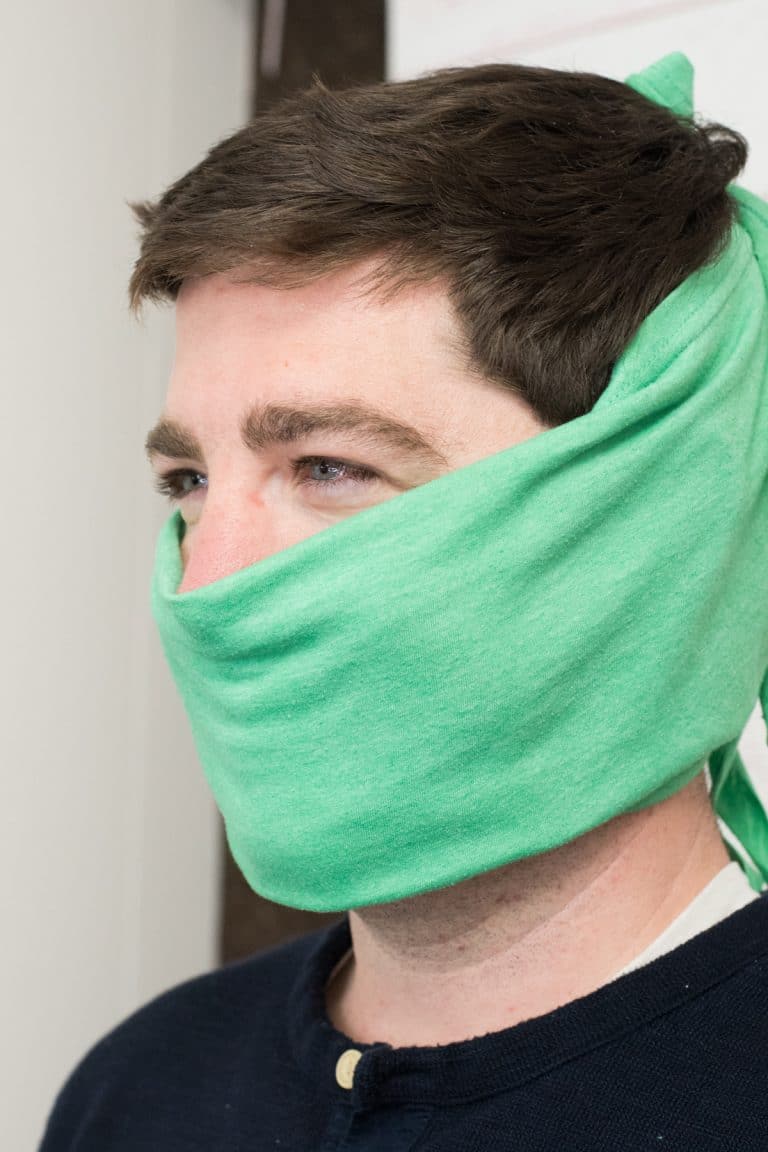 We followed the measurements, but we ended up having to cut quite a bit more. We used an X-Large Unisex T-shirt, which is probably why. I would suggest using a smaller sized t-shirt if you use this type of face covering.
I wish I would have only cut up about 6-7″ instead, and we ended up cutting about 12″ in for the straps.
Forrest also had to tuck some of the fabric on the top and bottom of the mask so it fit more snuggly.
The second mask requires:
• Bandana (or square cotton cloth approximately 20"x20")
• Coffee filter
• Rubber bands (or hair ties)
• Scissors (if you are cutting your own cloth)
I did not have a bandana or coffee filter, so we didn't attempt this one. But it looks like a pretty good option!
Surgeon General Video for the CDC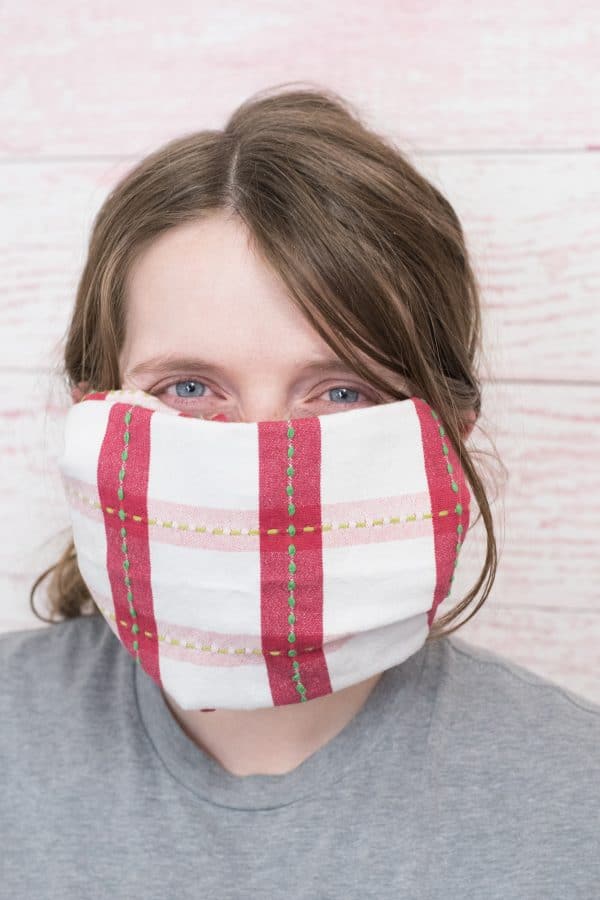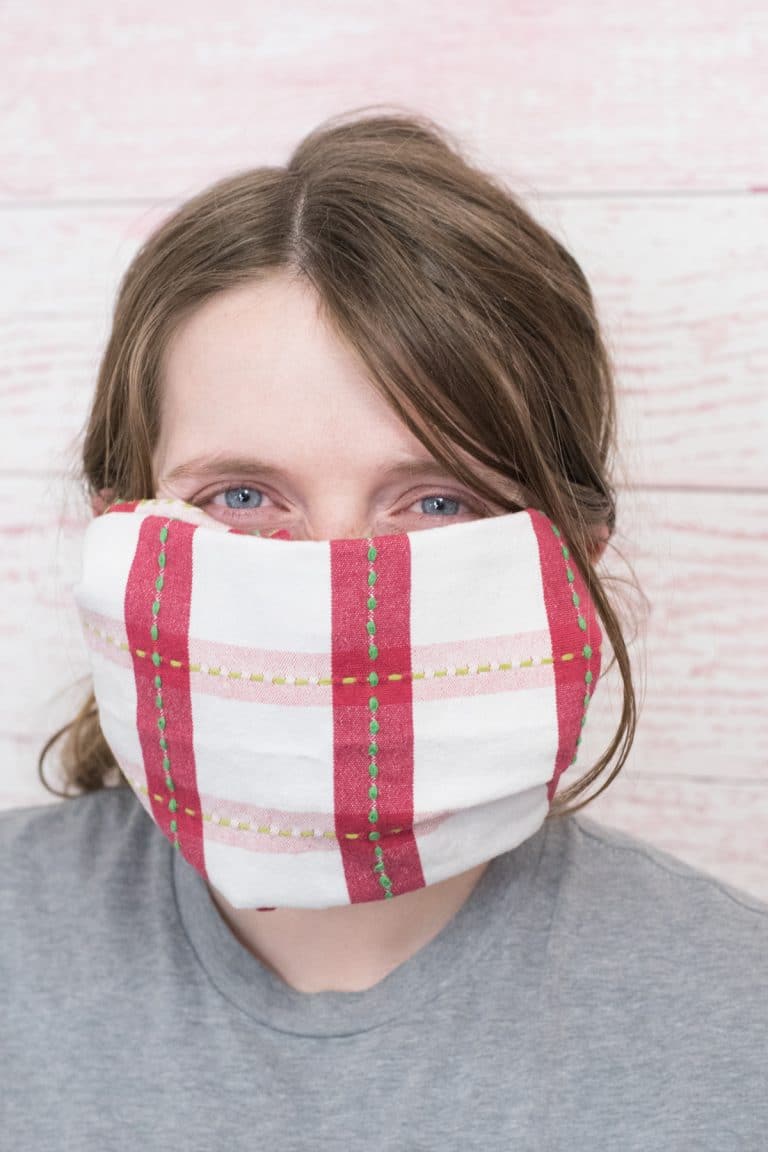 This tutorial was posted by the CDC on YouTube featuring the Surgeon General. Although it wasn't mentioned in the link above, I'm assuming since they put it on their YouTube channel, they think it's a decent option.
It just requires a few simple materials that most people probably have laying around the house:
Old scarf, hand towel, bandana or old t-shirt (a t-shirt would need to be cut)
Two rubberbands
Here is a video of how to do it:
And since it was so easy, I thought I'd share a picture tutorial here doing it with some materials we had: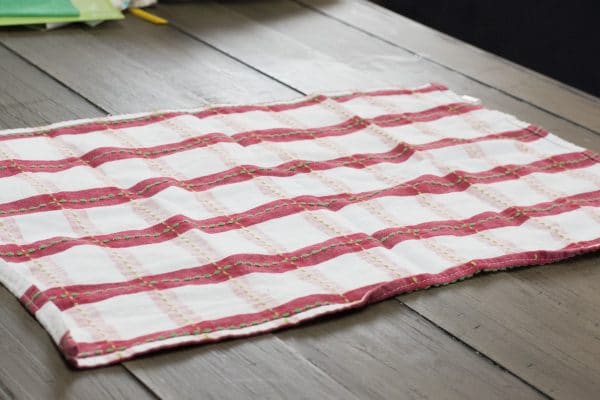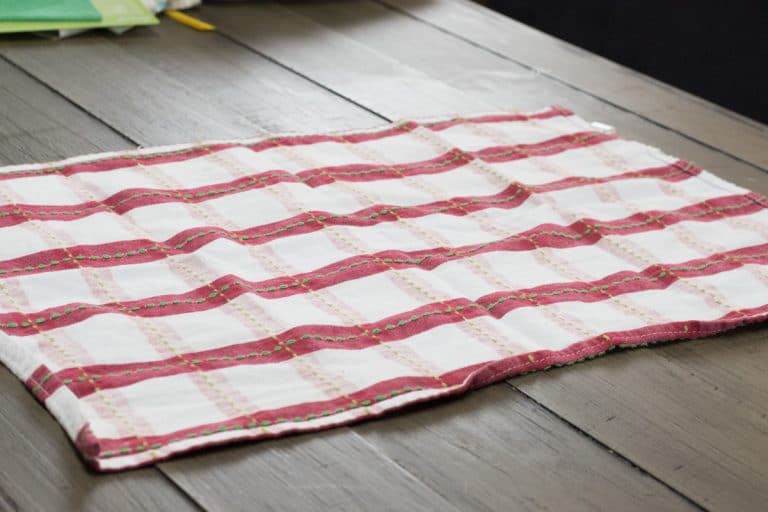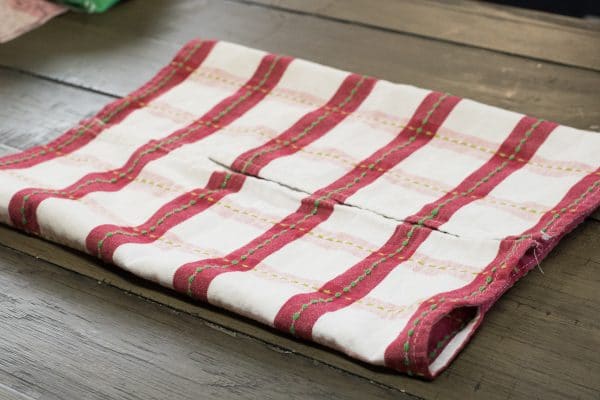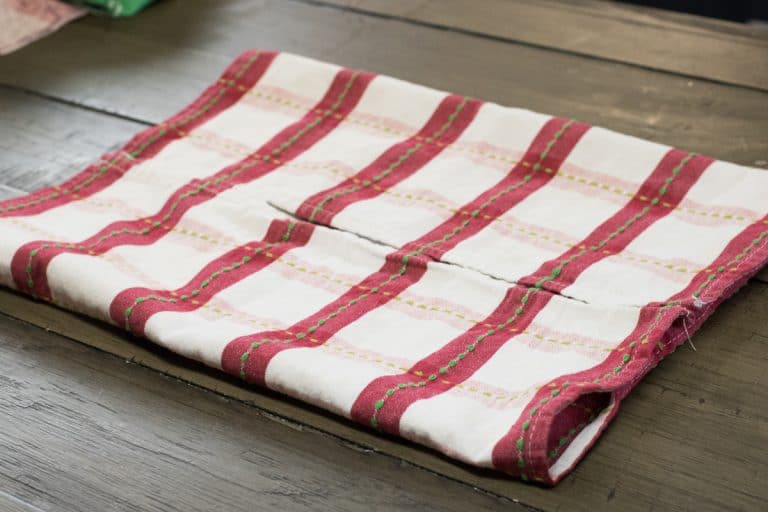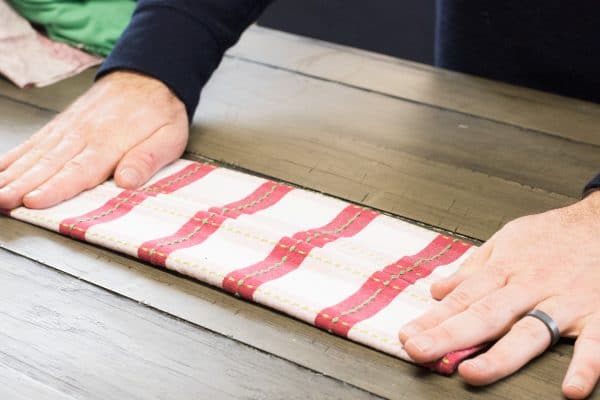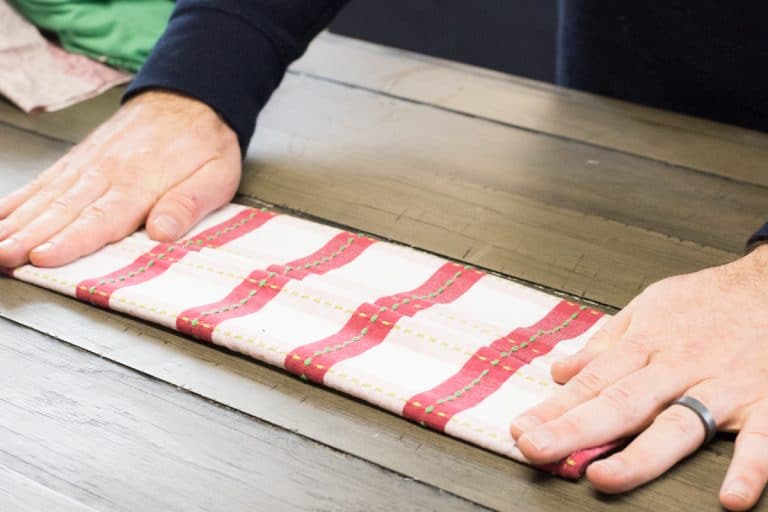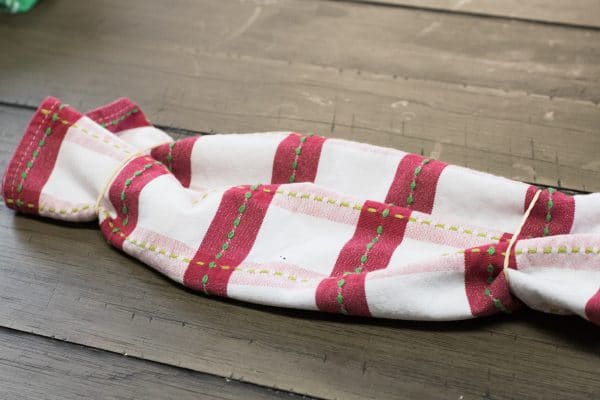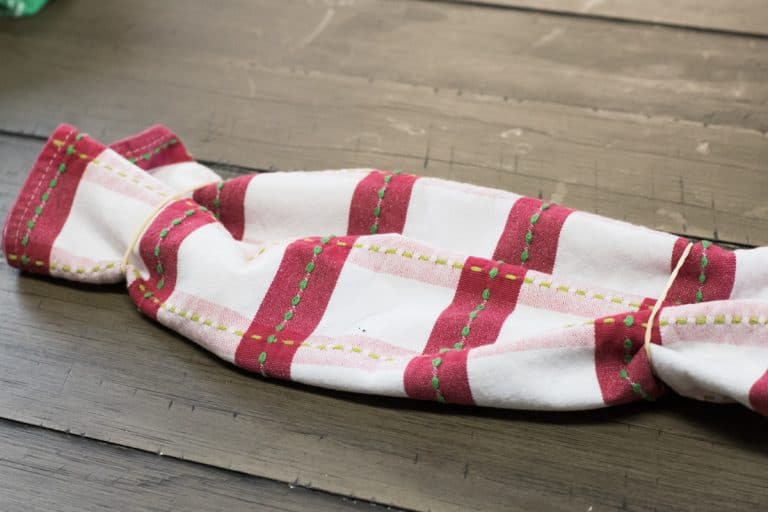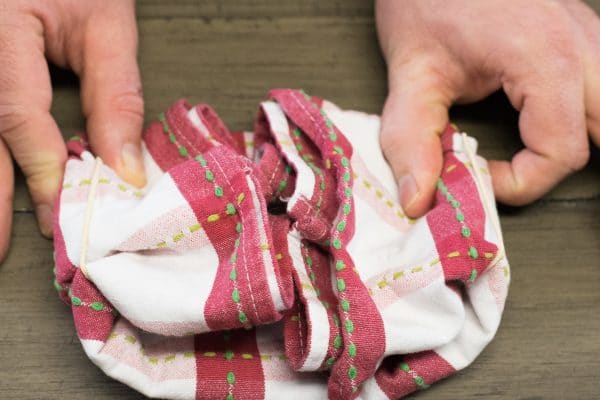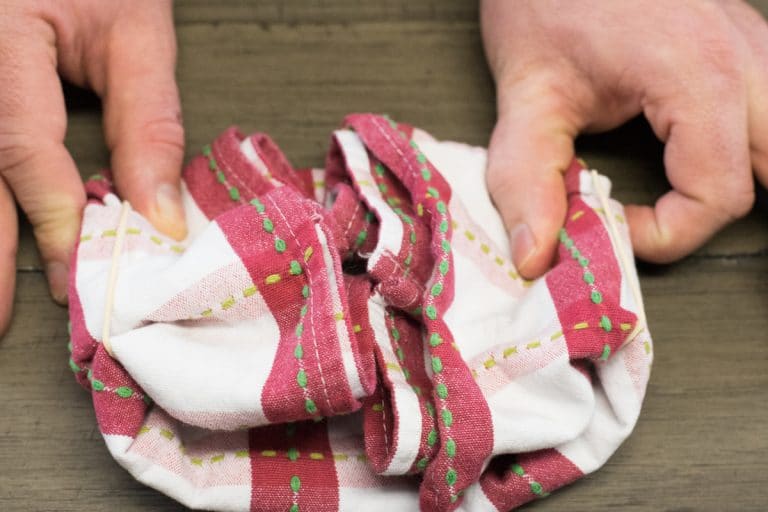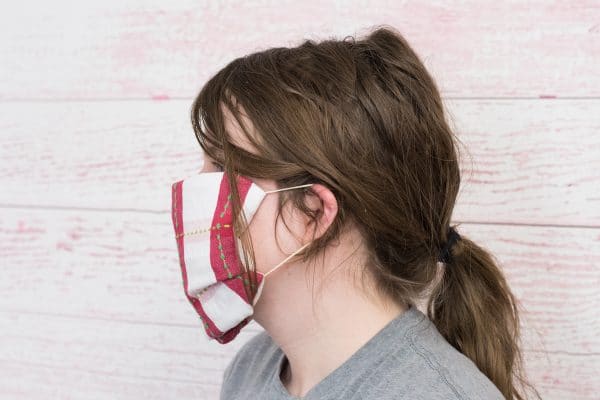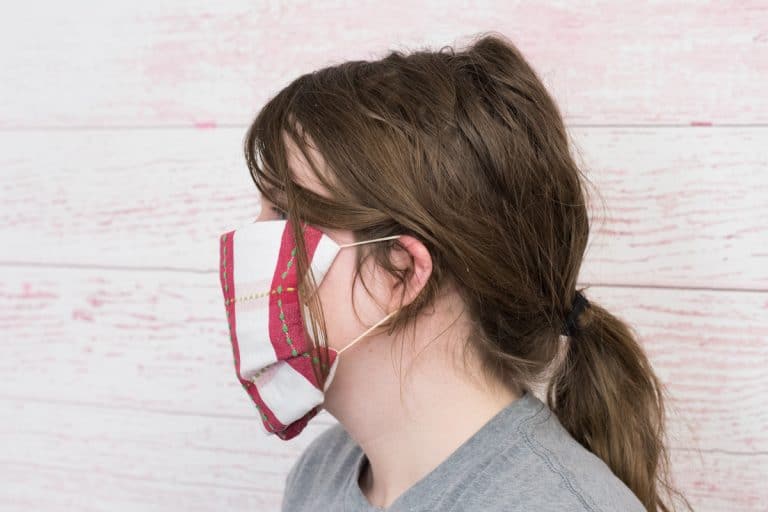 Two Options from Do it on a Dime
This is a great video done by Do It on a Dime. She shares two simple tutorials in this one video:
Using a old cotton pillow case and hair ties
#4 and #2 coffee filters, masking tape, paper clips, and rubber bands
The second one is great if you want something disposable.
Three Masks by Survival Know How
These are very simple and easy to put together. There are three options in this video:
Paper towels, two rubber bands, and staples (disposable)
Ninja mask out of any t-shirt – pretty clever!
Washable mask out of bandana and rubber bands
Five Quick No Sew Ideas from DIY Nikol and Alexandra
Scarf and hair bands
Paper Towel, stapler and hair bands
Coffee filter, scissors and Elastic
Baby wipes, scissors,
Stockings, scissors
Face Masks from Old Clothes Two Ways
This is from the YouTuber Jess Dang. I put these last because they aren't completely no sew – but they are no sewing machine required, and they look really nice!
She includes how to draw the pattern and put them together in the video below two different ways. You just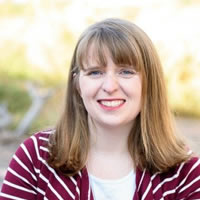 Katie is a Colorado-native, BYU graduated, and most importantly, wife to one and mother to three beautiful boys. She is passionate about sharing her experiences with others – especially about pregnancy, breastfeeding, cooking, and crafts. She is an International Board Certified Lactation Consultant. She loves spending time with her family and helping others find joy in family life.