Modern DIY Bathroom Vanity Ideas and Reveal
Here are some great ideas for a modern DIY Bathroom Vanity update that we partnered with Lowe's to create!
Over the past year since we've moved into our home, we've made a lot of improvements.
Our kitchen was finished just a few months ago, and now we are focusing on the bathroom!
We redid the floor about six months ago, and we started working on the bathtub surround retiling…until we ran into a problem with mold (yuck) that was behind all the old tile – so that project turned big quickly.
Anyways, we decided to take a little break from that to update the bathroom vanity. While it wasn't terrible, it was definitely in need of some TLC.
We toyed with the idea of replacing the counter tops, but it was a bit out of our budget, so we opted for a more budget-friendly option. Everything that we did for the vanity so far was under $250.
Here is the before: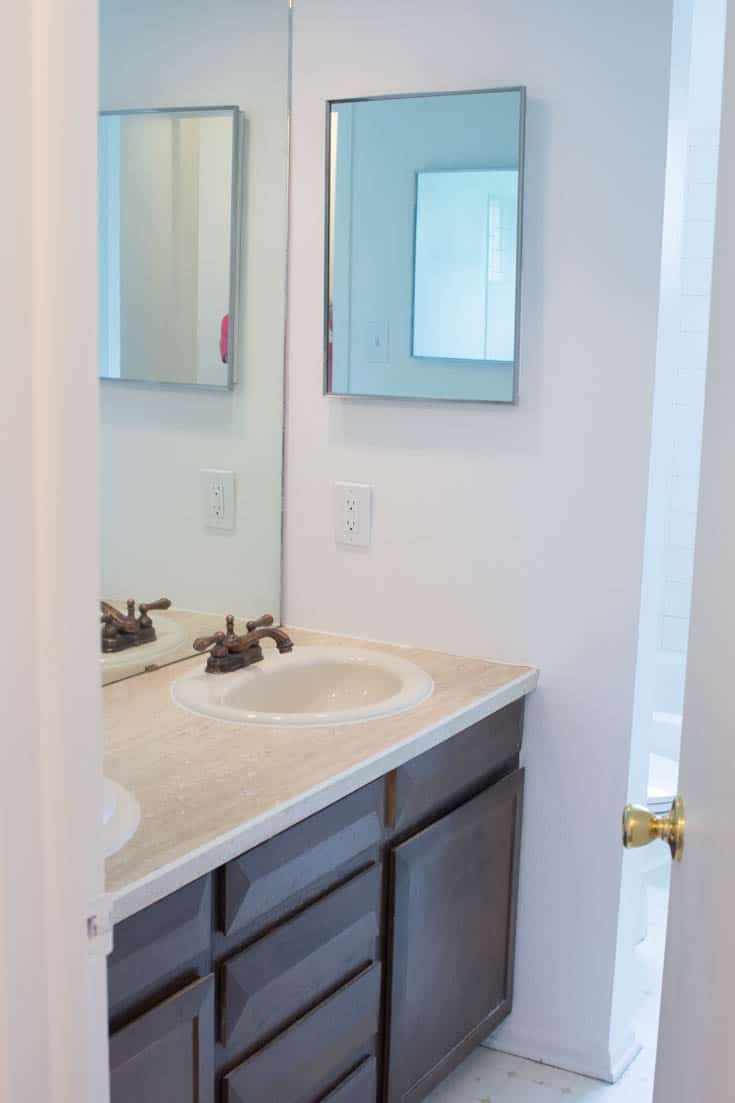 and here is the after (with shoppable links!)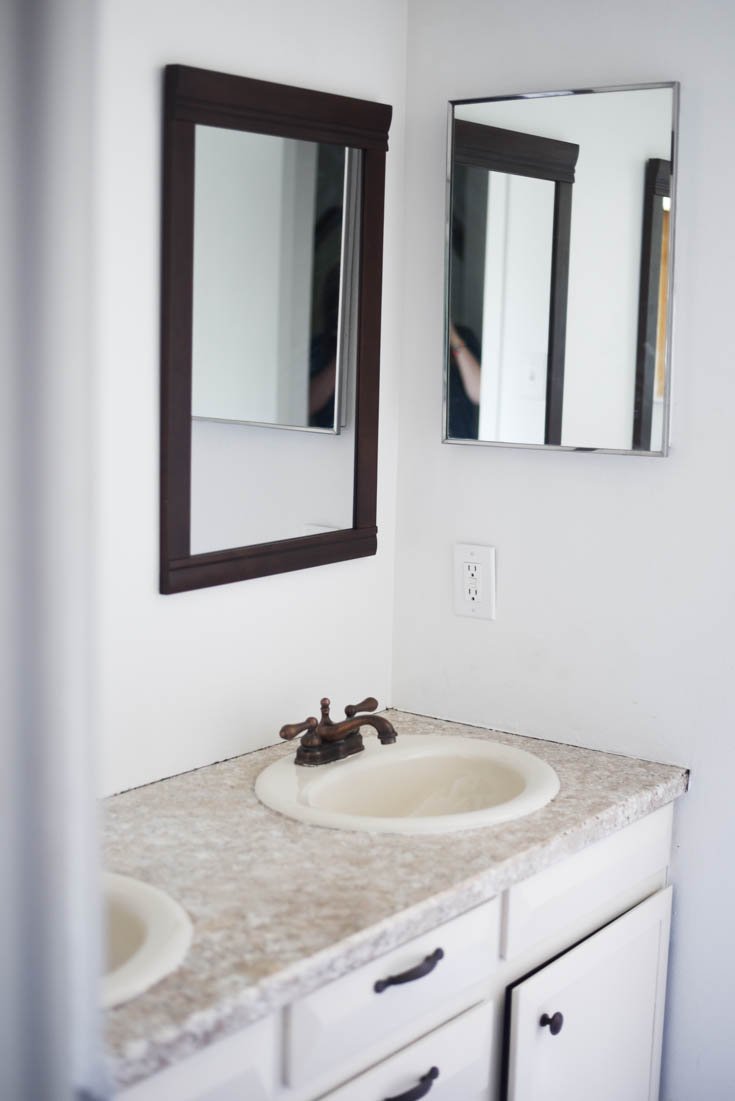 Replace the Mirrors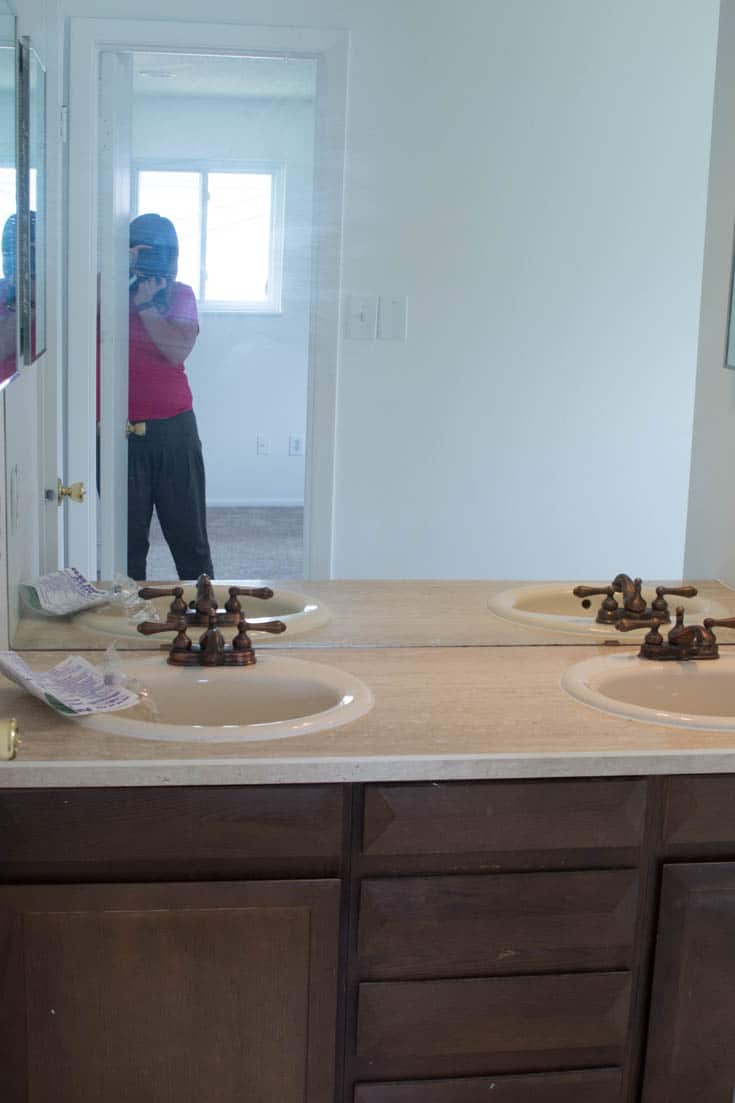 I'm not sure why, but I have never been a big fan of the HUGE mirror in this bathroom. Yes, it does make the bathroom look bigger, and you can also see yourself more clearly…but it just seemed too big to me.
It might also have to do with the fact that Jack always seems to get toothpaste ALL over it.
We've talked about replacing the large mirror with smaller mirrors for awhile, and we decided it was time. We got these great mirrors from Lowe's for under $60 each, and I love how they look!
We chose the Style Selections Windell Rectangular mirror in Auburn.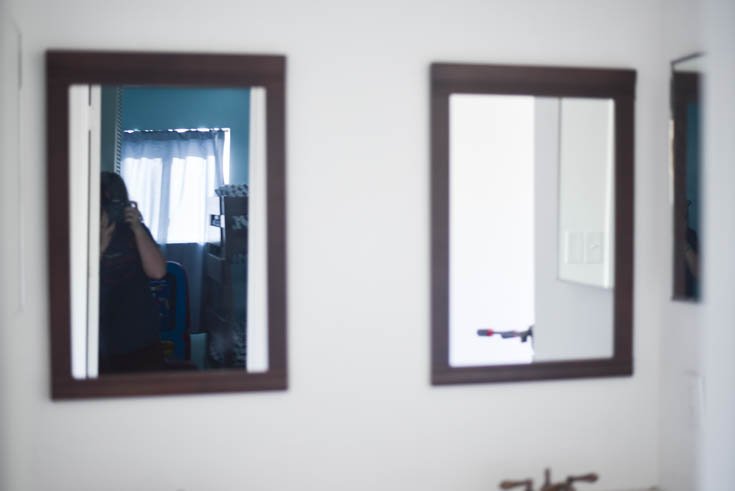 Paint the Cabinets and add hardware
So. Embarrassing. We've been trying to paint these cabinets for a few months now, and it's been a bit of a disaster. For the past two months, they've been multi-colored with some different paints that just didn't work out – the old brown color was better!
We used some milk-based paint, and let's just say that's not the best option for bathroom cabinets. We decided we wanted to forgo the "fun" colors and go with something a little more classic. We bought some Valspar Cabinet Enamel Semi-Gloss Latex Interior Paint, which made for easy painting.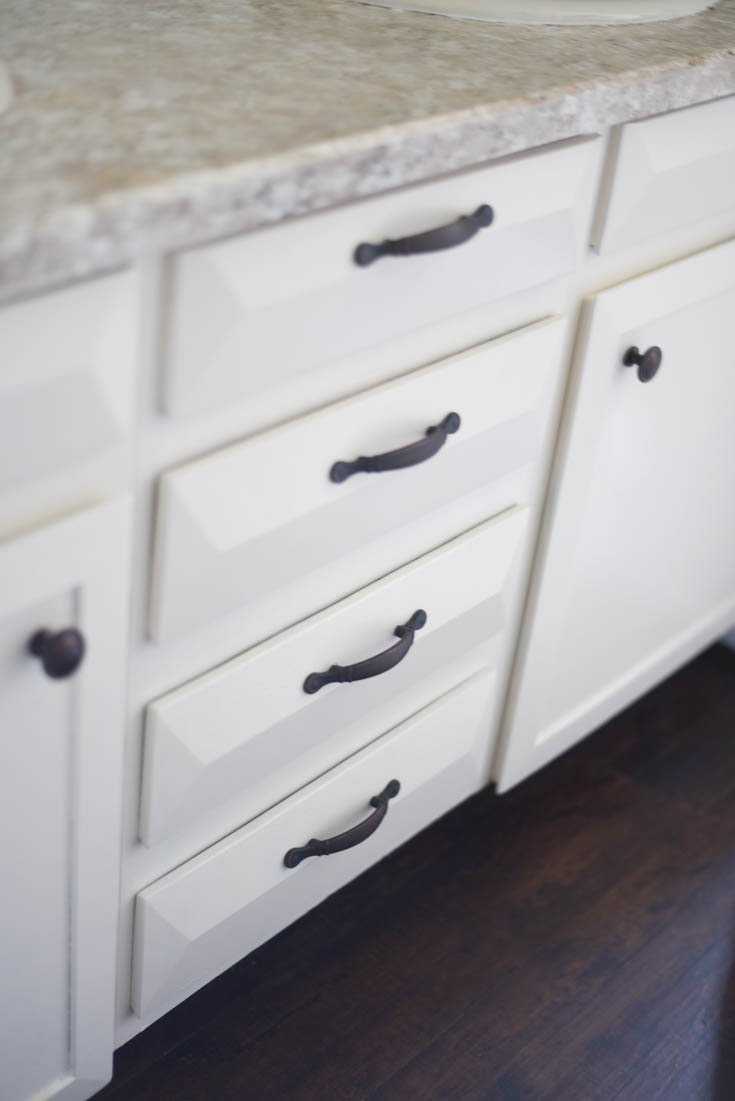 We chose a light cream color at Lowe's, and it really brightens up the room. I also feel that it complements the counter tops quite nicely.
We also added knobs and pulls to the drawers and doors, which I think always makes things look better. It's a simple and affordable way to dress up any room a little more.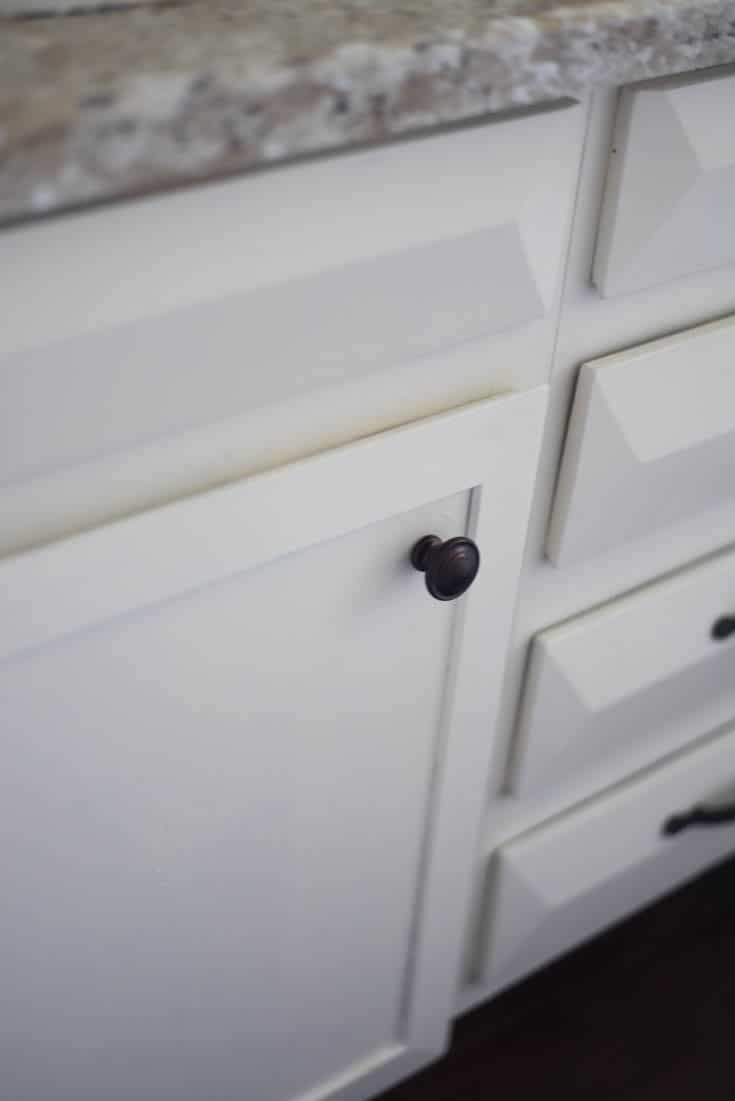 We got the Style Selections 3-in center-to-center aged bronze arched cabinet pull for the drawers, and the Amerock revitalize oil-rubbed bronze round cabinet knob for the doors. These will match our Moen Caldwell Collection faucet perfectly once we get those installed.
Paint the Counter tops
As much as I would have liked to replace the counter tops with some granite, it just wasn't in the budget right now. Last year, we updated my parent's kitchen counter tops using counter top paint. The Giani countertop paint kit was available on Lowe's website, so we ordered some for the counter tops (we chose Sicilian Sand).
It was so much easier than doing the counter tops last year, because the space was so much smaller. I'm thrilled with how it turned out. It definitely looks much more modern that it used to!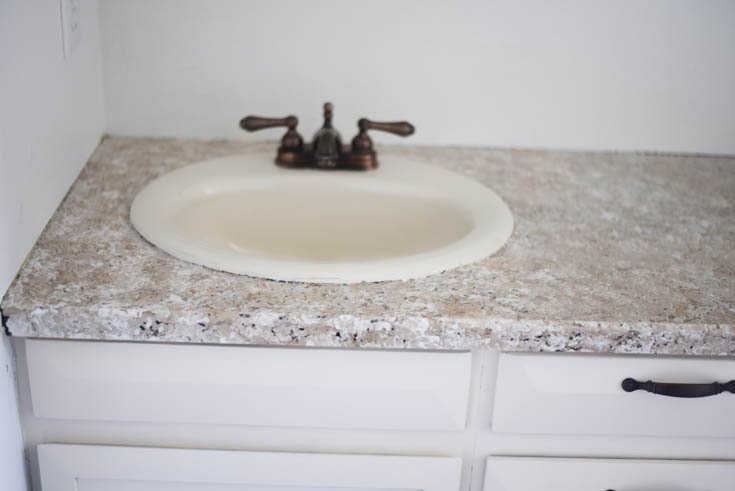 Here are a few more things you can do to your vanity we weren't able to do right now:
Update the Faucets
We actually haven't done this yet – but we hope to soon. Lowe's has a great selection of bathroom faucets – we have this set from the Caldwell collection.
The ones on the sink aren't terrible, but they are rather dingy and no matter how much I clean them, they never look very good. So I'm excited to update this. Replacing a faucet isn't terribly difficult – we just didn't have time right now!
Update Lighting
We have some lights we want to install, but Forrest decided it was a bit beyond his skill set to mess with the electricity. I think it will be a really nice finishing touch on this area.
There are tons of different lighting options, and not only can it make a dark bathroom seem a bit brighter, but it just makes everything look a little more finished. We currently just have lights built-in to the ceiling, and they aren't my favorite.
Install/update medicine cabinets
I really can't stand the current medicine cabinets in our bathroom – another weird thing that bothers me! They are rather handy for storage though.
There are a lot of great medicine cabinet options – we've been eyeing quite a few that are on the shelves at Lowe's. I want to get some wooden ones to match the mirrors.
New Soap/Lotion Containers
This is pretty self-explanatory – just get some matching soap and lotion containers to put on your counter top. This is on my shopping list!
This is a sponsored post written by me on behalf of Lowe's.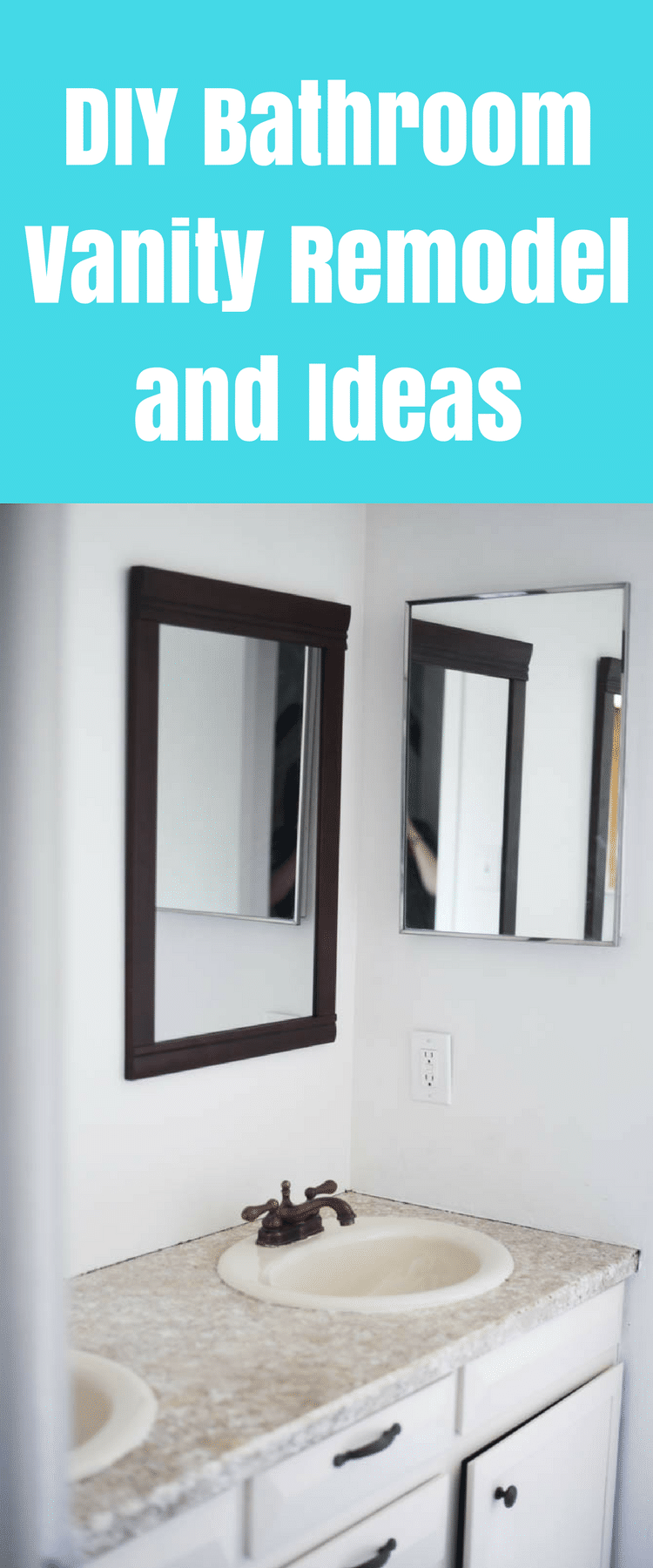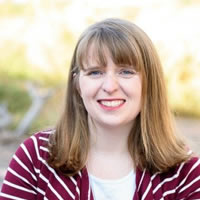 Katie is a Colorado-native, BYU graduated, and most importantly, wife to one and mother to three beautiful boys. She is passionate about sharing her experiences with others – especially about pregnancy, breastfeeding, cooking, and crafts. She is an International Board Certified Lactation Consultant. She loves spending time with her family and helping others find joy in family life.