These strawberry lemon crumb bars have a naturally lemon flavored shortbread cookie crust, and are topped with sweet strawberry pie filing, and a lemony drizzle.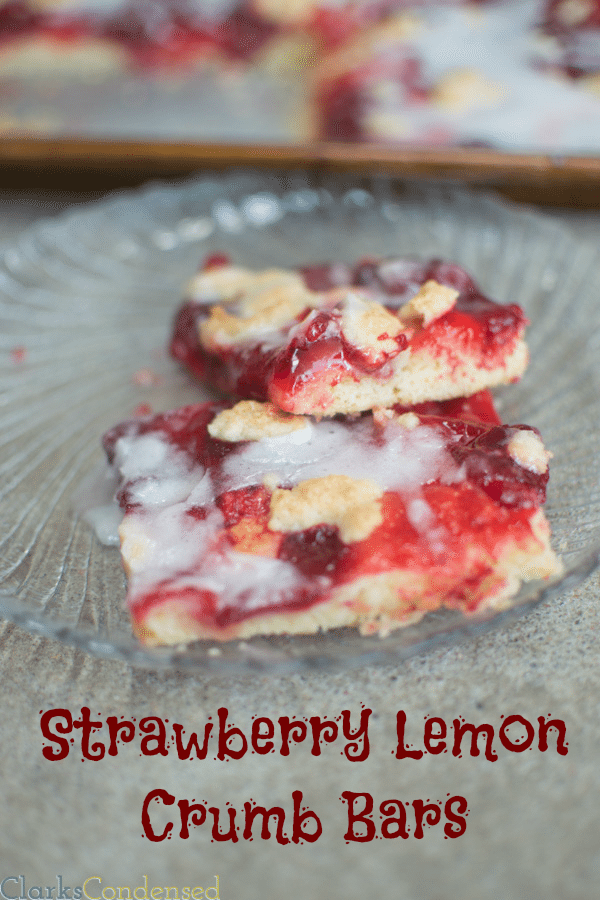 Are you ready for more spring and summer-esque weather? I know I am (well, as long as it it doesn't get too hot.) I like the winter, except when I have to drive in it, but when it seems to keep dragging on and on forever? Well, that's when it's time to bring out the big guns. . .
Berries! I feel like nothing can make a day brighter than a delicious dessert with berries in it. And, of course, adding lemon to something always makes it a little more tasty. I'm a huge fan of strawberry lemonade, and these strawberry lemon bars are inspired by that!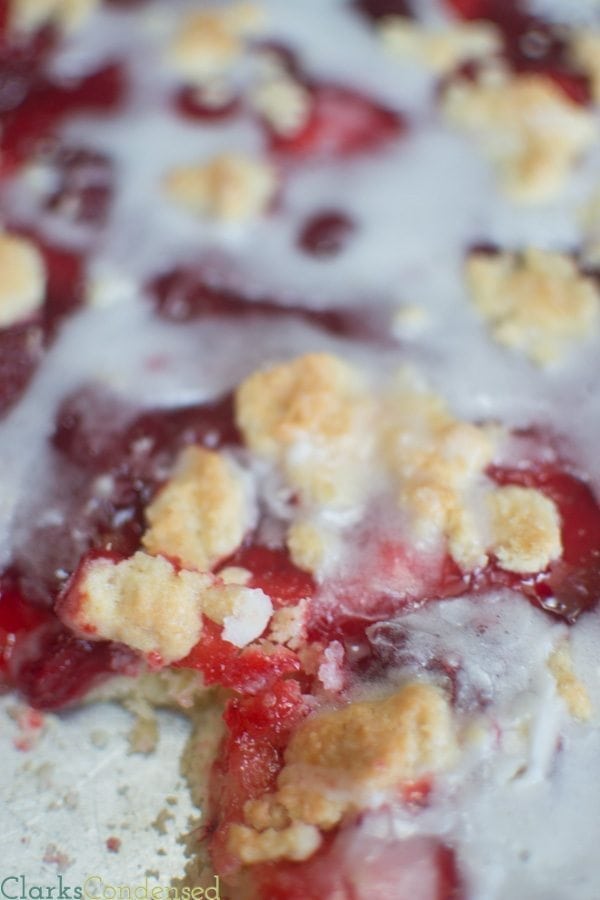 Even when you don't have access to fresh berries, using high quality pie filling can be a great substitute. This dessert calls for 2 cans of strawberry filling, and we used Lucky Leaf — no high fructose corn syrup, and it tastes fantabulous. My mom gave me this recipe, and it was so easy to throw together.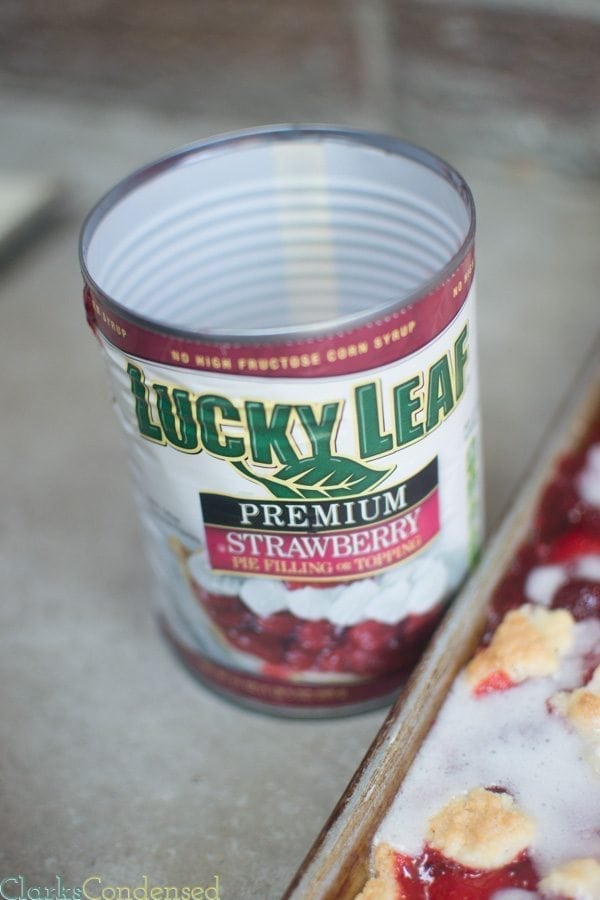 The crust is like a shortbread cookie, which pairs perfectly with the sweetness of the strawberries, and the citrus of the lemon. I cut back on the sugar and butter a little bit, so it wasn't super, super sweet…but if you like your cookie base to be a little bit more sweet, I've included the original measurements.
It sounds (and looks) a little bit weird to drop pieces of dough across the pie filling, but it somehow works. They taste like little drops of candy. Yum! This recipe also makes a lot, so it's perfect for a summer or spring party.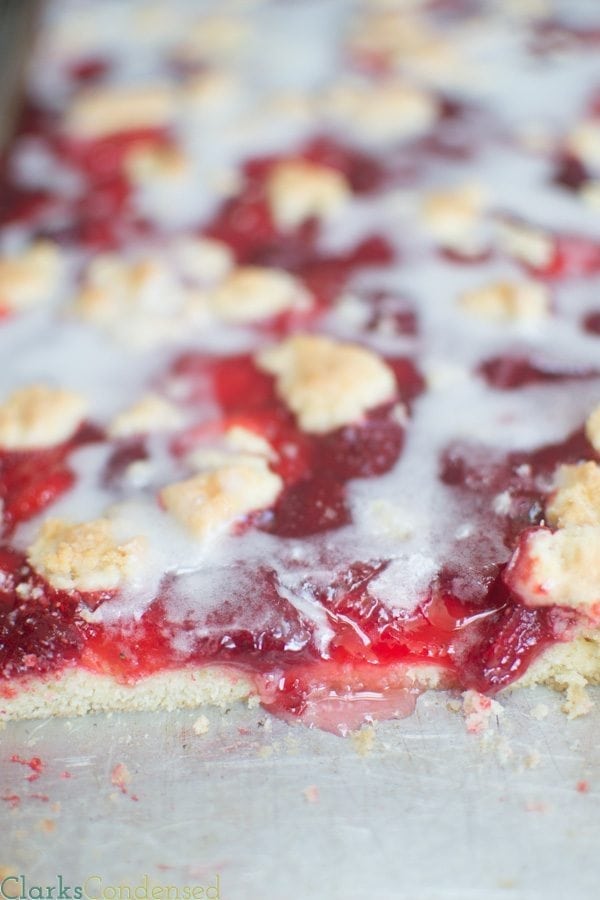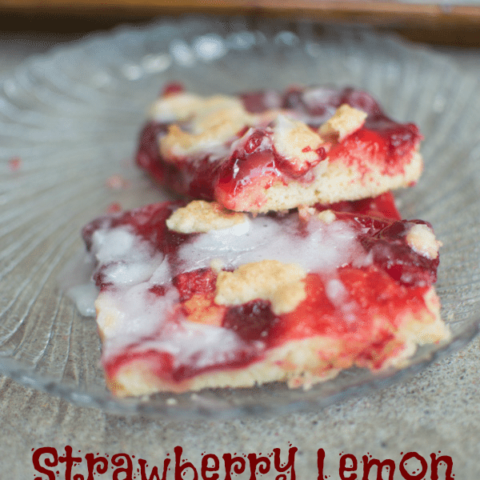 Strawberry Lemon Crumb Bars
Ingredients
1 1/2 sticks butter, 2 sticks for slightly sweeter version
1 1/4 cup sugar, 1 3/4 cups for slightly sweeter version
4 eggs
1 teaspoon vanilla
1 tablespoon lemon juice
1/2 teaspoon baking powder
3 cup flour
2 21 ounce cans of strawberry pie filling
Lemon Glaze
1 1/2 cup powdered sugar
1 tablespoon butter
2 tablespoon lemon juice
1-3 tablespoons milk
Instructions
Preheat oven to 350 degrees.
Cream together butter and sugar.
Add eggs, vanilla, lemon juice, baking powder, and flour.
Mix until everything combines to make a dough.
Press the 2/3 of the dough into a greased jelly roll pan (cookie sheet with sides)
Spread two cans of pie filling across the top.
Drop small pieces of remaining dough across the top of the pie filling
Bake for 35-45 minutes, or until the dough crumbs start to brown.
Drizzle with the lemon glaze (recipe below)
Lemon Glaze
Mix together with a hand mixer all the ingredients until it appears glaze like. Add milk 1 tablespoon at a time until desired consistency is reached.
And in case you're still living in a frigid area of the world (which could be anywhere right now it seems), a great way to brighten up your life, or someone else's, is with beautiful flowers. We were sent these pretty flowers from FTD, and they've really brightened up our kitchen. You can get $10 off select spring arrangements from FTD here!