Easy One Skillet Cornbread Casserole
Although we share a variety of recipes here on Clarks Condensed, the ones that seem to resonate best with our readers are easy and delicious.
Which makes sense, since that's what resonates most in our home!
I like to take a 'semi-homemade' approach to cooking most of the time, which is why I love to take shortcuts like using boxed mixes (though I do try to get the ones with the best ingredients…when I can), canned foods like beans and corn, etc.
Because as much as I wish I could do everything from scratch…I just can't #reallife.
With Jack starting school in the fall, I know I'm going to need an arsenal of yummy and easy recipes, because everyone knows that once school starts, life just gets even crazier.
So, needless to say, we will be having LOTS of Instant Pot and One Skillet meals.
Thank you to Bush's Best Beans for working with us on this post!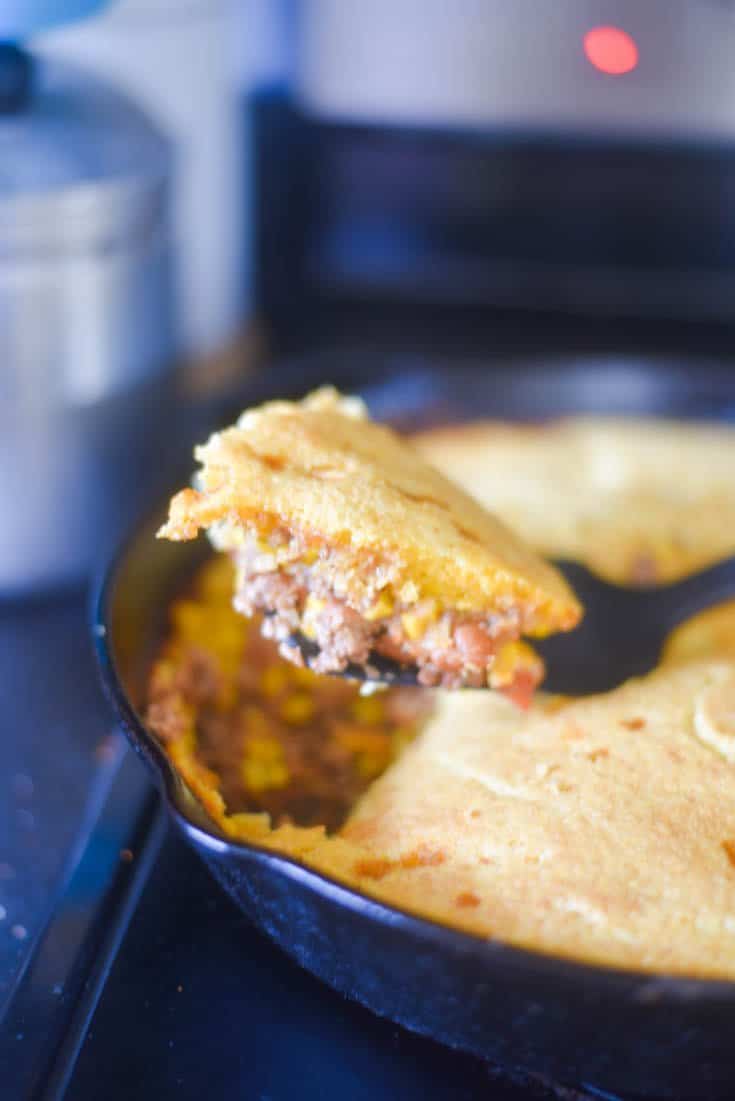 And this one skillet cornbread casserole will definitely be making an appearance on our meal plan regularly.
I've made cornbread casserole plenty in the past, and everyone always seems to like it. And while it's normally not super difficult, I decided to make it even easier by making it in just one skillet.
I love using our cast iron skillet for meals like this, since I know it can tolerate the higher heat of the oven (and I hope that I get some added iron benefits from using it ;-), but you can use any oven safe, deep skillet.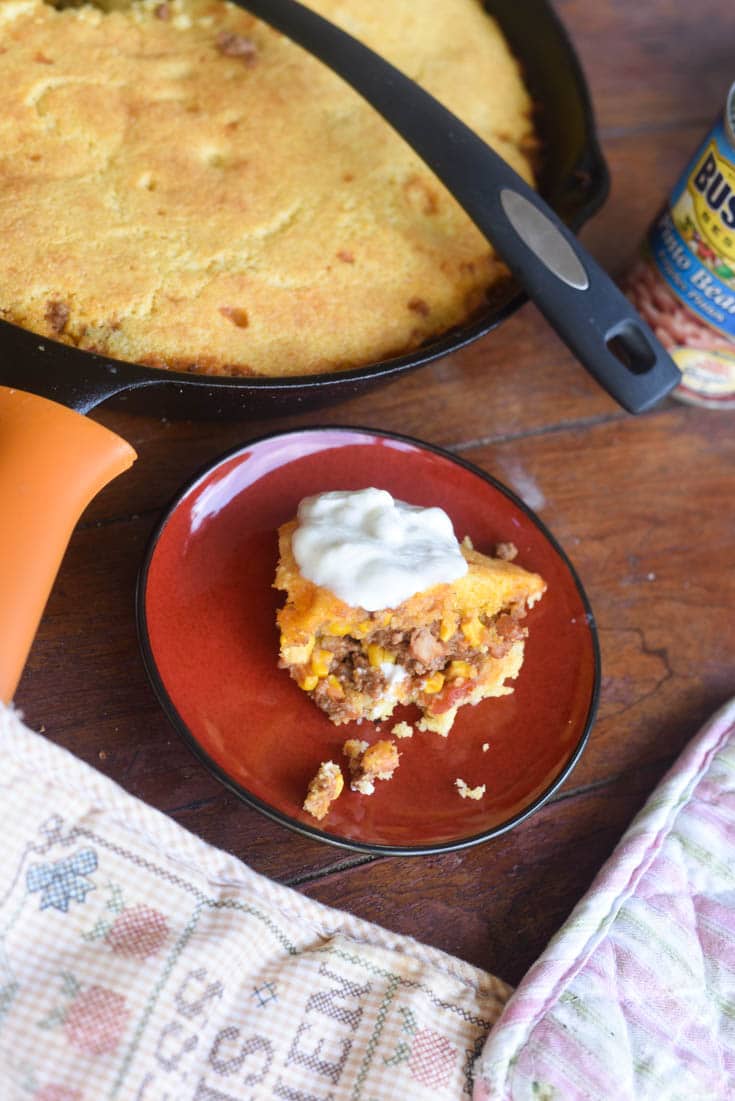 This recipe is seriously so easy. I used about a 1/2 pound of ground beef, and then I used one can of Bush's Pinto Beans. I love replacing some of the ground beef in recipes with beans, because I feel like it helps our meat go a little further, and it helps make it a little bit healthier with more fiber and protein. Plus beans are so much less expensive than beef…it makes things easy on the budget 🙂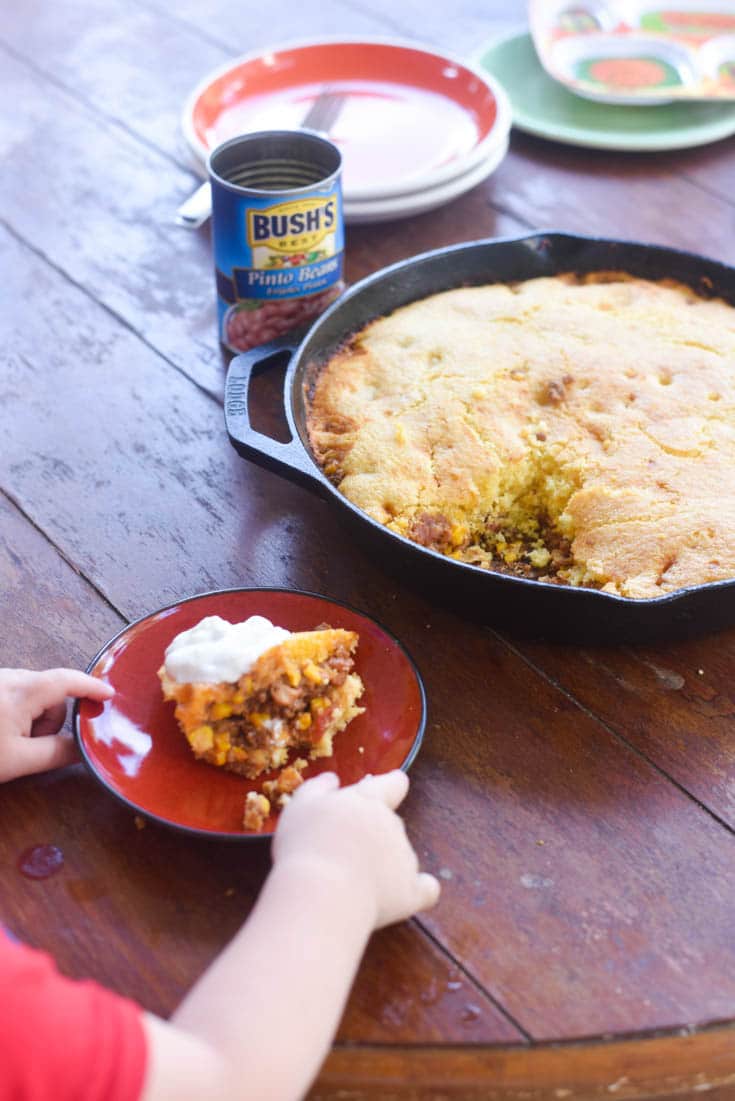 So I hope you all will enjoy this meal as much as we do. It was very filling and delicious! I love the sweetness of the cornbread, which really compliments the more Southwest flavors of the rest of the meal.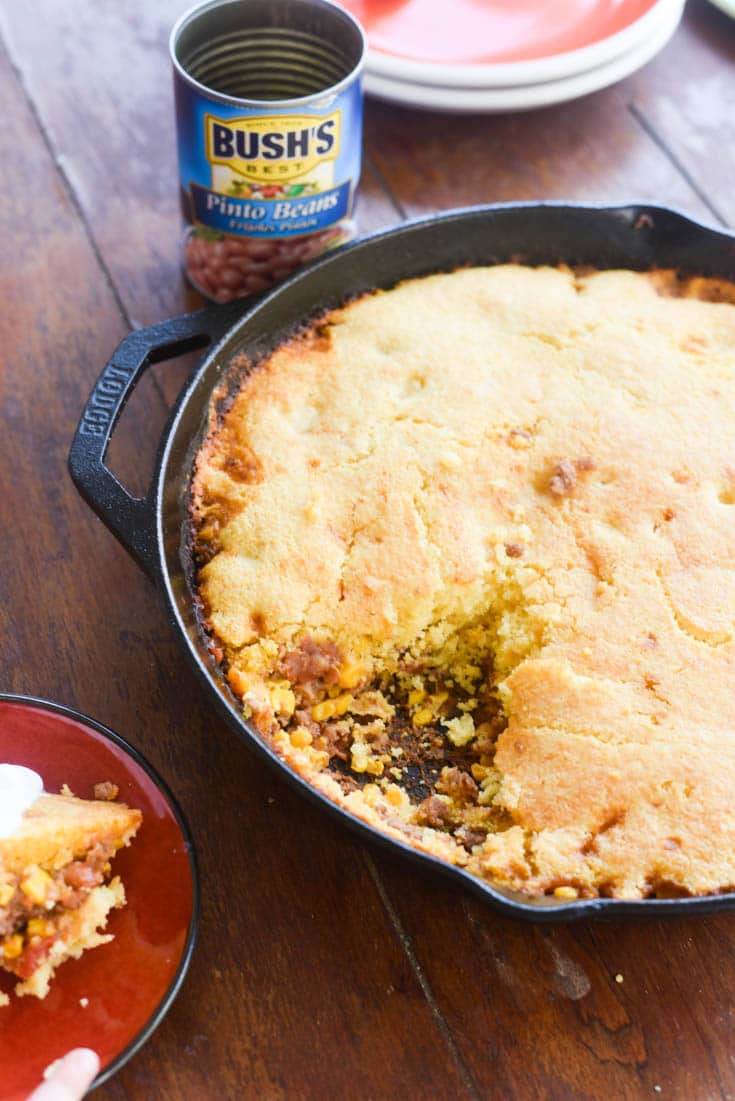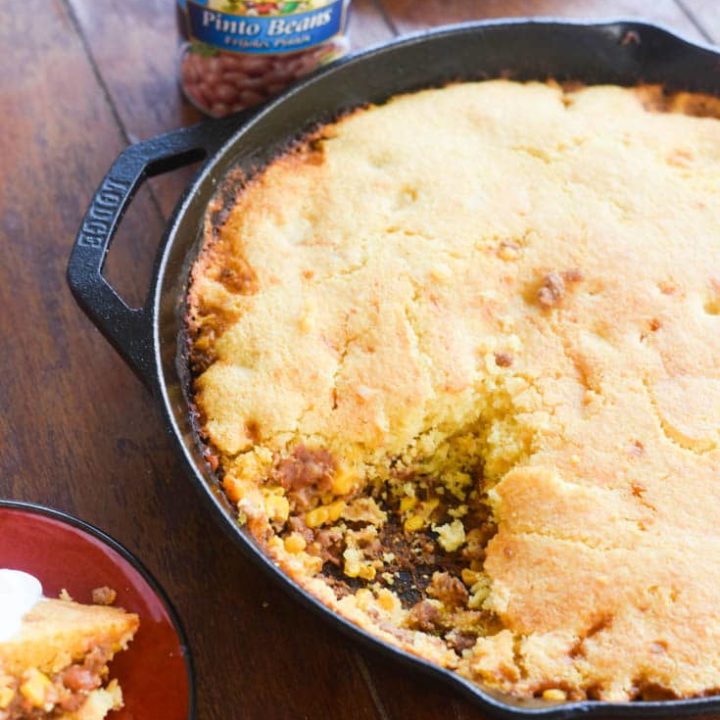 One Skillet Cornbread Casserole
Ingredients
1 Tablespoon Olive Oil
1/2 pound ground beef, we used 93/7 in this recipe
1 can Bush's Pinto Beans
2 Tablespoon Taco Seasoning
1 can sweet corn kernels
1 cup salsa
1/2 cup Mexican blend shredded cheese
Cornbread mix and ingredients, I used FleiFleischmanns Simply Homemade Baking Mix - this is what the calories are based off
Instructions
Heat olive oil in a skillet.
Cook ground beef, drain excess grease.
Add in pinto beans with bean juice and mix.
Add taco seasoning and stir to combine.
Add corn and salsa, bring to a light simmer.
Add in cheese - let simmer about five minutes.
In the mean time, prepare cornbread mix as instructed and set oven to the temperature on the box mix.
Pour cornbread mix over the top of the meat mixture and spread until everything is covered.
Remove to the oven and cook for the amount of time on the cornbread mix instructions.
Enjoy!
OTHER MEALS YOU MAY ENJOY:
Nutrition Facts
Servings 8.0
Amount Per Serving
calories 454
% Daily Value *
Total Fat 17 g
26 %
Saturated Fat 8 g
41 %
Monounsaturated Fat 1 g
Polyunsaturated Fat 0 g
Trans Fat 0 g
Cholesterol 77 mg
26 %
Sodium 1892 mg
79 %
Potassium 292 mg
8 %
Total Carbohydrate 72 g
24 %
Dietary Fiber 6 g
22 %
Sugars 22 g
 
Protein 29 g
58 %
Vitamin A
11 %
Vitamin C
4 %
Calcium
10 %
Iron
15 %
* The Percent Daily Values are based on a 2,000 calorie diet, so your values may change depending on your calorie needs. The values here may not be 100% accurate because the recipes have not been professionally evaluated nor have they been evaluated by the U.S. FDA.
Calculated from MyFitnessPal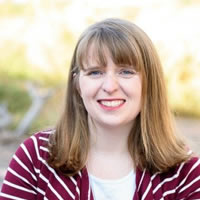 Katie is a Colorado-native, BYU graduated, and most importantly, wife to one and mother to three beautiful boys. She is passionate about sharing her experiences with others – especially about pregnancy, breastfeeding, cooking, and crafts. She is an International Board Certified Lactation Consultant. She loves spending time with her family and helping others find joy in family life.