A comprehensive list of what to pack in hospital bag – and what you should keep at home! It's amazing how little you actually need to give birth!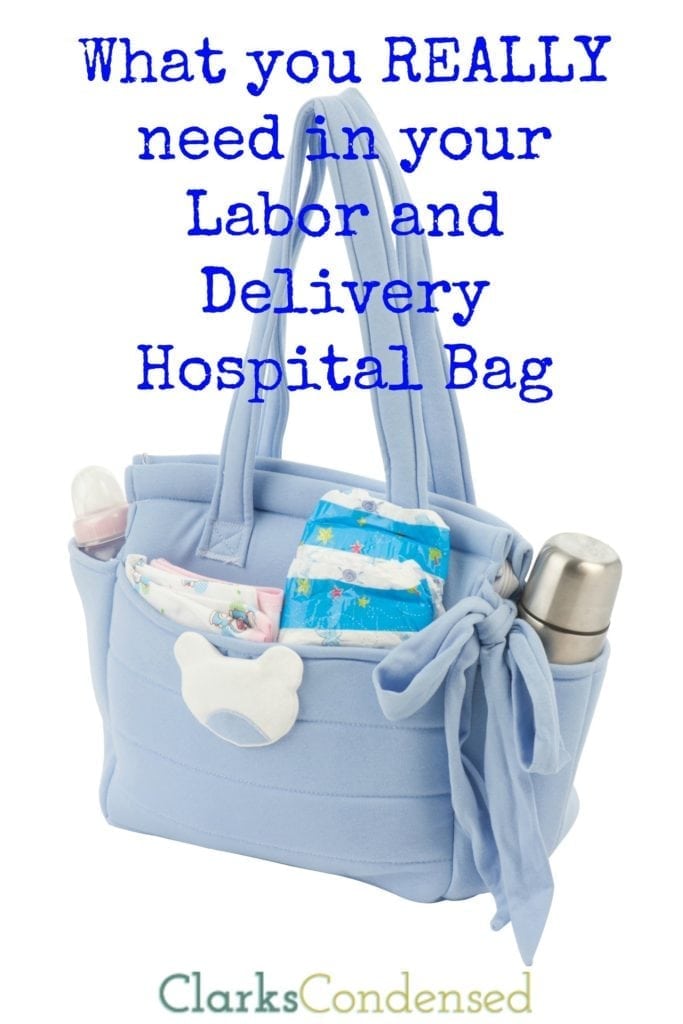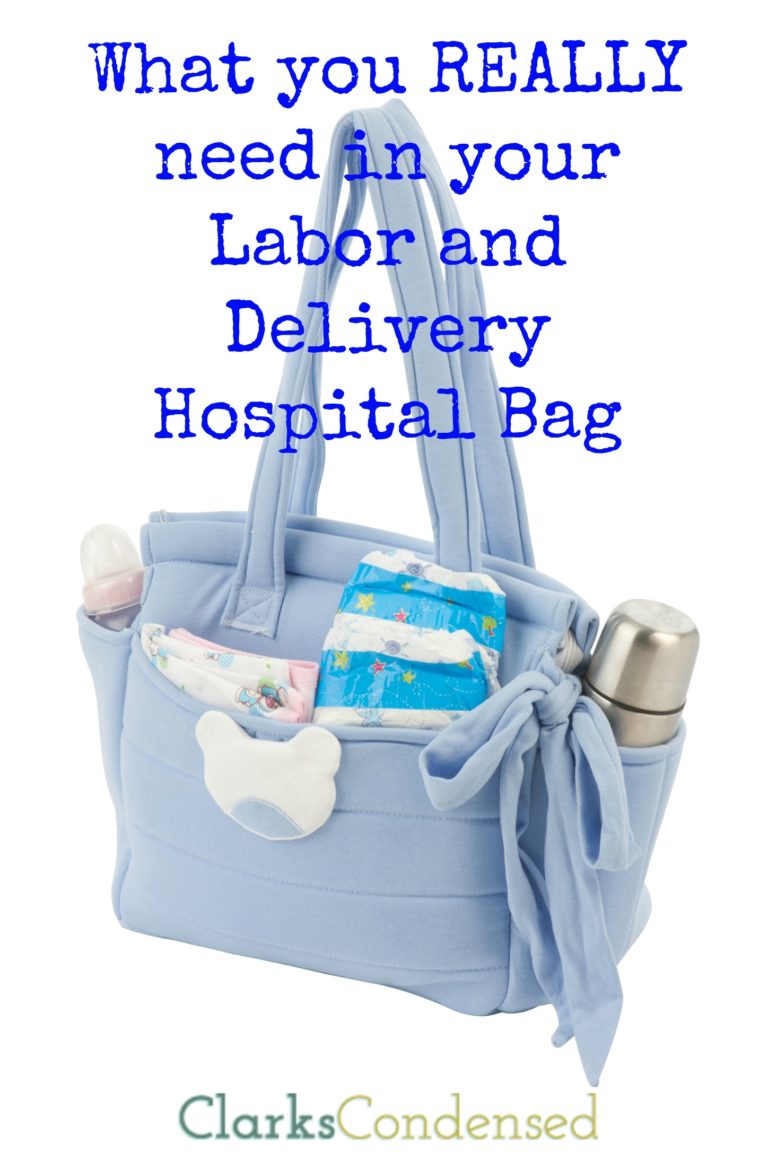 Hospital Bag Checklist for Mom and Baby
What you bring to the hospital, when you go to have your baby, is important. However, as I've seen some friends (and complete strangers even) post pictures of what they are bringing, it sometimes makes me laugh. Not because I think they are dumb for bringing an excessive amount of items, but because I know I would have done the same, had I not been obsessive about researching the best items to bring to the hospital. Even then, some of those "expert" lists led me astray. Here are some of the things I found most helpful (as well as some things I wish I had kept home!)
One rule of thumb to follow is this: Less is more. Only bringing the necessities will make everything less stressful. And, there's less chance of you losing something. I had bought one of those postpartum bands that you wear after you give birth that claim to shrink your tummy faster. We took it out, and at some point, one of the housekeepers picked it up (it looked like a towel) and that was the last I saw of it! When you are leaving the hospital, you'll probably be overwhelmed enough trying to get ready to take your baby home. You don't want to worry about leaving anything!
You May Also Enjoy: Surviving Labor and Delivery: What to Expect
[thrive_2step id='60054′]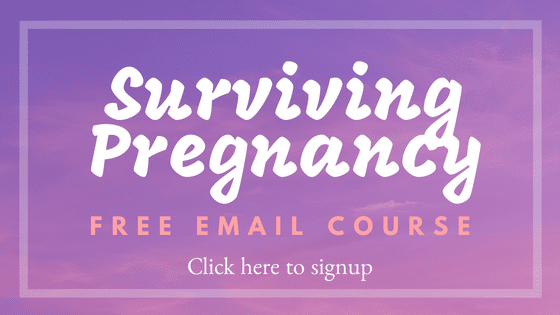 [/thrive_2step]
Hospital Bags for Mom – What do you need to pack for baby delivery?
Toiletries and Medical Supplies
For the most part, the hospital provides any pain medication you will need, hygiene supplies for after birth, and most everything your baby will need (diapers, wipes, shampoo, bulb syringe, sponge, etc.) However, I recommend bringing some of your own toiletries. Here are a few recommendations:
I brought my own prenatal vitamins and TUMS, but you will want to verify with your nurse before you take any of these by mouth. They can be somewhat strict about that!
Memory Supplies
If you are wanting to record anything immediately after birth, here are a few ideas.
Entertainment
While I don't recommend bringing your Playstation and entire DVD collection, you may want to bring a few things. Labor and delivery can be long – and you might enjoy some relaxing entertainment while you are recovering and snuggling your baby!
This and That
Here are just a few other things you may want to consider
Clothes
I think one of the places I see people go overboard when it comes to their hospital bag, is clothes. While there may be a few people who really detest the hospital blankets and robes, for the most part, just go with what the hospital supplies (though I admit, I have seen some rather cute hospital gowns that I may buy next time around.)
Going home outfit for mom (something that fit you at six months pregnant)
Fuzzy socks or slippers
Hospital Gown (if you want one – make sure it is made for easy IV access)
Lounge pants or robe for the hospital
Nursing bra (if you plan to nurse. If you don't plan to, bring a tight-fitting sports bra)
You May Also Like: Hospital Bag Packing List for Dad
What should I pack in my hospital bag for Baby?
Clothes
Baby going home outfit
Blanket for baby when going home
Car Seat
You can't leave the hospital without having a car seat to bring the baby home in. So, be smart, and get one ahead of time. Have it properly installed (most State Health Department buildings can help with this) and bring it with you to the hospital. Be sure to check out our guide to buying a car seat! We LOVE the Chicco KeyFit 30. If it's cold when your baby is born, I highly recommend the Cozy Cover. It's safe for car seats, and it will keep your baby warm. We are always having people ask us about it!
When did you pack your hospital bag?
Pack 5-6 Weeks Before Due Date: It may seem silly to have everything packed up so early, but you never know if you are going to go into labor early. It's a lot easier to just grab your bag and go, rather than try and remember everything at the last second. I know some people recommend just having the bag in your car, and that is probably a good idea as well. You might not be at home when labor begins!
Tips on Hospital Bag for Baby Delivery
Write a List Beforehand: Because some of the items you will want to bring can't just sit in your bag for five weeks (like a phone!), write a quick list of things you don't want to forget. I put this on top of my bag, and it helped me to remember some of those essential items I hadn't packed yet.
Snacks: If you get an epidural, you can't eat at all during labor, but your husband will probably get hungry! While most hospitals do have some free snacks, bring some of your own, just in case they don't have something you like.
Husband Bag: Hopefully, your husband will be competent enough to pack their own bag but gently remind them to bring some extra clothes, some entertainment, and their wallet.
What should you NOT pack in your hospital bag?
Diapers and Wipes: The hospital provides these. Well, technically you do have to pay for them, but just use the ones provided rather than bringing your own. It's just added weight, and useless. Make sure to take any leftovers home!
Pacifiers: The hospital provides these as well. Unless you hate the way hospital pacifiers look, feel free to bring a "cuter" one. We certainly love the Wubbanub! Update: The hospital I delivered Oliver at did NOT have pacifiers. They are what is called a "breastfeeding friendly" hospital, and they don't give pacifiers out, as to not encourage nipple confusion.
Blankets: Maybe your mom made your baby a brand new blanket, and she'd be devastated if the baby wasn't wrapped in it immediately after birth. In that case, bring a blanket. However, for the most part, leave those 15 blankets you got at your baby shower home. The hospital has tons and they work just fine.
Written Birth Plan: Okay, I know some people will fight me on this, but really, don't bring a birth plan. At least not one that you plan to give to the nurse and expect her to abide by it, word for word. I've seen some online that are about 10 pages long, and I think that is silly. The nurse who taught the hospital class I attended said they really don't like when they are handed a list, because giving birth is SO unpredictable, and it is only setting yourself up for disappointment. If you have a doula, give it to her. But nurses have more than one patient typically, and they change shifts every 12 hours. It's hard to expect them to memorize your every wish. However, if there are certain things you are passionate about happening, just vocalize them. When I got to the hospital, I made my wishes known pretty quickly — I wanted the epidural ASAP, my baby would sleep in the nursery at night (and yes, he turned out just fine,) and I wanted Forrest to cut the umbilical cord. If you want a birth plan for your reference, that's great, but instead, expect the unexpected, and let the nurses know if there's anything you are really passionate about.
I hope this list has helped you decided what to bring! Everyone is different and may have different needs, but I think this is a good outline of what you should, and should not, bring to the hospital when you are about to give birth!
What did you bring to the hospital that you couldn't have done without? What turned out to be useless?
You May Also Like: 15 Decisions to Make Before Baby is Born
Originally posted in April 2013; updated July 2018.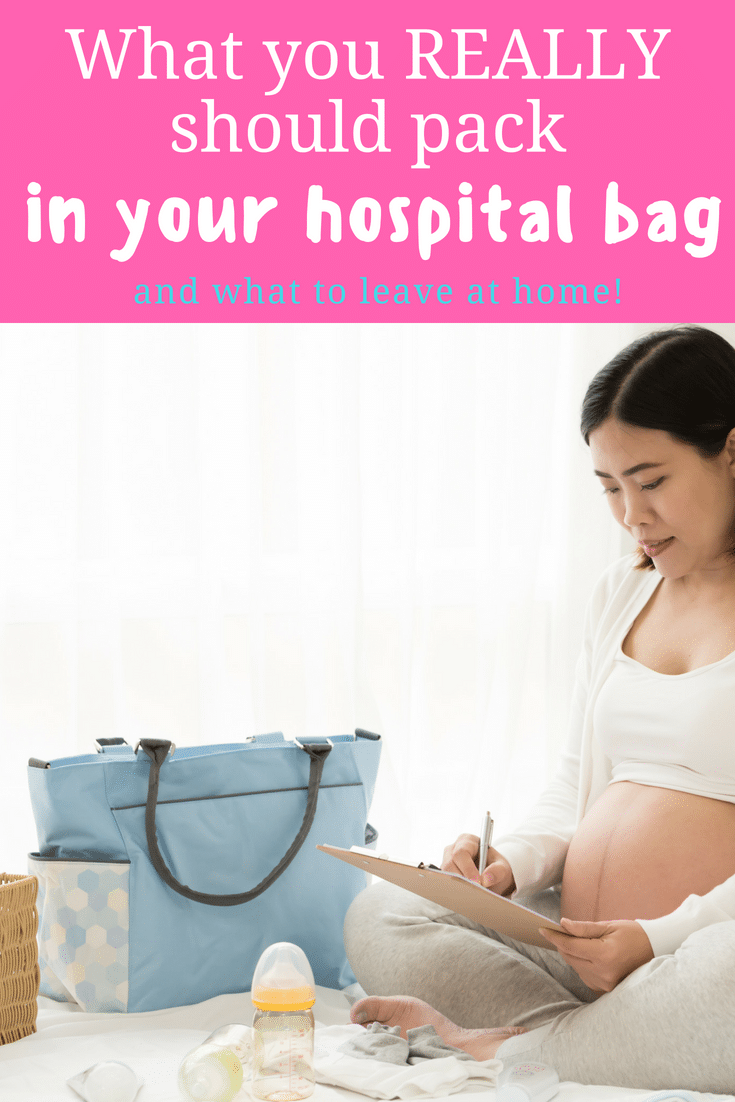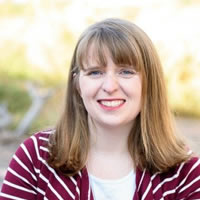 Katie is a Colorado-native, BYU graduated, and most importantly, wife to one and mother to three beautiful boys. She is passionate about sharing her experiences with others – especially about pregnancy, breastfeeding, cooking, and crafts. She is an International Board Certified Lactation Consultant. She loves spending time with her family and helping others find joy in family life.