An in-depth analysis of prices, customer service, and more of these two big box stores — the ultimate Costco versus Sam's Club Comparison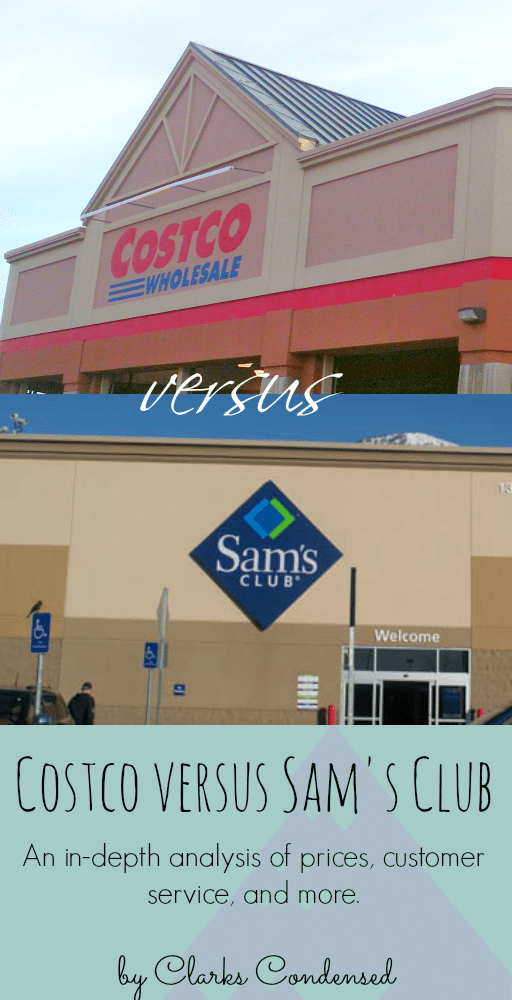 This post was not endorsed in anyway by either Costco or Sam's Club. They don't even know I exist!
UPDATE 9/6/15: I've had a few people comment about my comments on the staff at Costco. This was in relation to the Costco that we went to regularly before we moved, and not a statement on all Costcos. We LOVE the staff at the Costco we now go to, and I've been very impressed. I know that, in general, Costco encourages helpful, friendly staff, and a lot of that comes from the CEO and management team. The experiences we had at our former Costco were unfortunate, but I do believe were isolated to that Costco store. 
Crunchy versus Creamy
Chocolate versus Vanilla
Costco versus Sam's Club . . . all the greatest battles in life, right?
For a single person, or even two people, shopping at a warehouse store like Costco and Sam's Club might not save you money. In fact, you'll probably spend more than you would have at a regular grocery store. I think that it's definitely worth getting a membership there if you buy a lot of things in bulk. I've found it to be a lot more cost effective to shop at Costco for items we buy all the time (like meat, paper towels, snacks, etc.), and the quality is usually great. It does take a little bit of effort to try and determine if you're getting the best price, but it's worth it to do.
I've been a life-time Costco-er. My parent's always went there, and when Forrest and I got married, we started shopping there as well. I had been in Sam's Club once or twice in my life, but I never really had a chance to explore and see the difference between the two stores. So when I randomly received a free Sam's Club membership in the mail (it wasn't even sent for blogging purposes), I was interested to check out the store. Sam's Club is closer to where we live, too!
So, in early December, Forrest and I decided to do store comparison of Costco versus Sam's Club. We went to both stores, wrote down the prices for commonly bought products, and rated other parts of each store. It was actually kind of fun, and interesting, to see the comparison. Here's what we found!
note: We visited the Costco in Orem, Utah, and the Sam's Club in Provo, Utah a few weeks before Christmas. Conditions and prices at stores may be different in  other areas. We also just did a sampling of different foods that are commonly bought, and decided against comparing electronics, books, movies, and clothing. All of the prices below have been calculated to show unit price, not actual price. Most items must be bought in more than one unit. 
Produce
Bananas: 1.39 (6, C) 1.36 (3 lb, SC)
Strawberries: 3.25 (per pound) 2.99 (per pound, SC)
Romaine: 3.29 (6, C) 3.26 (8, SC)
Clementines: .98 (per lb, C), 1.20 (per lb, SC)
Yellow Onions: .40 (per pound, C) .45 (per pound, SC)
Mixed Peppers: 1.08 (per pepper C) 1.08 (per pepper SC)
Seedless Grapes: 1.99 (per pound, C), 1.99 (per pound, SC)
Costco: 12.38
Sam's Club: 12.33
Dairy: 
Milk: 1.30 (per gallon, C), 2.24 (1 gallon, SC)
Almond Milk: 2.63 (per container C), 2.63 (per container, SC)
Eggs: .15 (per egg), .15 (per egg, C)
Sliced American Cheese: .09 (per slice, C) .07 (per slice, SC)
Butter: 1.85 (per pound, C) 1.85 (per pound, SC)
Shredded Cheese: .21 (per ounce, Mexican Blend, C) .22 (per ounce Kraft Cheese Mexican Blend, SC)
String Cheese: .18 (per piece, C) .17 (per piece, SC)
Brie: .34 (per ounce oz, C) .30 (per oz, SC)
Feta: .29 (per oz, C) .33 (per oz, SC)
Yoplait Yogurt: .42 (per cup, C) .94 (per cup, SC)
Costco: 7.46
Sam's Club: 8.90
Meats:
Ground Turkey: 2.79(per lb, C) 2.69 (per pound, SC)
Chicken Breast: 3.19(per lb, C) 1.77 (per lb, SC)
Rotissiere Chicken: 4.99 (per chicken, C) 4.88 (per chicken, SC)
Pork Shoulder: 1.79 (per lb, C) 1.98 (per lb, SC)
Salmon: 7.69 (per lb, C) 7.52 (per lb,SC)
Sausage: 2.26 (per lb, C) 2.49 (per lb, SC)
Bacon: 3.74 (per lb, C) 4.76 (per lb, SC)
Turkey Bacon: .22 (per ounce, C) .19 (per oz, SC)

Costco: 26.67
Sam's Club: 26.28
Bakery:
Bagels: .46 (per bagel, C) .50 (per bagel, SC)
Croissant: .50 (per croissant, C) .27 (per croissant, SC)
Sheet Cakes: 9.00 (per pound, C) 8.8 (per pound, SC)
Muffins: .58 (per muffin, C) .57 (per muffin, SC)
Dinner Rolls: .12 (per roll, C) .12 (per roll, SC)
Costco: 10.66
Sam's Club: 10.26
Non-Perishable Foods:
Peanut Butter: .14 (per oz, C) .10 (per oz, SC)
Coconut Oil: .28 (per ounce, C) .28 (per oz, SC)
Olive Oil: 4.50 (per liter, C) 6.74 (2 liters, SC)
Canola Oil: 1.50 (per quart, C) 1.80 (1 quart, SC)
Vegetable Oil: 1.54 (per quart, C) 1.80 (per quart, SC)
Water Bottles: .10 (per bottle, C) .09 (per bottle, SC)
Chocolate Chips: .12 (per oz, C)  .12 (per oz, SC)
Costco: 8.18
Sam's Club: 10.21
Non-Food Items:
Paper Towels: .008  (per sheet, C) .01 (per sheet, SC)
Toilet Paper: .12  (per sheet C) .19 (per roll, 190 sheets)
Diapers: 38.99 (Store brand, C) 39.88 (store brand, SC) (amounts varied)
Wipes: .22 (per wipe, C, Kirkland Brand) .19 (per wipe, SC, SC Brand)
Trash Bags: .19 (per 33 gallon bag, Costco) .06 (per 33 gallon bag, SC)
AA Batteries: .27 (per battery, C) .32 (per battery, SC)
AAA Batteries: .32 (per battery, C) .39 (per battery, SC)
Costco: 40.12
Sam's Club: 41.04
COSTCO TOTAL: 109.97 (426.24)
SAM'S CLUB TOTAL: 109.02 (365.74)
If you are looking at price per unit, Sam's Club wins by a few dollars — however, if you look at actual amount (since most products must be bought in bulk), Sam's club wins by a good amount. So, at face value, Sam's Club was clearly less. But I think the best way to judge how much a place costs is by their unit price. You have to buy more at Costco, but you typically get it for a cheaper overall price, with the exception of produce and meats, which seems to be cheaper overall at Sam's Club.
Food Court
Both food courts have the staples — pizza, hot dogs, and soft drinks. However, we felt like Costco offered more variety — it gets extra points for having a gelato station. Costco also had a larger dining area.
At our Costco, you can order food while you are checking out, which is kind of nice, because it stinks to have to wait in line to get your groceries, and then go wait in a mile long line to order food!
Samples
It's hard to really judge who has the better samples, because, well, it varies from day-to-day. For instance, today there were some great samples at Costco — at least one in every aisle, but other days, there's hardly any at all. The same goes for Sam's Club. I think they both consistently put out yummy samples that really draw you in (we are totally suckers for buying things being given out as samples!)
At Sam's Club, we noticed that they like to put up competing products as samples, which I kind of like. It helps you decide easily between two similar products. For instance, a few weeks ago they had two different brands of baked chicken alfredo out. We tried it, and we actually ended up buying one, and it was the brand that I initially wouldn't have chosen! Sam's Club also has these cool little dispensers where, when you swipe your card, you get a free, non-food sample of something (we've gotten medicines, detergent, etc.)
And if you want to know the time that has the best samples, we think it's around 4:00 on weekdays. Though you might walk out of there with your pockets more empty at that time, because you'll want to buy everything you try (or is that just us?)
Checking Out:
It could be just our Costco, but I always feel like the cashiers don't want to be there. They hardly ever make eye contact, and I feel like they never respond to what I'm saying and are usually just talking to their co-workers. With that said, they usually get us through the line fairly quickly, which is nice, because each line is about a mile long.
One thing I love about the Sam's Club by our house is that it has self-check out. I know that some Costcos have this (one near my parent's house does), and I just really like it. There's never a line, but there are still cashiers standing close by, willing to assist at a moments notice.
Friendliness
When we are comparing just these two individual stores, Sam's Club employees are far more friendly. As I mentioned above, many of the Costco employees seem kind of standoffish. I will say, that the Costco's customer service desk is always full of friendly and happy people, but I wish that was extended throughout the store. There's been a few times when we've asked about a product that they used to have, and we were just given weird looks. However, I have to say, this hasn't been my experience at all Costco stores, just the one in Orem. We go to another one that's near by occasionally, and our experience has been much better.
At Sam's Club, all the employees are very helpful, and are always walking around asking if they can help you. Part of me feels like this is because of the store location — there is hardly anyone ever there, as opposed to the Costco in Orem, which is a madhouse pretty much every single day. However, I do appreciate them being helpful. One experience that was kind of funny, was when a customer started insulting a sample (really, who does that?) and saying how it's so bad for you (it was fruit with whipped cream on top) and the sampler lady just smiled and let it roll of her shoulders. 
UPDATE: Since moving to Colorado, I definitely retract all of this. Costco's employees are 100% more helpful and friendly at all the stores we've been to in Colorado, and we have gone to both Sam's and Costco plenty!
Coupon Policy
Both companies send out monthly mailers with coupons, some of which you have to have in order to use in store, and others just to inform you of a deal going on. Sam's Club just recently started doing this, while Costco has for a long time. One thing that's neat about Sam's Club is that you can load coupons onto your card, and sometimes, you get free items just because — for instance, we recently got a free rotisserie chicken, just because they wanted to give us one.
With Costco's coupon, don't worry about cutting out the coupons you want to use. You can simply hand the book to the cashier after you are ready to pay, and when they scan it, any eligible coupons will be applied.
If you want to use manufacturers or outside coupons, you're out of luck. Neither Sam's Club or Costco accept these types of coupons. One thing I learned recently about Costco, though, is when a price ends in 7, you should stock up — it's been marked down by corporate, and it's about as low as it will ever be.
Click-n-pull
This is related just to Sam's Club — but it's worth noting! They have a service where, if you order online your groceries the night before by 5 PM, they will pull all the groceries for you and all you have to do is pay for them and pick them up the next day. I think this is awesome, especially for those who don't want to spend a lot of time in the store (and increase the likelihood of impulse buying) or perhaps have wild kids who don't like to go shopping!
Return Policy
Costco has the best return policy of pretty much any store I've gone to. There's been several times that we've had to go and return something, and they've done it with no question. For instance, a few weeks ago, after we had used two packages of butter, we discovered that the contents of the third package was completely messed up, and when we took it back, they gave us two packages with no further question. With the exception of some electronics (which must be returned within 90 for a full refund), they stand behind their products 100%, and offer a full refund on their products if you aren't 100% satisfied. I just read about someone who took back a BBQ that was clearly over a year or two old that had started to rust, and they happily gave him a refund. While I certainly don't advocate taking back every product back to Costco once you're done with it, you can buy products at Costco knowing that if you aren't satisfied, you will get your money back, no questions asked. Plus, if you don't have the receipt, no problem. They can look up information with your ID number, and you can make in store returns with products that were purchased online. And, if at any time you aren't satisfied with your Costco membership, you can get it fully refunded (more information can be found here and here.)
As for Sam's Club's return policy, I've found numerous complaints about it. While they state that they have a 100% guarantee on their products and memberships, there are more stipulations than you find at Costco.  If you purchase something online, it can be returned for cash if you have the receipt, but only a Sam's gift card otherwise. And within that policy, certain things are excluded — such as televisions and other electronics — you have to have the original receipt. This person tried to return a TV from SamsClub.com that was sent to  them with a cracked screen, and was pretty much told too bad, they had nothing to do with online orders. For in store purchases, you will only receive the last sales price of the product without a receipt (more information can be found here and here.)
Cost of membership
 Costco has a couple of different membership options:
Gold Star Membership: $55, for mainly personal use
Business Membership: $55, can be used for personal and business use. You can purchase up to five more memberships at $55 on this plan for employees/family members. Honestly, I don't see that there's really any difference between this and the Gold Star Membership — enlighten me if you know!
Executive Membership: $110, and it includes a 2% money back at the end of the year, and apparently other perks.
Sam's Club has three options as well, and you can see a comparison chart of the three here. The prices for the Sam's Savings and Business both increased by about $10
Sam's Savings: $45
Sam's Business: $45
Sam's Plus: $100, you get additional discounts on products with this one!
I have seen both of these companies offer Groupon deals lately that make the memberships super cheap, and you get some cool coupons!
Sam's Club has a one-day pass (free) that you can use if you don't have a membership and just want to try it out, but you do have to pay an added fee that members don't have to pay. At Costco, if someone gives you a gift card, you don't need a membership to use it — plus, anyone can use their pharmacy!
Conclusion: 
I'm still a big fan of Costco. After researching both companies, I feel like Costco treats their employees the best, and I agree with their business practices more. According to this article, Costco runs the cheapest and happiest company in the world. This article compares wages (granted, it's a bit dated, having been written in 2006) and showed that Costco's average wage is $17 an hour, and while Sam's Club didn't release the wages of their employees, since it's run by the same people behind Walmart (so if you don't support Walmart, know you are supporting the company if you go to Sam's Club), it's likely similar to their average wage of 10.11. Other sites I found said that Sam's Club employees make anywhere from 8-11$ an hour, depending on experience and job. This article said that in 2011, a typical Costco employee made about $45,000 a year, compared to the $17,486 salary a Sam's Club employee made.
I should also mention, that I love the Costco photo center. The prices are cheap, they have great products, and they stand behind the quality of those as well! I also found that they never question if I have the copyright for something I'm printing (which I always do) which results in less headaches. I haven't used Sam's Club's photo center, so I don't know how theirs works!
If you are looking for the cheapest membership, I would probably go with Sam's Club. However, for the best return policies, and for a company that is managed extremely well and treats their employees well, Costco is definitely way to go. For me, paying a little bit extra for the membership  is worth it.  I would not choose based on price of products alone. And, really, a lot of factors go into choosing! Though I admit, the Costco employees at the one we go to could do to be a little more friendly! While it's been nice having a membership to both places (and really, Sam's Club has been a pleasant surprise to how nice it's been), we will always be Costco-ers for life!