Not sure if a Sam's Club membership is worth getting? Here are our favorite things to buy there – plus some membership perks that are total game changer!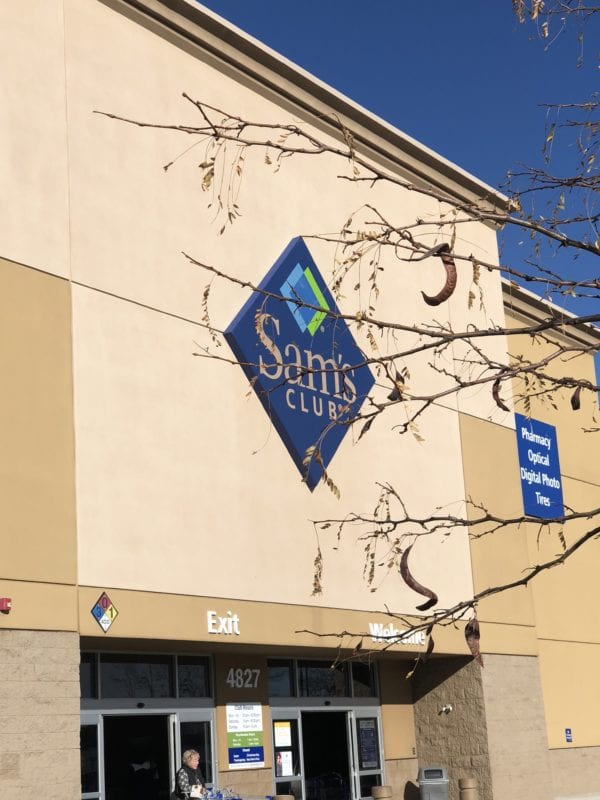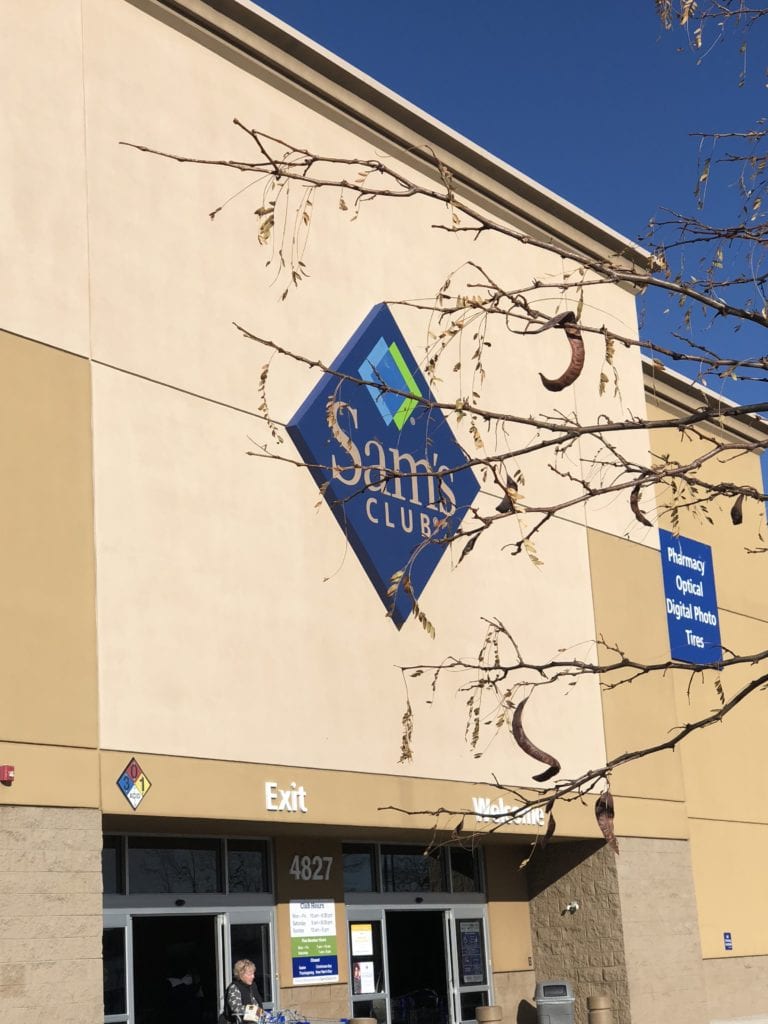 What to Buy a Sam's Club
If you follow us on Instagram, you know that we are always sharing our love for club warehouses like Costco and Sam's Club.
We love perusing the aisles, buying our favorite products in bulk, and discovering new items – not to mention getting yummy samples along the way.
While I admit my heart goes more toward Costco, I've warmed up to Sam's Club over the years. I also have found that it's available in more places – especially smaller towns – as opposed to Costco.
I often see people asking, "Do I really need a Sam's Club membership? What if I only have a few people in my family?"
And those are completely valid questions – I mean, when you think of Sam's Club, you likely think of lots of products being bought in bulk.
However, there are great deals to be found for families of all sizes – even if it's just you, I think you can easily justify getting a membership.
Below you will find the best deals at Sam's Club. A lot of them are general categories, but I try and mention a few specific products in each.
At the end of the post, I will also share some Sam's Club membership perks that you may not know about.
In the past, I have done a Sam's Club versus Costco comparison, which I am planning to update soon. But this post is all about Sam's!
Is it a good deal?
All of these things I'm listed below are typically a good deal priced as is – however, Sam's Club often has their Instant Savings events which will help you save even more.
If you are someone who uses a lot of coupons or is always looking for a good "stock up" sale at your local grocery store, you may disagree with some of these because a couple of times a year you might be able to get a cheaper price. Which is totally fine! However, for anyone who is just looking for overall value without having to hunt the sales, I do think that everything I list below is a good deal.
One thing you always should ask yourself before buying in bulk is this, "Will we use it before the expiration?" Because if not, and you are having a lot of the food going to waste…you aren't saving money. We love buying things at Sam's Club that last a long time because we are just a family of four.
Member's Mark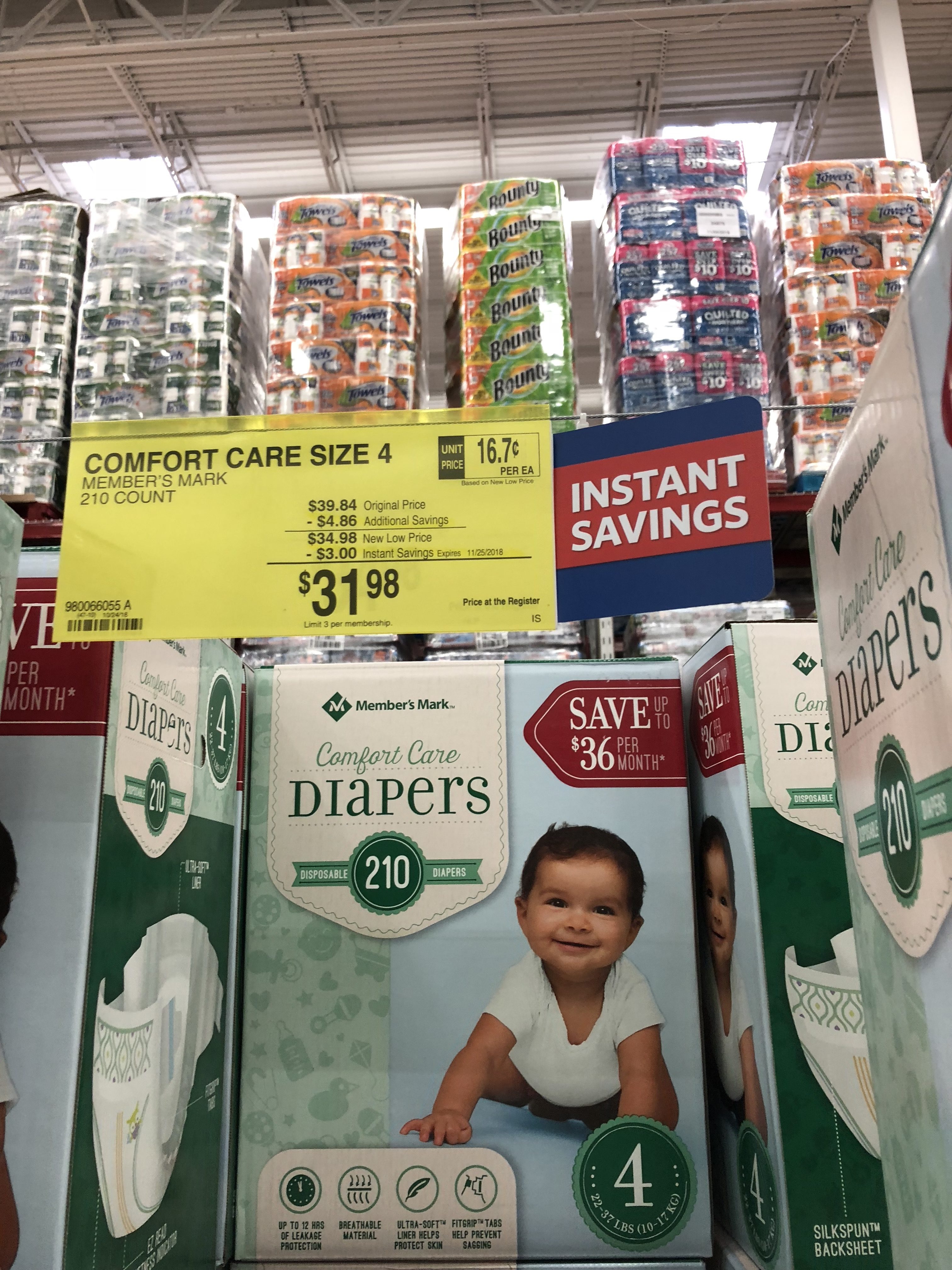 Member's Mark is Sam's Club generic brand available throughout the store. They almost always have an alternative to many popular products.
I know when you hear store brand, you don't always think it's going to be the best quality. However, thus far in my experience, I have been very pleased with most everything we've tried that is Member's Mark. If you are super specific about a brand for whatever reason, you may have more trouble. However, I'm not very brand loyal to many products, so I'm always willing to try something new.
Diapers, Wipes, and Formula – Oh my!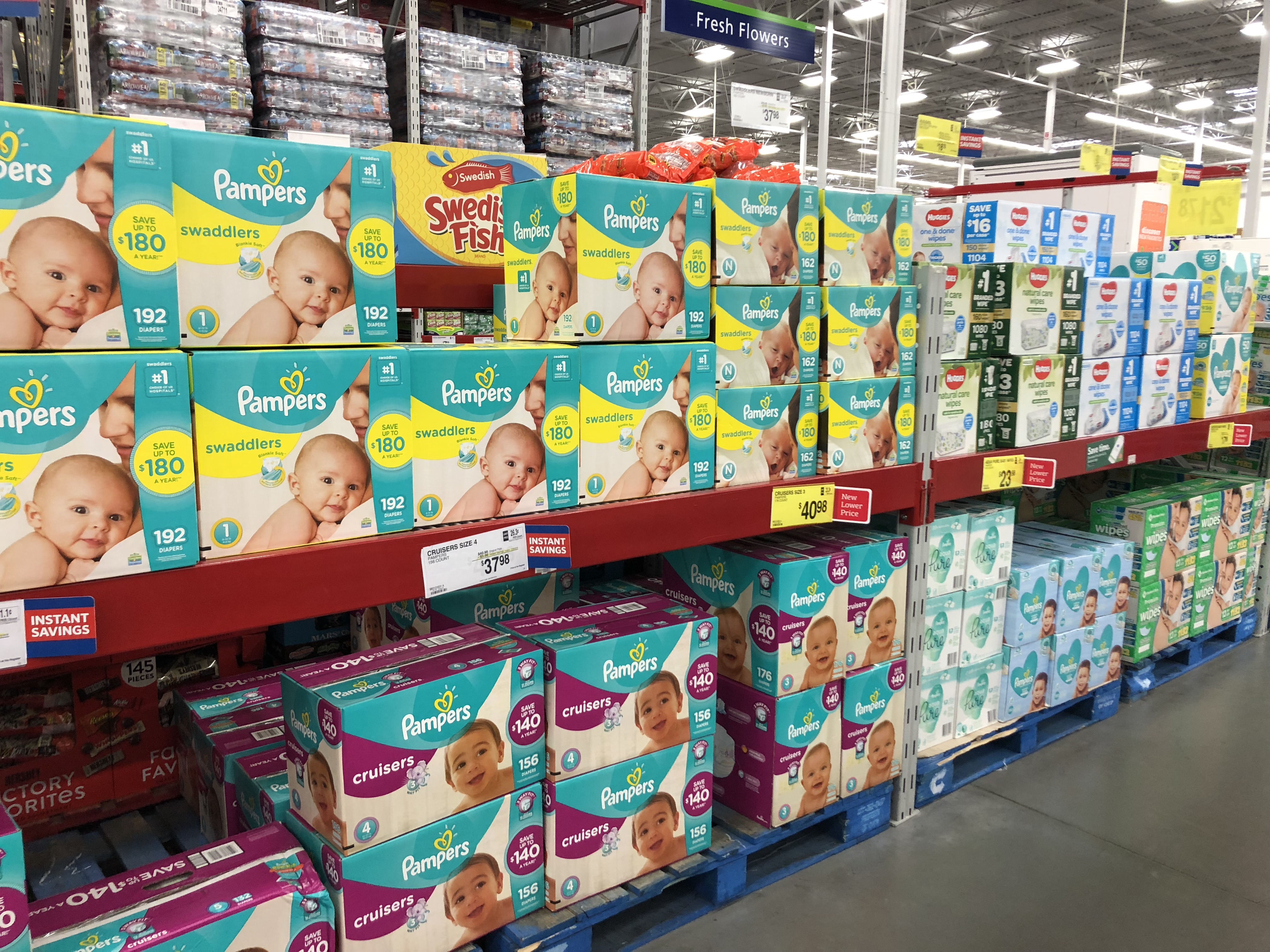 Sam's Club is a new parent's best friend – they offer great deals on many necessities for your baby and toddler. I mention this first because diapers are literally what we buy the most at Sam's Club.
We often buy diapers at Sam's Club – I prefer Pampers, and I can usually get a good deal; they often have some great coupons or bundled deals. However, for the sake of writing this post, we bought the Member's Mark brand this last time, and I have to say, I'm pretty impressed. For my three-year-old who I wish was potty trained, they get the job done. We were having issues with some other diapers we were using recently giving him marks on his legs, and we haven't had any of those issues here.
We never used formula, but a lot of people do, so I did some research on this, and many, many parents rave about the Member's Mark formula. It's a fraction of the cost of another formula, and it comes in regular and sensitive. Though if you do like another brand, such as Enfamil or Similac, you can get deals on that as well.
There are lots of other baby products (medicines, baby food, etc), so definitely take a stroll down the baby aisle to see if they carry your favorites for a good price. They also have car seats that are good quality and priced fairly.
Gift Cards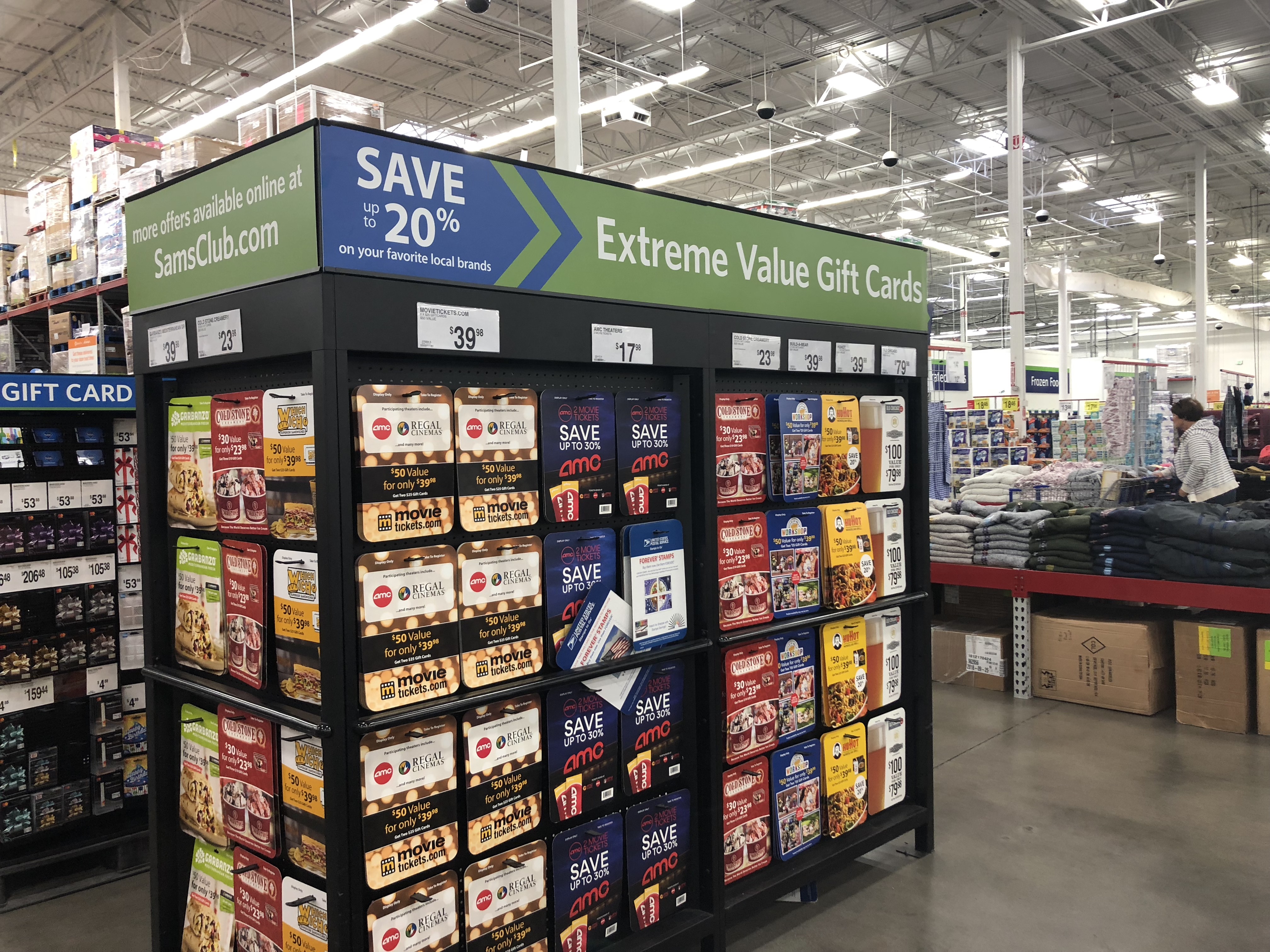 You can always save at least a couple of dollars on gift cards at Sam's Club at all your favorite restaurants, movie theaters, and more. However, they also have a big stand of gift cards that are up to 20% off, and you can save a lot. We like to buy the ones for restaurants we frequent.
Semi-related to gift cards, Sam's Club often offers discount tickets to theme and amusement parks!
Prescriptions
I use the app GoodRx to find the best deals on prescription medications. Whenever I search for a medication, Sam's Club is almost always at or near the top with the best prices.
They also offer bulk sizes of different over the counter medications and vitamins, so those are definitely worth checking out. If you know you will be using something regularly (like ibuprofen or vitamins), it's definitely worth buying in bulk.
Baking Supplies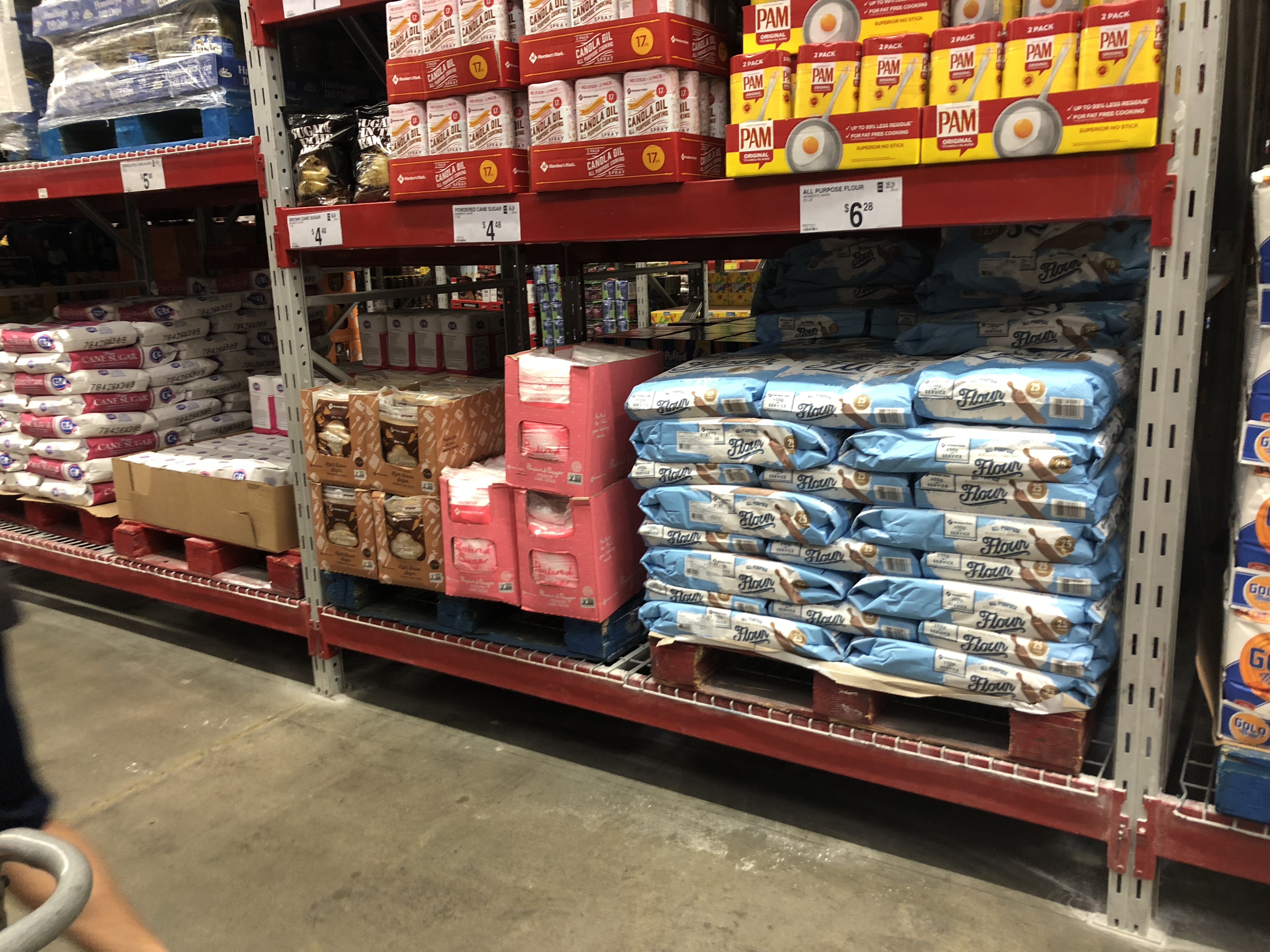 They sell large bags of sugar, flour, brown sugar, salt, etc. for good prices. These are great for food storage. We like to buy plastic food storage buckets to put these in so they will last longer.
I think their cooking spray and chocolate chips are especially great deals
Spices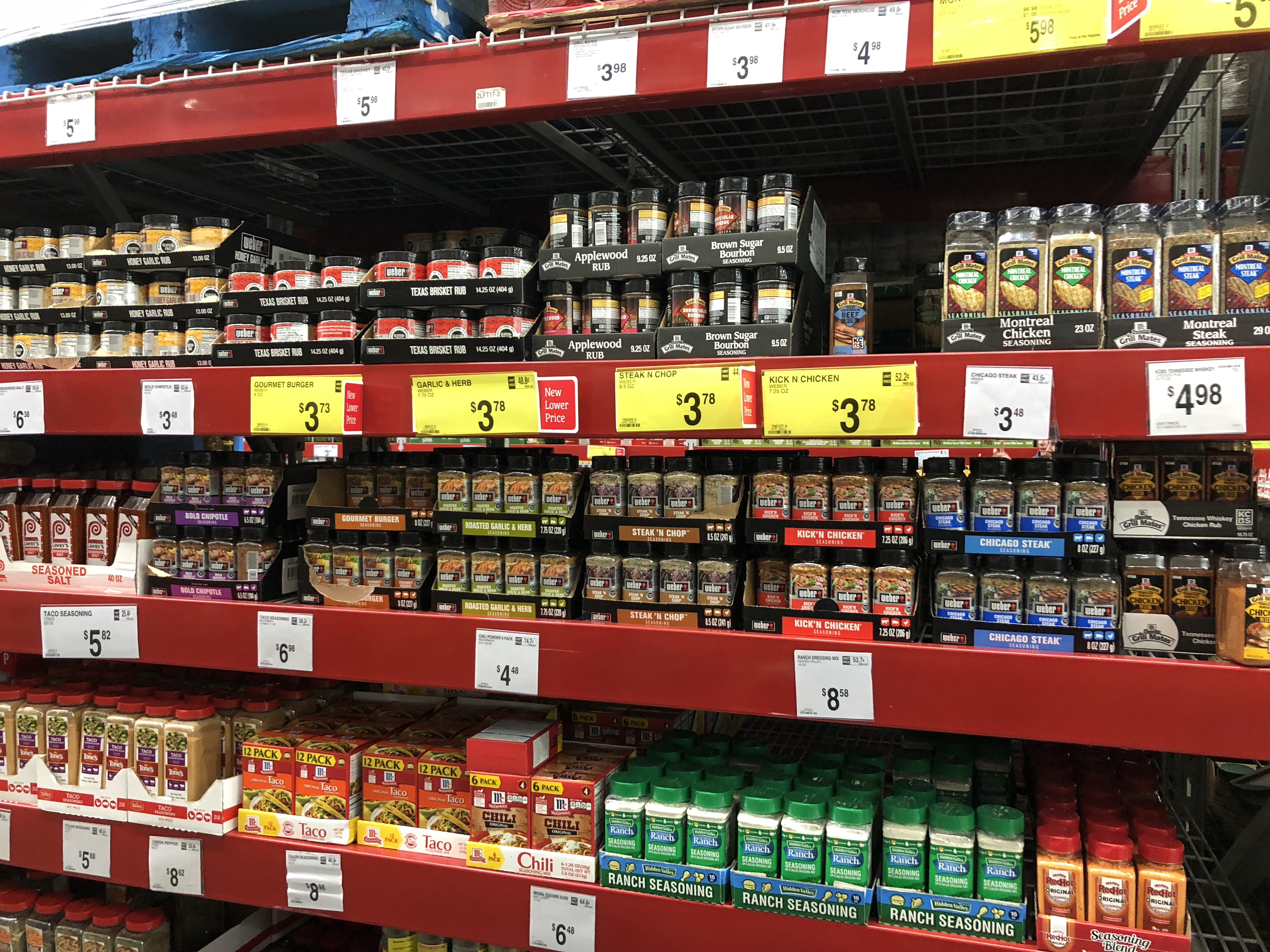 Sam's Club has tons of different spices from different brands. This is one of those things I recommend checking the expiration date on before you buy a huge quantity. For us, it's worth it to buy the spices that we use most frequently, such as cinnamon, taco seasoning, and garlic and onion powder.
Their minced garlic is an awesome price, but it is a LOT. We have bought that in the past, but we didn't even make a dent in it by the time the expiration date came around.
Batteries
They offer lots of batteries from different brands. The Member's Mark batteries are definitely less than the other brands, and from what I've heard, they work great and are long-lasting.
We love buying batteries in bulk, especially when we buy gifts that require batteries. It's important that they are long-lasting, and the Members Mark ones are.
Cupcakes
We got cupcakes from Sam's Club for a church activity earlier this year, and they were DELICIOUS. They are priced per pound, and a huge pallet of them is about $15. They look really nice, and you can custom order them to look however you want, so I definitely think these are a good buy.
Meats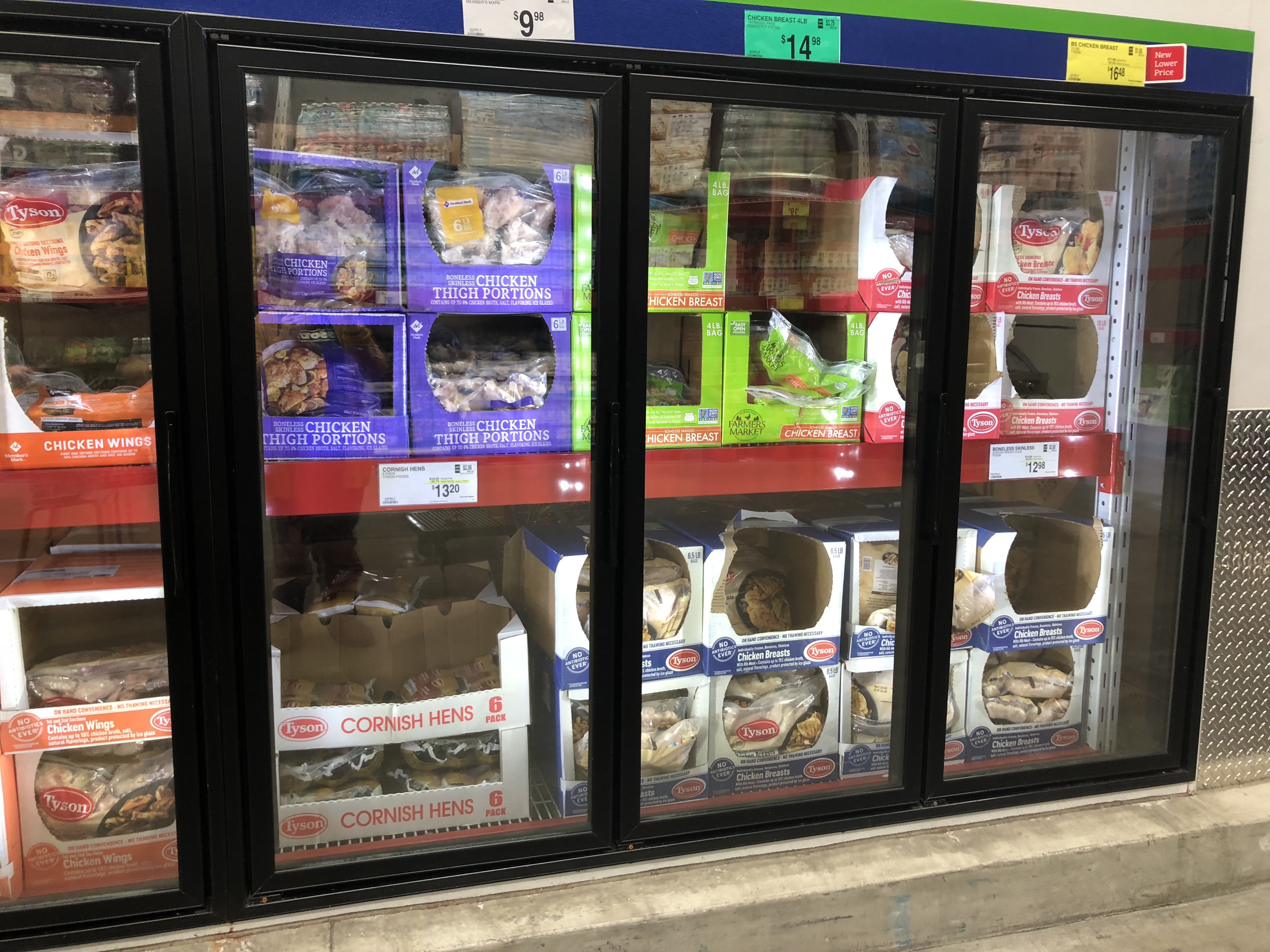 There are lots of frozen and fresh meats available at Sam's Club. If you don't mind your meat being frozen, their chicken breast and ground beef are pretty good prices. However, if you prefer fresh meat, those turn out to be very affordable as well. At our Sam's Club, there was 90% ground beef for under $3, which I always feel is a good price.
They have some organic meats as well, which I know a lot of people prefer to buy. We bought a whole brisket here earlier this year, and it was about $2.97 a pound, which is an AWESOME deal. Plus, they set aside a larger one for us when we asked them to, which I appreciated.
Produce
This is another thing that I would proceed with caution about – if you aren't sure you are going to eat the fruit before it goes bad, then don't get it!
We've bought apples and oranges in bulk here, but we just don't go through it fast enough. I guess we should eat more fruits and vegetables! But they really are huge quantities.
A few things we do like:
Pre-sliced Apples – this is a recent discovery, and they are life changing! I don't love slicing apples, so when I saw their container of pre-sliced apples (with a resealable lid) – on sale, nonetheless – I knew I had to try them. We LOVE them. It's so nice just to go grab some apples from the fridge for a snack, and they stay fresh. I felt like the price was super reasonable for what it cost.
Bananas – We go through bananas really quickly, and the price is good.
Salad Mixes – Okay, these are only good if you are feeding a crowd, but they are CHEAP!
Frozen Snacks and Meals
There are a lot of frozen foods at Sam's Clubs. I try not to eat *too* many convenience foods, but let's be real – they can be a lifesaver at times.
We like the frozen mini corn dogs, chicken nuggets, and fish sticks. They have lots of appetizers that are fun for parties, as well as lots of desserts.
Frozen meals can be helpful in a mind as well. I've tried their blackened chicken alfredo, and I really like that. We haven't tried a ton of them, but I do like having something substantial we can have in the freezer for those nights where we just can't cook.
Dips
I love their containers of spinach dip, hummus, etc. There always seems to be something new. These are GREAT for parties – but I occasionally like having them in fridge as well if I think I'll go through them pretty quickly. I find them to be cheaper than a smaller container at the grocery store.
Laundry Detergent
The whole laundry aisle is a good place to shop – they seem to have all major brands. We have really liked the Member's Mark brand of laundry detergent – it seems to clean just as well as anything else.
Rotisserie Chicken
Definitely one of the best buys – they are $4.98, and the chicken is large and delicious. Priced SO much better than most grocery stores. We love rotisserie chickens for dinner, to put in chicken enchiladas, chicken salad, chicken noodle soup, and more. Definitely one of our favorites.
Take and Bake Pizzas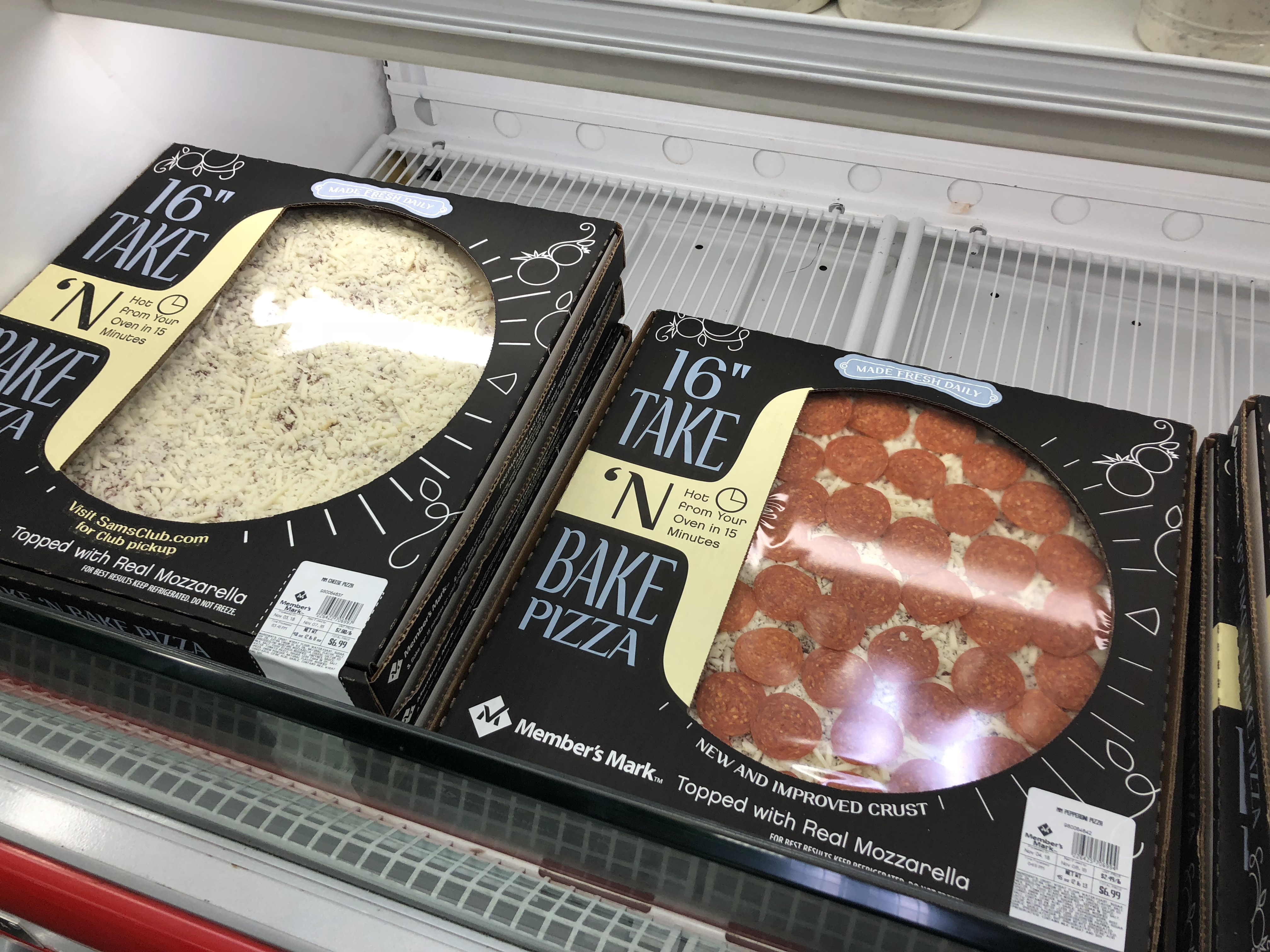 We really like Sam's Club pizza – and it's just $6.99 (at least, at our store) for a large cheese or pepperoni that you cook at home. You can easily add your own toppings if you want to beef it up a bit, but it's definitely a good buy. They had a meat lovers-looking pizza for a couple of dollars more.
Snacks
I know this doesn't seem very specific, and it's not…but there are just TOO many snacks at Sam's Club to mention. Lunchbox snacks – like fruit snacks, granola bars, applesauce pouches, ec., are usually a pretty good buy. They also have pretty good deals on crackers and dried fruit. Plus, they have a huge variety of specialty snacks that are fun to get every now and then. There are a lot of things you really can't find anywhere else.
Bread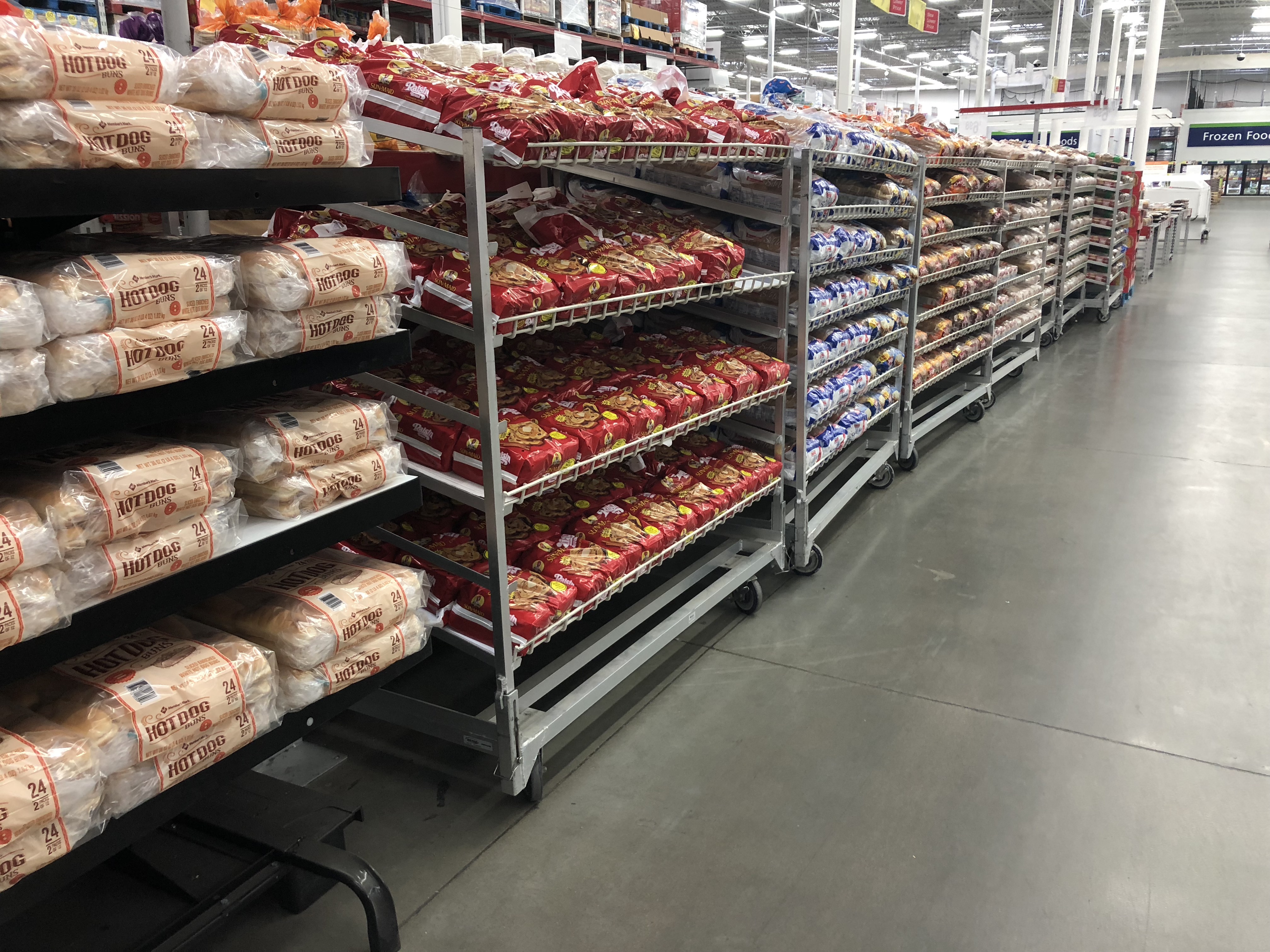 Most of their loaves of bread come in a two pack, and I find their prices to be a little bit less than buying bread at the grocery store. If you don't think you'll go through two loaves before it goes bad, you can always freeze it. We like to buy rolls and croissants here as well. They have some smaller croissants that seem to work well for my family.
Usually, their packages of tortillas are a good buy, though we don't go through them enough to buy them. Their uncooked tortillas in the refrigerated section are a pretty good find though, and you can easily freeze them.
Bacon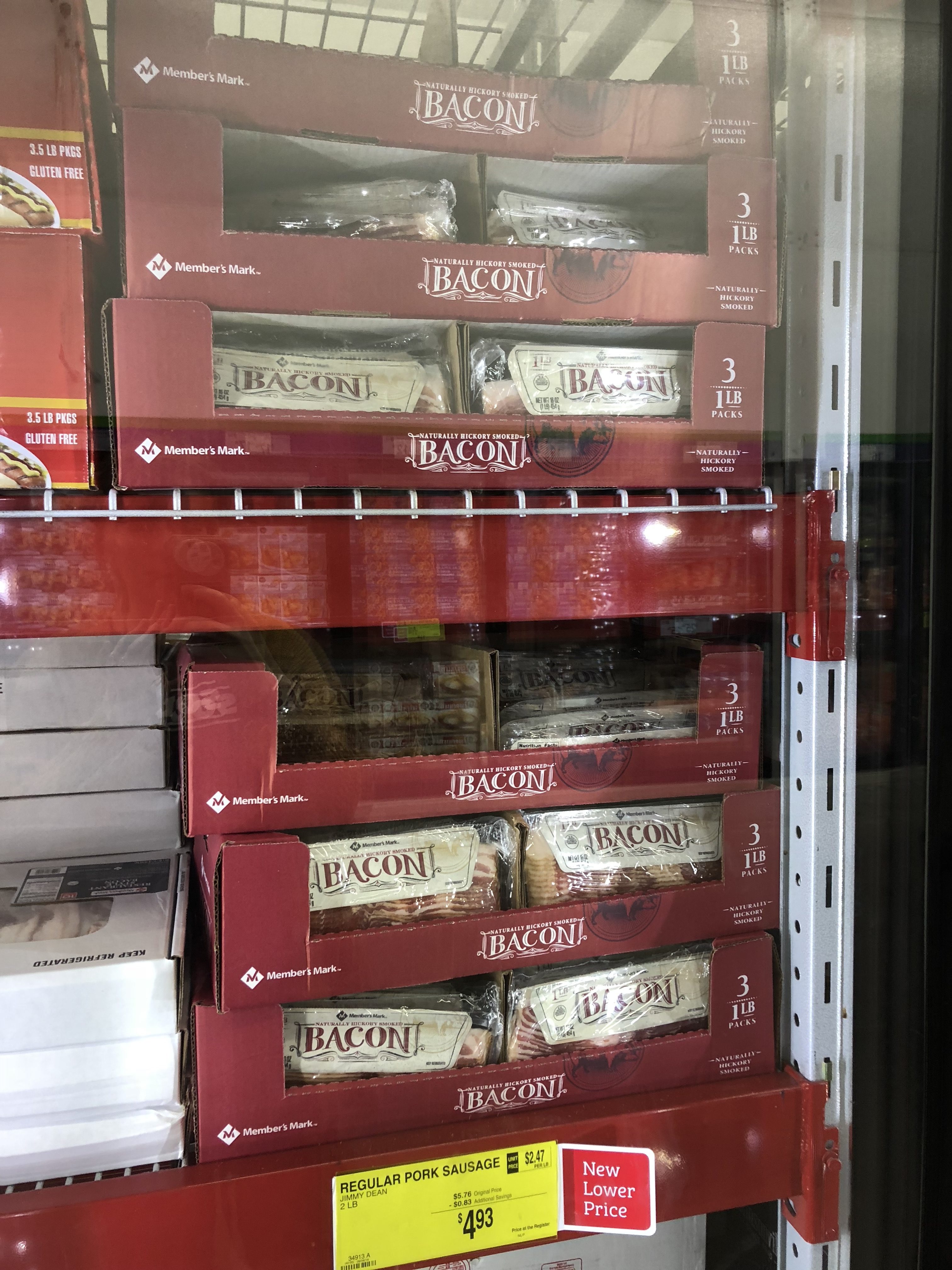 Bacon! Lots of people like this one. Sam's Club has bacon for about 3.50 a pound – and it's thick cut. I would imagine this could vary depending on where you live, but $3.50 a pound is a steal. Whenever I go to the regular grocery store, I'm shocked to see the thin, stringy bacon ringing up at $4.00 (or more) a pound. Great deal.
Peanut Butter, Jelly, and Hazelnut Spread
These are all great deals. Peanut Butter – as well as Hazelnut Spreads – last quite a while on the shelf, so I don't mind buying larger quantities.
I think the jelly is an awesome deal, too. It's a large jar, and it ends up being less expensive than some jars I see at the grocery store that are MUCH cheaper.
Clothing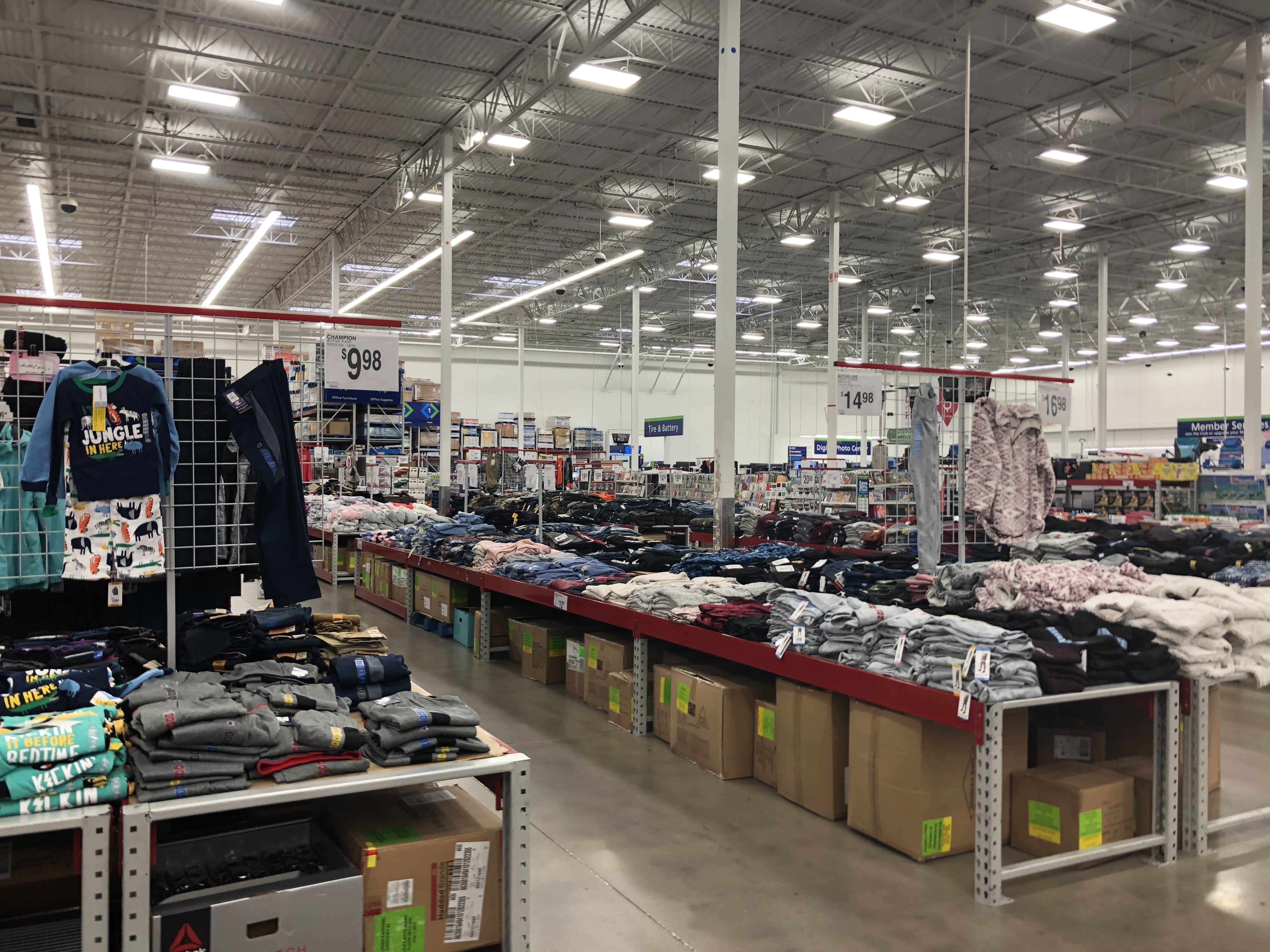 The older I get, the more I appreciate the clothes at club warehouses. They are typically pretty good quality, comfortable, and affordable. Sam's Club is always having new items brought in for all ages. I think their children's clothing are an especially good value.
Seasonal Products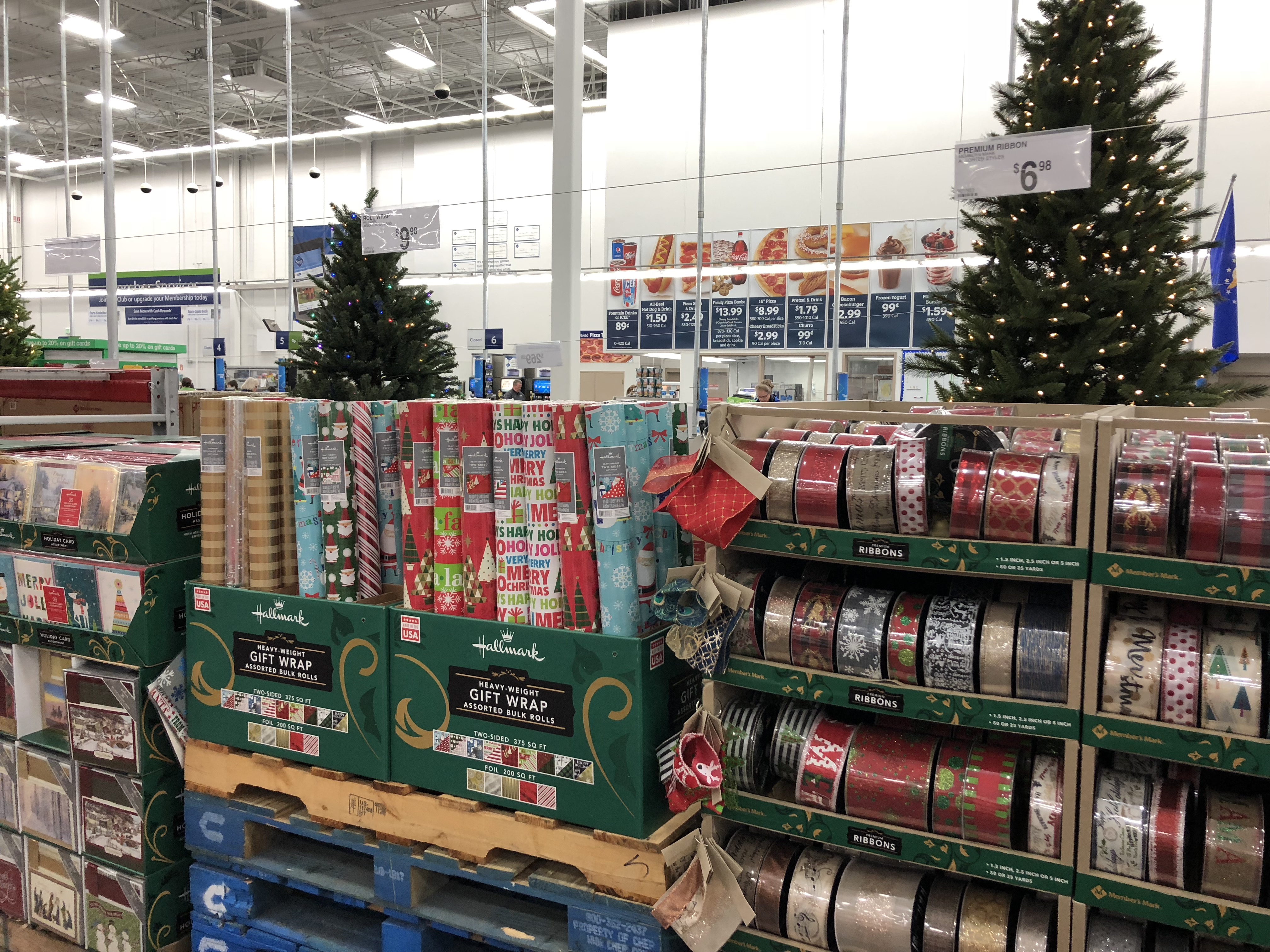 One of the things I love about Sam's Club is that they are always bringing in new products for the different seasons. During the summer, they had some amazing water and summer toys (one of which inspired this Slip 'n Slide kickball!) They often have gardening supplies and plants, too, which can be a good find.
During Christmas, they have SO many fun decorations, tons of Christmas gift ideas, good quality wrapping paper and bows, and more. They usually have lot of different gift ideas as well. Lots of yummy treats, too!
Not everything is going to be a good buy, but in my experience, there are a lot of great steals to be found.
Dairy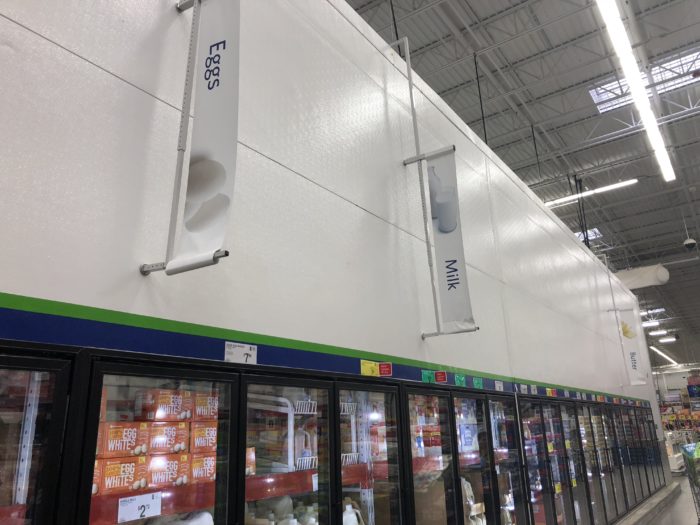 The dairy aisle is great! Milk is less expensive than most grocery stores in my experience – and it comes in just one pack (Costco is a two pack, which isn't always convenient if you don't drink that much milk and don't have extra freezer space).
Butter, cheese, and eggs are also a good deal. We like to buy all of these in large quantities – I always freeze butter and cheese because we go through it so fast, and I definitely think buying in bulk is the best idea.
Food Court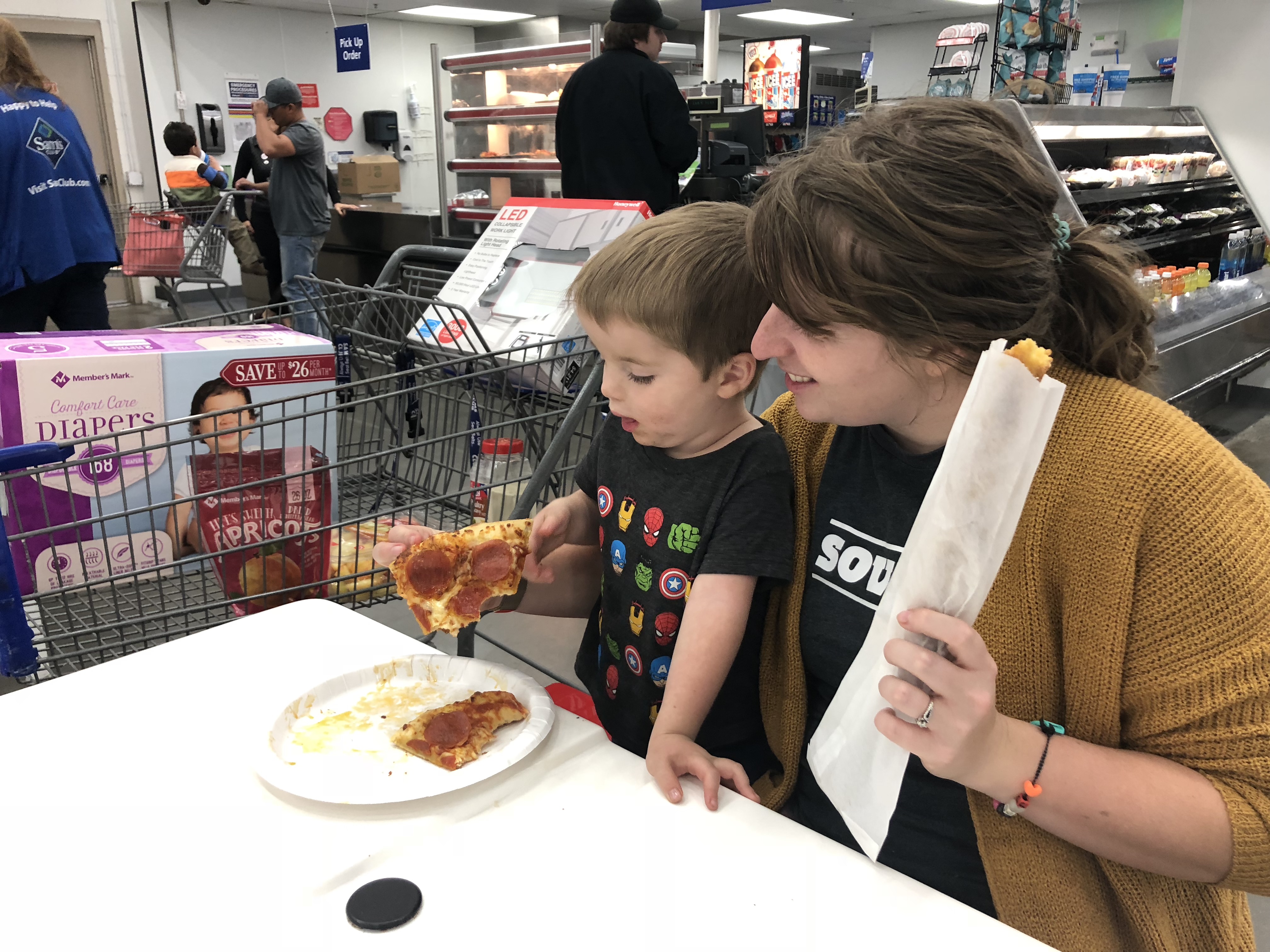 Would any trip to Sam's Club be complete without a trip to their food court? I think not! Very inexpensive food, and it tastes good. We like the pizza, hot dog deals, and churros the most! Makes for a fun and inexpensive dinner or lunch with the family.
Reader Favorites
I asked on Instagram what others liked buying at Sam's Club the most, and here are a few of those responses:
Smoked almonds
Thick cut bacon
Trail Mix
Saltine crackers
Canned veggies
Fresh veggies
Chicken
Diapers
Onesies
Dog Food
Paper goods (toilet paper, paper towels, etc.)
Canned veggies
Peanut butter filled pretzels
Milk
Be sure to comment below about your favorites!
Favorite Holiday Buys
Above I mentioned a few of our favorite things to buy during the holidays, but here is an overview:
Wrapping paper and bows
Gift cards
Baking supplies (such as chocolate chips, flour, sugar, and vanilla)
Baked goods
Frozen appetizers for parties
Dips and large bags of chips
Gifts for children
Christmas pajamas
Butter
My Favorite Sam's Club Membership Perks
Finally, I wanted to share some of Sam's Club membership perks that have won me over during the past few years. I think these add incredible value to your membership, and it absolutely makes it worth getting.
Scan 'n Go
Hands down one of my FAVORITE things about Sam's Club. It makes me feel like they really get how crazy it can be to go through the store with children – and then have to wait in a long line.
This isn't just for people with kids though. I think ANYONE can appreciate it. Basically, you download their app, scan your products as you go, and you pay on your phone when you are done. You completely bypass the checkout line and just have them check your phone at the checkout!
Club pickup
You can order your groceries online and just come and pick them up. Easy as pie. Grocery pickup is all the rage right now – and it's totally cheap.
Sam's Club tends to get CRAZY during the holidays, so I think Club pickup is especially helpful during those busy times of years where you don't want to fight the crowds but you need the essentials above.
Subscriptions
Do you have products that you want to buy on a regular basis? Set up an auto-ship subscription with Sam's Club for hundreds of items to be shipped right to your door when you need them.
Good Deals on Sam's Club Memberships
I am always seeing Sam's Club offer a really good promotion for getting their membership – they will often include gift cards, instant savings deals, and more. Definitely keep your eye open.
Money Back Guarantee
I recently learned about this, and I think it's awesome. Although I think you will love it – if you don't? No risk – you can get your money back, no questions asked.
OTHER POSTS YOU MAY ENJOY: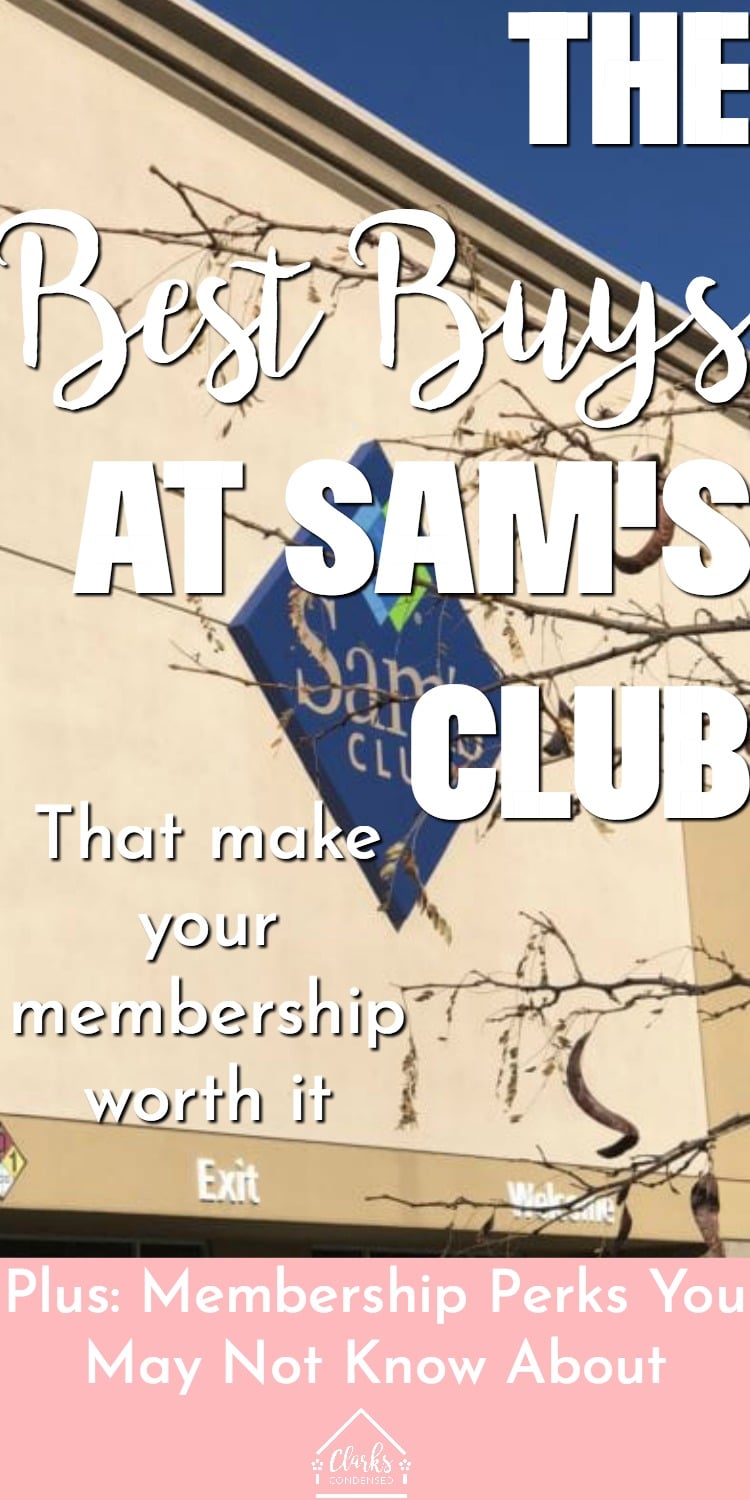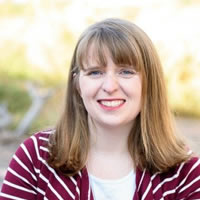 Katie is a Colorado-native, BYU graduated, and most importantly, wife to one and mother to three beautiful boys. She is passionate about sharing her experiences with others – especially about pregnancy, breastfeeding, cooking, and crafts. She is an International Board Certified Lactation Consultant. She loves spending time with her family and helping others find joy in family life.