A zesty twist on guacamole — roasted red pepper guacamole, made with sweet, red bell peppers, onions, garlic, and avocados. Perfect for parties.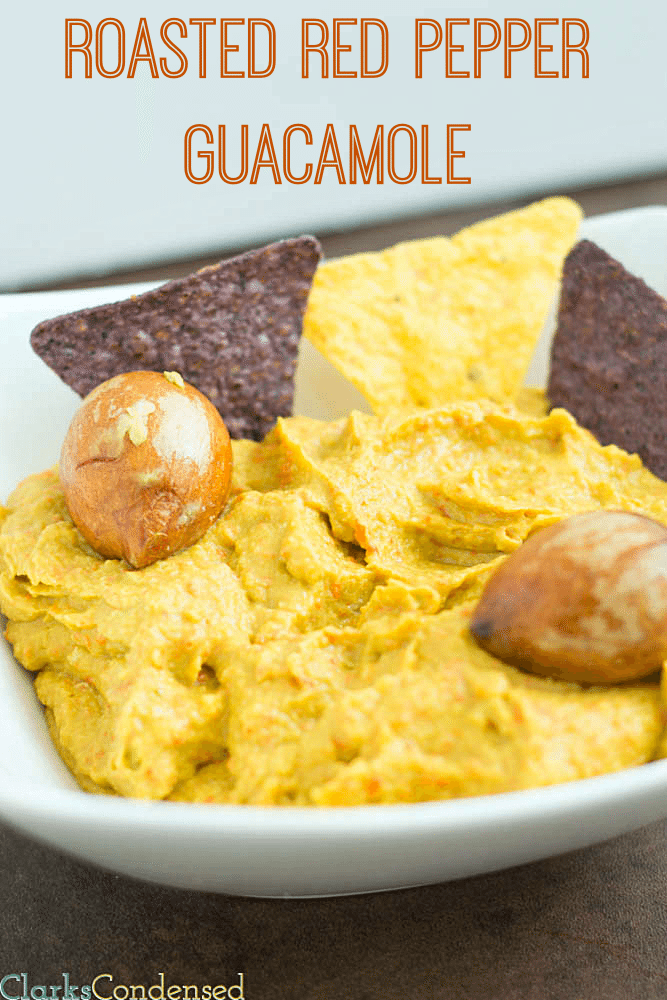 Last week, I asked our Facebook fans if they liked Salsa or Guacamole — interestingly enough, it was evenly divided (with a good number of people saying they couldn't choose — they loved both!) So, in order to satisfy everyone, I shared this delicious roasted tomatillo salsa on Monday, and today I'm sharing an equally delicious guacamole recipe. Paired together, and you definitely have a combination that everyone will be fighting over (be sure to buy extra chips!)
Some of my old roommates and I got together last week for a little luncheon, and it was a taco bar. I volunteered to bring the salsa and guacamole. I wanted to add my own twist on the typical guacamole recipe, and I thought roasted red peppers would be a delicious addition.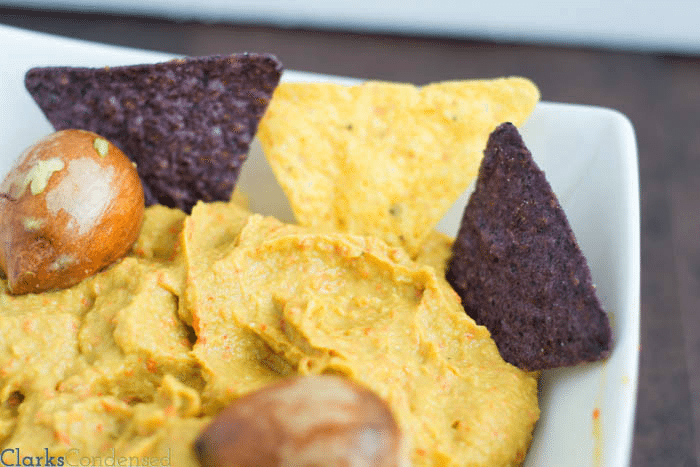 Now, when you look at these pictures you might be thinking, "Guacamole is green…this is not green." And that would be correct. It is not green. And that is because, in attempt to mash up some not-completely-ripe avocados, I got a little blender happy, and put all of the ingredients in. Apparently, the red pepper was a little overpowering, color wise.
Fortunately, it was still fantastic. I couldn't stop eating it (and neither could Jack!) It was a little smoother than most guacamoles, but that was okay. However, if you like chunks, just don't blend everything up like I did. Easy peasy.
This guacamole definitely has a nice, zesty flavor, and you absolutely have to roast the red peppers. It really brings out SO much flavor, and really makes this dish.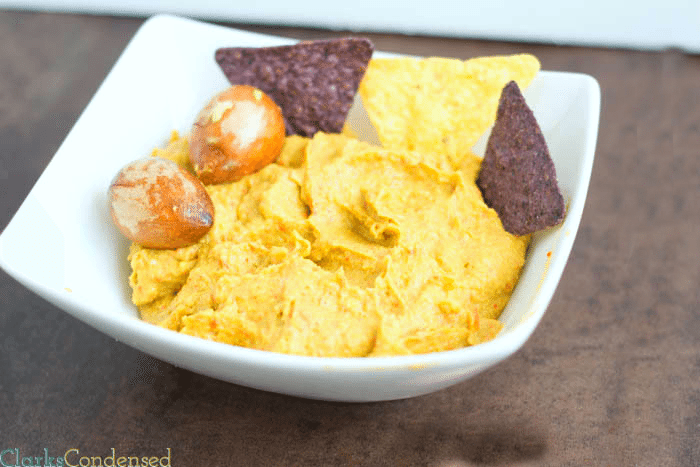 Oh, and ever wonder how to make guacamole keep from going brown? Forrest learned on his LDS mission in southern California from some of the people he met that if you keep the pits in the guacamole, it helps delay the browning process. Who knew!?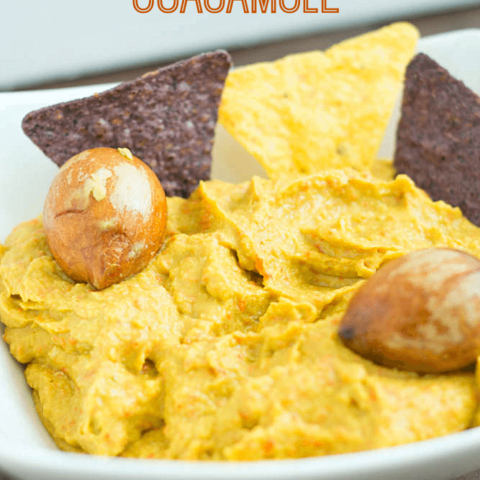 Roasted Red Pepper Guacamole
Ingredients
4 ripe avocados
1 red pepper, roasted and diced
1 Tablespoon lime juice
1 teaspoon minced garlic
1/4 cup diced white onion
1/2 teaspoon salt
Instructions
Wash and roast red peppers. Roast them on a cookie sheet for five minutes on each side under broil, or for 20 minutes on each side on 400 degrees.
De-seed and remove the stem of the red pepper and finely dice. Set aside.
Mash avocados in bowl.
Add in the remaining ingredients and mix until well-combined. If you don't want chunks, puree everything in a food processor. Otherwise, cover and refrigerate until ready to use.
Put avocado pits in the guacamole to help prevent premature browning. Best if served immediately after making.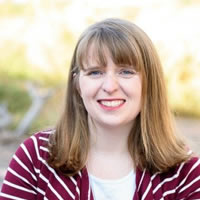 Katie is a Colorado-native, BYU graduated, and most importantly, wife to one and mother to three beautiful boys. She is passionate about sharing her experiences with others – especially about pregnancy, breastfeeding, cooking, and crafts. She is an International Board Certified Lactation Consultant. She loves spending time with her family and helping others find joy in family life.