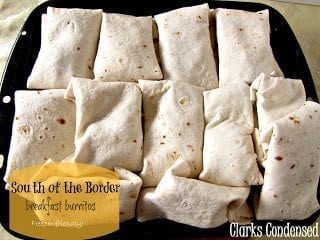 While I was pregnant, and shortly after Baby J was born, Forrest worked an early morning custodial job. To say it was miserable on many levels is probably the understatement of the year. 
Because I'm such a baby and hate being alone, when Forrest would leave at 3:30 in the morning, I wouldn't go back to sleep. Being pregnant, I was already having a hard enough time sleeping. Forrest was exhausted all the time, and so was I. So Forrest would sleep in as long as possible, making it so both of us could get the most amount of sleep as possible, and then he'd get to work, barely on time every day.
Well, this often meant that Forrest wasn't super motivated to make himself food in the morning (and I wasn't about to wake up at 3:30 and do it either!) So when he found himself with some extra time, he'd stop at McDonalds and get something. There were two problems with this:
1) It adds up, and we weren't exactly making millions
2) Half the time, they were super slow, and Forrest would leave before he got his food. Which meant, he paid for food…that he didn't get.
I knew there had to be some kind of solution, that would save us money, get him fed, but still allow us to sleep a little bit longer. That was when I came up with the brilliant idea of making breakfast burritos.
It took me awhile to decide what to fill them with. We didn't want them to be super unhealthy, but still wanted flavor. I think the first batch was pretty simple — eggs, bacon, salsa, and potatoes.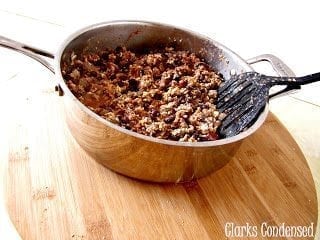 This ended up being a great solution to the breakfast problem, and Forrest loved just being able to pop it in the microwave for two minutes, and then have a delicious breakfast.
Obviously, we ran out pretty quickly, and then Forrest ended up quitting his job, so he had more time for breakfast in the morning. However, this semester he is working at the capitol, and once again has to leave pretty early to get there. So a few weeks ago, I made up another batch, and they were SO yummy.
Making the ingredients was pretty easy. Last time, I made my own, homemade diced potatoes, but it was way too time consuming. This time, I saw some
Alexa Oven Reds
on sale at the store, so I bought this and baked them. While they were cooking, I cooked some maple sausage, salsa, eggs, black beans, and a few different spices. Once the potatoes were done, I just put them in the pan, and mashed them together with the other ingredients. We don't put any cheese in ours, even before I couldn't eat very much dairy, because I'm not a big fan, and it was healthier this way. But, by all means, put cheese in if you want!
Using medium sized tortillas, I put a couple of spoonfuls into the center of the tortilla. You can put more or less depending on your taste, and how many you want to make.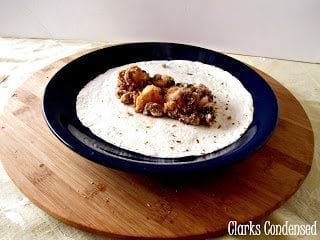 Then I just folded them up, put them on a cookie sheet, and then flash froze them for two hours. After that was over, I individually wrapped each one in plastic wrap and divided them into a few gallon sized ziploc bags.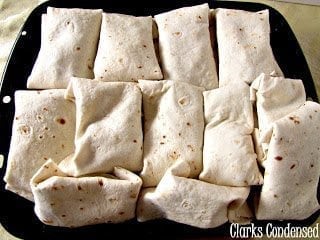 When we want to cook one, it just goes in the microwave for about 2 minutes, and then it's perfect on the go. Of course, if you just wanted to make these for breakfast, that would be great to. I'd just pop them in the oven, especially if you have cheese, for probably 10 minutes at 350 degrees.
Freezer Ready Breakfast Burritos
Ingredients
makes about 24 burritos
24 medium flour tortillas
1 pound maple sausage
1 can black beans
1 bag Alexia Oven Reds
1 12 ounce container of salsa (any variety)
8 eggs
Italian Seasoning (to taste)
Celestial Seasonings Spicy Southwest (to taste)
Instructions
Cook potatoes according to instructions on bag. In the mean time, brown the sausage in a large pan. Add black beans, salsa, and eggs, and cook until eggs are no longer runny. Once potatoes are done, put into pan and mash into mixture. Add seasonings to taste.
Place two to three spoonfuls into center of each tortilla. Make tortilla into burrito and place on cookie sheet. It's fine to stack them. Put in freezer for two hours in order to flash freeze them.
After two hours, wrap burritos in plastic wrap, and place in gallon sized ziploc bags. To cook, put in microwave for two to three minutes, or in oven at 350 for 15.
7.6.7
964
https://www.clarkscondensed.com/recipe/freezer-ready-breakfast-burritos/
This recipe was created on ClarksCondensed.com. Feel free to distribute as needed, but if you post it on your own site, please link to back to ClarksCondensed.com