Freezer Breakfast Burritos are perfect for busy mornings when you just don't have time for breakfast! In this post, we share tips and tricks for making breakfast burritos – including different fillings!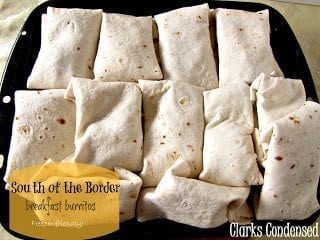 How to Freeze Breakfast Burritos
While I was pregnant, and shortly after Jack was born, Forrest worked an early morning custodial job. To say it was miserable on many levels is probably the understatement of the year. 
Because I'm such a baby and hate being alone, when Forrest would leave at 3:30 in the morning, I wouldn't go back to sleep. Being pregnant, I was already having a hard enough time sleeping. Forrest was exhausted all the time, and so was I. So Forrest would sleep in as long as possible, making it so both of us could get the most amount of sleep as possible, and then he'd get to work, barely on time every day.
Well, this often meant that Forrest wasn't super motivated to make himself food in the morning (and I wasn't about to wake up at 3:30 and do it either!) So when he found himself with some extra time, he'd stop at McDonalds and get something. There were two problems with this:
1) It adds up, and we weren't exactly making millions
2) Half the time, they were super slow, and Forrest would leave before he got his food. Which meant, he paid for food…that he didn't get.
I knew there had to be some kind of solution, that would save us money, get him fed, but still allow us to sleep a little bit longer. That was when I came up with the brilliant idea of making breakfast burritos.
It took me awhile to decide what to fill them with. We didn't want them to be super unhealthy, but still wanted flavor. I think the first batch was pretty simple — eggs, bacon, salsa, and potatoes.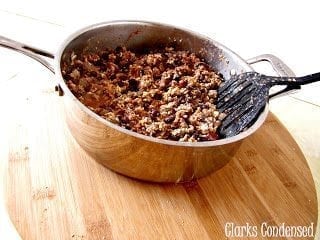 This ended up being a great solution to the breakfast problem, and Forrest loved just being able to pop it in the microwave for two minutes, and then have a delicious breakfast.
Obviously, we ran out pretty quickly, and then Forrest ended up quitting his job, so he had more time for breakfast in the morning. However, this semester he is working at the capitol, and once again has to leave pretty early to get there. So a few weeks ago, I made up another batch, and they were SO yummy.
How to Make Frozen Breakfast Burritos
Breakfast Burrito Ingredients
The sky is the limit when it comes to making frozen breakfast burritos – you can do so many different types of fillings.
I always recommend having scrambled eggs, some kind of other protein, and some kind of vegetable. Here are some different variations on what you can use:
Hash browns (square or shredded)
Peppers
Onions
Sweet Potatoes
Salsa
Sausage (pork or turkey)
Bacon (pork or turkey)
Black Beans
Broccoli
Shredded cheese
You will need to use flour tortillas for these – you can use white flour tortillas, if you want them to be healthier, you can opt for multigrain or whole wheat. Make sure you get the burrito sized tortillas – if you are making them for smaller children, you can either cut them in half and freeze them that way, or you can get soft taco sized tortillas.
Other Materials
In addition to the ingredients, you will need:
Breakfast Burrito Assembly
You can read more details in the recipe at this end of post about how to cook all the ingredients, but here is a basic overview of assembly.
You want to make sure you let the filling cool completely to room temperature before you start assembling the breakfast burritos. This will prevent them from getting soggy.
Using medium sized tortillas, I put a couple of spoonfuls into the center of the tortilla. You can put more or less depending on your taste, and how many you want to make.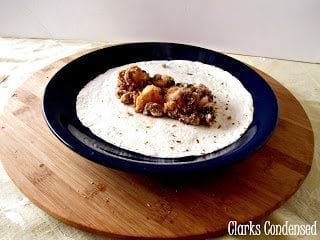 Then I just folded them up (the two sides in and then the bottoms) and put them on a cookie sheet, and then flash froze them for two hours.
After that was over, I individually wrapped each one in plastic wrap and divided them into a few gallon sized Ziploc bags.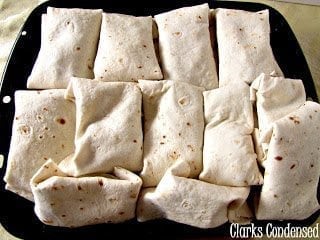 When we want to cook one, it just goes in the microwave for about 2 minutes, and then it's perfect on the go.
Breakfast Burrito Recipes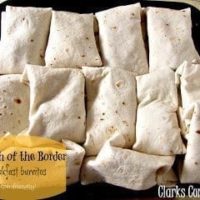 Freezer Breakfast Burritos
Ingredients
1 pound ground breakfast sausage
1 bag frozen peppers and onions, or you can chop up 2 peppers and one onion
1 can black beans, drained
8 large eggs
1/2 cup shredded colby jack cheese, more if you'd like to top burritos with cheese
Salt
Pepper
Shredded Hashbrowns, optional
12 burrito sized flour tortillas
Instructions
Cook and crumble ground breakfast sausage.
Drain excess grease and add peppers, onions, and black beans. Cook until heated through.
Drain any excess liquid from that mixture.
Scrambled eggs with salt and pepper, add cheese when about 2/3 of the way cooked.
Mix together eggs with sausage mixture. Let cool to room temperature. 
Place a couple spoonfuls into the middle of each tortilla; fold.
Place each burrito on a cookie sheet and flash freeze for two hours (you will need more than one cookie sheet, as they should be a single layer)
Wrap in plastic wrap and place in a freezer bag.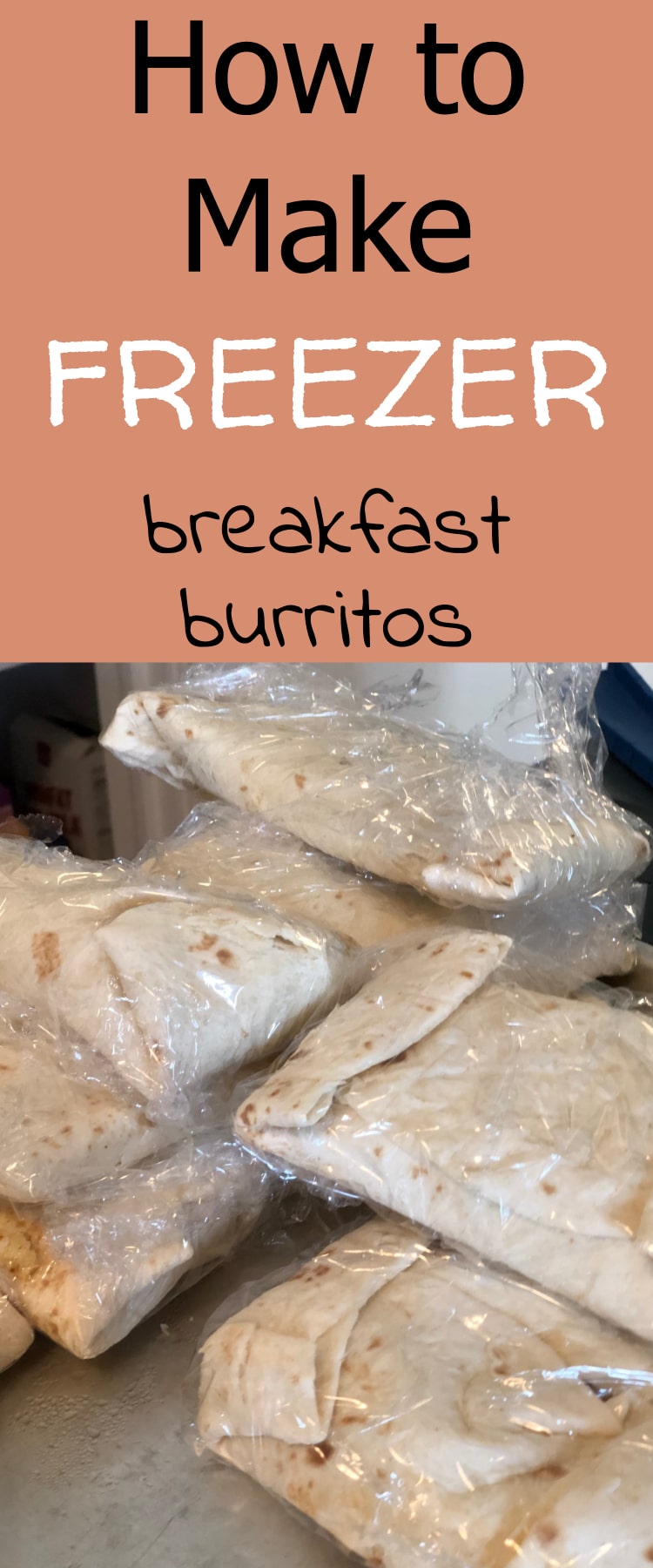 COMMENT POLICY:
All we ask is that you be kind. We welcome differing opinions, but any comments containing personal attacks, sarcasm, etc. will be removed immediately. Keyboard warriors aren't welcome 🙂 All comments are moderated and may take time to be approved. Anything not pertaining specifically to the content of a post will be removed (including comments about ads).