For my whole life, I've dreaded doing my hair – it never did what I wanted to, and I felt like I either had to straighten or curl it to get the way I wanted. However, I recently got a microscopic hair analysis done by My Mane Bio, and I'm loving my hair and routine more than ever!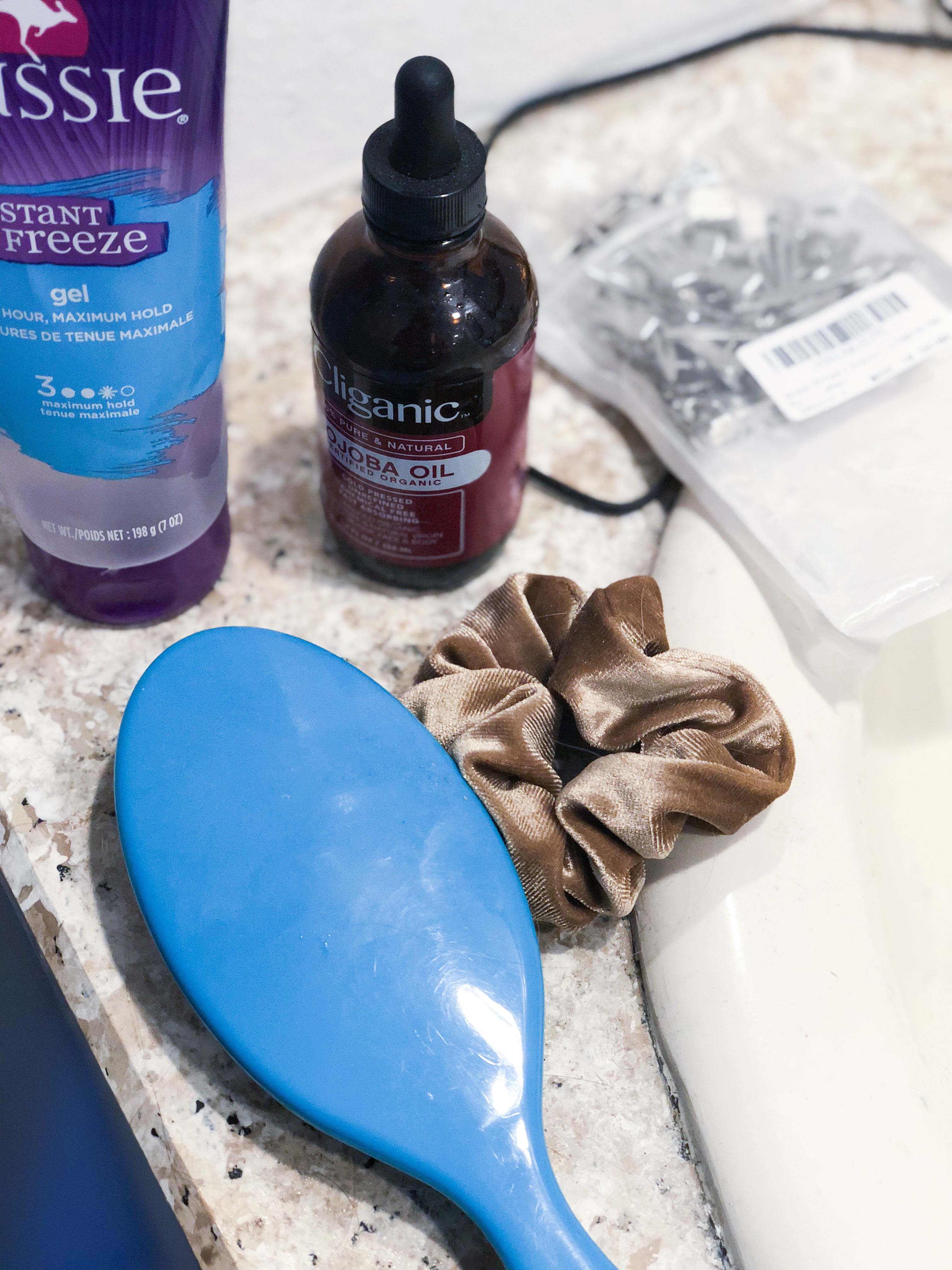 If there was an award for the worst haircuts and hairstyles, I would certainly be a contender.
As I look back at pictures of the year, I can't help but cringe.
My perm in the 7th grade.
More mullet-style haircuts than I can count.
Bangs cut way too short.
Hair that people probably asked themselves about, "Does she even know what she's doing?"
And sadly, that was probably in the more recent future.
And let's not even talk about my very vivid memories of my mom brushing my hair and trying to get horrible, horrible knots out.
I've always loved my hair color – even as it's gotten darker with each pregnancy that I've had. I've never had a desire to dye it.
I love that it's thick.
I love that I have a lot of it.
But I've never loved styling it. I've used straighteners, curling irons, and curling wands…sometimes achieving the look I want, but I always would dread going to wash it, because I never knew if I would be able to get it back to the style I had it in that day.
Because most of the time, my straightened hair still had a weird wave to it, and my curly hair didn't last very long (and I usually had at least one or two straight strands I forgot about).
Until now.
A few months ago, my sisters in law mentioned a new business they were starting – My Mane Bio – or, a microscopic hair analysis company. Because I LOVE health and DNA tests like 23andMe, EverlyWell, etc., my interest was immediately piqued.
Their plan was to offer a service where one of my sisters in law (who has a Ph.D. in neuroscience) would analyze strands of a person's hair to give them a custom analysis on their hair.
In this analysis, it would go over things like porosity, elasticity, width, and overall hair health – and give the person a custom plan on how to best take care of their hair.
Because there's no one size, fits all scenario for our hair. Apparently, walking into the hair aisle at the store and just grabbing whatever is cheapest is not the best idea (guilty).
I was fortunate to be able to have my own microscopic hair analysis done, and I can honestly say it's been life changing!
For one, I discovered I actually have naturally curly/wavy hair. I always knew my hair wasn't totally straight, but I just thought it was this weird, halfway point between curly and straight, and I just had to go to great lengths to make it either totally curly or totally straight.
In fact, as I was looking back at photos to find a good "before" picture, it was really hard to find anything with my natural hair because it was almost always straightened (even though I could never get it the stick straight I envisioned) or occasionally curled using a wand or curling iron). Or my hair was in a pony tail, because that always seemed like the simplest solution for a bad hair day.
Over the past month, I've spent a lot of time using new products and thinking about my hair a lot (as Forrest can attest), but I finally feel comfortable with my natural hair…and I no longer describe it as "blah".
I've gotten more compliments on my hair in the last two weeks than I think I've ever gotten in my life – even from random teenagers at the grocery store (true story).
Is my hair totally curly with the most beautiful even and full curls ever? No, not at all. But it does have a nice wave/curl to it that I didn't really know existed, and I love working with it now. It's fun to see more curls "clump" the longer I take care of it correctly. Here's a recent picture that shows a little bit how it has been looking lately: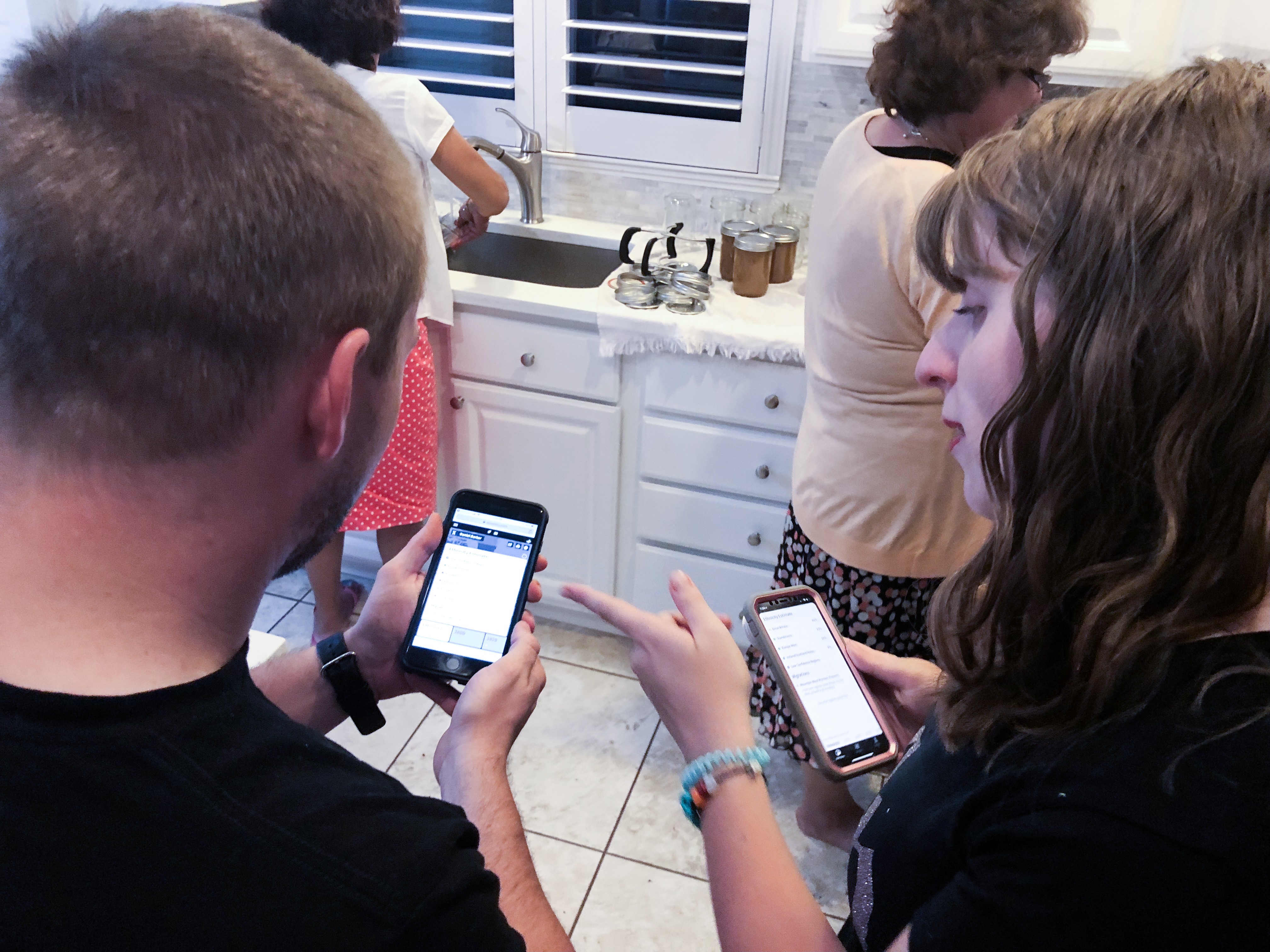 One of the suggestions was to throw out my hairbrush – which seemed crazy to me! I brushed my hair multiple times a day, and I was convinced I would just end up with horrible knots.
Apparently, this was really tugging at my hair and making it break prematurely, and I was told to stop using the brush if I could stand the separation.
But over the last month, I haven't touched my brush once, and by following this regimen, I've had less knots in my hair than ever before.
So I wanted to share a little bit about my experience, how it works, and who should get this done.
Who Needs a Microscopic Hair Analysis
To put it simply…I think EVERYONE should get one done.
Male or female.
Old or young.
Straight or Curly.
If you have hair, you can benefit from a microscopic hair analysis. There's no other way to know exactly what your hair needs to be as healthy as possible and how to care for it without looking at it this way.
Even though the target demographic for this is females, there's no reason men can't get one done either.
I wish that I could have done this done when I was a teenager and feeling frustrated as I really didn't know what to do with my hair.
I think this is an awesome product for women who are going through postpartum hair woes and are wondering how to tame the craziness that ensues after that.
Really, it's for anyone who has ever felt frustrated with their hair and just want to change something!
You can read more about what they test here, as well as get some of the FAQs answered here.
Cost
The cost of getting your microscopic hair analysis done is $89, which is about the cost of getting a good wash, shampoo, and haircut from a reputable salon. It's really not that expensive for all the information you get – it's so indepth.
My Experience with My Mane Bio
When you purchase your microscopic hair analysis from My Mane Bio, they will send you a hair collection packet, which will include a survey about your hair – probelms you have, what you currently do to style it, etc.
You will collect 20-40 strands of hair (don't pull them out – just collect the strands that come out when you shower) and send it back, and within a few weeks you will receive a PDF with your report.
That's the basics of it, though you can read all about the nitty gritty details right here.
I was sent my PDF via email, and I was blown away by all the detail. It started out with information on the health of my hair, it included detailed information about porosity, elastiticy, and hair width (which I had NO clue about), and what the texture of my hair was. The analysis was 13 pages long, which is pretty awesome.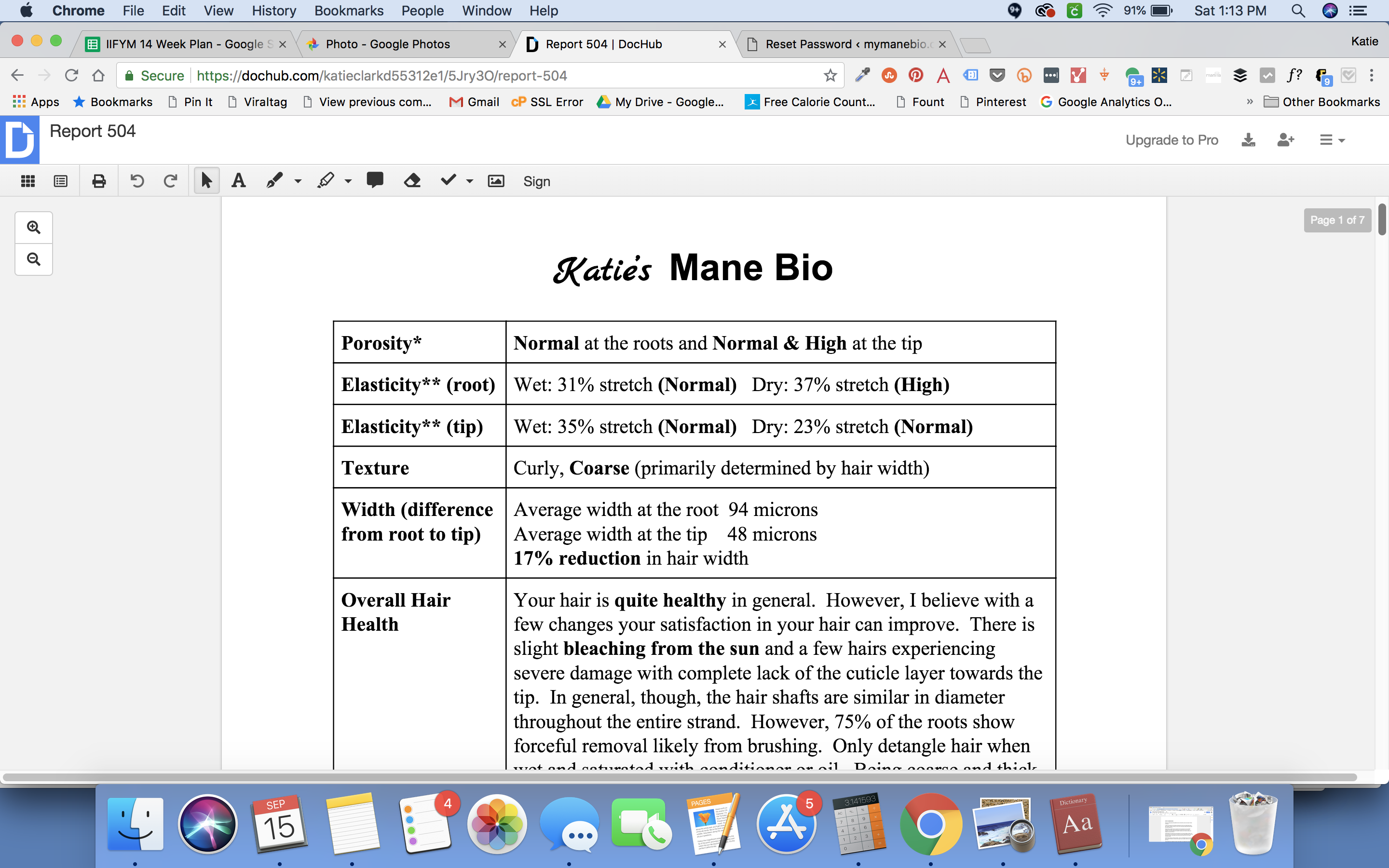 This is where I was shocked! Not only did they discover my hair was curly, but that it was coarse. I had always thought I had fine hair – just a lot of it! But nope – on the microscopic level, it showed coarse.
I even got some pictures of my hair, which was kind of cool.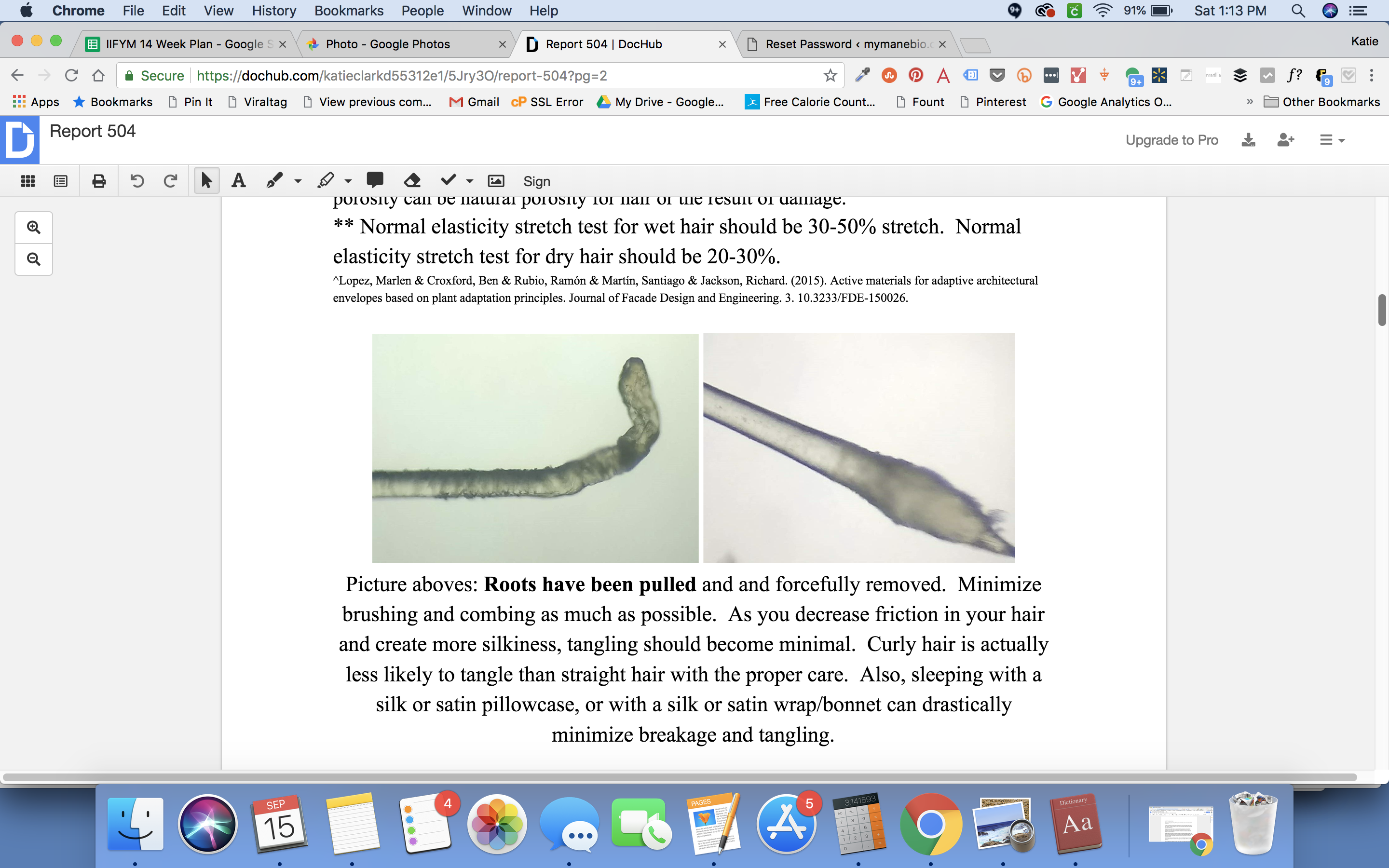 All of this information added up to my completely changing my hair routine – or the lack of hair routine I had.
Because honestly, until now, I just washed and shampooed my hair, let it air dry, and would straighten or curl it with one of my tools (unless I was feeling too tired or sick…then it was just in a "blah" like state).
A large portion of the hair analysis discussed how I should take care of my hair, along with product recommendations that were based on the information found in the analysis, problems I have, and even the humidity in the area where I live.
They gave me all the information I needed to start my new hair routine…and while it first it seemed like a lot of steps, it has honestly simplified my hair routine immensely!
I plan to share my new routine and products I'm using in the near future, but here is a basic overview:
I wash and condition my hair every three days or so – but I no longer use a shampoo that has silicones or sulfates in them. I actually only use a shampoo every other wash or so – the other days I
I condition my hair
I "plop" my hair with a cotton t-shirt
I put gel in my hair
I either diffuse or let my hair air dry
On the days I don't wash, I put in a curl enhancer.
My hair is still going through a "transition period" so sometimes it looks better than others, especially as it rediscovers it's natural texture and pattern. However, I have more good days than bad, and it's been such a neat experience.
As I've had children, not only as my hair changed (especially the color), but I've found that I have less time (and energy) to do much with it. Now, I spend a little bit of extra time twice a week, and the rest of the week, I don't have to do much, but it looks significantly better and healthier.
So if you've ever felt frustrated by your hair – whether it be greasiness, frizziness, or just feeling like it's really "blah" and you are ready to embrace your natural "do" for healthier hair, I highly recommend signing up for your own "Mane Bio" – you won't regret it!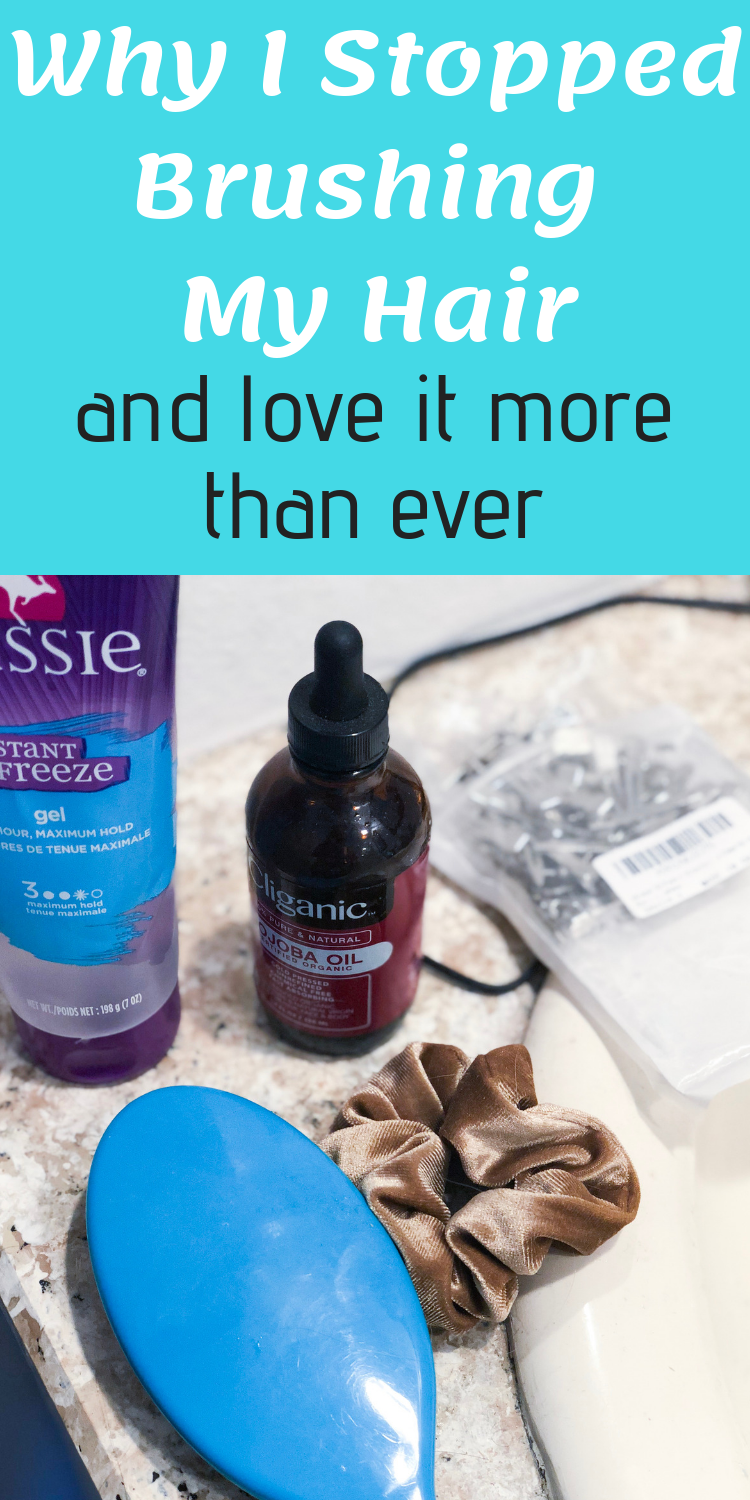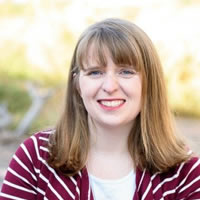 Katie is a Colorado-native, BYU graduated, and most importantly, wife to one and mother to three beautiful boys. She is passionate about sharing her experiences with others – especially about pregnancy, breastfeeding, cooking, and crafts. She is an International Board Certified Lactation Consultant. She loves spending time with her family and helping others find joy in family life.