Learn how to cut cardstock on Cricut with these step-by-step guide written by a Cricut pro. We're answering your top questions to help you feel more confident in your Cricut skills!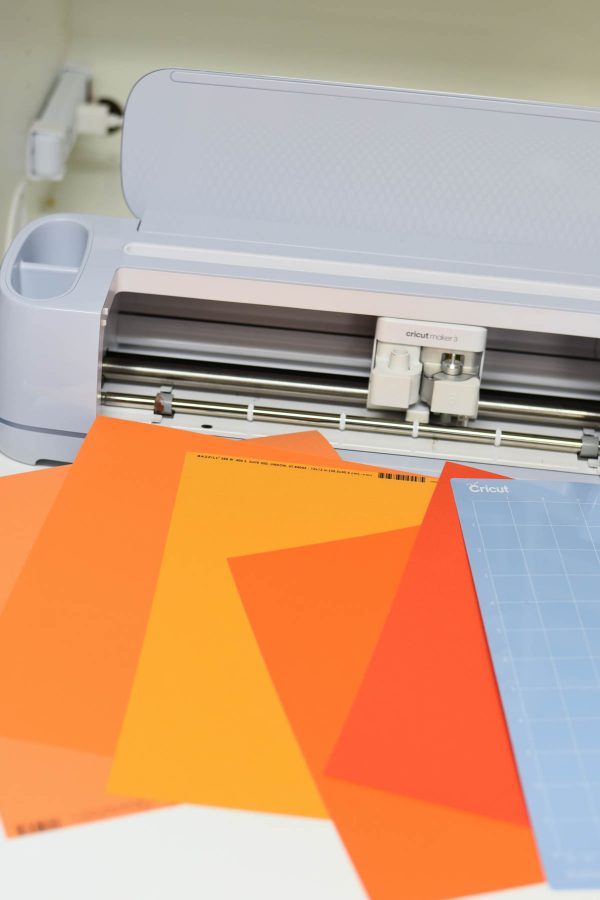 Are you a crafting enthusiast looking to explore the endless possibilities of cardstock? Do you own a Cricut cutting machine and want to master the art of cutting cardstock with precision? You're in the right place!
Cardstock is one of the most popular materials to use with a Cricut machine – and while it is pretty simple, it can be helpful to In this comprehensive guide, I will take you through the step-by-step process of cutting cardstock on your Cricut machine. Cardstock is very versatile and can open the doors to many fun projects, so I hope that you'll find my experience in this area helpful as you make your Cricut cardstock projects.
Thank you to Cricut for your continued partnership with Clarks Condensed. All opinions in this article are 100% my own.
Materials and Supplies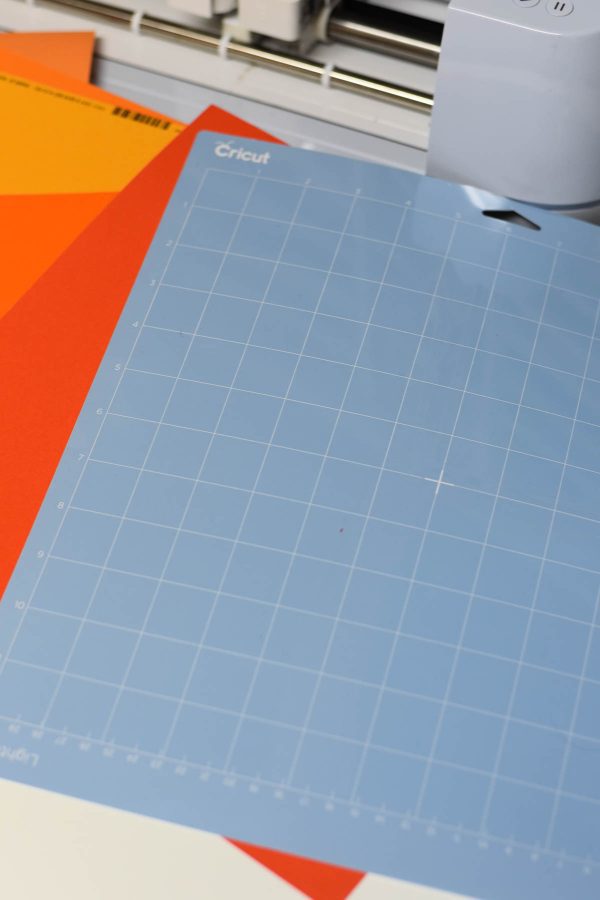 Before you dive into cutting cardstock on your Cricut machine, ensure you have all the necessary materials ready. Here's what you'll need:
Cricut Machine: Make sure your Cricut machine is in good working condition and connected to your computer or mobile device.
Cardstock: Choose the color and weight of cardstock that suits your project. For beginners, it's advisable to start with medium-weight cardstock (around 65-80 lb) as it's easier to work with.
Cutting Mat: Select the appropriate cutting mat size based on your cardstock sheet's dimensions. For standard 12×12-inch cardstock, a 12×12-inch mat is ideal. You should use a LightGrip mat.
Fine-Point Blade: Ensure your Cricut machine's fine-point blade is clean and in good condition. If not, consider replacing it for precise cuts.
Design Software: Prepare your design using Cricut Design Space, the free design software provided by Cricut. Alternatively, you can use SVG files or images you've downloaded or created.
Computer or Mobile Device: You'll need a computer or mobile device with internet access to access Cricut Design Space.
Step 1: Prepare Your Design
Now that you have all your materials ready, it's time to prepare your design. If you're new to Cricut Design Space, don't worry; it's user-friendly and offers plenty of design options. Follow these steps:
Open Cricut Design Space: Launch the Cricut Design Space on your computer or mobile device.
Create a New Project: Click on "New Project" to start a new canvas.
Select Your Image or Upload an SVG: You can choose from the vast library of Cricut images or upload your SVG file or image.
Resize and Position: Adjust the size and position of your design on the canvas until you're satisfied with how it looks.
Attach or Weld (if necessary): Depending on your design, you may need to attach or weld certain elements to ensure they cut as intended. This prevents individual pieces from shifting during the cutting process.
Mirror Your Design (if necessary): If you're working with patterned or colored cardstock, remember to mirror your design if it has text or needs to face a specific direction on the finished project.
Set Material: In Cricut Design Space, select "Cardstock" as your cutting material. Ensure that your machine is set to the correct material setting as well.
Load Your Cutting Mat: Place your cardstock on the cutting mat, aligning it with the guides and ensuring it's securely adhered to the mat's sticky surface.
Step 2: Load Your Mat and Cut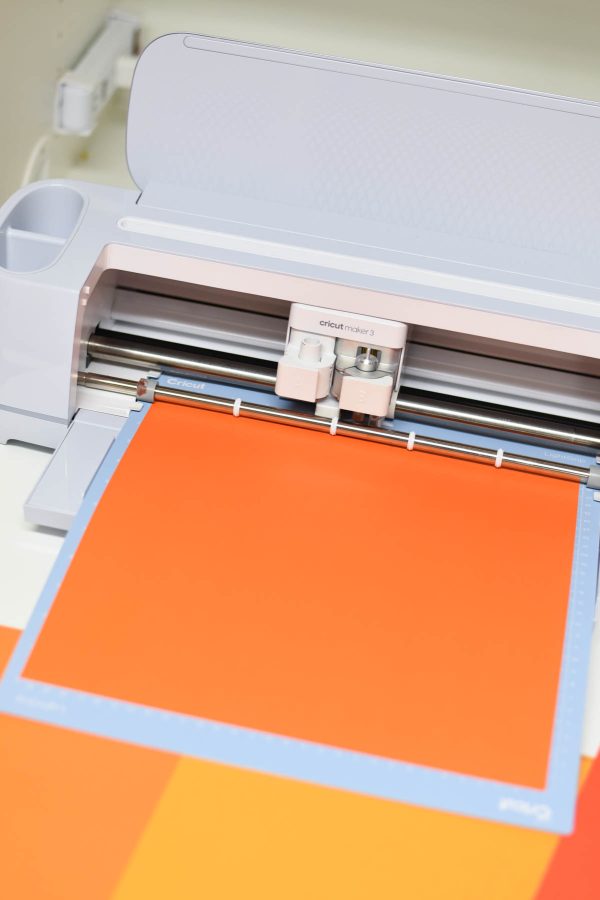 With your design ready and your cardstock in position, it's time to load your cutting mat into the Cricut machine and start cutting. Follow these steps:
Turn On Your Cricut Machine: Power on your Cricut machine and ensure it's connected to your computer or mobile device.
Load Your Cutting Mat: Open the clamp to release the mat, align it with the machine's guides, and gently push it until it's secured in place.
Double-Check Settings: Before you press the "Go" button, double-check that your Cricut machine is set to the correct material and that your design is correctly positioned on the mat.
Press the "Go" Button: Once you're confident everything is set, press the "Go" button on your Cricut machine. The machine will begin the cutting process, following the design you've prepared in Cricut Design Space.
Unloading Your Mat: Once the cutting is complete, the machine will prompt you to unload the mat. Carefully remove the mat from the machine, ensuring you don't bend or damage your freshly cut cardstock.
Step 3: Finishing Touches
Congratulations, you've successfully cut your cardstock with precision using your Cricut machine! Now, let's talk about some finishing touches and tips to ensure your project turns out beautifully:
Remove Excess Material: Carefully peel away the excess cardstock from your design, leaving only the intricately cut elements.
Use Weeding Tools (if needed): For detailed designs or smaller pieces, consider using weeding tools to remove tiny bits of cardstock that may be stuck.
Assemble Your Project: Depending on your design, you may need to assemble various pieces together. Use adhesive like glue or double-sided tape for a clean finish.
Experiment and Practice: Don't be discouraged if your first attempt isn't perfect. Cutting cardstock on a Cricut is a skill that improves with practice. Try different designs and materials to expand your crafting horizons.
Keep Your Blades Sharp: Regularly check and replace your Cricut machine's blades to maintain clean and precise cuts.
Explore Advanced Techniques: As you gain confidence, explore more advanced techniques like layering, embossing, or incorporating other materials into your cardstock projects
Best Cardstock Comparison
I've shared the best cardstocks for Cricut in the past, but I thought it would be helpful to do a comparison with some of the most easily accessible brands of cardstock available at craft stores – and how they compare to Cricut.
For this comparison, we tested:
Cricut
Dollar Tree
Recollections
Bazzill
Core'dinations
I will rate each below based on a few different factors:
Cost
Availability
Variety
Quality
Ease of Use with Mat
Cricut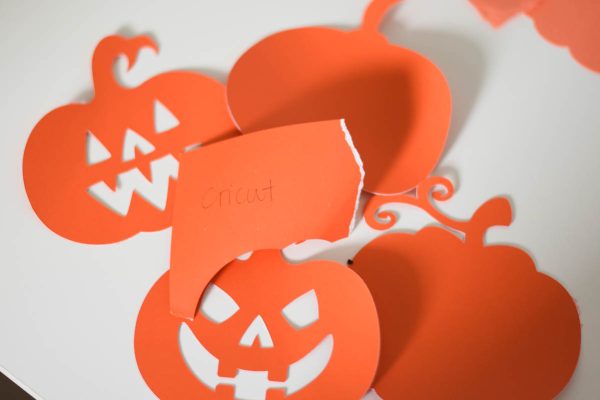 Cost: Pieces of 12×12 Cricut Cardstock come in packages of 24 at a price of $11.49 (though Cricut frequently has sales). This ends up being about $.48 per piece, which is a great deal. The prices may vary depending on the size and style.
Availability: Some varieties of Cricut cardstock are available in stores like Michael's and Joann's. However, the largest variety can only be found online.
Variety: Definitely every type of cardstock you can imagine – plain, glitter, sticker….I love all the options!
Quality: I think Cricut offers a solid cardstock. Unfortunately in the test that I did, it was the only cardstock that didn't cut all the way through, which was weird since I was using the setting specifically for Cricut cardstock. It also seemed to curl up more easily than some of the other brands.
Dollar Tree
Cost: At $1.25 per package, the Dollar Tree is definitely the most affordable brand of cardstock – each package has five pieces of cardstock.
Availability: I believe all Dollar Tree stores are supposed to have cardstock, but it's not always in stock. When I went to buy some for this comparison, there were only two packages, and they were just mixed in with some other products. I wouldn't say this is the most consistent choice.
Variety: Each package has five pieces of cardstock in a variety of colors (such as red, blue and yellow). They have plain cardstock and glitter. It provides a nice variety, but it's pretty limited beyond the colors in the package.
Quality: I was actually pretty impressed with the quality. It felt a little thinner than some brands, but it worked well on the Cricut mat. It's definitely a good choice for crafters on a budget who don't need a ton of versatility.
Recollections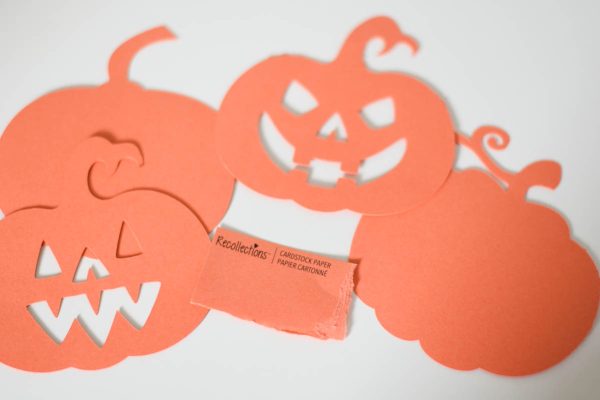 Cost: .99 for one sheet – larger packages are available. I think it's pretty reasonable.
Availability: This is Michael's main brand of cardstock. It was the only option available at the Michael's store we went to, and there was definitely of cardstock to go around. You can order online as well.
Variety: Huge variety in different styles and sizes.
Quality: I had no real complaints. It felt a little thin and flimsy, despite the piece we got being 80 lb. But it cut well, and it didn't stick to the mat.
Bazzill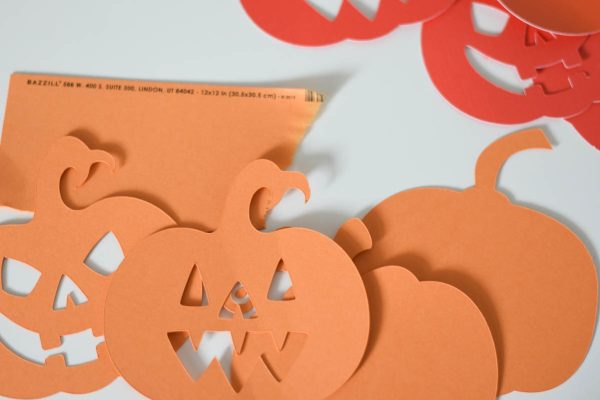 Cost: $.79 – $2.29 for one piece. Some stores carry larger packages for around $14.99.
Availability: This was one of the brands I got from Joann Fabric. There were many options. It's also available online and at Walmart.
Variety: Nice variety available in Joann. They had some interesting textures and styles, which I thought was nice.
Quality: I actually really loved this brand. It was nice and thick, and it cut beautifully with my Cricut Maker 3. I was surprised at how much I liked it!
Core'dinations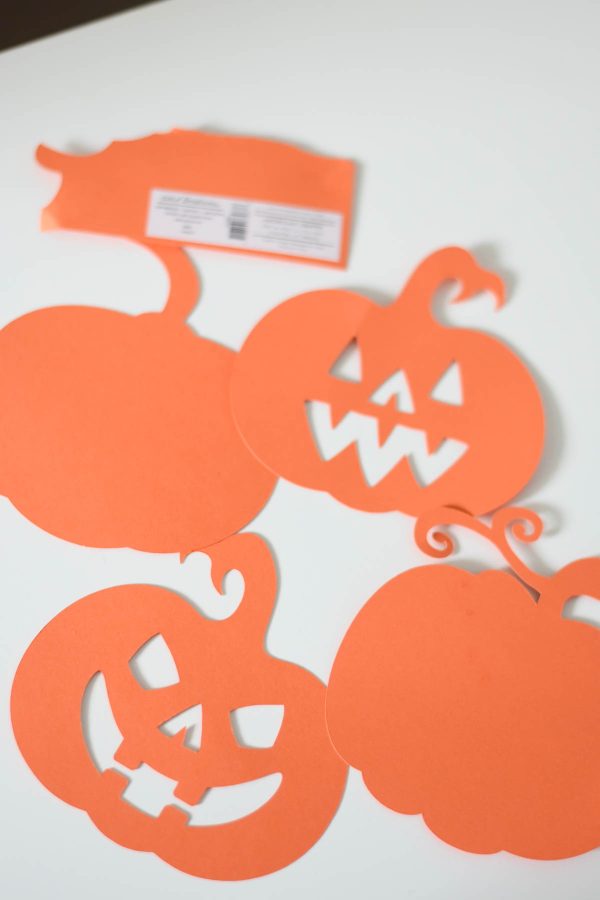 Cost: $.79 for one piece, $5.49-$6.99 for larger packages with anywhere from 20-50 pieces.
Availability: This brand is available at a variety of stores, but we got it at Joann.
Variety: There was a decent variety available in store. They don't seem to have as many options online.
Quality: Pretty middle of the road. It felt thick, it came off the mat easily, and it has held up its shape.
Why Cardstock?
Cardstock is a versatile material that opens up a world of creative possibilities. It's thicker and sturdier than regular paper, making it perfect for a wide range of projects such as greeting cards, scrapbooking, paper flowers, and more. When cut with precision using a Cricut machine, cardstock allows you to create intricate designs and detailed shapes that are challenging to achieve by hand.
Conclusion
Cutting cardstock on a Cricut machine is a rewarding and creative endeavor. With the right materials, preparation, and a little practice, you can craft intricate and stunning designs that will impress friends and family. So, gather your supplies, prepare your designs, and let your imagination soar as you embark on a cardstock-cutting journey with your Cricut machine. Happy crafting!
Frequently Asked Questions
Why did my Cricut not cut through my material all the way?
There are a variety of reasons this may happen. The top two are:
You aren't using settings for the right type of cardstock (weight, style, etc).
Your blade is worn out
Why did my cardstock tear when I took it off the mat?
I typically find this happens when you try and pull the cardstock off the mat, rather than pull the mat away from the material. This also helps prevent curling.
It may also be that your cardstock didn't get cut through all the way.
What blade do you use to cut cardstock with Cricut?
You should use your fine point blade.
What mat do you use for cutting cardstock with Cricut?
I would recommend a blue, light grip mat.
Can you cut cardstock without a mat on Cricut?
There are some tutorials online, but I haven't personally used them!
More Cricut Articles You May Enjoy: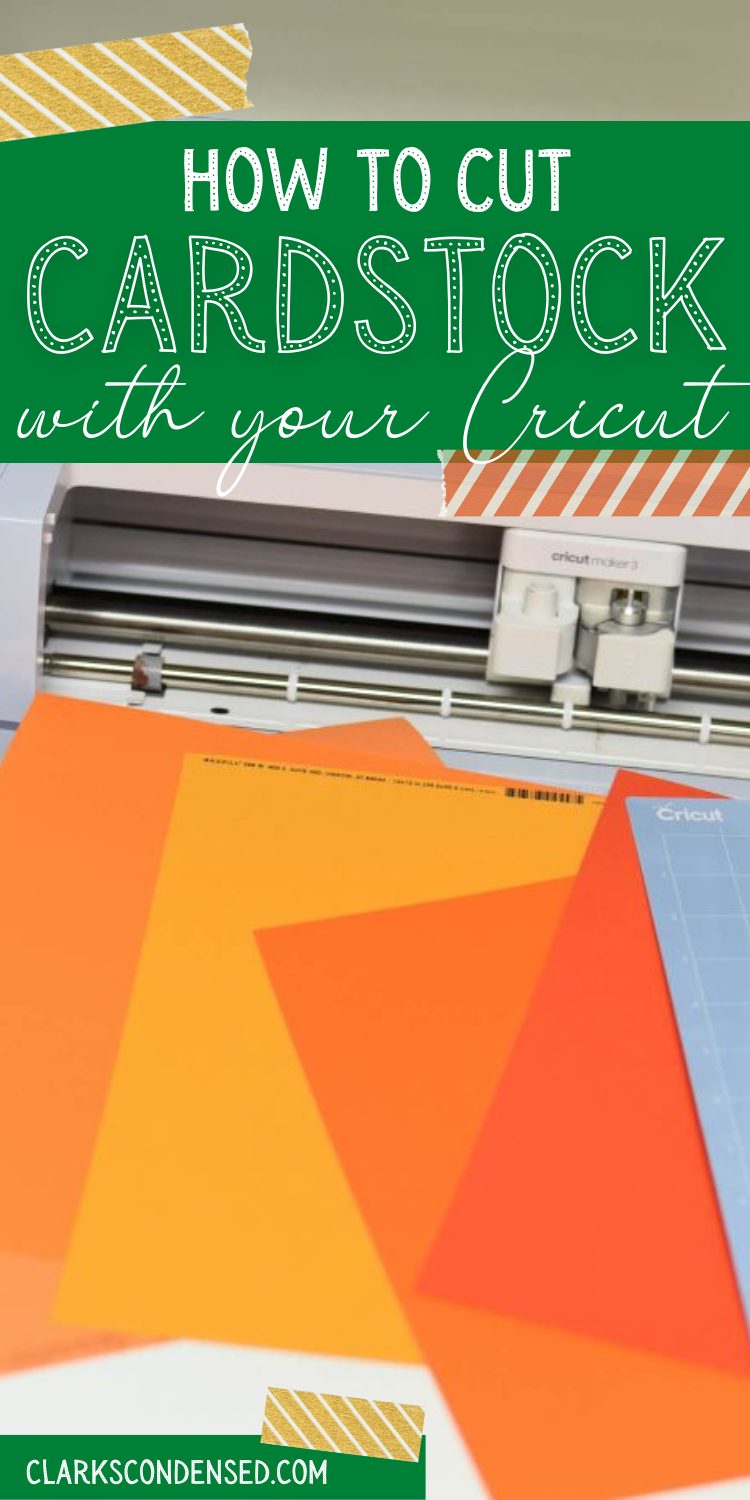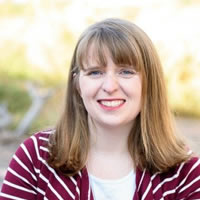 Katie is a Colorado-native, BYU graduated, and most importantly, wife to one and mother to three beautiful boys. She is passionate about sharing her experiences with others – especially about pregnancy, breastfeeding, cooking, and crafts. She is an International Board Certified Lactation Consultant. She loves spending time with her family and helping others find joy in family life.