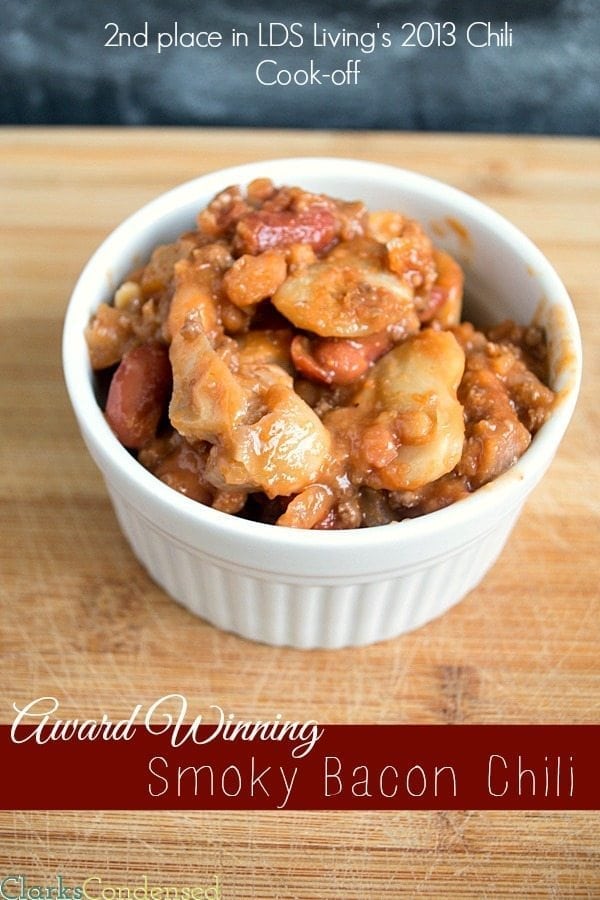 If you're a regular reader of Clarks Condensed, you've probably seen a recipe or two that I've claimed to be the best ever (of that type.) And I truly believe that when I say that. However, I know that "the best" is very subjective, and what I think is amazing, another might find subpar (even though, I know I'm right 😉
Well, today, I'm sharing with you a recipe that not only I think is amazing, but I know many, many others feel that way about too — the best chili recipe ever. Need proof? It recently won second place in the LDS Living Chili Cook-off. I entered it on a whim, and was kind of shocked (but not really…because it's that good) when I got an email a few weeks ago telling me I had gotten second place. Sure, it wasn't first, but this chili recipe has won many other chili cook offs…so I think it evens out to the best ever 😉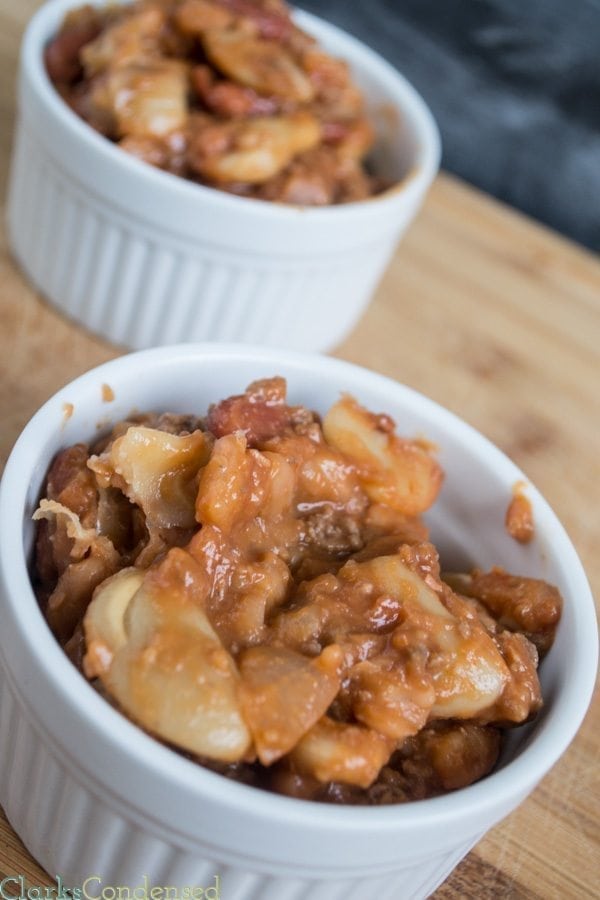 I don't even like chili, but I can't get enough of this. The liquid smoke, the bacon, and the beans used make it absolutely irresistible. This recipe has been passed around my family — I didn't make it up, just made a few adjustments — and we all love it. It tastes great right off the stove, or heated up as left overs. Add cheese on top, or eat it plain — you'll love it either way. And if you are ever entering a chili cook off…bring this recipe. I'm pretty sure you'll win. Just make sure it's not the same contest I'm entering!
This can be a crock pot chili or made on the stove — either way, this chili recipe turns out great, makes a ton, and is super satisfying!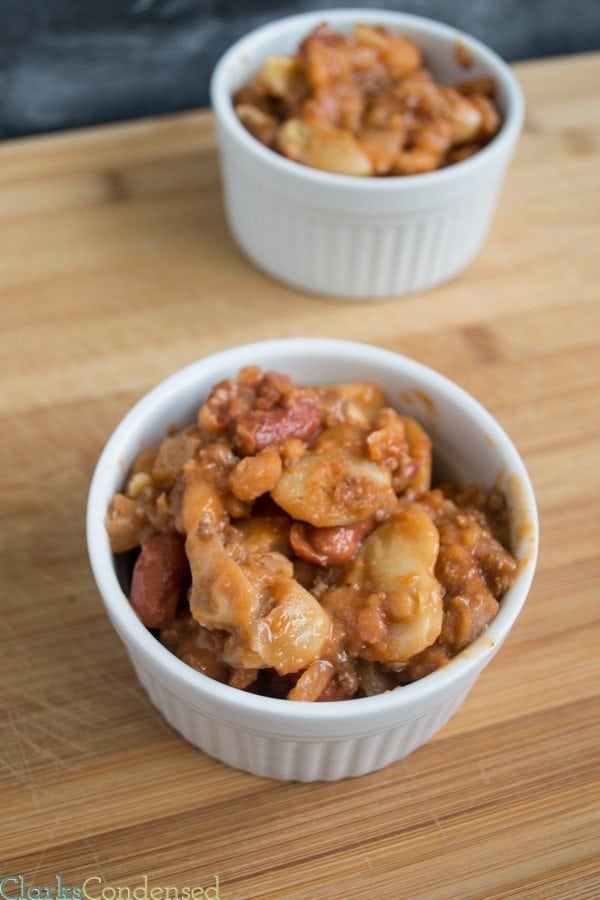 Award Winning Chili Recipe
Ingredients
NEVER Miss Another Recipe!
Sign up for our food and recipe newsletter today
Free eRecipeBook upon signup
Free Meal Planning Bundle
Easy and Family Friendly Recipes EVERYONE Will Love!
1 pound ground beef or turkey, browned and drained
1 can kidney beans drained
1 can butter beans drained
2 cans pork and beans
1 cup ketchup
1/2 cup brown sugar
1/2 cup onions, chopped
1/2 cup green peppers, chopped
3 Tablespoons white vinegar
1 Tablespoon liquid smoke
6 pieces of bacon, crumbled
Instructions
Place all ingredients in a large pot, and cook until hot.
If cooking in the crock pot, cook on high for 3-4 hours, or low for 5-6 hours.
7.8.1.2
1022
https://www.clarkscondensed.com/food/best-chili-recipe/
This recipe was created on ClarksCondensed.com. Feel free to distribute as needed, but if you post it on your own site, please link to back to ClarksCondensed.com
COMMENT POLICY:
All we ask is that you be kind. We welcome differing opinions, but any comments containing personal attacks, sarcasm, etc. will be removed immediately. Keyboard warriors aren't welcome 🙂 All comments are moderated and may take time to be approved. Anything not pertaining specifically to the content of a post will be removed (including comments about ads).