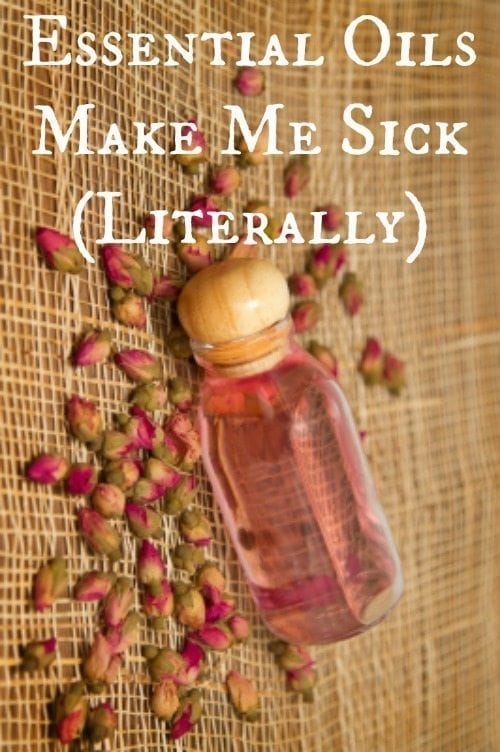 Some of you know that I have some chronic health problems that can make life, to put it frankly, quite miserable at times.
All the blood draws, uncomfortable procedures, and misdiagnoses have made me open to alternative treatments, such as using essential oils. I know many people who have had wonderful experiences with essential oils, and I was hopeful that might be the case for me.
Sadly, essential oils make me sick.
I know, I know. You're probably thinking, should I be saying how essential oils cured me of all my illnesses, and I've never felt better? Oh, how I wish that was my story with essential oils.
Let's rewind a few years to the first time I was introduced to essential oils. I went to the "What Women Want" expo in Orem, Utah. We walked past an essential oil booth, and I stopped to talk to the lady. She went on about how much she loved essential oils, and she asked if I wanted to try some.
I'm always down with trying new things, so I said sure, and she dabbed a tiny, tiny bit of peppermint right behind my ear. I said goodbye and went on my way (mainly to see if anyone was giving away anything for free.)
Well, only about five minutes later, I started feeling really, really hot. It wasn't a "oh the air conditioning isn't on" kind of hot, either. I felt like my entire body was sweating (though, in reality, it wasn't.) There weren't a lot of people around me at that point, and I started getting very light headed, and I got a terrible headache. At that point, I thought maybe I had just gotten sick suddenly.
Until the exact same thing happened about a year later. I was at the Build Your Blog Conference, and I was talking to another essential oil lady. This time, I went into detail about my health problems, and she asked if she could put a drop or two of an essential oil in my water, so I said sure.
And, without fail, within about five minutes, I started having the exact same symptoms as I did months before. I was sitting at the very back of the room with Forrest and Jack (there was literally no one within 20 feet of me) and just a few minutes before, I hadn't felt hot, or sick, at all. I couldn't even concentrate, and almost insisted that Forrest take me home.
After about 20 minutes, the symptoms started to wear off, but boy, I thought I was going to die.
Then I ran into another consultant somewhere, and she told me that I needed to try a specific kind. She had me rub some on my stomach. I thought, hey, it's nowhere near my head or face, maybe it won't affect me.
And it did, right as I was standing there visiting with the lady. She was convinced it was because I have lots of bad things in my body (um, rude!) and the essential oils were just going into overdrive trying to attack it. I didn't really buy that.
After these few experiences, you would think I would just swear them off. But no, I didn't really think they could possibly make me sick. Which is why, when I was asked to make a craft using essential oils for a particular company, I agreed and made this foaming hand soap.
I was given several essential oils to try and even had to sign up as a consultant (which I'm now trying to figure out how to not be a consultant) and use in the hand soap. And to much delight — the hand soap didn't make me sick!
So, I decided to try the essential oils again on myself (without being in the soap) a few weeks after I submitted the article and…guess what? I had one of the worst reactions yet. I couldn't even think straight and just laid on our bed for an hour or so, feeling like I was intoxicated (or what I imagine it would feel like to be intoxicated haha.)
So if you are here looking for that article because you saw it in some leadership magazine, I apologize you aren't finding more posts about how I love essential oils. Because, I finally realized that they just don't work for me (and as much as I love the hand soap and that it doesn't make me sick, I wish that craft idea hadn't been printed — it wasn't until after I submitted it that I finally realized they made me sick).
And before you tell me I'm just using them wrong, let me tell you how I've used them
Only 1-2 drops at a time
I've used it on my stomach, I've rubbed them on my chest, I've put a few drops in my water, and I've put them on my feet. ALL with the same result
I've used them with a carrier oil
I've tried a few different brands
Most of the times I've tried them, it has been someone who would consider themselves an expert in essential oils. I would just have to assume they knew what they were doing.
The kinds I have used have been high quality, therapeutic grade
The only thing I haven't really tried is using a diffuser. But, I'm not about to go buy something that expensive when there is a high likelihood it's going to make me sick. The only time I haven't had a reaction to an essential oil was when I made that DIY Foaming Hand Soap (which, I still love.)
Please, don't be offended if you love essential oils. I've actually done a lot of reading about essential oils, and I believe they have some great benefits — some research being done even says so (I saw that some studies show that it helps treat MRSA – which is awesome.) I wish they worked for me, but they just don't.
I wanted to write it this post in case anyone else finds themselves Googling "Essential oils make me sick" and want to know they aren't the only person out there who didn't have the best experience — not for the purpose of bashing essential oils. I imagine I just must have a heightened sensitivity to fragrances, but who knows — I never have had a problem with cologne or perfumes!
All I know is that I sure don't like how I feel after I use essential oils. I think it's also taught me that not every treatment, or method, of treating something works for everyone — our bodies are all different, and there's no "one-size-fits-all" method. Alternative medicine can be a life-saver, but for me, I think I'll stick to traditional medicine.
Update:
(this update was written nearly four years after this original post)
I recently got a DNA test done from Ancestry.com. I uploaded the RAW data to LiveWello.com, and it gave me a ton of information about my genes. One of the most interesting things was that I was at an increased risk of having a chronic condition called Multiple chemical sensitivity, which, from the research I've done, people who are sensitive to essential oils often have. I just thought it was really interesting to see that the reactions I have may be due to something in my genetic makeup.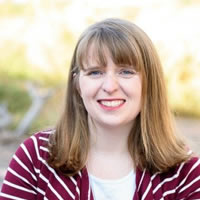 Katie is a Colorado-native, BYU graduated, and most importantly, wife to one and mother to three beautiful boys. She is passionate about sharing her experiences with others – especially about pregnancy, breastfeeding, cooking, and crafts. She is an International Board Certified Lactation Consultant. She loves spending time with her family and helping others find joy in family life.