This graduation shadow box, filled with memorabilia to remind your graduate about their graduation day, is a memorable and easy graduation gift idea that will be cherished for years to come.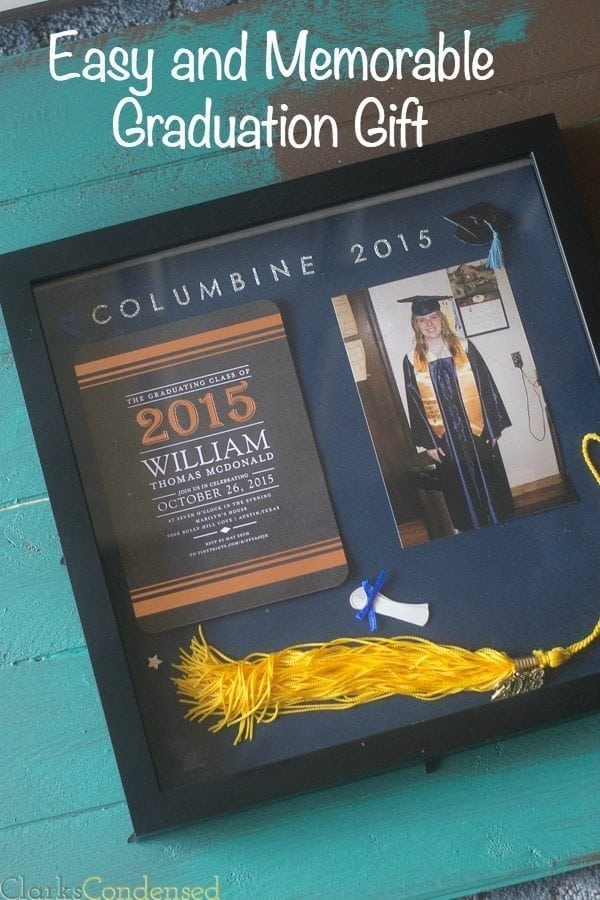 Thanks to Tiny Prints for providing the product and compensation for this post today!
Graduation season is officially upon us! The college I graduated from, BYU, is having their graduation next week, and I know there will only be more graduations around the country and world until June. It's such an exciting time for individuals and their families.
I remember my high school graduation clearly. It seems weird that it was seven years ago. By the time I graduated high school, I was so ready. While I was sad to be leaving my family to move to Utah, I wasn't really a big fan of my time in high school, and four years was definitely enough. Still, it was a bit of bittersweet day, because I did have some great memories.
College graduation was definitely different than high school but very exciting nonetheless. Forrest and I both graduated from BYU at the same time, and Jack had just turned one. It felt like a big accomplishment to me, and it was a lifelong goal of mine to graduate with a bachelors degree from BYU.
This year, my little brother is graduating from high school. We are happy that we've been able to move closer to my parents and him during his senior year – he's such a good kid, and we are excited to see what the future holds. His graduation is just a little over a month away, and I know he's itching to graduate, just like I was.
It's fun to try and come up with graduation gifts. As I looked through Pinterest, it looked like most of the ideas involved money (which is totally great if you are able to do that!) For me, my favorite gifts are always ones with a personal touch, so I tried to come up with a fun graduation gift idea that would be a fun memory for years to come.
I thought that a shadow box with graduation memorabilia would be a fun idea. Here's a few ideas on how to make it. My brother hasn't graduated yet, so I don't have his graduation announcement for it, or a picture of him in his cap and gown, so I just used what I had (so don't think it's totally weird that it's a picture of me and the graduation announcement says someone totally random in it!)
I went to Michael's craft store, and I picked up a shadow box (that was on sale!), some graduation scrapbooking stickers, a piece of card stock to match my high school colors, as well as some sparkly silver stickers (also my old high school's color.) In addition, I printed off a picture from my own high school graduation, and I found my graduation cap tassle (if you don't have a tassle, you can buy one at different stores, or even make one.) I didn't have any of my graduation announcements, so I used a sample graduation announcement that Tiny Prints sent me.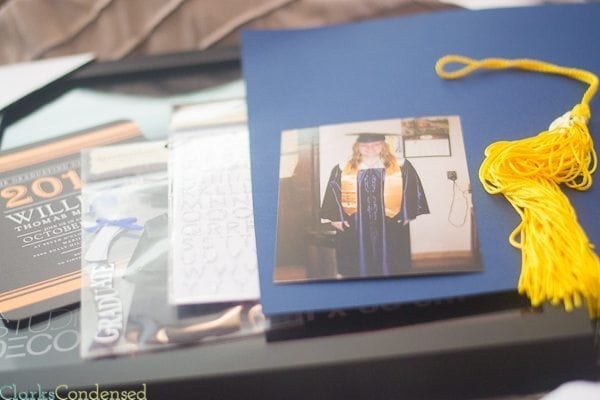 First, I glued the piece of card stock to the cardboard in the shadow box frame. I got a large, square piece from Michael's, and it worked perfectly.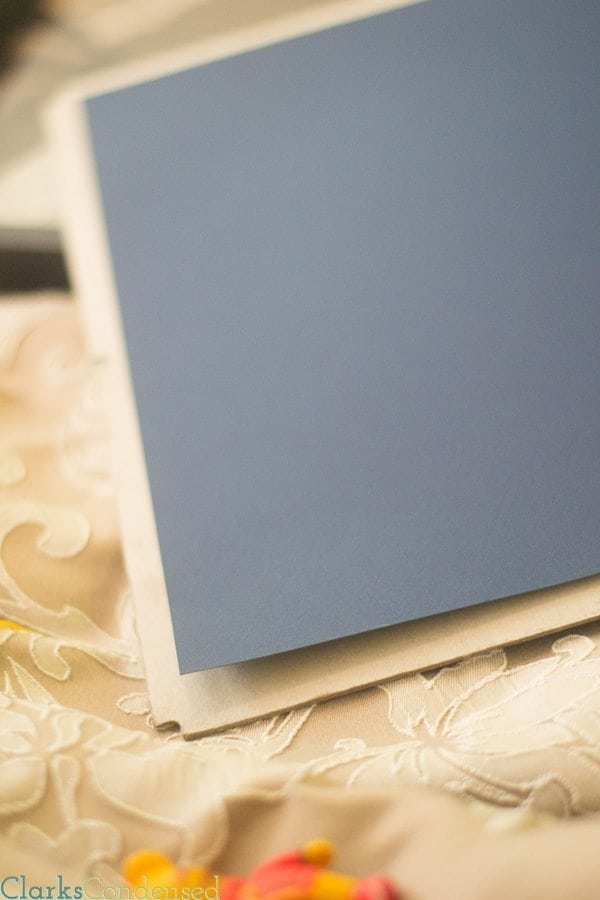 Then, using the sparkly silver stickers I had, I wrote out "Columbine 2015", which is where both my brother and I graduated from.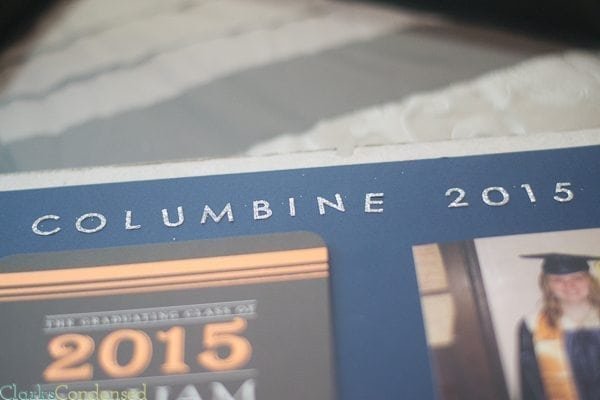 From there, I just arranged the sample graduation announcement, my picture, the tassle, and some of the scrap booking stickers on it until I thought it looked just right.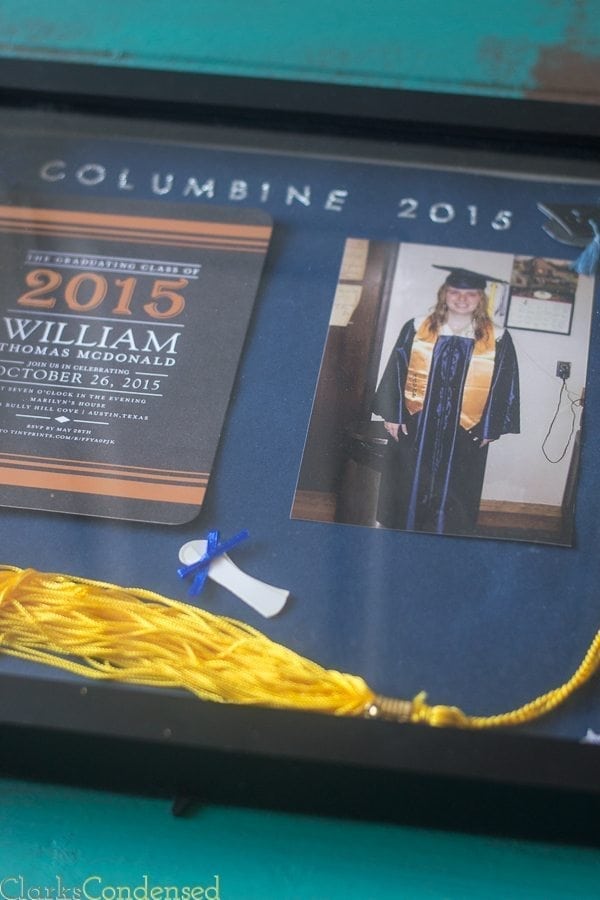 It took such a short amount of time, and I think it looked so cute. I really think a lot of graduating seniors would appreciate this gift (and if they didn't at first, they will down the road.)
I really liked the idea of finding a way to incorporate the graduation announcement into it. I don't even think I have a copy of the graduation announcement I had! When Forrest and I got married, somebody took our wedding announcement that we sent them and made it into a gift for us, and it has always been one of my favorite gifts. It's one of those things you don't think about wishing you had, but somewhere down the road you might.
I love that there are so many more options for graduation announcement nowadays as well! You can always order the ones from the school, but if you are looking for something a little more personal, I love the Tiny Prints stylish and trendy Graduation stationary designs. Any of these designs would look neat in the shadow box.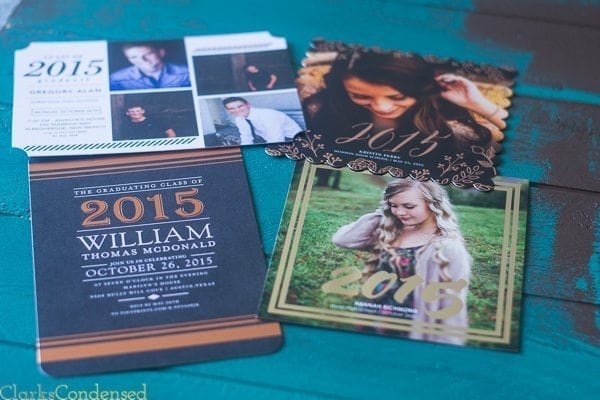 They have foil-stamped and letterpress designs that can easily be customized to your liking. I LOVED the ones with the pictures incorporated. How many of us got tons of senior pictures taken, and hardly anyone even saw them? I like the idea of this one (pictured below), where you can show off a few different pictures. It's a fun way to show your personality a little bit.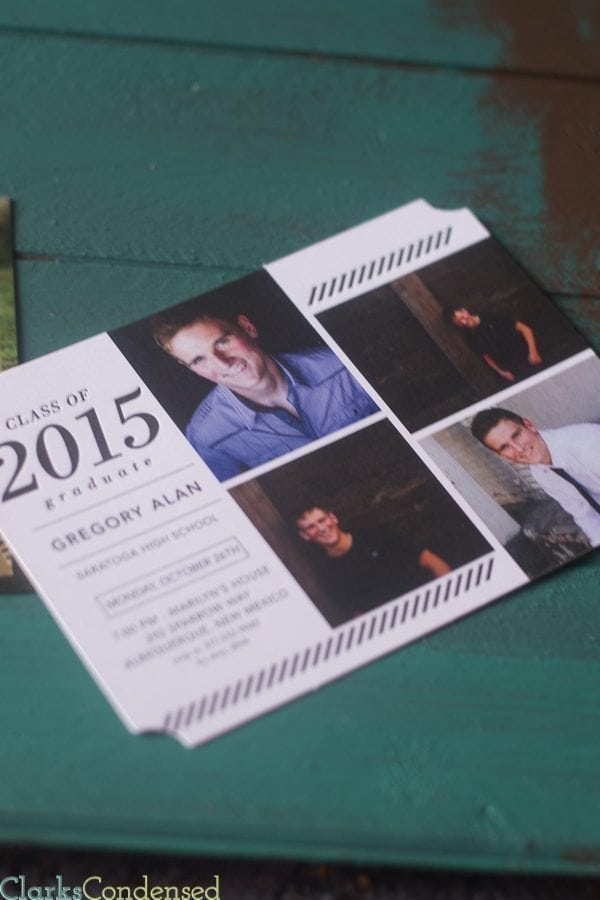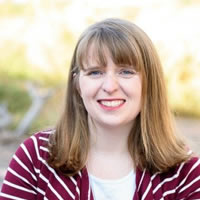 Katie is a Colorado-native, BYU graduated, and most importantly, wife to one and mother to three beautiful boys. She is passionate about sharing her experiences with others – especially about pregnancy, breastfeeding, cooking, and crafts. She is an International Board Certified Lactation Consultant. She loves spending time with her family and helping others find joy in family life.