When I was growing up, I often spent many days at one of the local pools. I would go with either my siblings, or a good friend, and just enjoy lounging around in the cool water, and playing an occasional game of Marco Polo.
Of course, the worst part of swimming would happen every few hours — adult swim. I never understand back then why they would have this — why wouldn't adults want to swim with a bunch of rowdy kids? Ha. I can understand a little more now. Even though we always dreaded this part of the day, it always gave us a good excuse to go spend our nickles and dimes at the snack bar.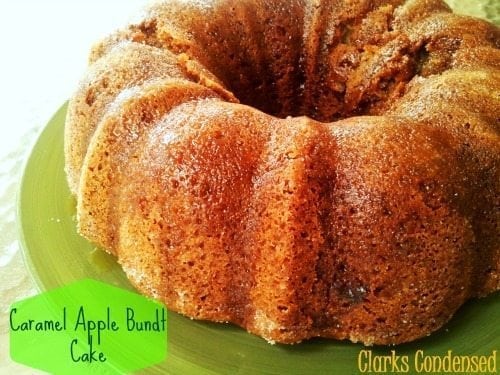 One of my favorite things to get as a caramel apple pop. Looking back, I sometimes wonder why. It always got stuck in my teeth and was full of sugar and all sorts of artificial ingredients. Whatever the reason, it was always a fun treat to get.
Fortunately over the years, I've come to appreciate foods that actually involve apples when it comes to caramel apple. One of my favorite popcorn recipes is this caramel apple pie popcorn that Forrest invented several months ago. There's just something so delicious about caramel and apple together. So when I saw this recipe for a caramel apple bundt cake, I knew I had to try it out.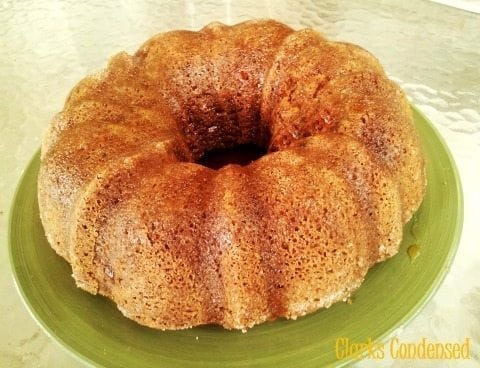 It has a few things in common with my childhood favorite of caramel apple suckers. Obviously, it has caramel apple in the name! (I'm hilarious, I know.) Second, it has a lot of sugar. Which, will probably make half of you exit out right now. However, for the other half of you, I know you're going to love this recipe. If it makes you feel better, I've scaled down the amount of sugar from the original recipe, AND there are real apples in it.  I made it for Sunday dinner last week, and it was almost completely gone by the time the night was over.
So, next time you get a craving for something caramely and fruity, this is definitely the recipe for you! And, it can be made dairy free if you want it to be!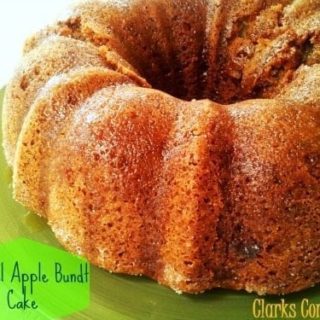 Caramel Apple Bundt Cake (Dairy Free)
Ingredients
1 1/2   cups granulated sugar
1 1/2  cups coconut oil, melted (or vegetable oil)
2  teaspoons vanilla
3  eggs
3  cups all-purpose flour
1 ½ teaspoon cinnamon
1  teaspoon salt
1  teaspoon baking soda
2   apples
1/2 cup sugar, 2 tsp cinnamon (for bundt pan)
Caramel Glaze
1/2  cup Earth's Balance Buttery Spread, or regular butter
1/2  cup packed brown sugar
2  teaspoons almond milk, or milk of choice
Instructions
Preheat the oven to 350 degrees.
Peel and finely chop apples and set aside. In a small dish, combine 1/2 cup sugar and 2 tsp cinnamon. Grease a bundt pan, and then cover the sides with the cinnamon sugar mixture. Set aside. Beat together sugar, oil, vanilla, and eggs with a mixer until fluffy. Add in flour, salt, and baking soda, and beat until creamy. Mix in apples, and spoon into the baking dish.
Bake 1 hour and 20 minutes, and cool in pan for 20 minutes. After 20 minutes, place on cooling rack and cool completely. If you have issues getting the bread out, use a knife to help get the edges loose.
In a small sauce pan, combine the butter, brown sugar, and milk and heat over medium-high heat, stirring constantly. Bring to a boil, stirring the whole time, and let it boil for two minutes. Remove from heat and spoon over cake.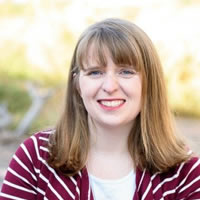 Katie is a Colorado-native, BYU graduated, and most importantly, wife to one and mother to three beautiful boys. She is passionate about sharing her experiences with others – especially about pregnancy, breastfeeding, cooking, and crafts. She is an International Board Certified Lactation Consultant. She loves spending time with her family and helping others find joy in family life.