If you're like most homeowners, you want your backyard to look its best but don't want to break the bank in the process. Fortunately, there are plenty of ways to create a beautiful backyard without spending a lot of money. Here are a few ideas to get you started.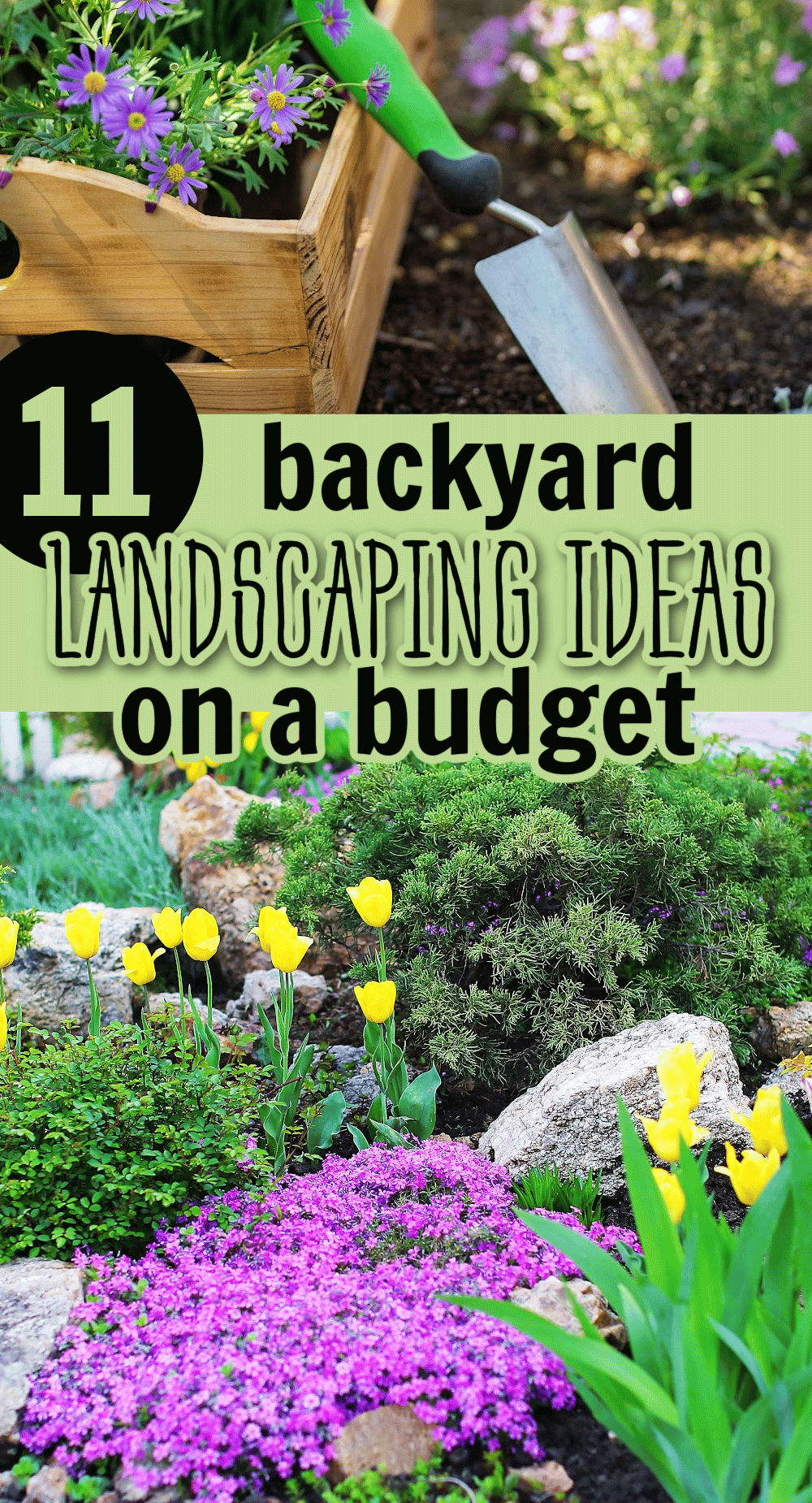 Backyard landscaping is something to think about all year round, whether you live in a warm, cold, or mild climate. When I bought my first home, I was so excited to start working on the yard – there are so many different possibilities to choose from!
It can seem overwhelming at first, but it's so much fun once you start thinking of ideas and hopping on Pinterest for inspiration.
One thing that really surprised me about landscaping was how expensive it is! We had so many. big ideas when we first moved in, but we quickly realized it would be a while before we could actually do everything we wanted with the space.
Once I realized this, I started looking up different ways to landscape on a budget. There were so many great ideas, and I wanted to share them with you! No matter how much of a budget you have for landscaping, you can create a beautiful space you and your family can enjoy during those fun summer nights! And who knows, it could become your dream backyard.
If you're looking for cheap landscaping ideas, you've come to the right place. Here, we'll give you some tips and tricks on how to create a beautiful backyard or front yard without breaking the bank.
Plants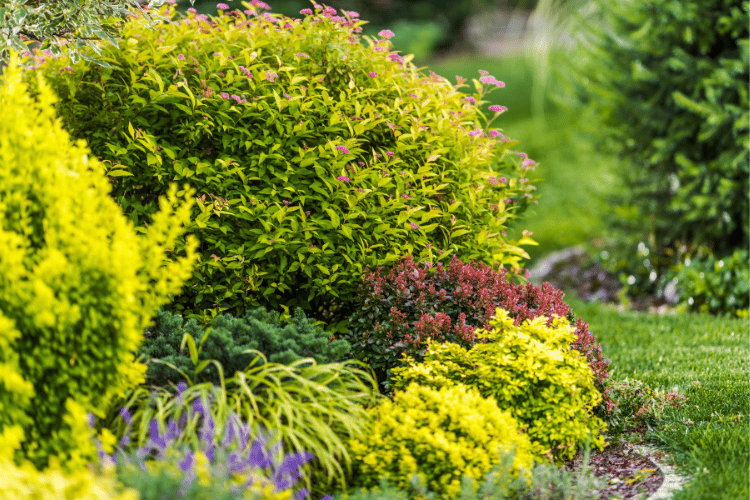 First, let's talk about plants. If you're working with a limited budget, it's important to choose plants that are both low-maintenance and economical. If you're looking to save money in the long run, perennials are the way to go!
They come back year after year, so you won't have to keep replanting them. When you plant a perennial plant, you can rest assured it'll still be there next year. It's a good idea to find out what zone you live in to pick plants that are the best for your area.
Visiting your local nursery can be a great way to pick plants that will last and fit your lifestyle and preferences.
If you want to change things up every year, annuals will be the best way to go for you. Either way, adding native plants in your yard is a great way to make it look beautiful while saving time and money.
Mulch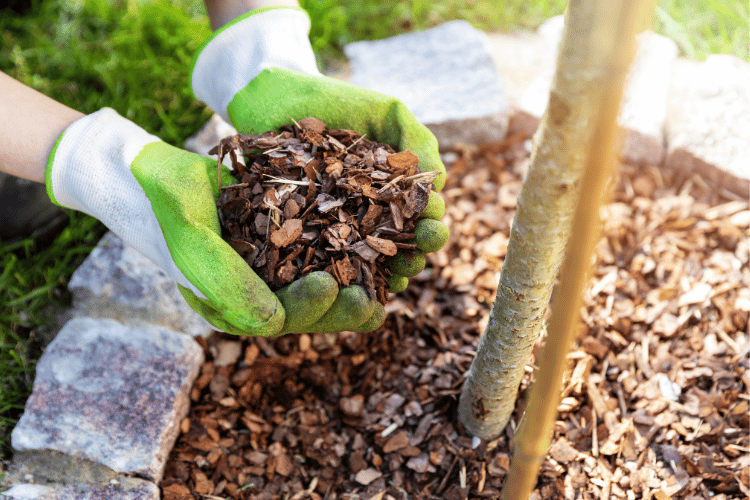 Mulch is a great way to add color and texture to your landscaping without spending a lot of money. It also helps keep weeds at bay and retains moisture in the soil, which is great for plant life!
You can find mulch at most hardware or home improvement stores, and it's relatively inexpensive. If you have a lot of area to cover, you may want to consider buying in bulk to save even more money.
You might even be able to find some free mulch if you look in local Facebook groups. Wood chips are also a great option!
Paving Stones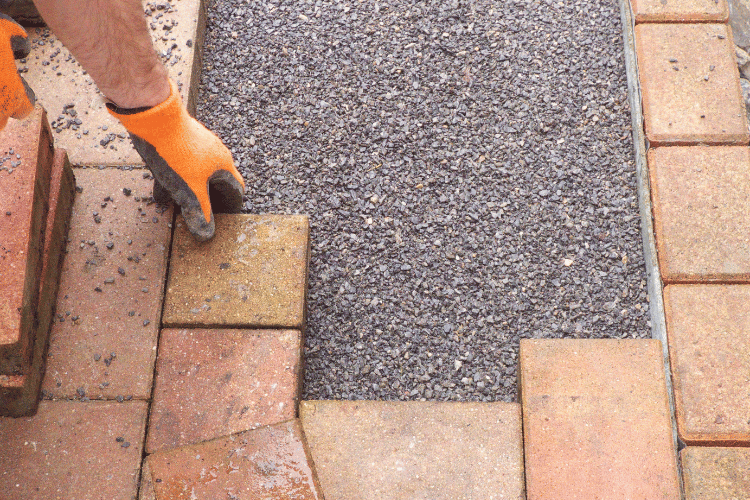 If you're looking for a more permanent solution than mulch, concrete pavers are a great option. They come in all sorts of shapes, sizes, and colors, so you can really get creative with them! Paving stones are also relatively inexpensive, and they'll last for years.
This is a great option if you're looking to add some interest to your landscaping without breaking the bank. There are so many creative ways to use paving stones too – a quick Pinterest search should give you some great ideas for these types of DIY projects!
Edging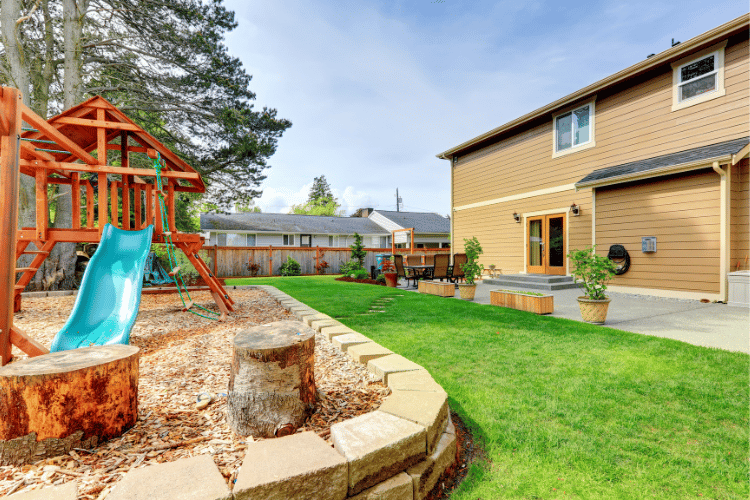 Edging is another great way to add interest and definition to your landscaping. It's also fairly inexpensive, and it's easy to do yourself!
You can find edging at most hardware or home improvement stores. Again, there are lots of creative ways to use edging, so make sure to do a little research before you get started. It'll improve your outdoor area in the best ways.
Xeriscaping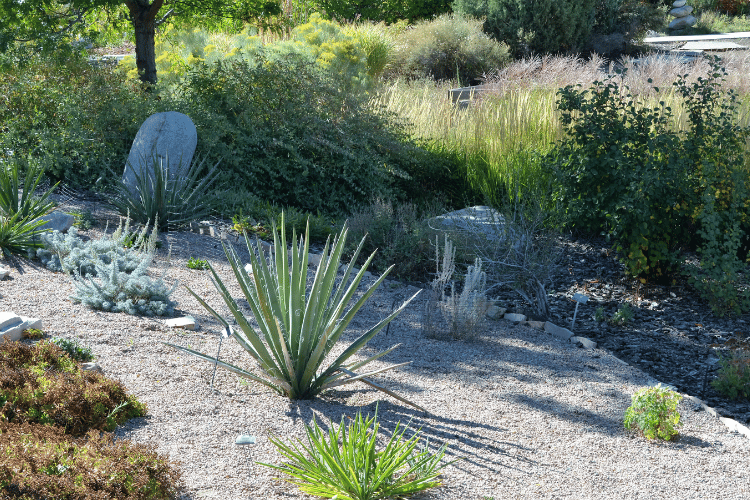 If you're really looking to save money on your landscaping, you may want to consider xeriscaping. This is a great option if you live in a dry climate and don't want to spend a lot of money on watering your plants.
Xeriscaping involves using rocks, gravel, and other drought-tolerant plants to create a low-maintenance landscape. This is a great option if you're looking for something that's both easy to take care of and economical. You could also build a DIY retaining wall if needed!
If you live in an area with an HOA, you may need to run this past them before you get started.
Lighting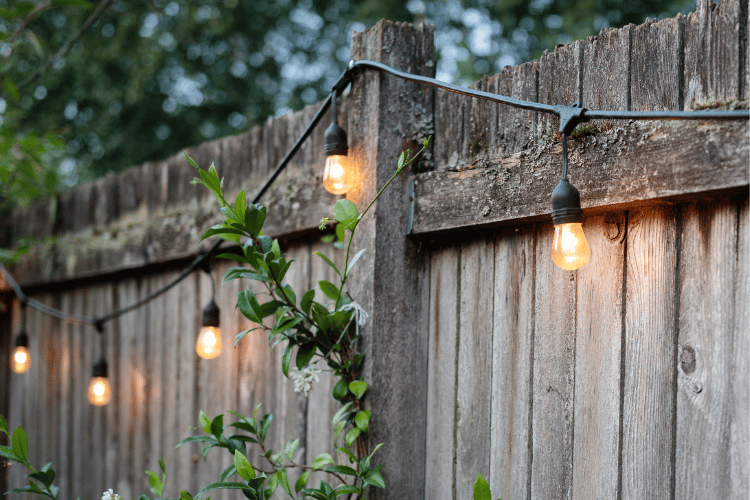 Adding lighting to your landscaping can really make it pop! You don't have to spend a lot of money on lighting, but it can really make a difference. There are all sorts of different options when it comes to lighting – solar lights are a great option because they're relatively inexpensive and easy to install.
You could also consider using LED lights or outdoor string lights. Whatever you choose, adding some lighting to your landscaping will really make it stand out. Lighting can make for a beautiful focal point at night! You could also add a backyard fire pit for extra lighting and ambiance.
Outdoor Furniture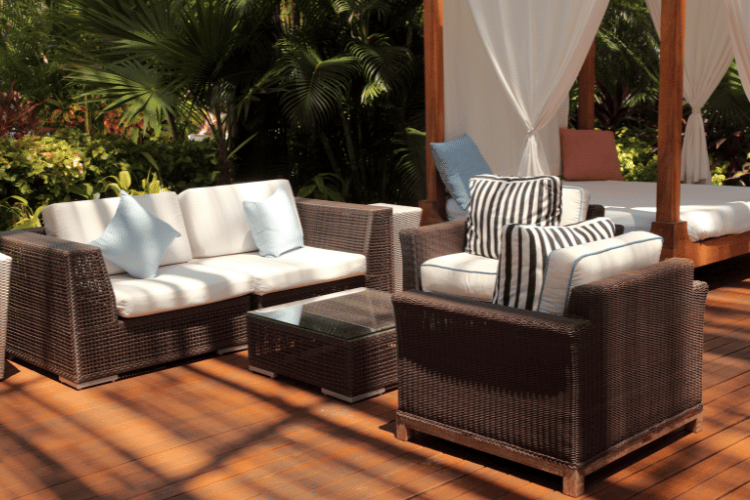 Don't forget about the furniture! Adding some chairs, a table, or a hammock is a great way to make your landscaping more inviting and enjoyable. You don't have to spend a lot of money on furniture – there should be plenty of great options at your local thrift store, garage sales, or online to create a cozy seating area.
Just make sure to choose furniture that's durable and weather-resistant, especially if you live somewhere with cold, wet winter months. You could even add small water features to your furniture if you're feeling adventurous!
Garden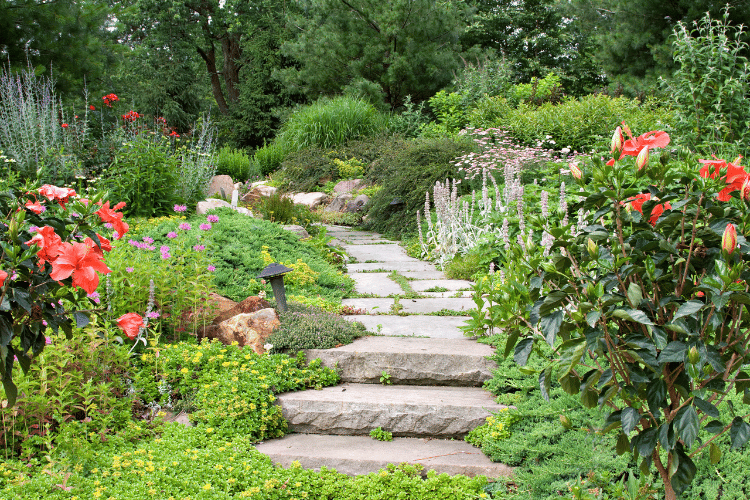 Planting a garden is a great way to save money on food during summer and even into the fall! You can grow a variety of different vegetables and fruits, and you'll save money by not having to buy them at the grocery store.
Gardening is also a great way to get some exercise and enjoy the outdoors. If you're not sure where to start but you know you have a green thumb, there are plenty of resources online that can help you get started. If you don't have enough room for a full garden, you could always plant garden beds. And if you're not a fan of vegetable gardens, plant a flower garden!
Here are a couple of great gardening options we've shared on our website:
Composting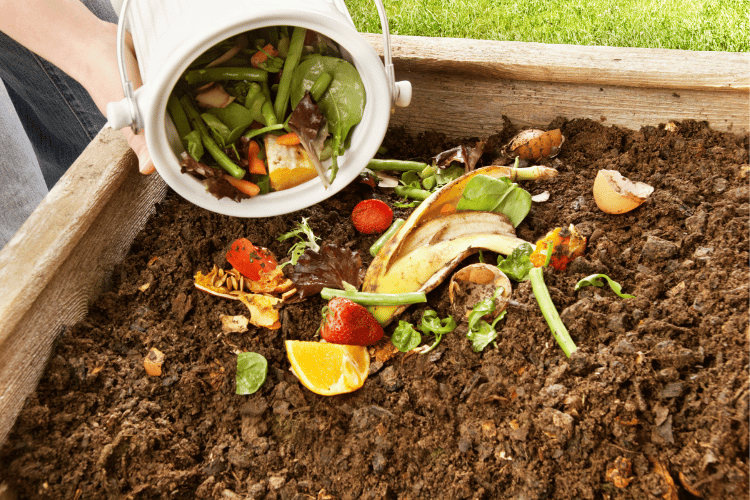 Composting can help reduce your waste and even save money on fertilizer! You can compost kitchen scraps and other organic materials to create rich, nutrient-dense soil for your garden. Composting is easy to do – there are all sorts of different compost bins available, or you could even make your own.
Planters & Hanging Baskets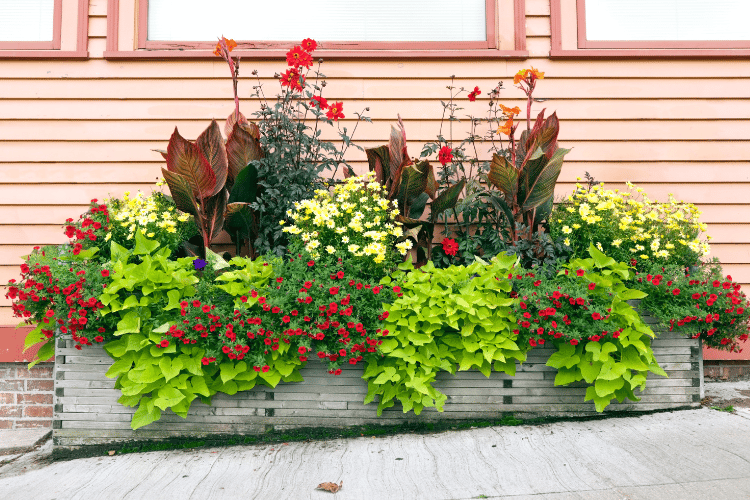 If you don't have a lot of space for a garden or flower beds, you can still grow plants in planters and hanging baskets. This is a great way to add some greenery to your outdoor space without taking up too much space. You can find planters and hanging baskets at most hardware or home improvement stores.
Herbs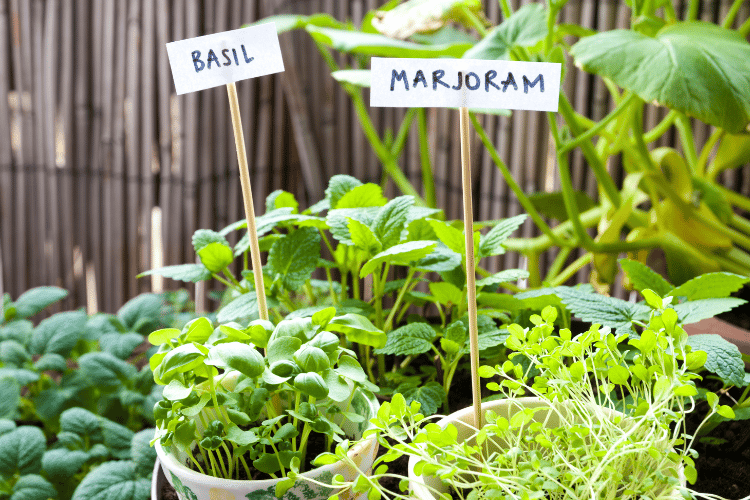 Growing herbs is a great way to save money and add flavor to your food! Herbs are relatively easy to grow, and they don't require a lot of space. You could grow them in pots on your porch or balcony, or in a small garden bed. There are all sorts of different herbs that you could grow, so do a little research to see which ones would be best for you.
These are just a few of the many ways you can save money when working on your backyard makeover! With a little creativity and some elbow grease, you can create a beautiful outdoor space on a budget. So get out there and start landscaping! What are your favorite simple backyard ideas?
While all of these landscaping ideas are affordable, some will require more work than others. But with a little bit of effort, you can create a beautiful and functional backyard space on a budget. Have you tried any of these backyard landscaping ideas? Let us know in the comments!
More Articles You May Enjoy: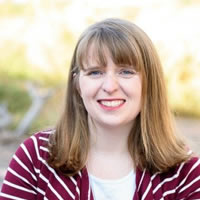 Katie is a Colorado-native, BYU graduated, and most importantly, wife to one and mother to three beautiful boys. She is passionate about sharing her experiences with others – especially about pregnancy, breastfeeding, cooking, and crafts. She is an International Board Certified Lactation Consultant. She loves spending time with her family and helping others find joy in family life.