Are you pregnant and have been told you have gestational diabetes? If so, you're probably wondering what this means for your diet. There are some specific dietary requirements to follow in order to manage gestational diabetes, but luckily we've got some great menu ideas to get you started! Keep reading for a comprehensive list of foods to eat and avoid while pregnant with gestational diabetes.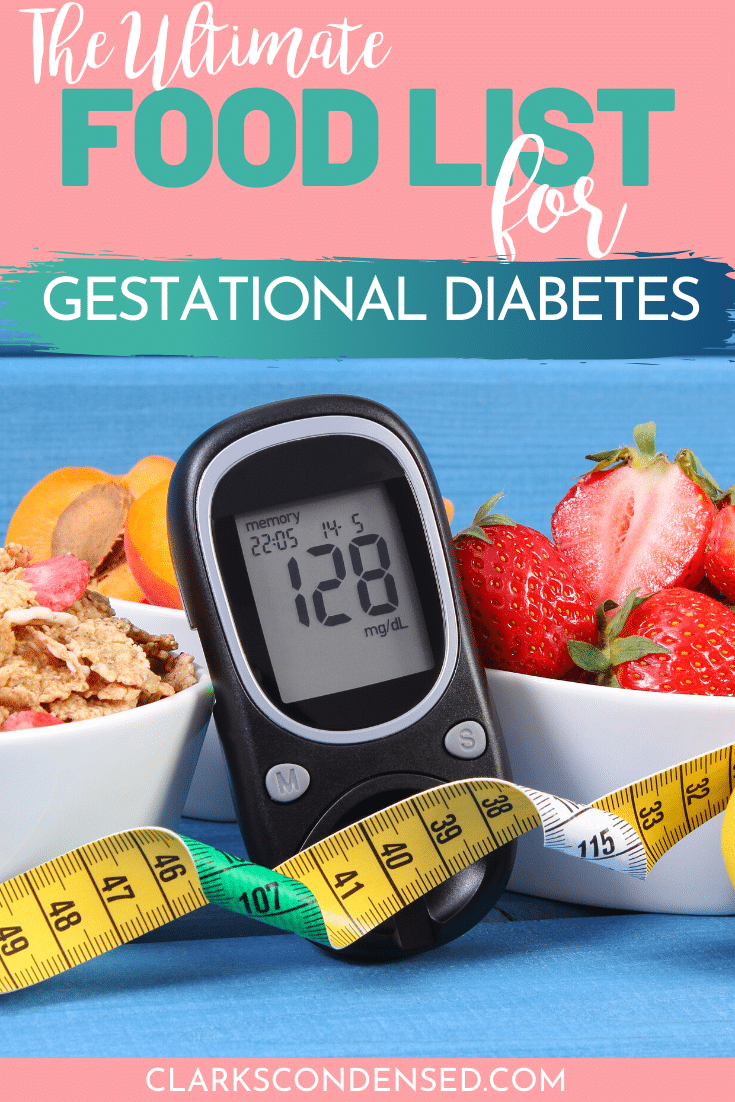 What Foods to Eat with Gestational Diabetes
When I was diagnosed with Gestational Diabetes, I had no idea what to eat.
As soon as I failed the one-hour glucose tolerance test, I started trying to eat a lot better.
I felt like I was constantly starving as if all I could eat were big hunks of meat and massive amounts of vegetables, and that I would never eat anything delicious again.
Well, I quickly realized that just because I had to cut out most sugar and eat fewer carbs didn't mean not eating well.
in fact, with a little bit of research and practice, I probably ate better during those 12 weeks of having Gestational Diabetes than I have in a long time.
I was grateful to have a dietitian who gave me a packet of meal and snack ideas – and I also got a lot of great ideas and tips from Real Food for Gestational Diabetes.
I have been working on a very long post about everything I wish I knew before my diagnosis, but in the meantime, I wanted to share a little bit about eating with Gestational Diabetes, as well as a Gestational Diabetes food list and some delicious sponsors.
No advice in this post should replace that of a medical provider. Please be aware that this is based on my own experience and research.
Gestational Diabetes Food Tips
I think in general, the best thing you can do is focus on whole, non-processed foods.
So many processed foods have tons of added sugars and other ingredients that can spike your blood sugar. The closer you can get to food in its natural form, the better!
Know your Nutrition Goals
One thing I found with Gestational Diabetes is that everyone seems to have different nutrition goals.
There are a lot of different schools of thought – some based on old information, some based on newer research.
Whatever path you choose to go down with your medical provider, make sure you know your goals!
Most of the time, you will be given nutrient amounts based on the meal or snack – not per day.
Mine was a little lower than the "normal" recommendations – which I came up with based on advice from my dietician and from the book I mentioned earlier, Real Food for Gestational Diabetes.
Here were my goals. Please don't comment telling me they are too low 🙂 These worked for me, and I have a very healthy baby. Again – everyone should work with their provider.
Breakfast: 15-30 grams of carbs
Snack #1: 15-20 grams of carbs
Lunch: 30-40 grams of carbs
Snack #2: 15-20 grams of carbs
Dinner: 30-45 grams of carbs
Snack #3: 15-20 carbs
Use a Food Scale (at least in the beginning)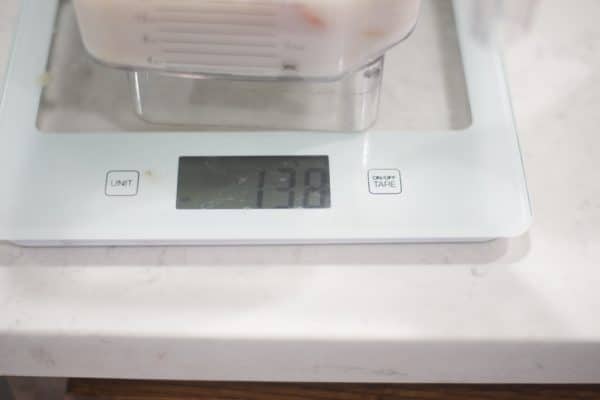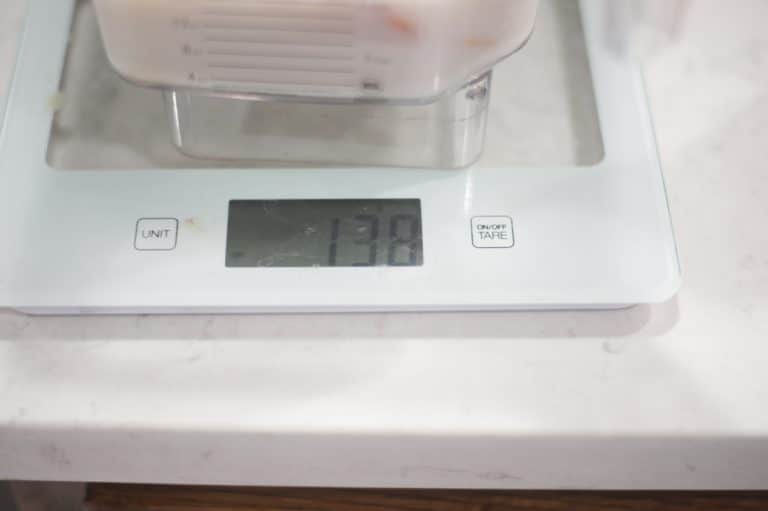 Unless you are already pretty familiar with food portions and roughly how many carbs will be in a meal, I would recommend using a food scale – at least when you start out.
Toward the end of my pregnancy, I was eating a lot of the same things, and I was able to eyeball things more. But in the beginning, a scale was crucial.
I was actually surprised how often I overestimated how much I was giving myself, and I would be able to have more!
Plate Tips
Another way of measuring foods is aiming to have 1/2 of your plate be non-starchy vegetables, 1/4 be protein, and 1/4 be a carb. I found this to generally be a good guide when putting food on my plate.
Add Veggies!
I was always throwing spinach in my smoothies, red peppers and tomatoes in my eggs, and really, vegetables wherever I could add them.
I'm not a huge fan of uncooked veggies. I try and eat them, but after a couple of pieces, I feel like I'm just chewing too much. Dips help, though!
However, I do really like them in most hot dishes, so if I could justify it, I would always add veggies.
We really liked using frozen vegetables, and I made sure we had plenty at every meal. We still do!
Match protein to carbs
This is the recommendation I found most people were given. If you are going to have carbs, make sure you have protein with it, too!
Matching them means making sure you have at least 1/2 the number of grams of protein as you do carbs (so if you are eating something with 20 carbs, make sure you have at least 10 proteins).
Eat the Same Things
Once you find foods that you like and give you good numbers – repeat them! I know this can get a bit boring, but it makes life less stressful.
For instance, when I first was diagnosed, I made a spreadsheet with different breakfast, lunch, and dinner.
Yeah. That lasted about five minutes.
Most mornings, I had a protein smoothie (my favorite recipes are at the end of this post) and for lunch, I would either have leftovers from dinner, a sandwich, or an omelet.
I would sometimes mix that up (I could tolerate protein oatmeal, Greek Yogurt with some berries and granola, etc), but most of the time, I just stuck to that.
I did try and mix things up for dinner. There are lots of great recipes online (just search low carb, keto, or diabetes recipes), and I loved the cookbooks from Clean Simple Eats.
You still need carbs!
A lot of people think that when you get diagnosed with GD, you have to give up carbs completely.
Not true at all. In fact, some people may be encouraged to eat more carbs than they were used to.
It's important to choose complex carbs that take longer to digest. So an apple with peanut butter is going to be a much better bet than a peanut butter cookie!
I've seen some people say that their dietician say anything under 5 carbs is a "freebie". I counted everything 🙂
Total or Net Carbs?
Net carbs are the total carb amount on an item minus fiber.
A lot of people who follow a low carb or Keto diets will go by net carbs, rather than total.
From what I observed, the majority of women are advised to go by total carb count. That's what I did – and I just tried to be mindful of eating foods that had a lot of fiber.
Learn to read labels
When I went into my diabetes consult at my OBGYN office, she showed me a nutrition label and explained it.
I was really surprised by this because I just figured knowing how to read a nutrition label was pretty common…but apparently not.
It is so important to know how to read serving sizes, the number of carbs, fat, and protein as well as ingredients when you have GDM.
I've seen a lot of women wonder why they spiked with something like a peanut butter and jelly sandwich or a bowl of cereal that's made from whole grains. When they are told to look at the nutrition for what they ate, they suddenly realize that something that seemed healthy was full of carbs.
Most restaurants these days post their nutrition facts, which makes eating out a lot easier.
List of Foods to Eat with Gestational Diabetes
Here is a list of different foods that you can use for snacks or to create meals. This is not meant to say you can only eat these foods – but it's a starting point.
Just make sure you pay attention to the nutrition label, as I mentioned earlier. For instance, some protein bars will have a ton of sugar and carbs – probably shouldn't eat those ones! Be sure to check out our favorite
Gestational Diabetes protein powders here.
Make sure you put your email in the box below to get a printable version of the foods you should eat (and which ones you should avoid). It's free!
Eggs (with the yolk!) in any form
Sausage links or patties
Bacon
Deli meat (look for a kind with no nitrites. Warm before eating to prevent listeria)
Avocado
Cheese
Jerky
Protein Shakes/Smoothies(these ready-to-drink ones are great)
Nuts
Protein bars
Canned tuna
Canned chicken
Mayonnaise
Nut butters (just pay attention to the sugar – if you can grind your own at the store, that will be the safest bet)
Most vegetables (some are higher on the glycemic
Chicken
Turkey
Oatmeal (1/2 serving)
Baked Fish
Air-popped popcorn with butter
Whole wheat toast with PB
Steak
Sunflower seeds
Unsweetened Greek yogurt
Berries (I like to top with whipped cream. Some people rave about heavy cream poured over frozen berries)
Peanut butter with apple
Beans (just choose an appropriate serving size. Higher in carbs but good in fiber)
Chili
Chicken sausages with crackers
Rotisserie chicken
Ground meats (beef, turkey, chicken, etc.)
Meatballs
Whole wheat/whole grain bread – try and find a brand that is close to 11-15 carbs per slice. I always had good luck with Nature's Own 100% Whole Wheat Bread. I know a lot of other people like Dave's Killer Bread Thin Sliced
Protein Hot cocoa – this recipe looks great. It would be especially tasty with Orgain Peppermint Hot Cocoa Protein powder.
Dark chocolate chunks with nuts
Simple Truth Low Cow Ice Cream Bars
Yasso Greek Yogurt Bars
Multigrain Chips with Guacamole
Hummus
String Cheese
Tacos or enchiladas made with corn tortillas (I would get the brand that was 2 for 20 carbs)
Seven Sundaes Granola
Sweet Potato fries
Triple Zero Oikos Greek Yogurt
Spinach Dip from Costco
Sandwich Thins
Protein pasta – my favorite is Banza. So many varieties and really yummy. I would make sure I had plenty of beef or sausage and other veggies and a smaller portion of carbs.
Glycemic Index
A glycemic index is a number given to foods that show their impact on blood sugar.
They are ranked on a scale of 0 to 100 in comparison to the absorption of 50 grams of glucose (which is also what you drink with the one-hour glucose test!)
According to this article, these factors can affect the GI level of a food:
Type of sugar
Structure of starch
How refined the carbohydrate is
Nutrient composition
Cooking Method
Ripeness
I primarily mention this because it's helpful when determining whether or not a fruit or vegetable is GD-friendly. Fruits and veggies are healthy, but there are certain ones that aren't AS healthy.
20-49 are considered low on the GI chart
50-69 are moderate and generally can be eaten in moderation with GD
70+ are high and will often affect your blood sugar
Low Glycemic Fruits
Cherries
Grapefruit
Pears
Apples
Oranges
Strawberries
Peaches
Apricot
Lime
Prunes
Kiwi
Blueberries
Foods to Avoid with Gestational Diabetes
Baked Goods (especially if they are made with white flour)
Alcohol
Sugary drinks (soda, lemonade, juices, etc)
Candy
Starchy Foods
Fried Foods
Added Sugar
It's okay to have a small treat now and then but sugar is a huge culprit for spiked blood sugar levels. In fact, I think added sugar was just about the biggest thing to affect me.
Nutrition labels are required to show much-added sugar is in something, so just be mindful of this.
Processed carbs
Artificial Sweeteners
This can be controversial. Sucralose, aspartame, etc. are very popular because they do lower the carb amounts.
However, there is a lot of evidence that these ingredients can negatively impact your body – including your blood sugar.
Many people still will eat these while pregnant with GDM – and that's entirely up to you. I would just suggest doing research to make sure it's the best idea for you – informed is best!
Monk fruit, Swerve, erythritol, and stevia are better choices (though I know some have reservations about stevia).
High Glycemic/Starchy Vegetables
White or Russett Potatoes
Beats
Carrots
Corn
Root vegetables
Gestational diabetes is a common condition that affects between 3-5% of pregnant women. It can be difficult to manage, but there are some things you can do to make it easier on yourself and your baby. Here's a list of foods we recommend eating with gestational diabetes along with some tips for managing this health complication while also enjoying the pregnancy! What was your favorite food? I want to know what you found most helpful during those nine months so please share below in the comments section.
More Gestational Diabetes Articles: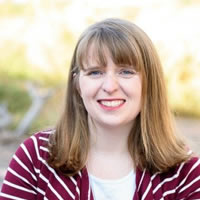 Katie is a Colorado-native, BYU graduated, and most importantly, wife to one and mother to three beautiful boys. She is passionate about sharing her experiences with others – especially about pregnancy, breastfeeding, cooking, and crafts. She is an International Board Certified Lactation Consultant. She loves spending time with her family and helping others find joy in family life.