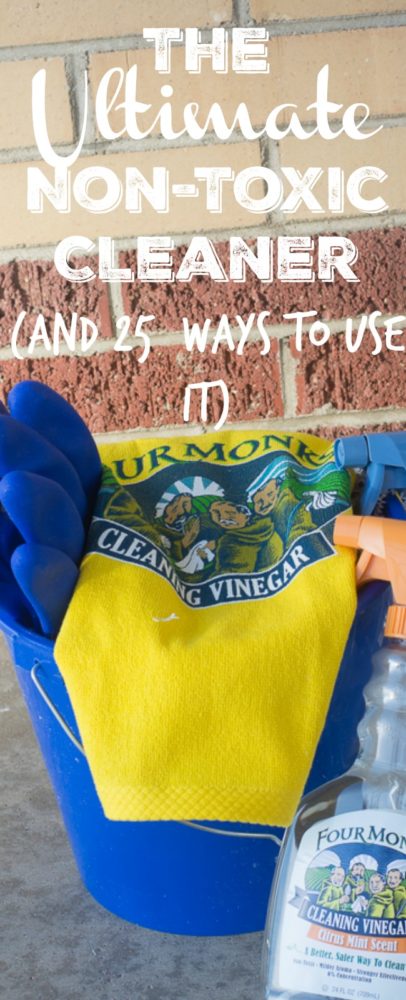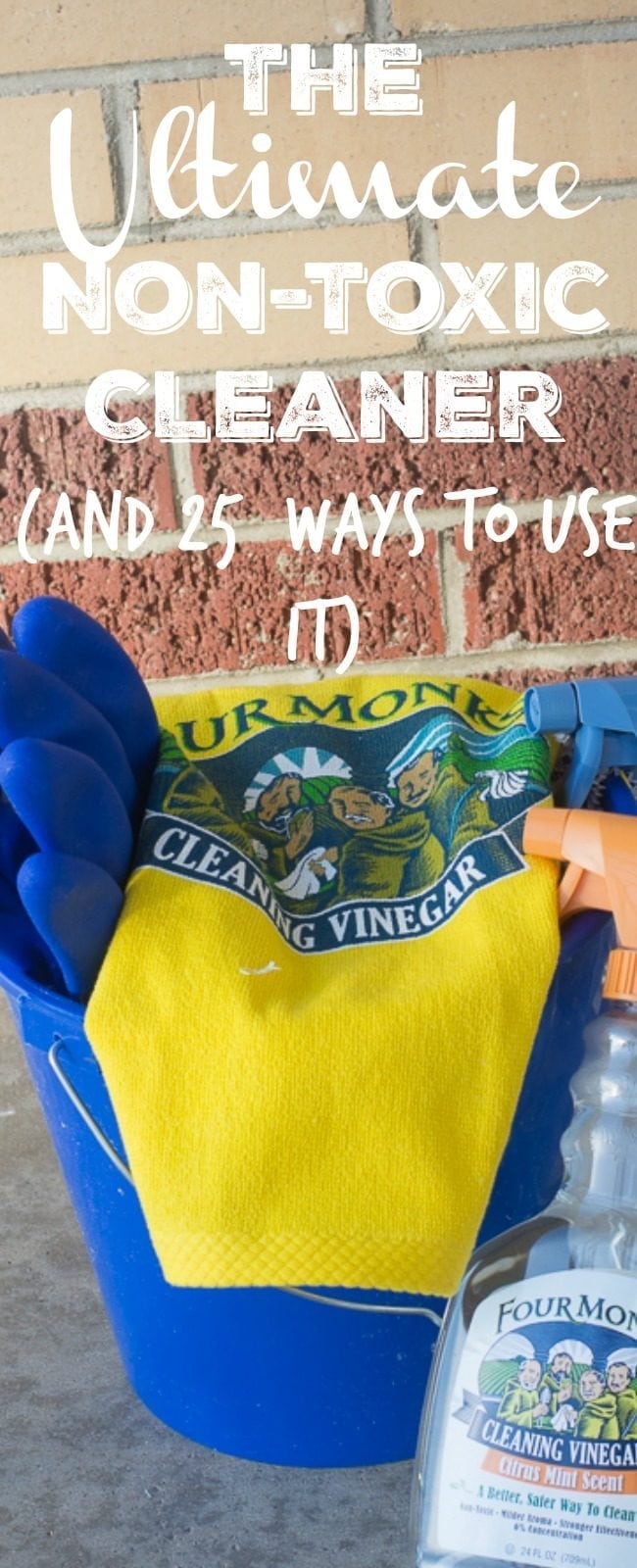 Vinegar is the ultimate non-toxic cleaning agent – the ways you can use it on everything from your fruit to your shower! Be sure to read this post on 25+ ways to use Vinegar.
Vinegar Uses
Anyone who knows me knows that keeping a clean and tidy space is a struggle.
Don't get me wrong, I know how to clean. I'm pretty sure I grew up doing more chores than anyone else I knew. However, I get overwhelmed easily, and when I see a mess or something that needs to be cleaned, it's a lot easier for me to just walk into another room.
I've been trying to be better – I like having a clean home. Clutter stresses me out! I'm getting better day by day, and one day I will overcome it!
Fortunately, Forrest is a lot better at cleaning than me, and he makes it so our house isn't in total disarray all the time. I definitely won the spouse lottery.
One thing we both can agree on is this – the simpler you make it, the easier it becomes.
There are so many cleaning products out there – something for every single task you could ever think of. Not only is it expensive to have all those cleaning products, but it's kind of overwhelming – where do you even keep it all?
That's why when I find a cleaning product that can be used on many, many things…well, I'm pretty excited. Especially when it's safe for my family, non-toxic, and easy to find.
I'm talking about vinegar.
It's a fairly inexpensive ingredient, but it's cleaning power is rather impressive. It is a great disinfectant!
I thought it would be fun to list all the different ways you can use this all-purpose cleaner in your home – there's really a lot of ways. While I haven't tried all of these, I can't wait to get started on the list!
If you want to use an even better version of vinegar, make sure you check out Force of Nature. It combines vinegar and salt with an awesome chemical reaction to create a cheap and AMAZINGLY effective cleaner and disinfectant. You can check out our review here or use the code CLARKS to get $15 off the starter kit.
Ways to Use Vinegar
Polish faucets/shower heads and remove grime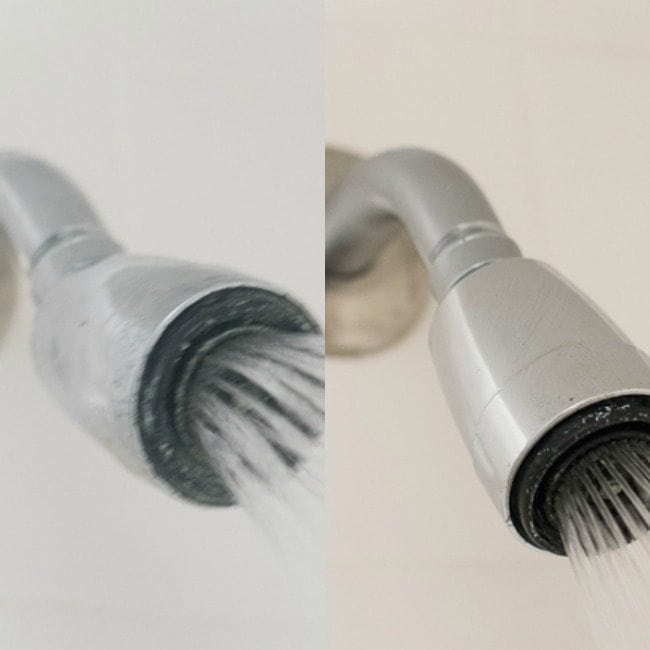 Perk up rugs – 1 cup vinegar to 1 gallon water
Erase ball point-pen marks (use a sponge or cloth
Clean scissors – much more effective and less likely to rust over cleaning with water
Blinds – equal parts water/equal parts vinegar (use a white glove or cloth)
Clean piano keys
Remove carpet stains – I wish I would have known this when Jack spilled grape juice all over my sister-in-law's carpet! Dissolve 2 tablespoons salt in ½ cup white vinegar. Clean the stain up, let dry, and then vacuum.
Get rid of pet smells – cover the area with baking soda, let it stand for several hour, vacuum up, and spray with vinegar.
Rinse hands with vinegar after working in the garden – helps remove the dirt and protect from skin problems that can happen when working in the garden
Clean fruits and vegetable (wash excess off with water)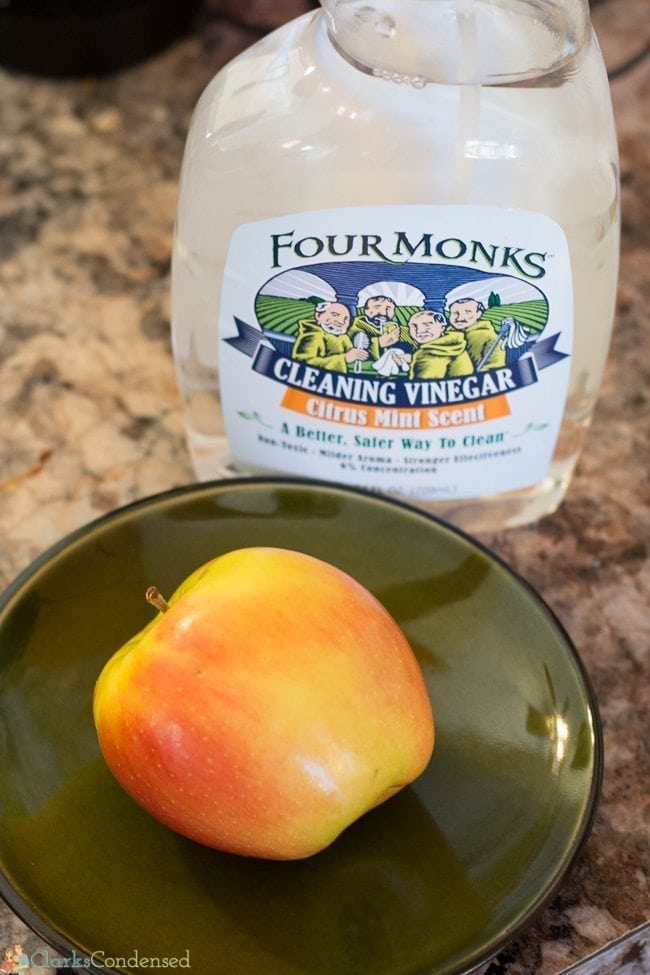 Test soil – if the soil bubbles, it's alkaline
Make your pet's coat shine with a spray of the vinegar
Remove water rings from furniture (combine equal parts olive oil and vinegar for wood furniture. Just vinegar for leather, upholstery etc)
Clean toilet bowl – pour about a cup into the toilet and let set over night
Place soaked rags on stakes around your garden to keep out critters. Replace regularly.
Cleaning glass – windows, mirrors, sliding shower doors etc.

Fight off weeds
Clean off outdoor patio furniture (1 tablespoon to 1 gallon water)
After shower cleaner – 1 cup vinegar, 1/2 cup baking soda, and 1 cup ammonia in a spray bottle. Spray on tile after each shower. This can also be used to clean tile.
Clean up urine/feces accidents (from pets or little kids!) Spray with vinegar and sprinkle with baking soda. Vacuum after its dry.
Clean countertops (avoid using on stone surfaces)
Remove soap buildup from faucets
Spray equal parts water and vinegar on ant hills
Revive paintbrushes (I have A LOT I need to do this to)
Make microwaves easier to clean – mix about 1/2 cup vinegar with 1 tablespoon lemon juice. It helps loosen grime, making it easier to clean up.

Clean shower door tracks – pour and let sit for a few hours. Wipe up.
Remove rust from cast iron pan (be careful when doing this, as too much exposure to vinegar can ruin the pan)
Clean the refrigerator – helps to lift up caked on food and make it smell fresher
Disinfect air conditioners by putting filters in 1 part warm water, 1 part vinegar
Clean away bird droppings
Get rid of rust – place tools (or other rusting items) in vinegar for a few days
Before you start painting, spray vinegar on the ground to help prevent paint from sticking (let it dry first)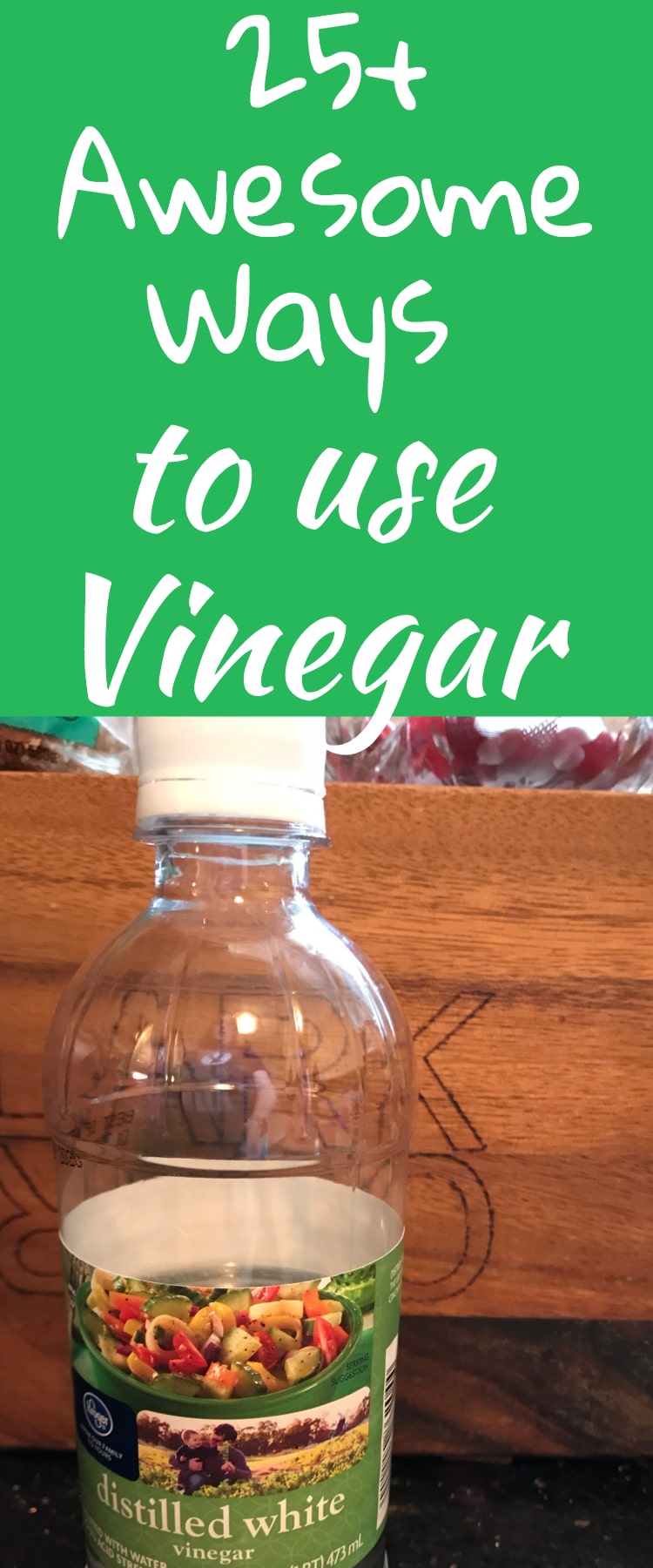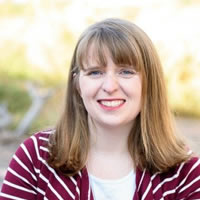 Katie is a Colorado-native, BYU graduated, and most importantly, wife to one and mother to three beautiful boys. She is passionate about sharing her experiences with others – especially about pregnancy, breastfeeding, cooking, and crafts. She is an International Board Certified Lactation Consultant. She loves spending time with her family and helping others find joy in family life.