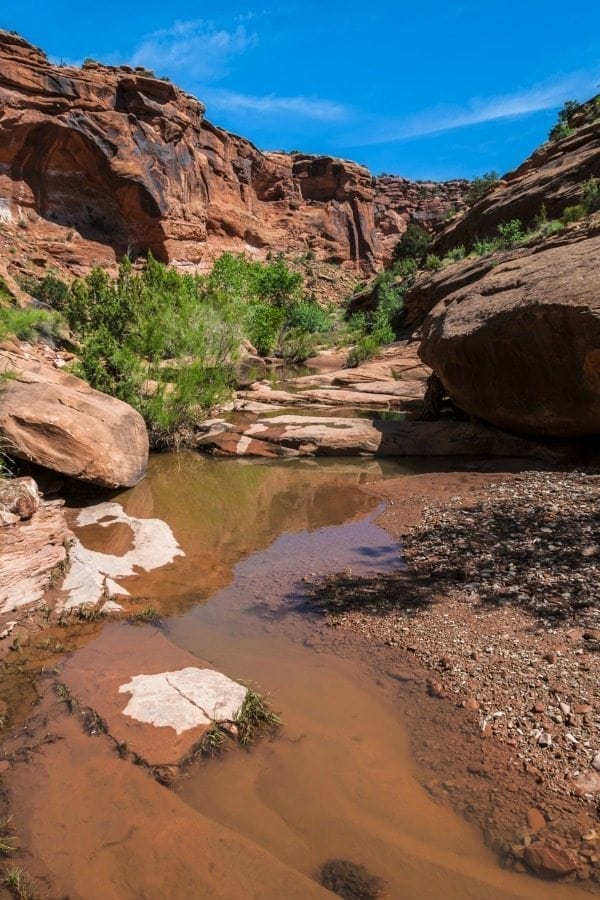 As the weather heats up here in Utah (and the school year ends), your kids are going to have a lot of extra time on their hands and hopefully a healthy desire to get outdoors. To help encourage your kids to spend some time outside, here are a few local activities you may want to consider. Go for a Hike Utah has so much natural beauty and with a little effort it's not hard to find a trailhead near you for a great afternoon hike. Check out some of our favorites:
Cecret Lake (pronounced "secret" lake) is a beautiful little lake located near Alta, in Albion Basin. The trail starts at the west side of the Albion Basin Campground, at the top of Little Cottonwood Canyon. The Albion Basin has beautiful wildflowers, and this trail runs right through fields of them on the way to Cecret Lake. This is an easy hike, suitable for children at 1.5 miles round trip.
Frary Peak Trailhead is the highest peak on Antelope Island. This trail will take you close to bison, birds, and other animals and give you a great view of the Salt Lake Valley. To get there, drive out to Antelope Island and follow the Antelope Island Road south along the east shoreline. The hike is 7 miles roundtrip and is moderately difficult. Because Antelope Island is a Utah state park, you will have to pay an entrance fee ($10 per vehicle).
Grandeur Peak is one of the easier mountains in the Wasatch Range to climb. At the top you'll have an incredible view of the Salt Lake Valley and the Wasatch Range. To get to the trailhead, drive up Millcreek Canyon about 3.0 miles to the Church Fork Picnic Area. The trail starts at the north end of the picnic area. At a length of 5.5 miles round trip, this trail can be moderately difficult.
Go for a Bike Ride If your kids love to bike, many of the hiking trails in Utah double as biking trails (in fact, of the hiking trails mentioned before, Albion Basin and Antelope Island are biker friendly and very easy). Here are a few other trails for aspiring cyclists:
Why not take a ride on the Jordan River Parkway? This paved trail is easy and so long that you can start and end virtually anywhere in the valley. There are bathrooms and parks along the way whenever you want to stop, and the trail will take you past a lot of Utah's natural environments. For a great view, try riding from 5400 south and 1070 west to 4800 south. The ride isn't too long and it will take you through lots of wetlands and then to a park.
Germania Dirt Trail is a fun ride for anyone with a mountain bike. The trail connects to the Jordan River Parkway and is especially fun because it's an all-dirt road. If your kids want to try "roughing it," try this trail on for size. To get there, drive past the parking lot for the Jordan River Parkway located at 5400 south and 1070 west, to the Germania Pavilion. From there, get on the westbound paved trail that heads past the soccer field. When the trail forks, stay to the right. The trailhead will be on your left, about 40 feet past the fork. It's marked with a post. The trail splits and you can go either direction, as it circles back to the same point. There are actually two loops on this trail, an upper and a lower. Both circle back to the same point. The main outer loop is 0.8 miles long and the inner loop is 0.6 miles.
City Creek Canyon is another beautiful ride, right near the heart of Salt Lake. The trail starts at State Street and Second Avenue and takes you through Memory Grove and into City Creek Canyon. Bikes are allowed into the Canyon on odd days in the summer, beginning on the last Monday in May and excluding summer holidays. This is an easy ride, a little less than 6 miles long and completely paved. However, you will likely be sharing this trail with other cyclists and pedestrians in the summer, so make sure you stay to the right and ride slowly. You'll also be able to enjoy the view better that way!
As an extra note of precaution, make sure you talk to your kids about bike safety before taking them out on any trails. Use helmets (and extra padding, if necessary), and teach your children about proper trail etiquette (i.e. staying on the right side of the trail and signaling which direction they're headed) and then have them practice when you get out on the trailhead. Remember, as you're loading bikes into your car or getting them out of the garage, teach your children how to safely interact with the garage door. Most modern garage doors come with motion sensors, but it's always a good idea to teach your kids how to stay clear of the garage door and any vehicle when they want to use their bikes. Test your garage door sensors to make sure they are working, just in case. If you find a problem, contact a garage door repair professional like Crawford Door to get the sensors fixed as soon as possible. As for yourself, make sure to check and double-check that the area is clear of children before you close the garage door or back your car out of the garage. An accident could change your life and a child's life forever, so take some extra safety precautions this summer. With these safety tips in mind, why not grab a bike and hit the trails with your kids this summer?
A guest post by Mary Kramer