We were not compensated in any way for this review
Ready for another restaurant review? I know I was when we decided to go to
Station 22
in Downtown Provo. A friend of my always posts pictures on Instagram from here, and from the looks of them, I knew I had to try it out. (and remember, Forrest's thoughts are in
italics.)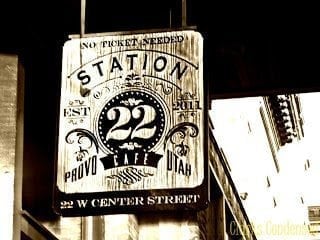 I honestly had know idea what to expect before we went. After we arrived and soaked in the whole atmosphere for awhile, Forrest thought it kind of seemed like a Southern saloon. I think that describes it pretty accurately. There was a lot of southern fare, drinks, and just the whole place seemed kind of like that.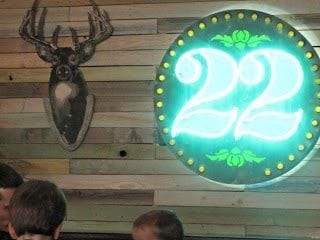 One unique part was that at the back of the restaurant, there was a big wall that was filled with specialty drinks. They are craft brewed sodas, and there are over 80 varieties Guests are invited to go look at the selection and bring one back to their table to enjoy. They are 1.99, just .50 more expensive than a regular fountain drink. We don't normally order drinks, but Forrest was interested to see if they had Blenheim ginger ale, a specialty drink only sold in South Carolina. They didn't, but they did have something similar, just not as strong. It says it is Jamaican, and it is made with 25% pineapple juice. It was good. Forrest was satisfied with that! The other drinks were served in mason jars, which was kind of fun. It is too bad that Blenheim costs more than two dollars to ship or I might have recommended it.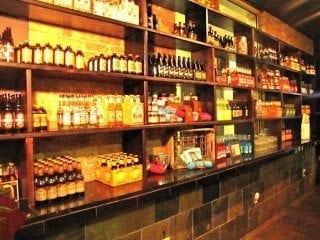 Because we felt like the appetizers were reasonably priced, we decided to get one. We were excited to see that they had hush puppies, one of Forrest's favorite things from back home. They definitely have some unique choices for appetizers, including deviled eggs and mini corn dogs. There were about five pieces on the bucket, so the perfect amount for two people.
I thought they were perfectly cooked — crisply on the outside, but soft on the inside. They had real pieces of corn on the inside too. And, they were piping hot! I really liked the Memphis sauce, which they were served with, too. It was spicy though, so if that's not your favorite, I would opt to eat them just plain. Baby J really loved them too.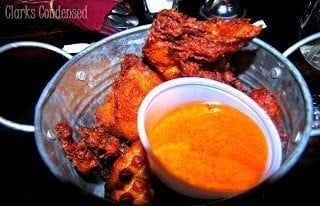 Although our meal only usually comes with one side, since we were sharing, the waitress kindly threw in an extra one for free. We opted for a side salad with honey mustard dressing. The greens were definitely fresh and there was a good variety. However, it wasn't my favorite salad ever. Something about it tasted a little bit off. It wasn't terrible, but it was definitely lacking something. I loved the dressing though. There were some Parmesan flakes that Katie had to eat around. I'm sure that knocked down the salad a few pegs for her.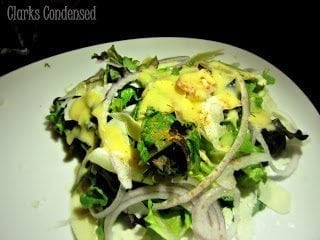 For our main course, we chose to get the BBQ Tri-Tip Sandwich with sweet potato fries. It usually comes with cheddar grits but we substituted because I couldn't have those. Forrest and I love sweet potato fries, but can be kind of strict when it comes to rating them. These definitely topped my list for some of the best we've tried. I liked that they were thicker, and they were seasoned really well. I could tell that they are made from sliced potatoes, and not formed from a sweet potato mash.
The sandwich was DELICIOUS. The meat was perfectly cooked, and there was a ton on the bun. It was a little fatty, but not enough to ruin the sandwich. The bun was really buttery and soft, yet toasted slightly. I liked that it was served with lettuce, tomato and onion. Those were all very fresh, and just pulled together the whole sandwich. Apparently, the meat was local and organic, which is always good. I thought it was the perfect choice for us that night, though, and it was definitely big enough to share.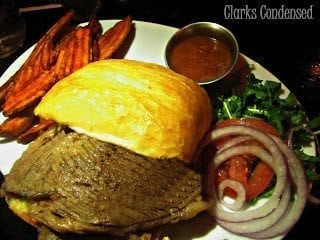 Although we didn't get a dessert, they definitely had some interesting choices. The one that stood out to us most was the Cookies and milk — the milk wasn't just any ordinary milk, but cardamom milk. We love to add cardamom to different recipes, so it was fun to see that on the menu.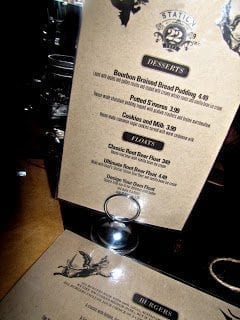 Overall, I really enjoyed going here. There were a few things that I didn't particularly love though. First off, it was SO loud. Maybe I'm just getting old, but it was hard to even hold a conversation. We feel that was because of how small the place was, there was a big echo. Of course, I'm sure it didn't help that Baby J thought it was a good night to try out his voice, and shriek the entire time. I was happy they didn't kick us out! The service was also really slow, but since it was dinner time on a holiday, that may have been the reason, so I wasn't really annoyed. The tables were also really close together. Someone behind us bumped into me at least twice.
It wasn't the most kid-friendly place either. I think they had a kids menu, but since Baby J just eats part of whatever we get, we didn't see it. The waitress brought Baby J out a cup of water with a straw, but it was glass and didn't have a lid, so he couldn't really hold it himself. I think that all the loudness wasn't the best for kids either. Though, part of the loudness was caused by other kids. Baby J made a nice little friend with the little girl behind him. They were laughing at each other.
But the service was great for the most part. We did have to ask for refills, but I'm sure that was because of how busy it was. The waitress was always checking on us though to make sure we were okay, and apologized profusely for the wait.
It's right on Center Street, and next to Comedy Sportz. It could be a great place to go on a date — dinner first, comedy show after. The food was also reasonably priced, especially for the huge portions. Forrest and I were both totally stuffed when we left. We'll definitely go back sometime. Especially for those hush puppies!
Overall Ratings:
Price: 4 out of 5 – It's about what I would expect to pay when going out to eat. It's not fast food cheap, but I'd put it in the same group as Red Robin.
Quality of Food: 4 out of 5. Although it was really good, it was a bit more greasy than I usually prefer. There is a huge variety, including some vegan choices.
Overall Restaurant Appearance: 3 out of 5. Interesting decor. The tables were a little bit too close together.
Service: 4 out of 5. It was pretty busy, and we had to request that our water be refilled. Our waitress was very nice though and made sure we were okay. It was also really nice of them to throw in an extra side for free.
Kid Friendliness: 3 out of 5. I already mentioned several of the reasons, but just the lack of kid friendly cups, and how loud the place was.
Location: 5 out of 5. Great, central location for people who live in Utah. Easy to find and pretty good parking.
Because the people at Station 22 are awesome, they are giving our readers a free dinner for two. It runs from today until March 30th at midnight. Be sure to follow all the rules — I verify all entries!