We love going out to eat. Unfortunately, on our student budget (which is even tighter..since, we're on a baby budget too!) we don't get to eat out as often as we like. However, when we do, we love to critique the food and experience, and try out new places. So every now and then, expect a restaurant review on here. If something is italicized, Forrest is chiming his opinion in.
Forrest was given some money to take me out to dinner, so we decided to splurge and go to the Black Sheep Cafe on University Avenue in Provo, Utah. I had first heard about this place when I was transcribing an interview my friend, Ee, had conducted with one of the people who worked here, and just listening to that made me want to try it out. Lucky for me, my friend, Cortney, invited me to go there the next day for my birthday for lunch. And let me tell you, I was immediately converted. I had their specialty, the Navajo taco, and it was amazing.
Because it's a little more expensive than we like to spend, I hadn't gotten to go back with Forrest. So last night, we thought it was the perfect opportunity. We arrived a little bit before five, and didn't realize they weren't open for dinner yet. However, the staff was very hospitable, and we waited about 15 minutes to be seated.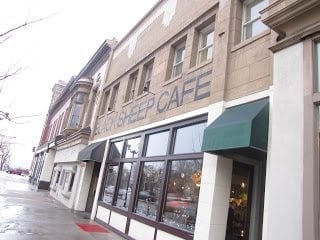 Before I go on, this restaurant serves "contemporary Native American cuisine," as their
website
describes it. Since we usually choose Mexican or Italian restaurants, it was an especially new experience. When I first heard about it, I'll admit, I thought that it was going to be like one of the stands at county fairs that sell Navajo tacos (which isn't a bad thing — I love those places!) However, right when you walk in, it's obvious that it is like nothing like those.
The Decor and Atmosphere
To the left of entrance is a silversmith's workshop, where the father and husband of the owners creates beautiful jewelry that is for sale. The restaurant is decorated with beautiful wall decor and the neatest chandelier. It's an extremely classy place, and the tables are glass top, and the theme is basically black and white.
It took me a while to nail down the theme and vibe of the restaurant, but I think I finally have it. I had a little time to think about this. To me, the theme is wild, rustic beauty. The restaurant paid homage to Native American beauty without drawing on the western or cowboy style motifs. The floor is basically waxed particle board. The wall decorations are rather rough and abstract. The chandelier is like a fiery sun. The location doesn't scream fine dining, yet the staff and the experience seemed very refined to me.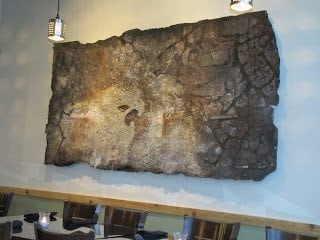 The Service
Our waitress, I believe her name was Kathleen, was extremely friendly and attentive. She immediately brought us water, including a little cup for Jack, and described the house specials. The staff already had Jack's highchair set up with an activity for kids to do on a piece of paper. He is a little young for it, but it was a nice thought anyway. The house special that stood out to us especially was the Hog Jowl Tacos, which had apparently won an award recently. We decided to order those an appetizer, and then looked at the menu.
(I should note, we never get appetizers, and to be honest, 9 times out of 10 we share a meal. This was a special occasion though, so we splurged!)
As you can see, the menu is huge (it was double sided.) There are so many options — salads, soups, hamburgers, taco, enchiladas, and, of course, Navajo tacos. It was so hard too choose! Well, for me, at least. Forrest was immediately sold on posole, a soup that he had quite often when he served a mission for our church in Southern California. Thus, I know what is good posole and what isn't. After much deliberation, I decided on the Green Chile soup. It was a very chilly day, and that sounded like it would hit the spot.
The Food
Because everything is made from scratch, it did take awhile for the food to come out. But, like a good appetizer should, the tacos came out about 15 minutes before our other food. I feel we should warn you. The food is made fresh and from local ingredients so it can take a while. Be prepared to be more patient than you normally would be. It is well worth the wait, though. And not only did they smell delicious, but the presentation was beautiful. This picture doesn't do it justice, but the colors looked amazing, especially in contrast to the white plate. It was obvious very early on that presentation means a great deal to this restaurant.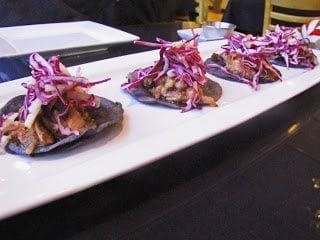 So, about this tacos. Let's just say, I've been craving them ever since we left. The meat is placed on a blue corn tortilla, and adorned with jicama and cojita. Because I can't have cheese right now, they were nice enough to put that on the side. I enjoyed the cheese on the tacos. They were incredible though, and I'm not exaggerating. The meat was very tender and moist, the jicama crunchy, and the sauce…amazing. A little spicy, a little sweet. And all of it put together was a perfect combination. I found myself wishing I had ordered this as my entree!
After finished the appetizer, we eagerly awaited our main dishes! I was really looking forward to the fry bread that came with our soups. It was so fluffy, a little bit sweet, and had this amazing golden-brown color to it. As with anything fried, it was buttery and delicious. It was perfect to nibble at as we awaited our soups, and was even better dipped in the soups! And it is HUGE.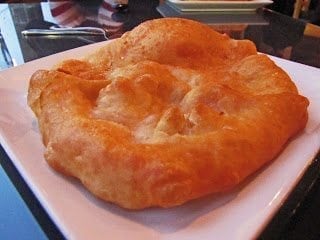 And, of course, here are our main dishes. As I mentioned already, I chose the green chili. I've had green chili before, and this definitely tops my list. The colors of it were so vibrant! There was some reds, greens, and yellows, all that blended together quite well. And the soup — so good. The roasted veggies added a nice texture to it, and the pork was cooked perfectly. I was a little disappointed about one things though. The menu made no mention of it having cheese on top, yet it arrived with it. That was a little frustrating, considering my no-dairy product kick, but there wasn't a lot, so I was able to avoid it for the most part. Beyond that though, I was very pleased. It was so filling though — I actually took most of it home. By most it she means at least 70% of it which she enjoyed later that night. If we were to come back, we definitely would be sharing!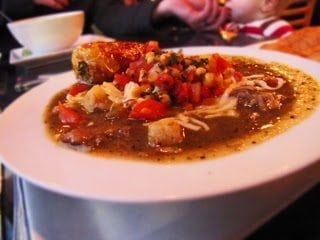 Green Chile at Black Sheep Cafe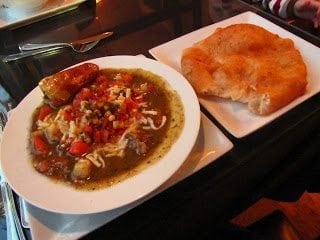 Green chile and fry bread
The posole was excellent. The traditional cilantro and radish was the garnish. The broth was not over spicy, but definitely spicy. My favorite part of the dish was the meat. It was delicious and there was lots of it. I'm not sure how they cooked it, but is was very savory. Someone took the time to cook the meat over a fire or something like that. It may not be the way a Mexican would traditionally make it, but it might be the best posole I've ever had.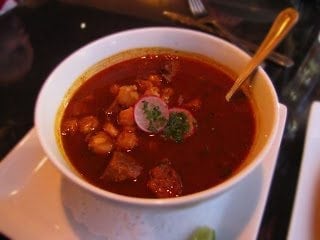 Posole at Black Sheep Cafe
We considered getting a dessert, and our waitress listed them all of. They don't have an actual dessert menu that you can look at, so it was hard to remember everything she said. Unfortunately, most of them had dairy in them, so we had to pass, but they sounded amazing. Especially the habenero creme brulee. Maybe when I am able to eat dairy again, I'll go back just for that.
Overall, I highly recommend this restaurant. Just stepping in there made us feel like we weren't living in a college town anymore. It is sophisticated and classy, and delivers amazing flavors. They were very kid friendly, which is always a plus for us. They have tons of options, so I think anyone could find something to enjoy here. So if you are in the Utah County area, definitely take a trip to the Black Sheep Cafe, you won't regret it (and, if you are on a tighter budget, consider going at lunch time or sharing a meal. It's a little less expensive at lunch, and meals are definitely shareable!)
Overall Ratings:
Price: 3 out of 5 – It's not cheap, but it's definitely not as expensive as some places. You definitely get what you pay for.
Quality of Food: 5 out of 5. There was nothing lacking, plenty of food, and even more flavor.
Overall Restaurant Appearance: 4 out of 5. Forrest felt like the floor was a little bit too casual.
Service: 4 out of 5. It did take awhile, and when the place got busier, it wasn't as personal. But our waters were always filled, and the staff was very friendly!
Kid Friendliness: 5 out of 5. I was very impressed, especially because it was a fancier restaurant. They warned us when plates were hot so we could make sure Jack didn't touch it. They were aware of him, without being unprofessional.
Location: 3 out of 5. It's close to us, but it's unfortunate that there isn't more parking. We were able to park close though, so that was okay. The road is pretty busy though and hard to pull out of.