Before we went on our first cruise, I read tons of blog posts.
I felt pretty well prepared to have a great time, but afterward, there were a few things I wish I had known (or prepared better for).
After seeing how many people have enjoyed our post about what I wish I brought on our cruise, I thought it was worth writing a post about what I wish I knew.
Because I know everyone has different experiences, I thought it would be interesting to bring in the insights of our friends and family as well.
If you have been on a cruise, I would LOVE to hear your thoughts as well.
You'll spend more than you think you will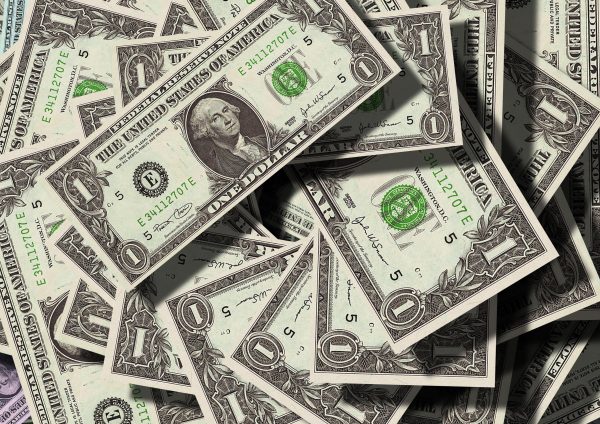 "The whole nickel and dining of fees. I want to pay for everything upfront and be done."

Adrian
The number one thing people said was that they ended up spending more on the ship than they thought they would.
I agree with this 100%. We went on the ship feeling excited that it was "all-inclusive", and that we wouldn't end up spending anything else.
Yeah. Right.
It's possible not to spend anything else – but it's really hard. There are temptations at every corner, and there are so many extras.
There are a lot of free things you can do, and all the standard dining places are included – but just be aware that unless you are really mindful of what you are spending, it will all add up fast.
Hidden Costs – Know What's Included – and There's Always a Catch
I haven't been on a cruise but I have been to all inclusive, so I would be checking to know everything that is included and what the extras are.-

Amber Simmons
This goes along the lines of spending more than you thought – but just be prepared to know what is included and what will be an added cost.
For instance, your meals are included. But if you want drinks beyond water or lemonade, you'll have to pay for that. They have nicer restaurants that come at a premium.
Many of the events have some kind of added fee in order to attend. And even when it is "free", there's almost always some kind of upsell – and the people doing the upsell are INTENSE. In my experience, they seem to get offended when you don't buy what they are selling. I was pressured into signing up for a facial, which I immediately regretted and went back and used the husband card (that I had to talk to him before spending any money).
They try and lure you in by telling you that you "won" something. For instance, we went to some art gallery tour, and Forrest ended up "winning" a $200 credit for the art auction. But there were so many catches involved in it, and $200 toward the "qualifying" art pieces would have put us out at least a couple hundred dollars. I've heard a lot of bad things about art auctions on cruises, so I would recommend just staying away.
Tips
When you get your statement at the end of the cruise and have to settle before getting off, check and see if they added the gratuity. Most times they automatically add it to your total and you are absolutely allowed to go to the desk and have them remove it. We always do this and leave cash for our housekeepers and other people who did an exceptional job.

Megan
I had no idea that tipping is not only required, but has to be paid UP FRONT.
What happens if you hate the service???

Bec
I think tips on cruises are one of the most hotly debated and controversial topics.
Many people don't realize that tips are automatically added to your bill. Sometimes cruise lines will allow you to pay these up front, and occasionally there will even be a promotion where the tips will be paid just for booking!
However, most of the time, you'll get a bill at the end of the cruise telling you how much of a tip was added to your bill per person.
In general, they will automatically add around $15 per person, per day. You CAN go to customer service to adjust these, but again, that can be controversial 🙂
I know some people who just get a bunch of dollar bills before their cruise and hand those out to people they interact with. I like this idea, but I guess you don't necessarily see all the people who may benefit from a tip otherwise (like kitchen staff).
I know a lot of people like to give an extra tip to their room staff.
There are things that you still have to tip on on top of the added tipping – if you do anything in the spa, get alcohol, etc., you will be expected to tip.
Excursions definitely expect you to tip – they will often say something like, "Now we will collect your tips", and you'll need to have cash.
Do you HAVE to tip? No. You won't be held hostage or told you can't get off the ship. However, they are very much expected, and for the most people, the cruise and excursion staff work really hard and do deserve some kind of tip.
Rooms are small and dark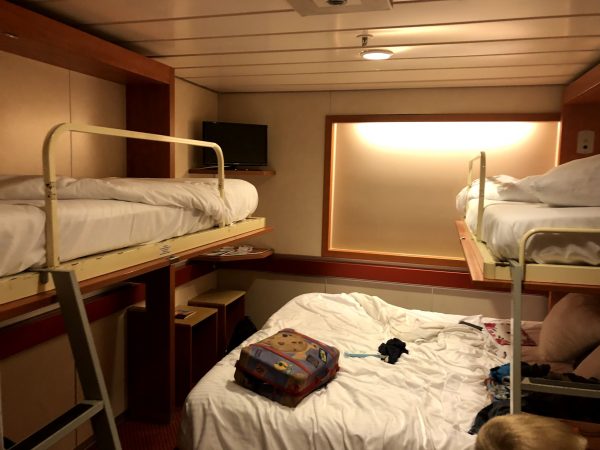 "That your cabin would be a tiny dark hole and with no windows so you have to have an alarm otherwise you'll be sleeping the cruise away thinking it's still dark out.

Megan
Obviously, the experience above happens when you get an interior room – and there are rooms that do have more light. But if you aren't totally aware of what an interior room is like…it can be shocking.
We chose an interior room because it was cheaper. I had an idea that it would be dark…but it really was dark. As Megan said, you could easily sleep forever thinking it was still nighttime, because there is literally NO light.
I would suggest bringing a nightlight, especially for when you get up in the night. Definitely plan on setting an alarm.
Even if you are in an exterior room, the rooms typically aren't huge. You can get suites, which are larger, but they do come at a premium. I would keep an eye open for a cruise promotion where they will upgrade your room for free. They aren't always available, but it may help you have a bigger and lighter room.
The ship isn't that huge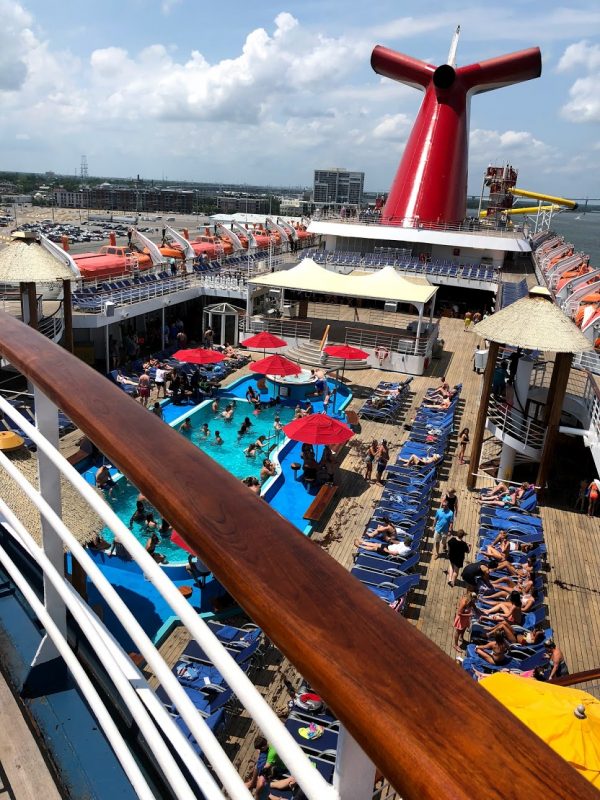 The ship is a bit small (if you're at sea for a few days you might get bored, esp if it's not swimming weather) and better for little kids. They repeat the same performances that we saw on the first cruise. So next time I'd go on Disney one. It was great for one cruise.
Cruise ships look huge – and they are big. But once you are on them, it seems a lot smaller. I felt a little overwhelmed at first because I had no idea where I was going, but I discovered quickly that it wasn't that hard to figure it out.
Andi f you do struggle to figure out where to go…there are always helpful people and even maps to guide you on your way!
Feeling like you're still on the boat
I got a little dizzy on our cruise but got use to it pretty quick. My problem actually came when we got off the ship. I was spinning for well over a month after. That part was not fun.

Elizabeth
This was something that happened after our cruise, and Forrest and I were NOT expecting it. We didn't get sea sick on the ship, but boy oh boy, we felt like we were walking on water for at least a week afterward.
Wear Shoes with Good Grip
I didn't feel like I was going to fall over most of the time we were on the ship, and I felt like I could walk pretty easily…but I did keep tripping because my shoes weren't the grippiest.
Plan excursions more closely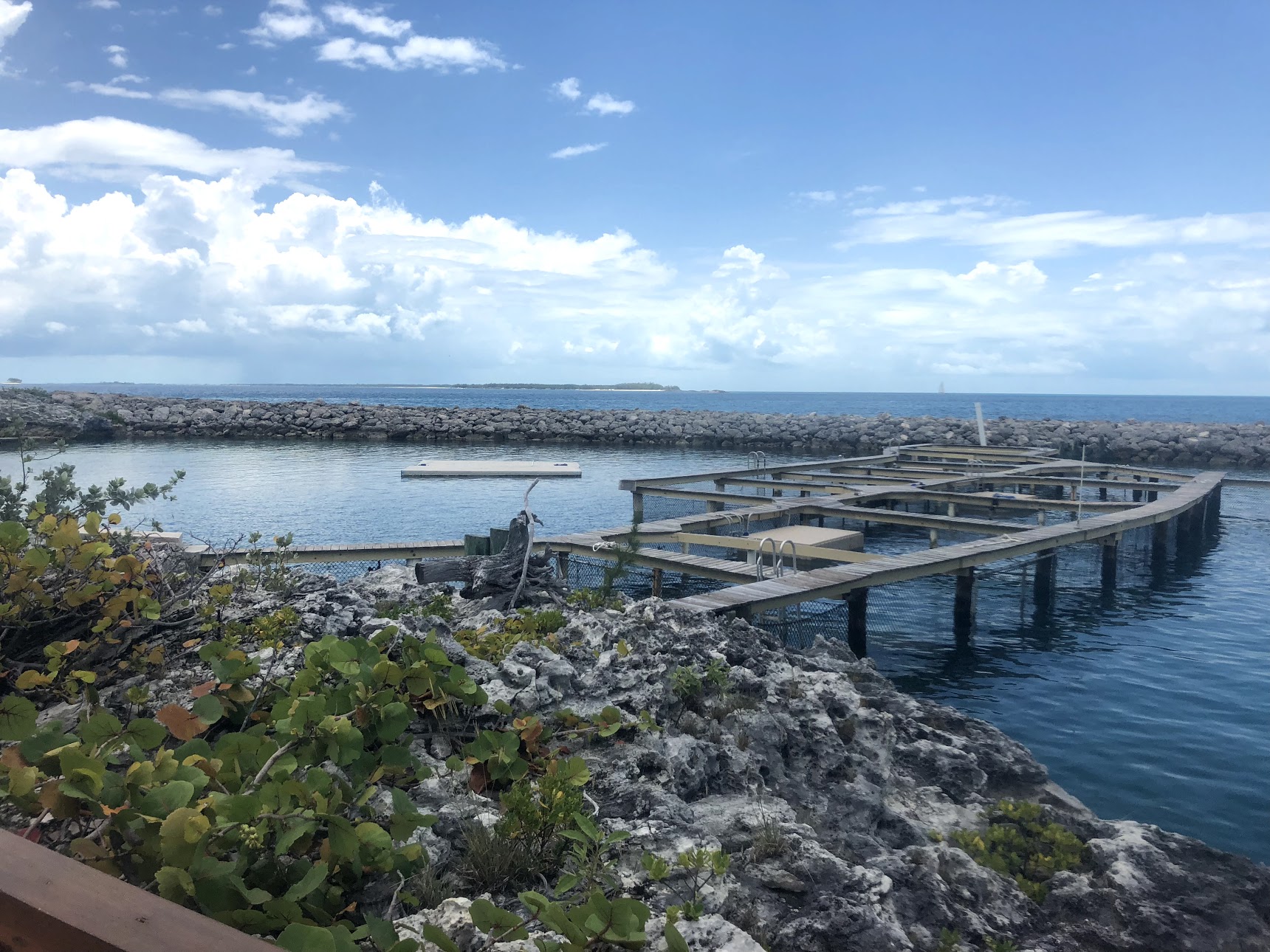 I'd do research and plan out my on shore activities better.

Will
Last, research shore excursions!! Both the ones you can schedule yourself and the cruise coordinated ones. If you're on a cruise coordinated excursion and get delayed they will hold the ship. If you are off on something you booked yourself, you are out of luck.

Tia
I totally agree with this. We actually didn't plan to do any excursions and didn't book any until we got on the ship. I'm so glad we did the one we did in Nassau, but I wish I'd planned it more carefully.
Read reviews, book early, and find something that you and your family will enjoy.
In most situations, booking through the cruise line is the safest bet, because they won't leave you behind if, for some reason, the excursion gets held up and doesn't get back in time for departure.
ShoreTrips is another good option, though, as they will pay to get you somewhere if you miss the ship by no fault of your own. They have a lot of great options.
Be Careful with "Kids Free"
So on the excursion, we went on, we didn't have to pay for Oliver because he was under four.
We assumed that since he was allowed to come free of charge, he would be allowed to eat with us as well.
Not so much. We went to eat, and they said we had to buy a meal ticket for him – which was $20! And, you guessed it – he hardly ate anything. They said he couldn't share with us either.
I saw afterward there was an alternative restaurant…which was still pricey, but way less than $20!
So even if something says your kids are free, just be aware that this may not include all the perks of paying to go.
Choose Room Location Wisely
Where your room is on the ship makes a difference.
We were on a lower floor right next to the engine, and it was LOUD. It was about the only room left when we booked, and we made it work. But I would not recommend getting a room there if you can help it 🙂
This is a good article on how to choose a cruise ship room.
Book Far in Advance
We booked our cruise just about a month or so before we went on our cruise, and there just weren't a ton of options left at that point.
A lot of the excursions were sold out, there were only a few rooms in poor locations (such as by the engine like we were), and not all of the dining options were available still.
Sometimes you can get killer deals for booking a room last-minute, but if you are planning your once-in-a-lifetime trip…try and book in advance. You can almost always find some kind of promotion for a cruise. Make sure you check out Get Away Today for the best and most current cruise promotions for the most popular lines.
Go over your bill
Go over your bill. We're still going the rounds with Disney. They said if you book the next cruise while you're still on one, you get 10% off. They said it would be a line item. But it looks like the regular price. It takes forever, like weeks to get a response and for them to research it.

Janet
This is just a smart idea for anything where you get an itemized bill – but especially on a cruise. There are so many places for things to get messed up.
Since the costs add up fast, just make sure you go over it carefully to make sure you aren't being overcharged at all.
There is an itinerary
On our first cruise, we were three days in before I realized that they put a schedule for the next day's activities on our bed each night. I missed the chocolate tasting party! 😭😭

Linda
There are so many happenings on the cruise, and it can be difficult to know exactly what! Fortunately, most cruise lines will provide you with an itinerary that tells you the descriptions, times, and any additional costs. They usually put this in your room each day.
On Carnival, they have a great mobile app that has all of the details as well. Although many of these events have some kind of hidden catch, there's a lot of fun things as well you won't want to miss.
We loved all the family events – there was a live game show, trivia, and more. There was a fun Dr. Seuss breakfast that was just $5 per person that was on the last day that we made sure to sign up for.
Know the Dining Options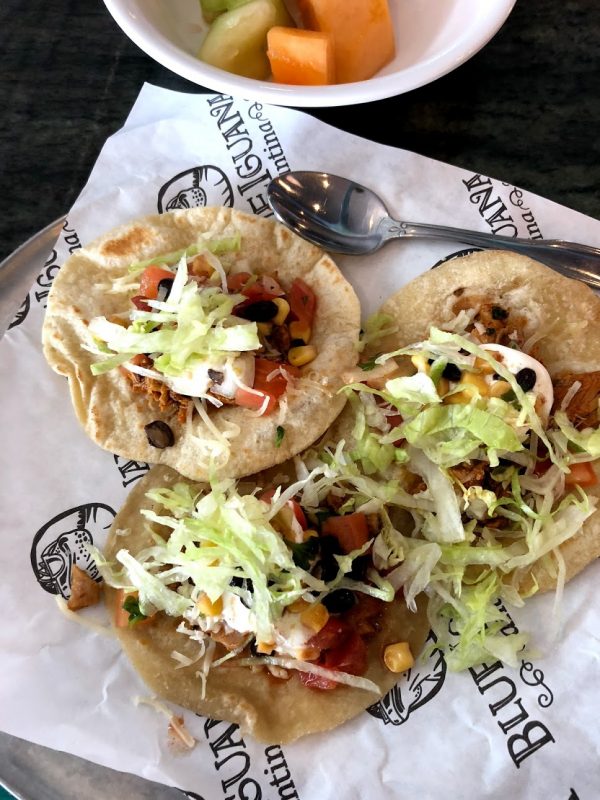 I liked dining together as a group every night with the same wait staff (who were incredible), the first time but now I want to eat on my timeframe and faster.
Sometimes I was too full to eat dinner at all but I'd end up eating anyway. Sometimes I'm not into being that social (there's a lot of interaction). You can get room service but the family wanted to eat together.
One good thing that surprised me (this was a Disney Cruise). Our server for meals stayed with us through the whole cruise. He was so great! We had included all our tips up front, but then ended up giving him more at the end. Then we ran into him again at the airport going home. It's been years and my kids still remember Frank!

Danielle
Food on a cruise is a BIG deal! So make sure you plan accordingly.
When we booked our cruise, we didn't have an option for dining – the only one left was the flexible dining time.
This ended up working well for us having little kids and not knowing their schedule.
The only downside was that we didn't get the same server every night – I know a lot of people really enjoy getting to know their server throughout the cruise.
Also be aware of all the dining options! There's formal dining, buffets, quick service restaurant, and even room service (which does have an additional tip).
I talk all about the dining options in this post – The Ultimate Guide to Carnival Cruise Food
Planning is Intense
Planning a cruise is a bit intense. Popular excursions fill up. But once you're on one, they're the most relaxing vacations. I always sleep so well because no stress, it's so dark at night and the ship gently rocks you. At least that was my experience, with 2 cruises.
Yes! This is so true. I was constantly checking the website to try and see if the "Faster to Fun" option came back in stock (and it finally did, and it was so worth it).
I felt like I had so many documents to fill out, and I kept not getting through everything. Trying to figure out exactly what we wanted to do was a bit stressful too.
But I also agree that it was one of the most relaxing vacations I've ever been on. It's so fun and everything is right there. It was worth the planning (and thankfully, Get Away Today helped A LOT with the harder parts!).
Have a Carry On with Essentials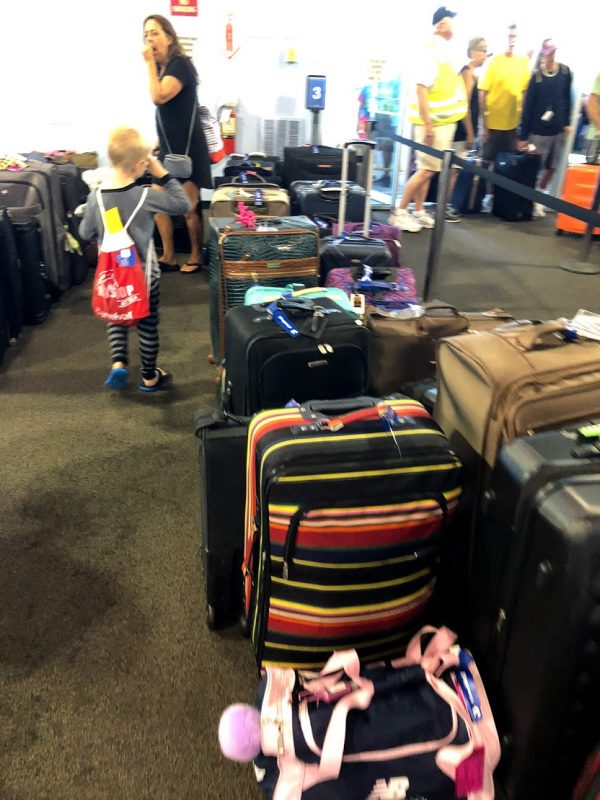 The whole "you don't have your luggage the last day" thing! We carried our pajamas and toiletries off in a plastic bag I scrounged up somewhere the first time we went on a cruise 🤦🏼‍♀️

Nicole
Also, bring enough cash for fun and for end of cruise tipping. You can also carry your luggage onto the ship which may be slightly annoying at first, but then you aren't waiting forever for it to show up outside your stateroom.

Amber
Not much more to add to this, but I agree!
Food Accommodations Can Be Hard
I wrote a whole post about my difficulties with getting a GF meal and learned a lot about traveling with special food requests. Wish I knew it all before I cruised.

Jenny
Because our family doesn't have food restrictions, we didn't have this problem – but I know it's a real issue for so many. If you have allergies or other food restrictions (especially gluten free), be sure to read this gluten-free cruise survival guide that Jenny wrote.
It's really important to know what to expect before you get on the cruise so you can properly advocate yourself and enjoy the cruise food just as much as anyone else!
Walkie Talkies
One thing that another group did on the cruise I went on was have walkie talkies since you can't use your phone unless you have an international plan. It would have made coordinating a big group a LOT easier.

Leah
Because you generally can't use your phone on a cruise ship to call other people, it can be tricky to get in touch with one another.
On Carnival, you can pay $5 per device to use their messaging system. We found it to be pretty glitchy and half the time we couldn't get in touch with one another.
You could also use a messenger account (like Facebook) if you choose to pay for the Internet. Internet plans will vary depending on the cruise line. I believe Carnival had a plan that was just for social media.
I've heard a lot of people have had good success with using walkie talkies to stay in touch with one another.
I really liked this advice from my friend Megan:
We have brought little magnetic white boards for our doors so we can put where we were going and what time we left on it so our party would know where they could find us.

Megan
Buy Extras Ahead of Time
There are all sorts of extras you can buy on the ship – such as drink packages, excursions, Internet, spa packages etc.
The majority of the time, you can get these for cheaper if you book before the trip. To avoid falling into the trap of spending more on ship than you intended, try and determine what your priorities are, and if you can pre-book it…then do it!
The one exception is with the drink packages. You can't buy these at any point in the cruise, but I believe on most ships, if you wait until the second day, you can get a better deal.
Motion Sickness Doesn't Mean You Should Go
I've never been and I've always been REALLY nervous that I'd be too motion sick to enjoy it. I get motion sick on planes and even in the back seat of the car sometimes.

Brittany
I also get motion sickness from backseats and flying. I just tried sea bands on my most recent trip and they helped SO much. I bought them for $9 at Target. They might be cheaper on Amazon, but I didn't check since it was a last minute purchase.

Amber
My sister gets horrible motion sickness and does fine on cruises wth the prescription patch.

April
I'll admit, I was really worried about getting seasick on the ship. I tend to get motion sickness pretty easily, and I feel like my inner ear often gets off me off balance.
I know that this is the fear a lot of people have, and it's why they don't go on a cruise. I didn't get dizzy or seasick at all. We all wore sea bands, which, who knows if they actually worked. But none of us got sick.
Like my friend mentioned above, if you are worried, you can get a prescription seasickness patch. I saw lots of people with these!
Use the childcare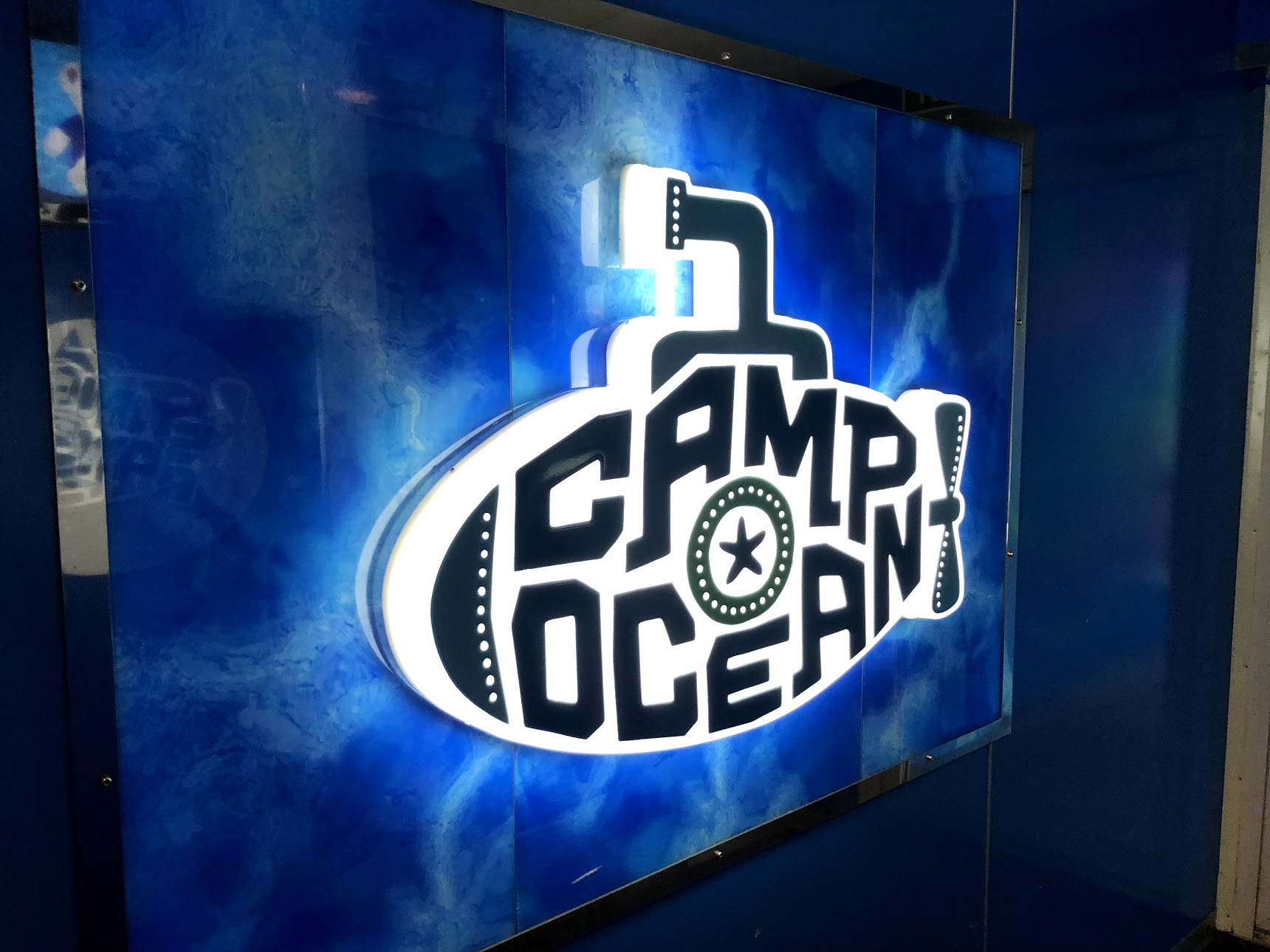 We went on Carnival cruise line because the included childcare was for two and up. Most other cruise lines were three and up, or else you had to pay extra.
However, we didn't end up using it very much, and it in hindsight, that was a mistake. I loved having my kids with us, and we had a good time – but I think they would have enjoyed the cruise more if we had dropped them off there a little bit more.
We took them on the last day, and they had SO much fun. Carnival really does an awesome job with their childcare and activities, and it makes the cruising experience more fun for the kids. It would have been nice to take advantage of this and maybe do some things on the ship the kids would have found less fun.
Be sure to read this post all about cruising with little kids.
Consider the Ship as Much as the Line
Consider the ship itself as much as you consider the cruise line. There is a wide variety of activities and shows across ships from the same cruise line. Pick the features that appeal to you. Also, there are cruise lines (NCL) that allow you to eat at whatever time you want. No assigned time and table. I loved that flexibility.

Tia
Yep – this is very true! Be sure to read this post about how to choose a cruise itinerary to help you with this decision.
Anti-Diarrheal and Other Meds
Bring anti-diarrheal meds just in case of norovirus. (No joke.)

Amber
Fortunately, we didn't experience any stomach viruses on the cruise, but it's not uncommon. That's actually a big thing I read about before we went on the cruise.
It's very easy for illnesses to spread in such a closed space like a cruise. So make sure you bring medicine in case the worse were to happen (and not just for the norovirus. Any illness – because, believe me, medicine on the cruise ship will cost a whole lot more!).
Bring hand sanitizer to carry with you everywhere. There are so many germs lurking around!
Book with Get Away Today
Okay, this isn't something I wish I knew, because I DID book our cruise with Get Away Today. But I just have to give them a shout out, because they made our semi-last minute planning so much easier.
They helped us through every step of the way, and it was a wonderful experience in the end. You can check out all their current deals by going through this link. I do recommend calling if it's your first cruise, though. Make sure you tell them Clarks Condensed sent you!
Other Cruise Posts You May Enjoy: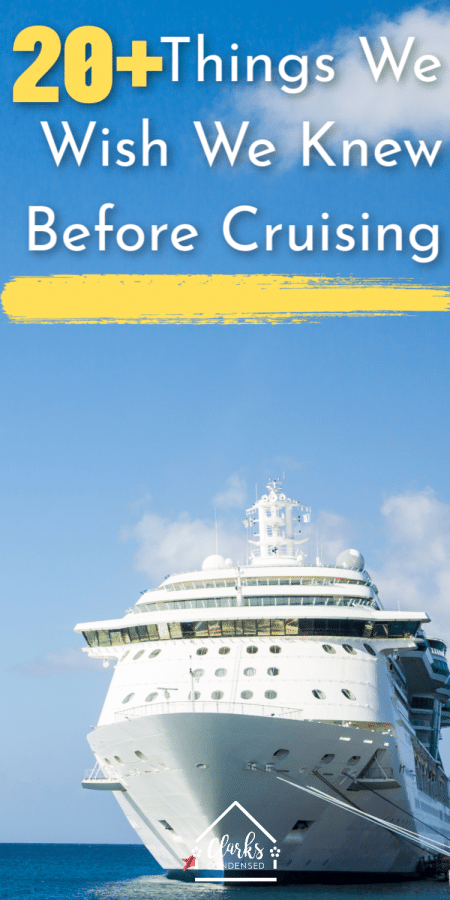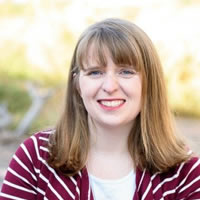 Katie is a Colorado-native, BYU graduated, and most importantly, wife to one and mother to three beautiful boys. She is passionate about sharing her experiences with others – especially about pregnancy, breastfeeding, cooking, and crafts. She is an International Board Certified Lactation Consultant. She loves spending time with her family and helping others find joy in family life.