The Cricut Mystery Box…so…what exactly is it? And how can you get one? Does Cricut even still do a mystery box? This post answers all those questions and more!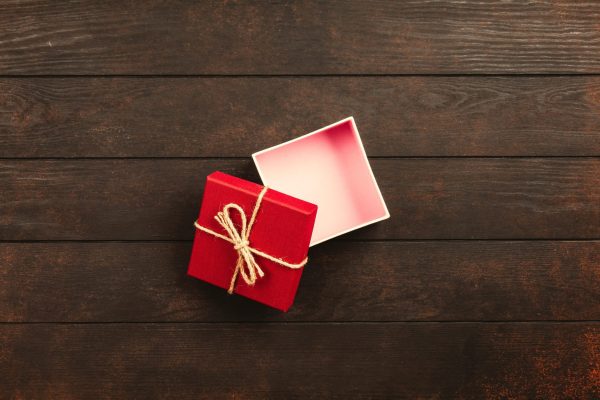 Cricut Mystery Box 2019 Details
People will occasionally share in our Cricut Support Group photos of what they've received in their recently purchased Mystery Box.
Without a doubt, the first comment is always something along the lines of, "What is this", "How can I get one", or "Where can I buy this?"
I have been involved with sharing Cricut Mystery Boxes for quite some time now, so sometimes I forget that this can be a foreign concept to a lot of people.
I remember wondering those things myself at one point early on in my Cricutting journey.
So today, this post is going to be all about the Cricut Mystery Box so you can decide if it's something you want to keep your eyes open for!
What is the Cricut Mystery Box
It is so fun! A Cricut Mystery Box is filled with an assortment of items (typically related in some way), that are being given to you at a discounted rate. 
People love these boxes because they will get materials at often 1/3 the cost they normally would, and it pushes them to be even more creative with their new items.
I've seen everything from blades and mats and tools to fabric and vinyl and cardstock. You just never know what they might release!
Where Can I Buy a Cricut Mystery Box?
When they are available, you can purchase a Cricut Mystery Box from their Mystery Box page! These are available for a limited period of time, so there won't always be one there available to purchase.
How Much does the Cricut Mystery Box cost
This varies, but you can typically get a Cricut Mystery Box for between $29.99 and $39.99. 
If you can get your order over $50, you can get an additional 10% off AND free shipping using the code CLARK10. I really recommend doing what you can to get there, because otherwise, the shipping is kind of pricey and you might end up spending over $50 ANYWAYS.
What comes in a Cricut Mystery Box
It just depends on the month. We are able to let you know what's in the box as soon as it's released (we do this through our email list or through our Cricut Support Group – you can sign up for our Cricut emails below).
The value of the contents always exceed the cost of the box – and it's usually around $100.
Sometimes Cricut will release a Digital Mystery Box – these contain a variety of images and fonts that you can use in Design Space. They are usually surrounding some kind of theme – like the holidays.
Here are some examples of what have been in recent mystery boxes:
Leprechaun Mystery Box
Designer Fabric Sampler – Sweet Prairie
Designer Fabric Sampler – Love Story
Deluxe Paper – Rapunzels Journal
Deluxe Paper – Princess Dreams
Glitter Gel Brights Pen Set
Everyday Iron On – 12×24 Raspberry
Everyday Iron on 12×24 – Red
March Madness Mystery Box
Premium Vinyl Summer Sampler – Permanent. 12×12 (6)
Premium Vinyl Stone Yellow – 12×48
Premium Vinyl Pastels Sampler 12×12 (6)
Premium Vinyl Parchment 12×48
Premium Vinyl Modern Value Pack 12×12 (20)
Premium Vinyl Mint 12×48
Valentine's Day Box
One Mat
Patterned Vinyl in Bloom Pink
Glitter Cardstock Sampler in Brights 12×12 – 10 sheets
Foil Sampler – Spring Meadow. 12×12 – 4 sheets
Premium Vinyl all occasions sampler 12×12 – 12 sheets
Extra Fine Point Basics Set
Designer Fabric Sampler Apricot and Persimmons
Premium vinyl Meadow Sampler 12×12 – 6 sheets
Christmas Mystery Box
Holographic Vinyl
Holographic Glitter Vinyl Set
Peacock Gel Pen Set
Two sets of Cricut Fabric
Rotary Blade Kit
How often are Cricut Mystery Boxes released?
Honestly, it is kind of random! The Mystery Boxes used to be released pretty consistently – even more than once a month. 
However, last year there was a huge gap (I think like six months), and there were only digital mystery boxes during that time period. But they have started releasing them consistently again.
With that said, there's no specific day that they are released. I used to get a box sent to me shortly before they were released, so I would have a few days notice. They stopped doing this, though, and I just get the contents of the box revealed to me via email as soon as it's released on the website.
How fast do they run out?
This really just depends, but most of the time, I see the boxes disappear within 24 hours – usually closer to about 12 hours. So if the box sounds like it has something you'd like in it – make sure you grab it. It won't be around for long.
When there is a digital mystery box, I don't see these selling out. I think pretty much everyone who wants one can get it.
What if I Don't Like What Comes in My Box?
If you get a box and you don't like what comes in it…well, you are out of luck. These are non-refundable – however, you could easily sell the materials!
This is why I recommend signing up for our email list so you get an email as soon as it's released and you can know exactly what is coming in the box.
Well, I think that just about covers it! Let me know if you have any other questions. You can sign up below for our Cricut eNewsletter so you can always get the release as soon as it's available.
And there you have it. Feel free to ask any questions you might have below.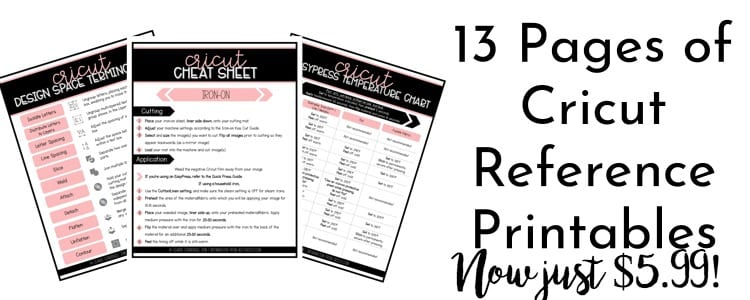 Don't forget to consider buying our Cricut Reference Printables! These are beautiful and perfect for any level of Cricutter. This bundle includes:
Cricut Term Glossary (2 pages)
Cricut Design Space Terminology and Examples (2 pages)
Cricut Blade Chart (3 pages)
EasyPress Temperature Chart and Tips (3 pages)
Cricut Cheat Sheets for Iron-on, Vinyl, and Print and Cut (3 pages)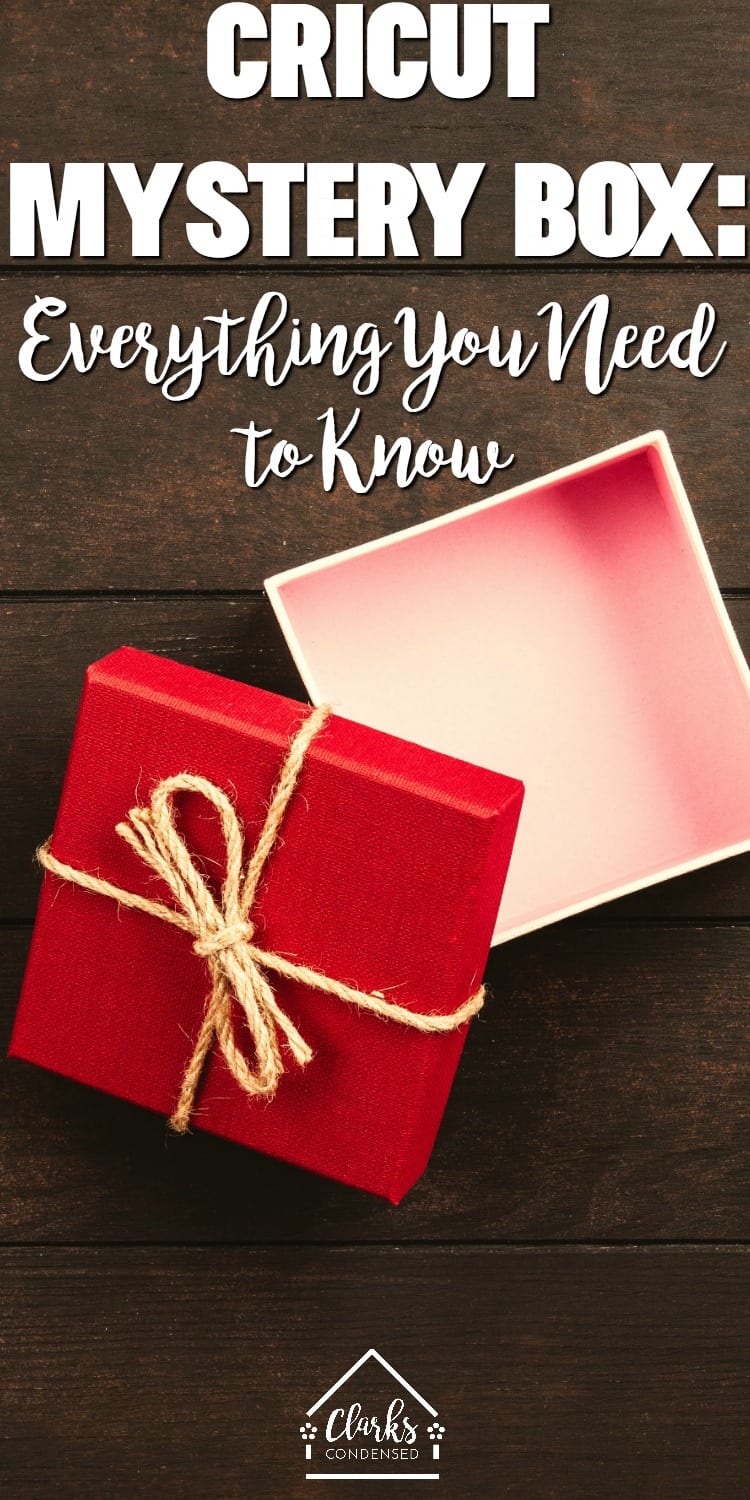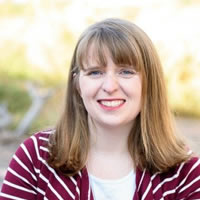 Katie is a Colorado-native, BYU graduated, and most importantly, wife to one and mother to three beautiful boys. She is passionate about sharing her experiences with others – especially about pregnancy, breastfeeding, cooking, and crafts. She is an International Board Certified Lactation Consultant. She loves spending time with her family and helping others find joy in family life.