This easy spinach dip has been a favorite in our family for years – and it only takes minutes to throw together. It's a cold spinach dip that's perfect for entertaining and everyone will be begging for the recipe!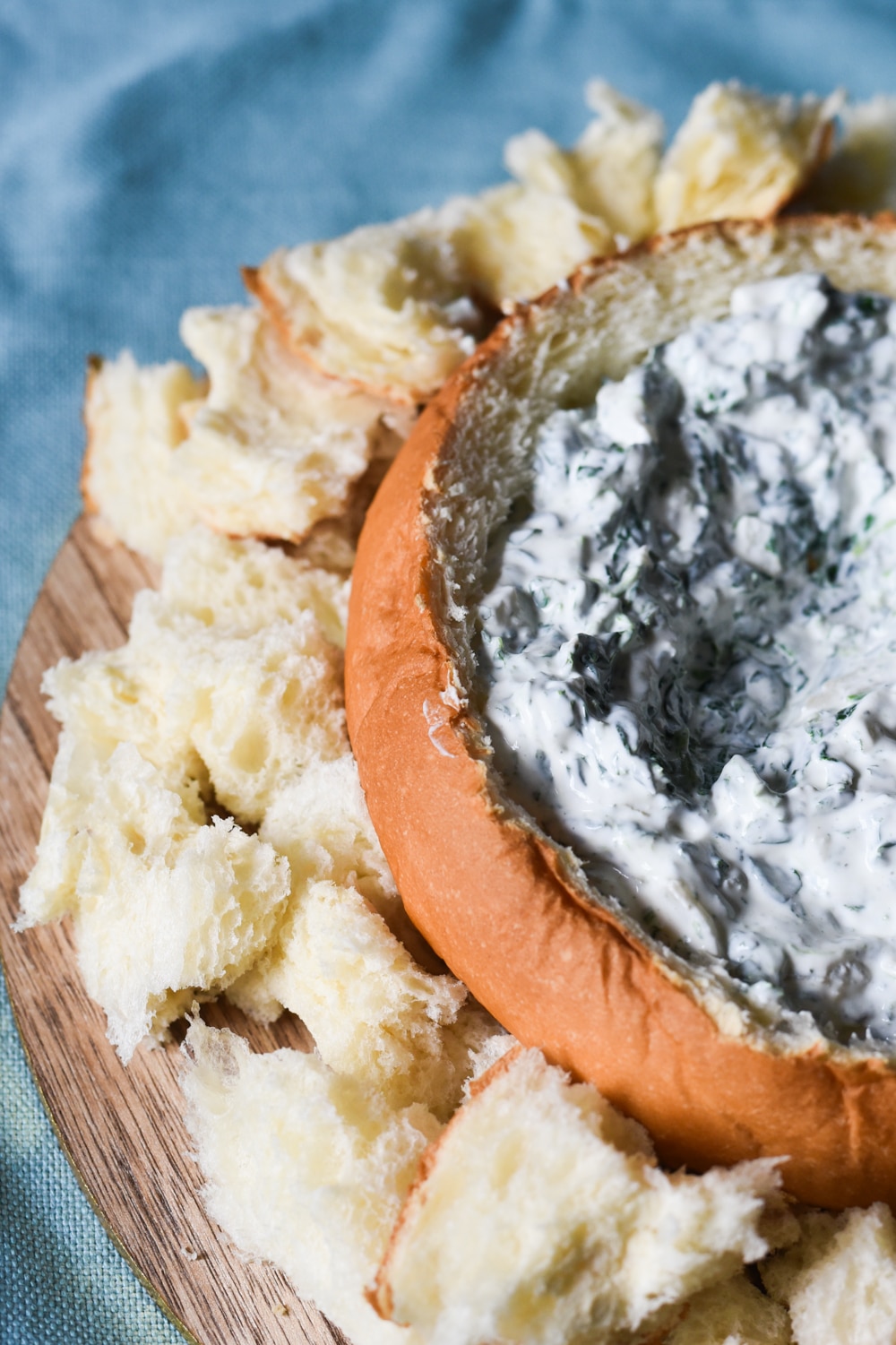 How to Make Ranch Spinach Dip
This post is sponsored by Hidden Valley Ranch but the content and opinions expressed here are my own.
It's been almost 19 years since my daughter Diana married her high school sweetheart and I became the mother-of-the-bride for the first time.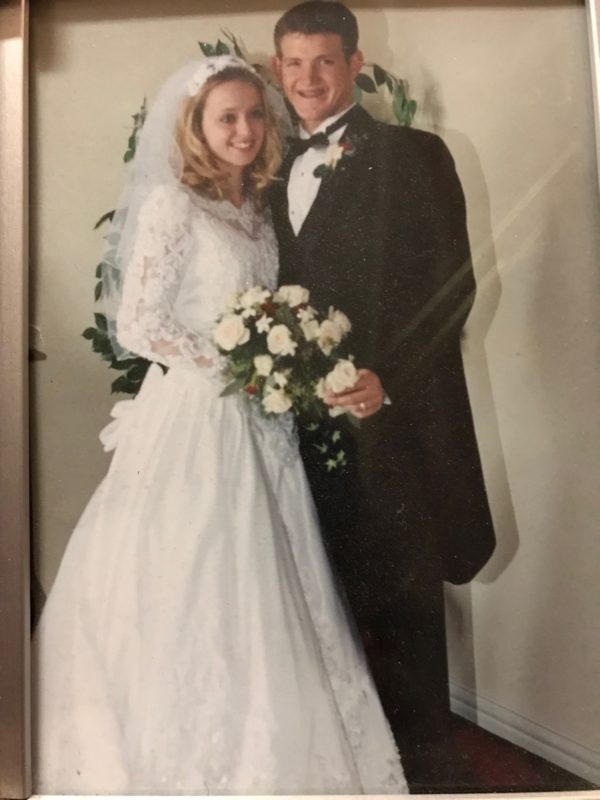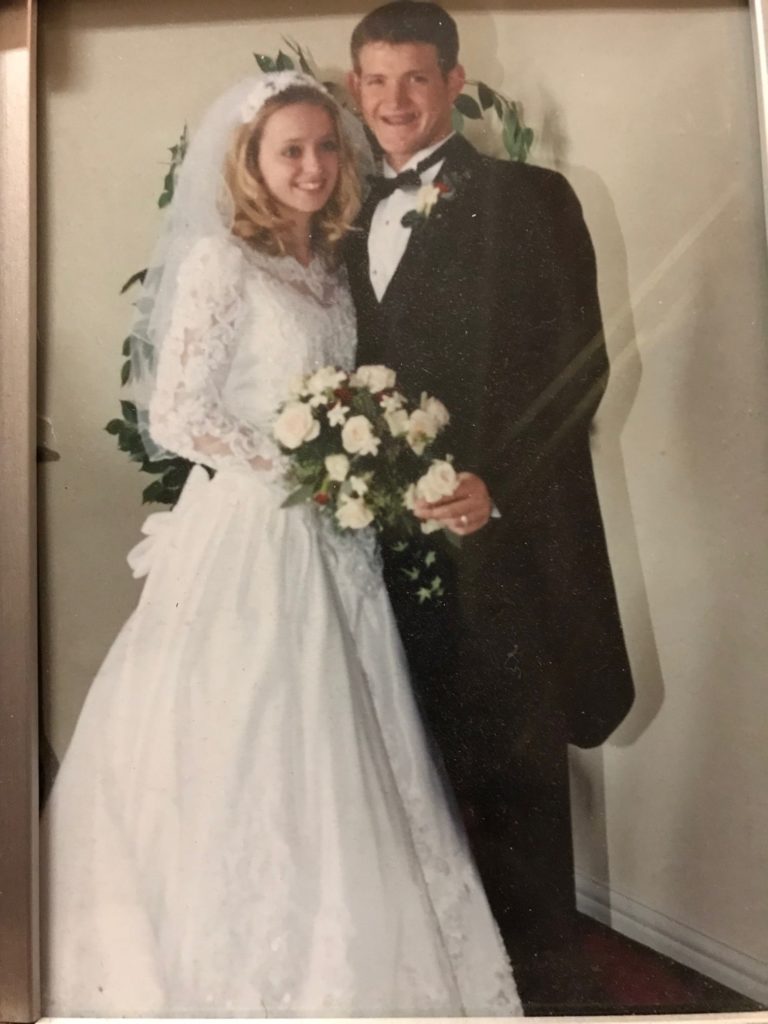 Although times and tastes have changed a lot since that November day in the fall of 2000, one of the dishes we served at the reception has remained a family favorite.
A spinach dip never goes out of style at our house.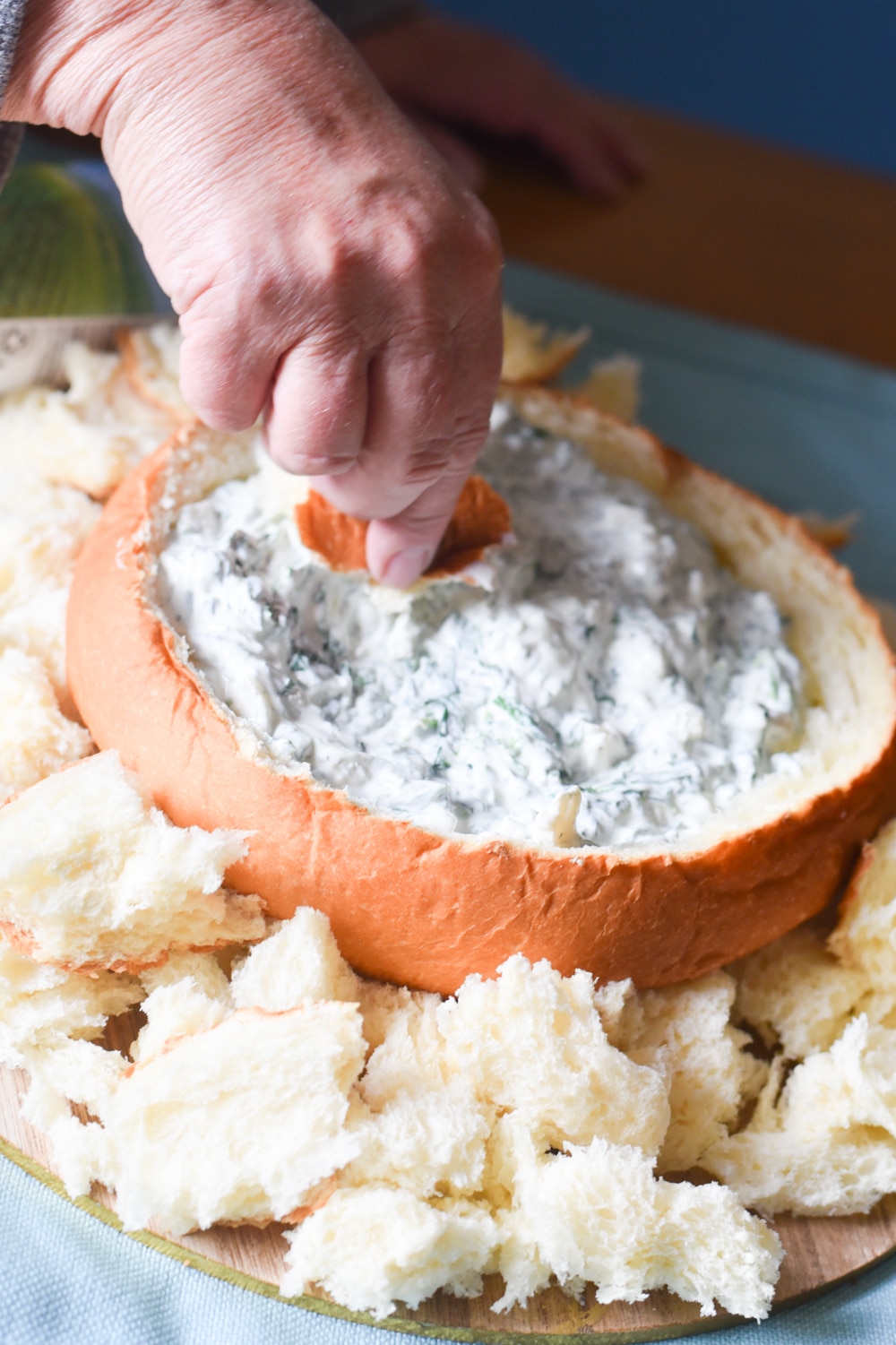 Although there are lots of ways to make a luscious homemade spinach dip, Hidden Valley Ranch recently introduced a new product that adds a little extra personality to this classic dish.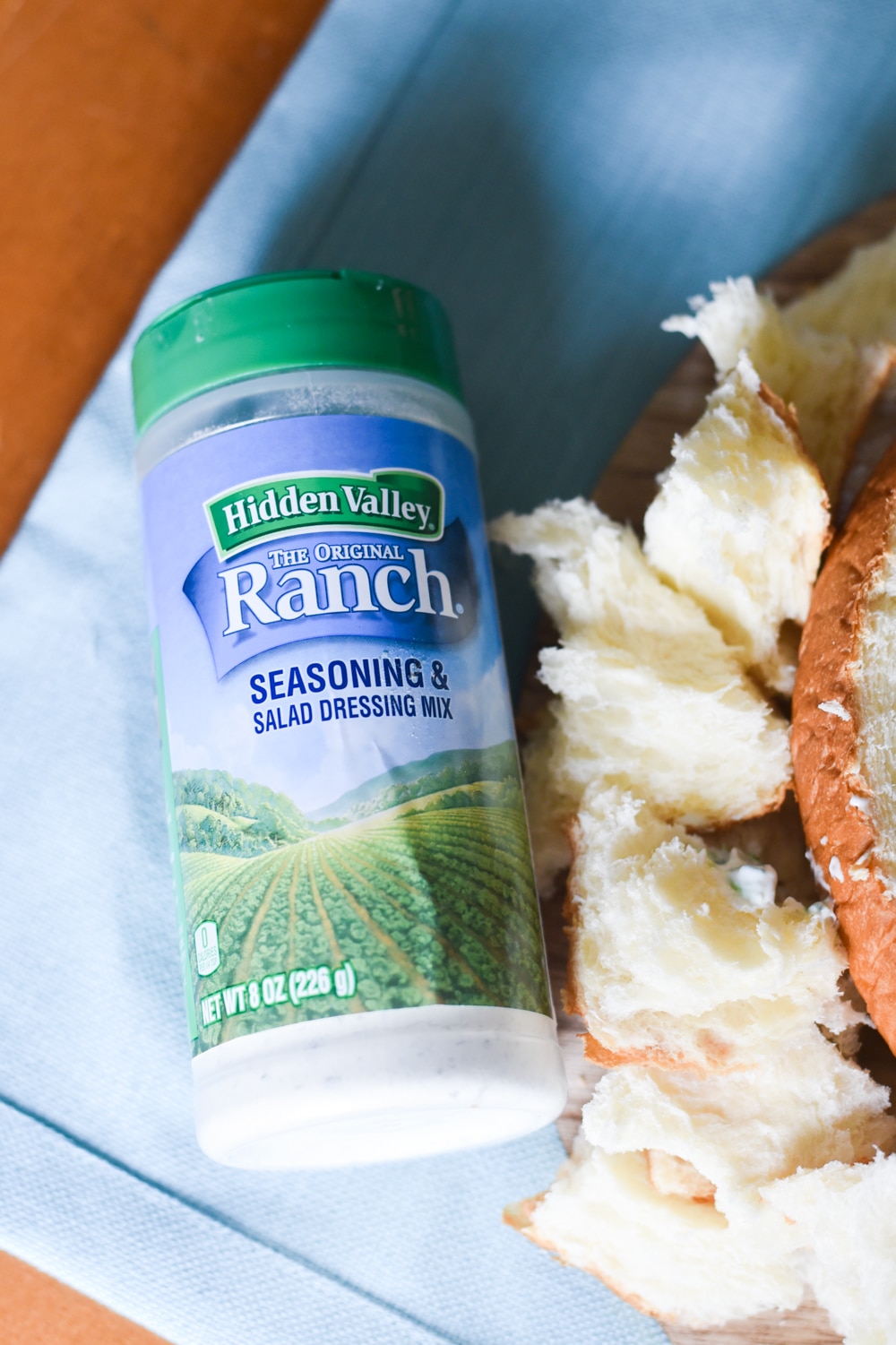 The Hidden Valley Ranch Seasoning Shaker allows you to season your dip to suit your own personal preferences. Add a little or a lot.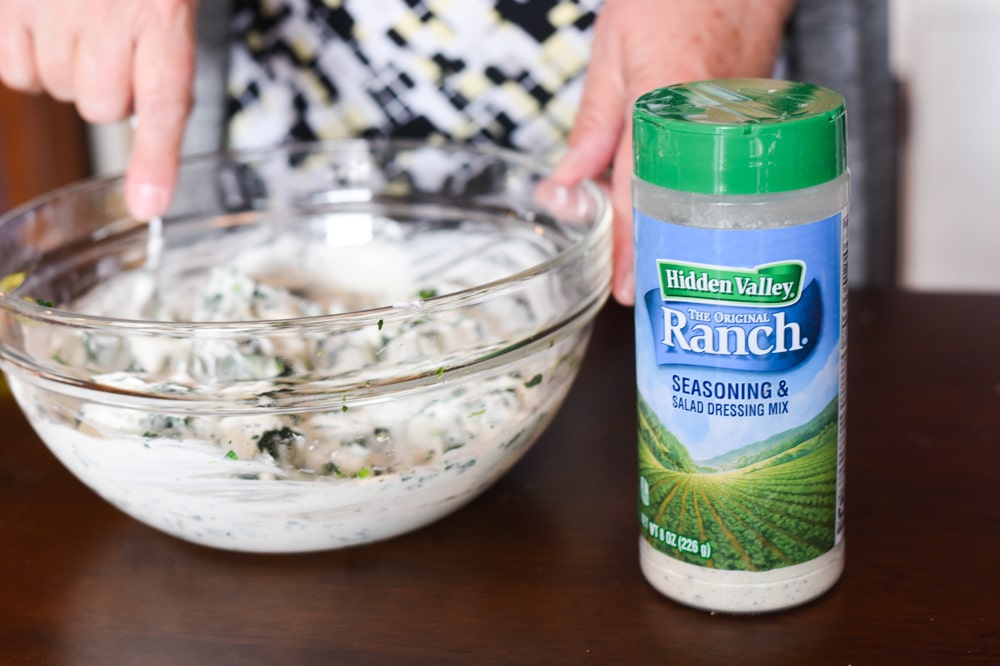 Hidden Valley Ranch Seasoning is packed with a delicious blend of herbs and spices which brings big, zesty flavor to amplify all types of foods.
I recently asked my granddaughter Phoebe, "What's Grammy's number one rule for cooking?"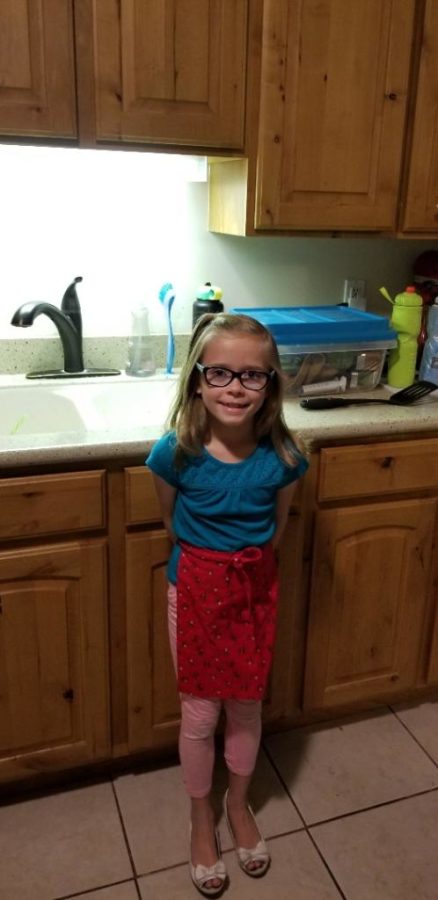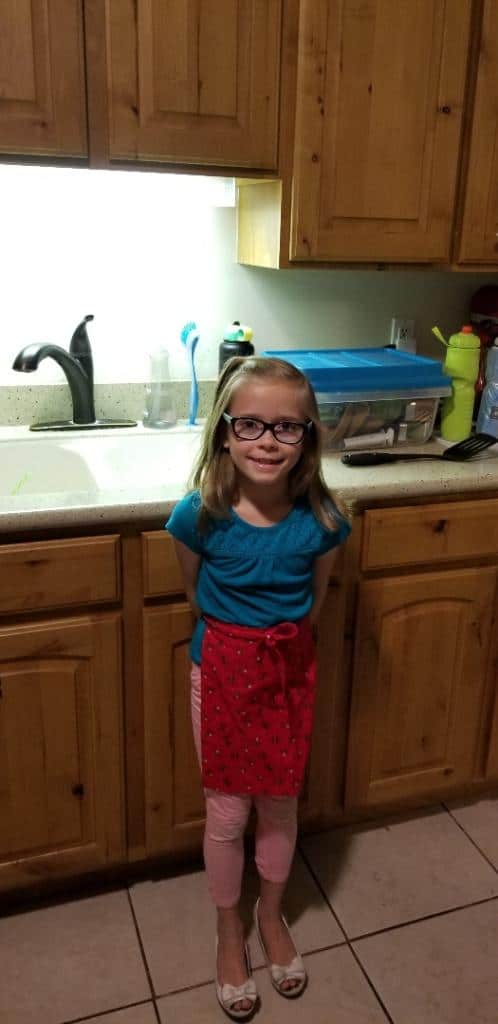 Phoebe immediately shouted "Wash your hands!" (Her mom has taught her well.)
Although my number one rule is actually clean up as you go along, I couldn't argue with her answer!
Another of my tips is to gather and prepare all the ingredients needed for the recipe before starting the actual assembly.
Homemade Spinach Dip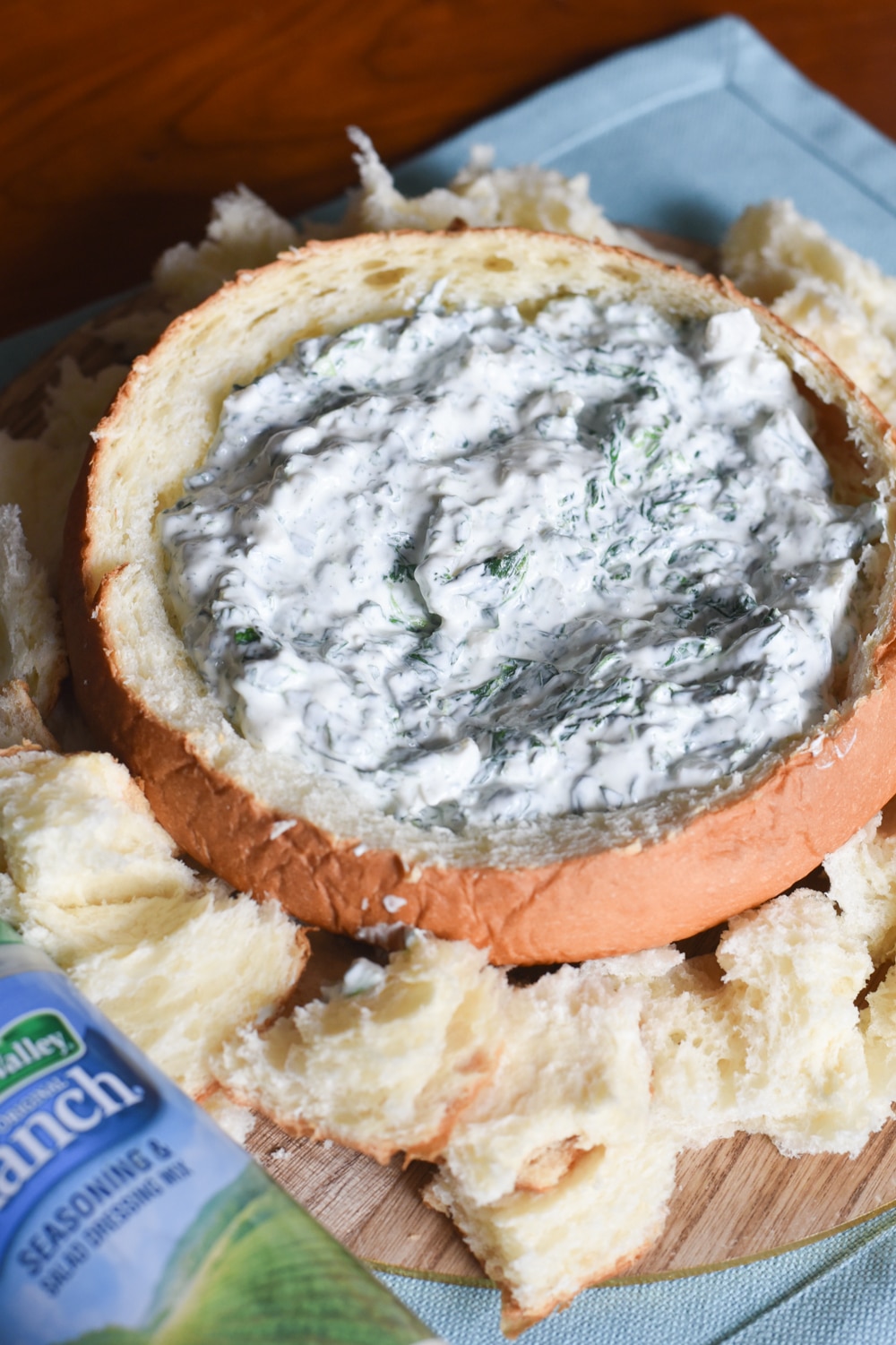 So for the spinach dip, I gathered the following items:
One 10-ounce bag of chopped frozen spinach which I had left out to thaw earlier in the day
16 ounces of sour cream
1 small can of water chestnuts, chopped, and well drained
1 large loaf of sheepherders bread
And the star of the dish– Hidden Valley Ranch Seasoning Shaker!
I find having all ingredients ready and waiting makes any recipe easier to prepare.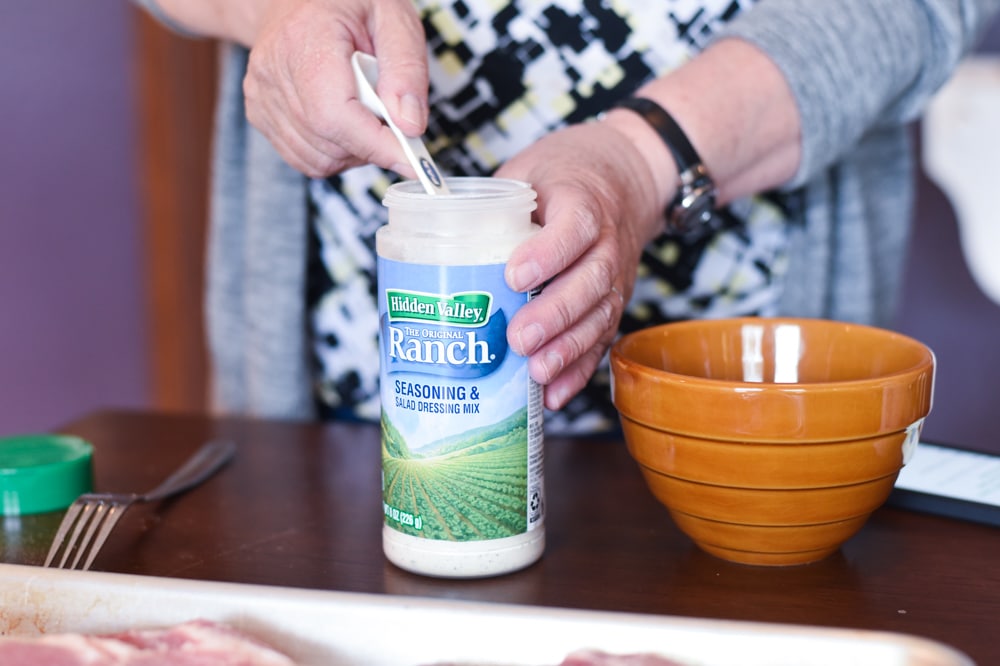 Once you have all the ingredients, preparing the spinach dip takes hardly any time at all.
Combine the sour cream and six heaping tablespoons of the seasoning mix. Taste it and continue adding additional seasoning mix until you have the flavor you want.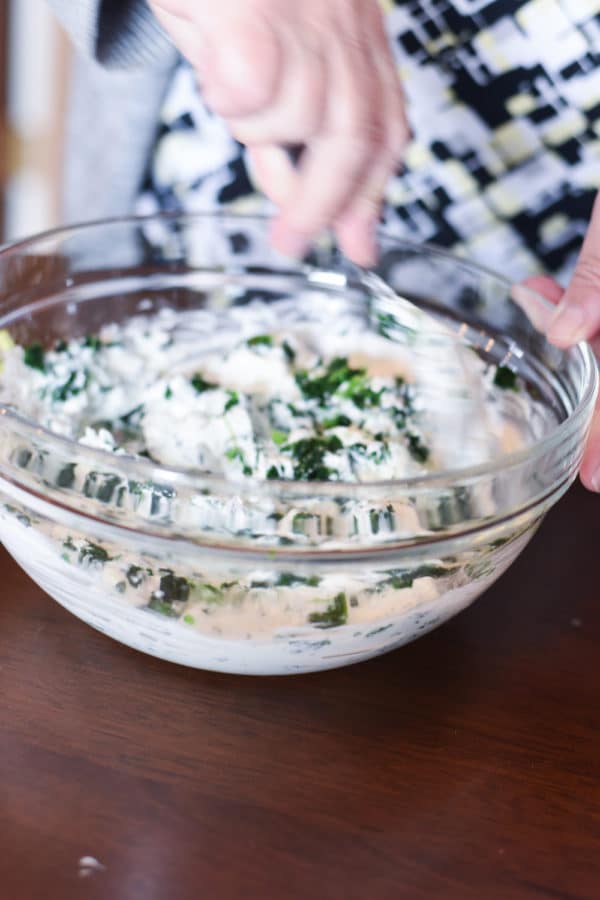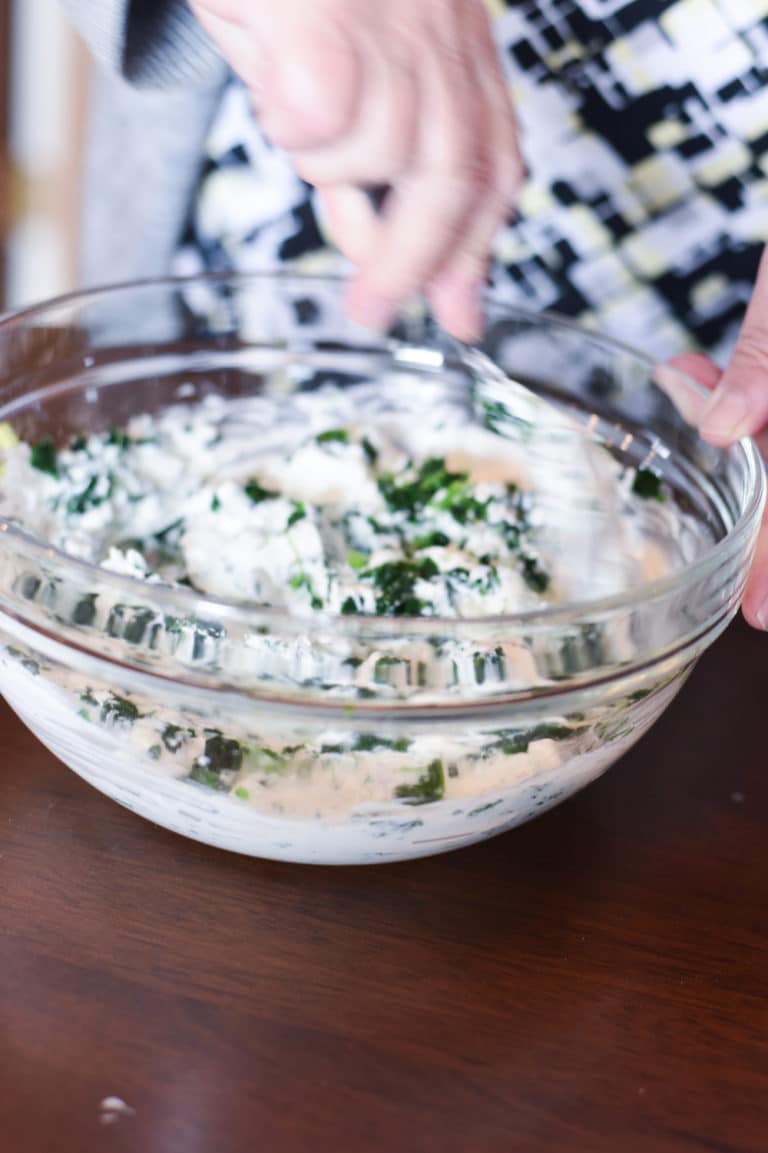 Fold in the spinach and water chestnuts. Then put the mixture in the fridge to chill for about an hour.
*disclaimer: I only left it in the fridge for ten minutes the first time I made this recipe and it still tasted great!
When ready to serve, place the bread on a large tray. Scoop out the center and fill with the dip. Toast the pieces of bread if you want and pile around the bread bowl. You can also include other dippers such as vegetable sticks and crackers.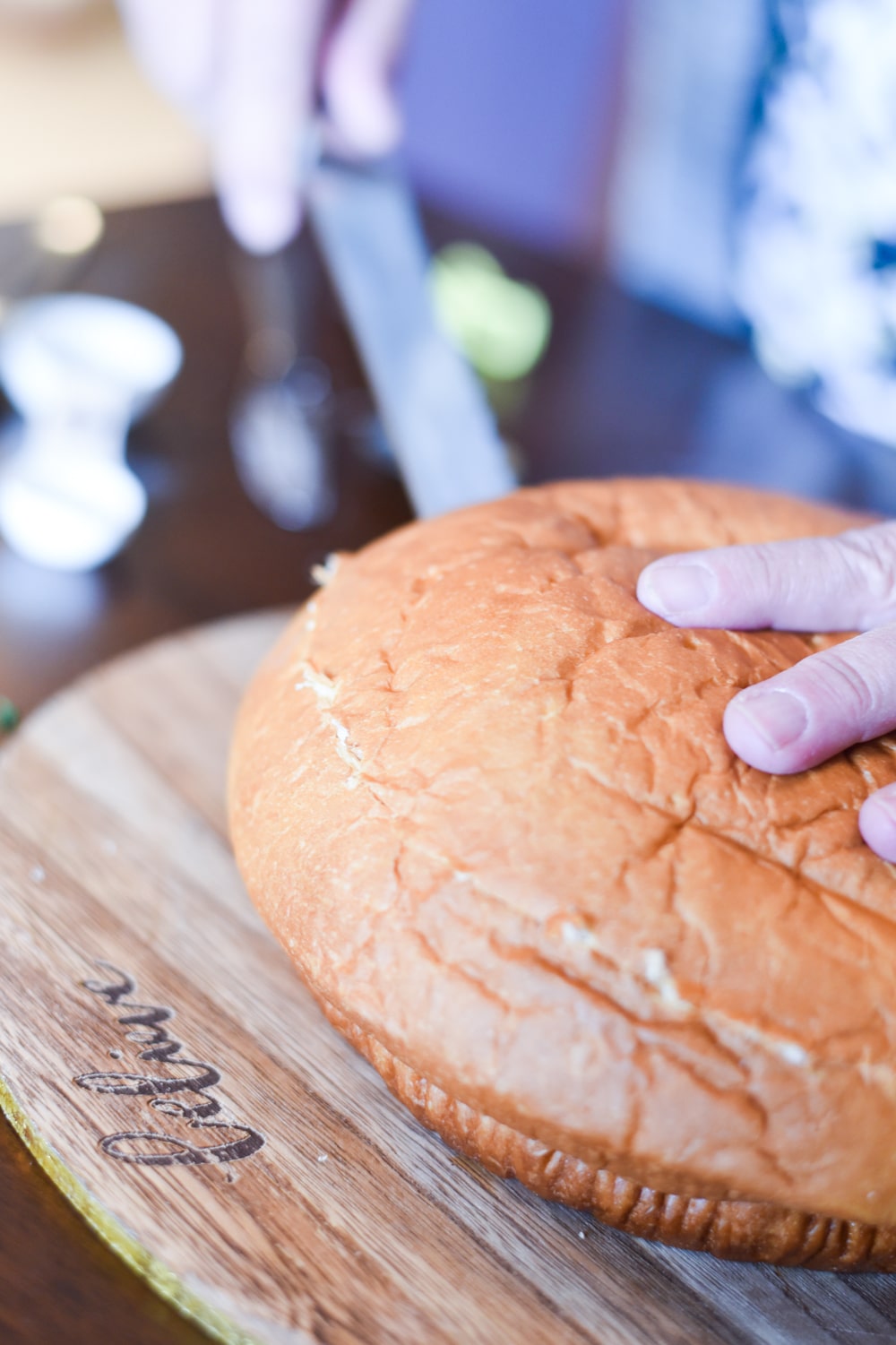 The Hidden Valley Ranch Shaker may also be used in lots of other recipes to add that much needed "yum" to any meal.
Visit the Hidden Valley Ranch website to find other recipes such as ranch seasoned popcorn, pepperoni pizza dip, Keto cauliflower cheese casserole, baked pork chops, buffalo wings, and other delicious chicken dishes.
Hidden Valley Ranch is sponsoring me to write this post but the opinions are my own.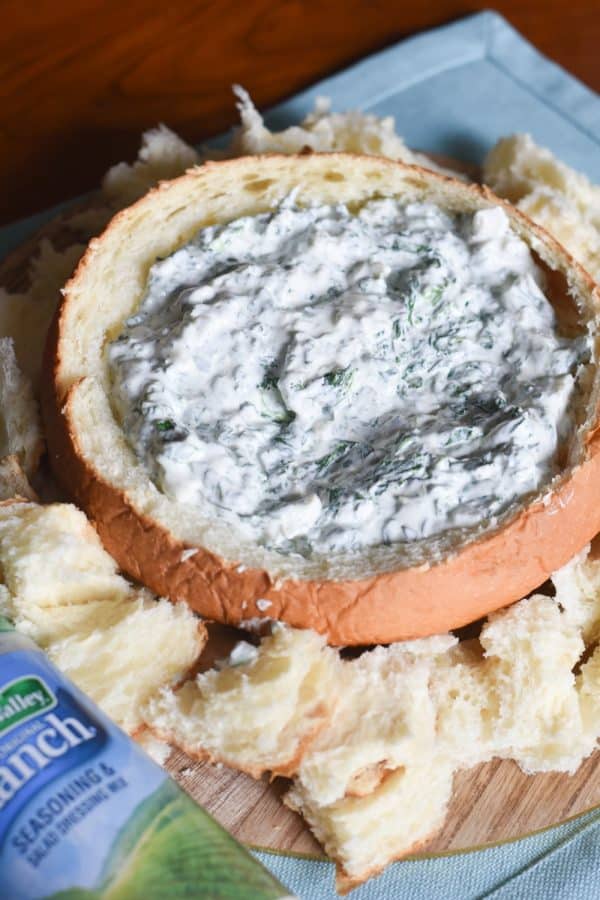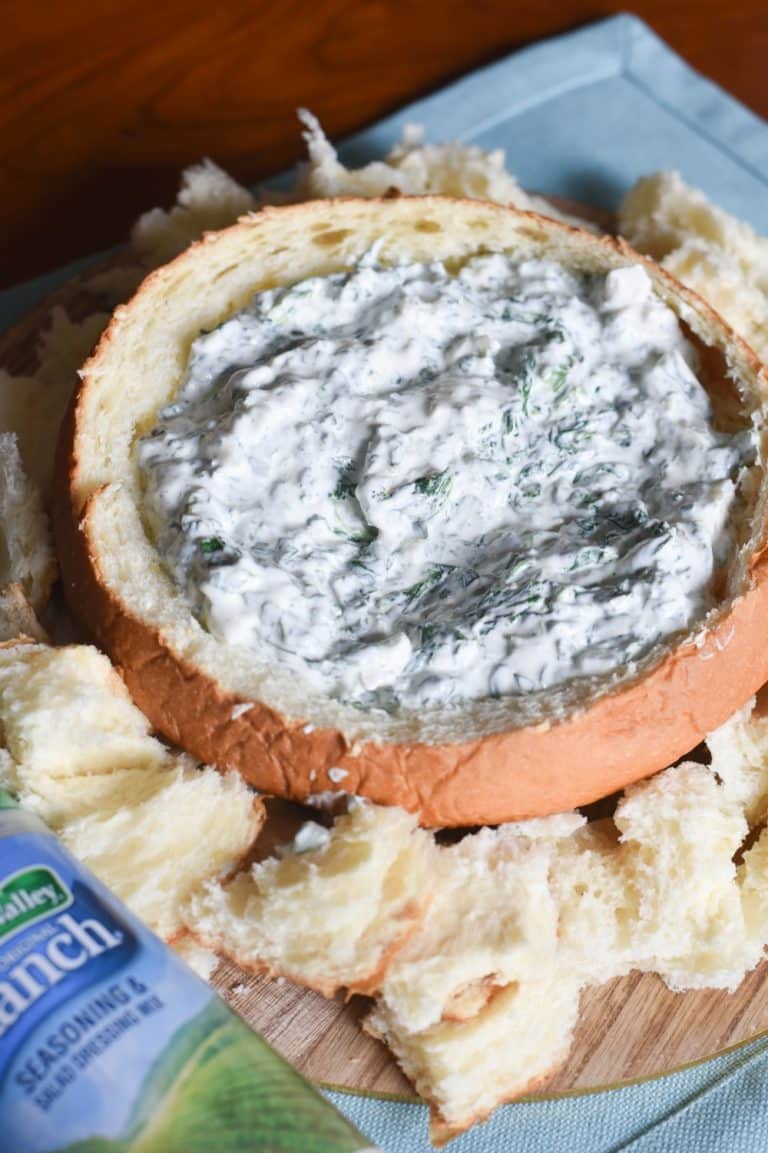 Cold Spinach Dip
Cold Spinach Dip Recipe
Prep Time: 5 minutes
Additional Time: 1 hour
Total Time: 1 hour 5 minutes
A delicious and easy cold spinach dip made with Ranch Seasoning.
Ingredients
1 10-oz. package frozen spinach chopped, thawed, well drained
1 16-oz. container sour cream
1 8-oz. can water chestnuts drained and chopped
3 Tablespoons Hidden Valley Ranch Seasoning Shaker
1 round loaf French bread
Fresh, assorted vegetable sticks cut up for dipping
Instructions
In a large bowl, mix the sour cream together with the Hidden Valley® Original Ranch® Dips Mix until well-blended.
Fold in the spinach and water chestnuts. Chill covered for 1 hour before serving.
Cut top off the bread and remove center, saving the bread.
Cut the leftover bread into cubes and toast for dipping.
Fill bread bowl with dip.
Serve with cubed bread and vegetables.
Babzanne is a mother of six, grandmother of sixteen, and lives in Colorado – though she'll always claim her true heritage as an Idaho girl! She has a degree in journalism but has been a stay-at-home mom for the past 35 years.