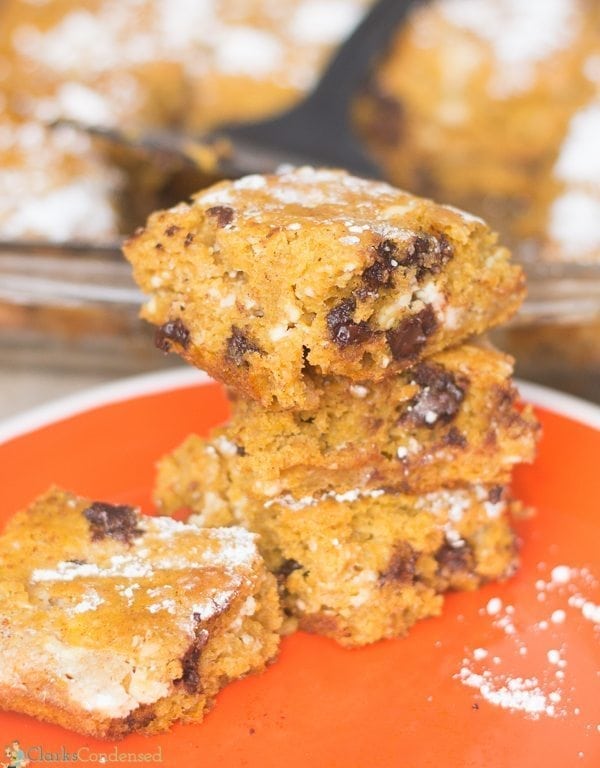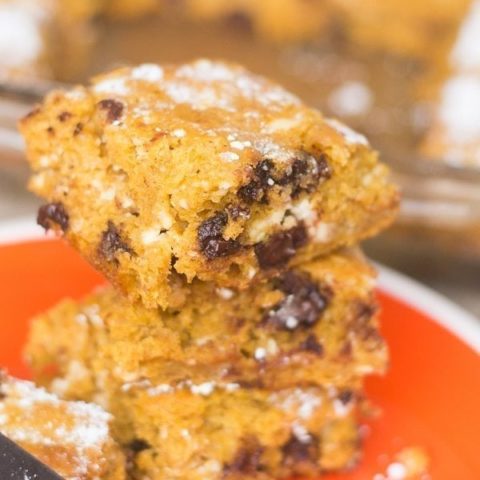 Chocolate Chip Pumpkin Roll Bars
Ingredients
2 cups flour
1½ teaspoons baking powder
½ teaspoon baking soda
2 teaspoons pumpkin pie seasoning
½ teaspoon salt
3 large eggs
1/2 cup white sugar
1/2 cup brown sugar
½ cup apple sauce
1 15 oz pumpkin puree
1 teaspoon vanilla extract
1/2 cup semi-sweet chocolate chips
Cream Cheese Filling:
8 oz. cream cheese, softened
1 large egg
¼ cup white sugar
1 teaspoon vanilla extract
1/2 teaspoon cinnamon
Instructions
Preheat oven to 350 degrees F.
Prepare a 9x13 dish with cooking spray.
Whisk together flour, baking powder, baking soda, pumpkin pie spice, and salt.
In a larger bowl, whisk the eggs and sugars until combined. Whisk in the pumpkin puree, applesauce, and vanilla.
Stir in the dry ingredients until combined.
Spread about ? of the batter evenly into the prepared pan. Set aside.
Beat cream cheese, egg, sugar, cinnamon, and vanilla until smooth. Spread this cream cheese mixture evenly over the pumpkin batter. Dollop the remaining pumpkin batter over the cream cheese layer. Take a butter knife and gently swirl the batter.
Bake for 30-35 minutes, or until the center of the pumpkin batter is set and springs back when touched.
Remove from oven and let cool completely in pan on a cooling rack. Cut into squares and serve.
Store these pumpkin roll bars in an airtight container in the refrigerator.
Even though the "official" pumpkin season probably doesn't start until mid-September, I've been adding it to pretty much everything since August. Part of me felt like it would encourage cooler weather to come (wishful thinking that did not pay off), but the other part of me just couldn't resist. I love all things pumpkin.
One pumpkin dessert I really enjoy is a classic pumpkin roll. I share a cinnamon pumpkin roll recipe last year, and it was one of my favorite desserts. I haven't really felt like putting the effort into one yet, though, so I thought it would be fun to make some pumpkin-roll inspired bars. These have a delicious cream cheese "frosting" swirled into them, and they are topped with powdered sugar. And, of course, they have chocolate chips. Because chocolate chips just make everything better.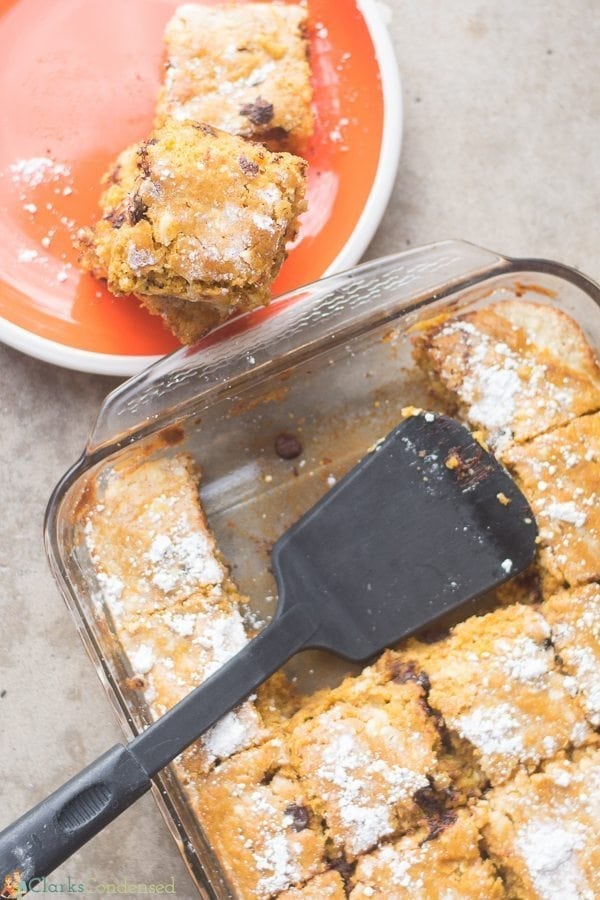 I made these for a cub scout pack meeting, and while I don't know if everyone enjoyed them (I was at home with a sick child), I know that we certainly enjoyed them at home. Jack kept asking me if we could just "share one more!" I can't say that I told him no.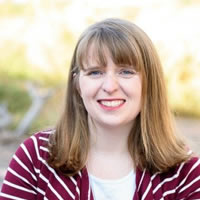 Katie is a Colorado-native, BYU graduated, and most importantly, wife to one and mother to three beautiful boys. She is passionate about sharing her experiences with others – especially about pregnancy, breastfeeding, cooking, and crafts. She is an International Board Certified Lactation Consultant. She loves spending time with her family and helping others find joy in family life.