Perfectly cooked, these chipotle strawberry glazed pork chops are moist, sweet and spicy, and perfect for sending the winter blues away, especially when paired with sun dried tomato mashed potatoes.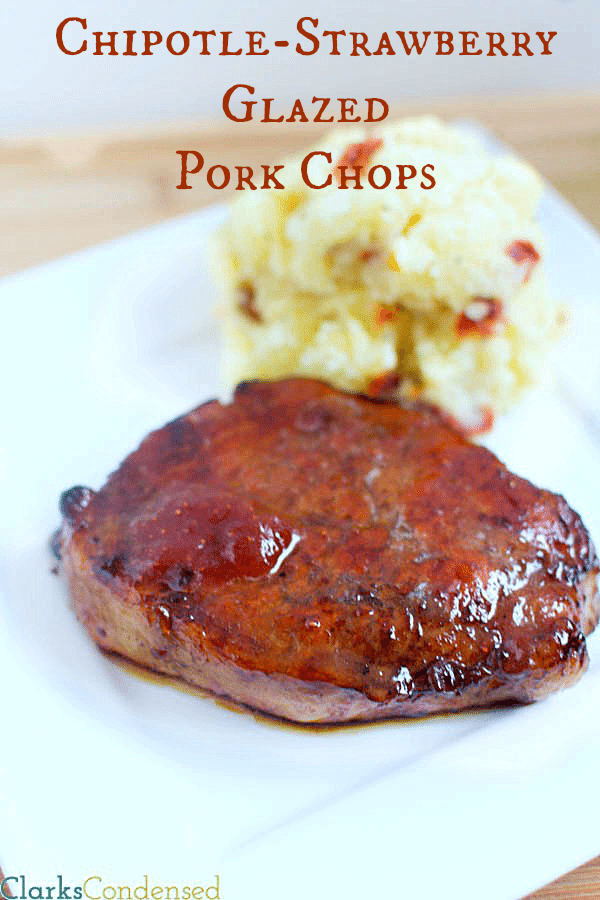 It's been a pretty dreary winter where we live. It hasn't necessarily been super snowy, like many parts of the United States have experienced, but it hasn't been exactly pleasant either. Because of the inversion, it's hard to go outside (seriously, the air is so bad), and we've been sick since Christmas.
So, believe me when I say this — we can't wait for spring to arrive!
Since we can't really hurry that process along, or even predict when the cold weather will pass (it sometimes snows until May in Utah!), we've been trying to to pretend like it's summer and spring by incorporating "summery" flavors into our meals. I know it sounds silly, but it totally works!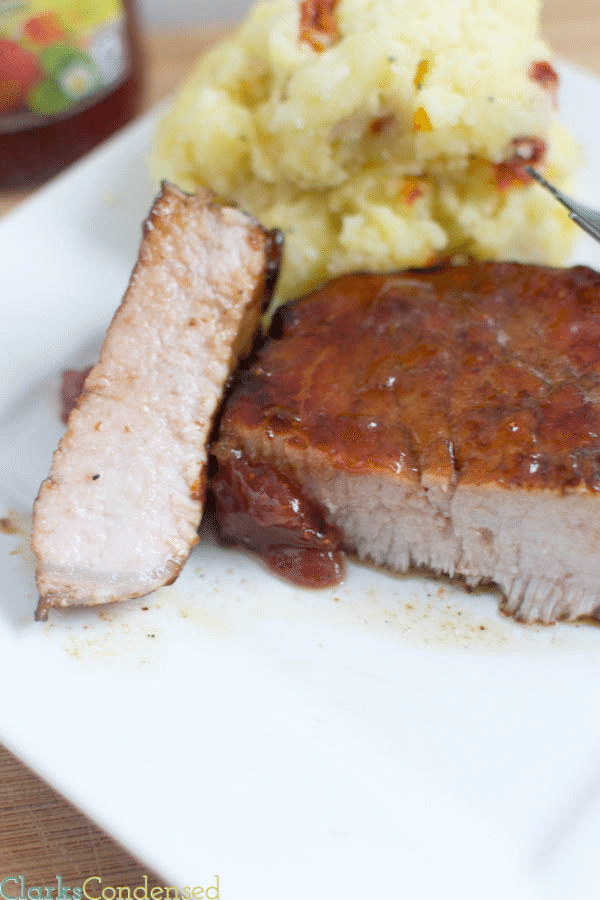 NEVER Miss Another Recipe!
Sign up for our food and recipe newsletter today
Free eRecipeBook upon signup
Free Meal Planning Bundle
Easy and Family Friendly Recipes EVERYONE Will Love!
And this meal? Oh man. It totally felt like a meal we'd cook on a grill, and sit on the porch sipping lemonades, during the summer,  thanks to Smucker's Strawberry Jam and our method for cooking pork chops indoors
You know those people who go on and on about their children, talking about how amazing they are, and you're just like, "Okay, I get it. Your kid's awesome. Stop it!" (if you haven't been around one of those people, just spend time with me for a little while. I'm totally one of those parents.) That's how I've been feeling about this dish. Seriously, from the moment I took my first bite, I couldn't stop talking about it. We had it a few days ago, and I'm still talking about it. I really think it's the best thing I've ever eaten. And I've eaten a lot of good food. Chipotle strawberry glazed pork chops are officially my favorite food.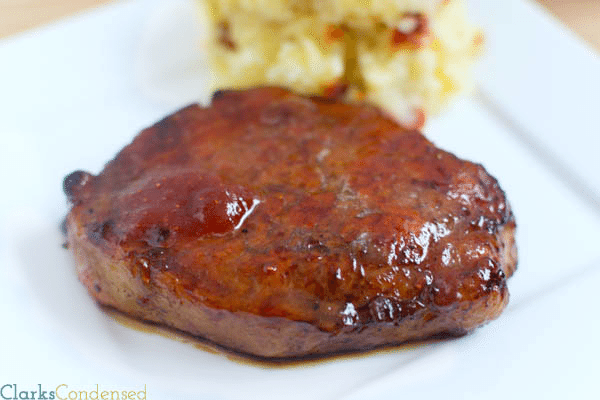 It wasn't dry at all. I think the secret to a non-dry pork chop is cooking it for the perfect amount of time, and slow-marinating it. And the flavor…oh man, the flavor? It was incredible. Forrest and I kept calling it pork candy (okay, that totally sounds disgusting, but just go with me).
We used Smucker's Strawberry Natural Fruit Spread in the marinade. We only ever buy jam from the Smucker's Natural Fruit Spread line, because it is naturally flavored, tastes super fresh, has no high fructose corn syrup and no preservatives! Since strawberries are low in fructose, Jack actually can have it, which is a win-win all around. It tastes like you just picked the strawberries on a summer afternoon, and made the jam a few hours later.
It's kind of funny, because we initially wanted to use the raspberry variety in this dish, but Forrest opened our jar of Strawberry instead! We weren't sure how strawberry would taste with the chipotle peppers, but it turned out to be a killer combination. I mean, everyone has probably had raspberry chipotle something…but strawberry chipotle? So much better.
I feel like pork chops always need to be combined with mashed potatoes, so I decided to make some, but with another summery twist — sun dried tomatoes, a garlic and basil kind from Bella Sun Luci. It was a fun addition that really brightened up the meal!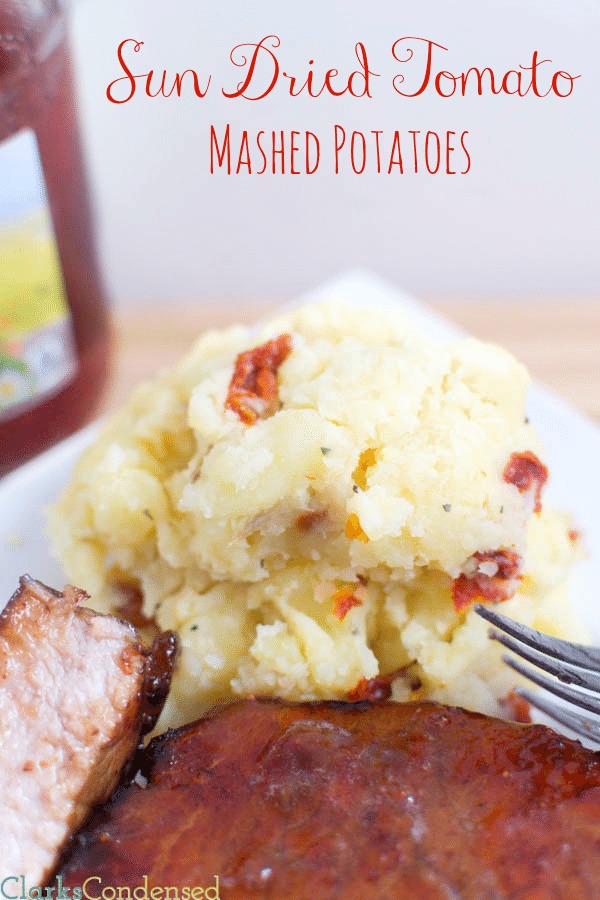 So if you are looking for the perfect meal to get you out of the mid-winter funk…this will do it. Make a few extras, though — you will definitely want left overs of the strawberry glazed pork chops.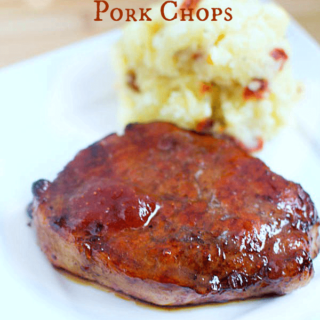 Chipotle Strawberry Glazed Pork Chops
Ingredients
4 thick pork chops
Marinade
1/2 cup strawberry jam, Smucker's Natural is my preference
1 cup Pompeian pomegranate balsamic vinegar
3 chipotle adobe peppers (can be found in the Latin aisle at the grocery store
Strawberry Glaze
1 tablespoon honey
1/2 cup strawberry jam
Instructions
Place strawberry jam, balsamic vinegar, and adobe peppers in a food processor and blend until smooth.
Place marinade and pork chops in a gallon sized plastic bag and marinade for about six hours.
Combine honey and strawberry jam to create glaze.
Remove pork chops from bag.
Brush the glaze on both sides of the pork chops.
Preheat oven to 375 degrees.
Put about 1/4 cup coconut or olive oil in a skillet, and bring to a very high heat.
Place pork chops on the hot skillet, and sear on both sides for about three minutes.
Immediately place pork chops on to a pan in the oven, and cook for 12-15 minutes, or until pork is no longer pink.
Chipotle Strawberry Glazed Pork Chops
Ingredients
3 large potatoes
1/2 cup milk (or almond milk)
2 tablespoons butter
1 teaspoon garlic
1 teaspoon Italian Seasoning
3/4 cup Bella Sun Luci Oregano Sun Dried Tomatoes, Basil and Garlic flavor
Instructions
Peel potatoes and chop into quarters.
Bring a pot of water to a boil.
Place potatoes in the water, and cook until you can put a fork through it easily.
Mash potatoes with a potato masher.
Add milk, butter, garlic, and Italian seasoning and mash with potatoes until everything is combined well. Add more milk if the potatoes aren't the desired consistency.
Mix in sun dried tomatoes.
7.8.1.2
154
https://www.clarkscondensed.com/recipe/strawberry-glazed-pork-chops/
This recipe was created on ClarksCondensed.com. Feel free to distribute as needed, but if you post it on your own site, please link to back to ClarksCondensed.com
COMMENT POLICY:
All we ask is that you be kind. We welcome differing opinions, but any comments containing personal attacks, sarcasm, etc. will be removed immediately. Keyboard warriors aren't welcome 🙂 All comments are moderated and may take time to be approved. Anything not pertaining specifically to the content of a post will be removed (including comments about ads).