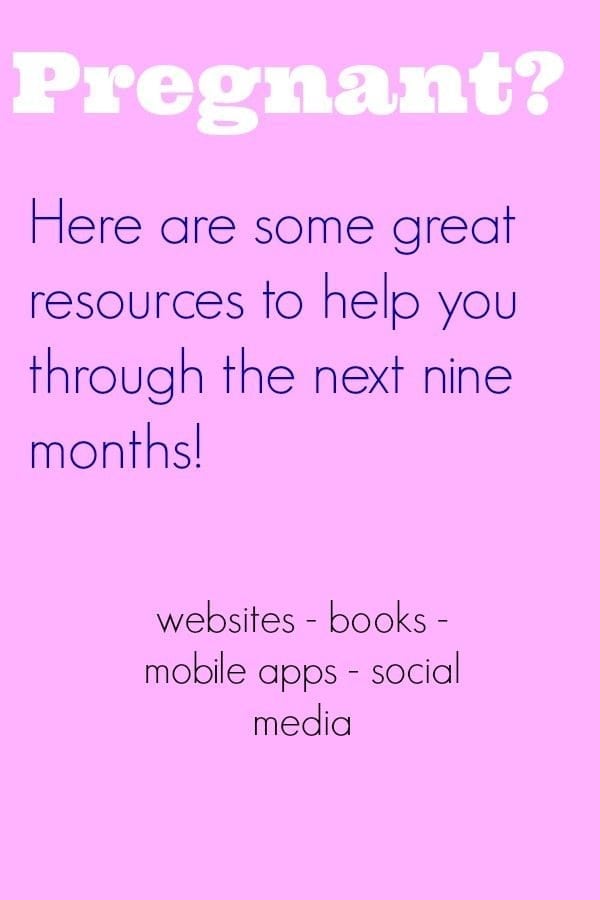 There's about a billion websites about pregnancy our there, and then another mobile pregnant apps. Don't believe me? Just Google it, and you'll see.
And you'd better believe I've used just about all of them. Okay, maybe not all of them. A billion is a lot. But I have perused many sites, and downloaded lots of apps. Through that, I feel like I've discovered the ones that are worth while, and that I still visit on occasion — at least, the ones that cover baby topics too! In addition to digital resources, there are also some great magazines and books out there as well. Here are a few of my favorite…is there any one that you like, that I've missed?
Websites
BabyCenter
I've used this site SO much, from my early pregnancy, to just last night! I think it has answers to just about every question I ever had, and is very user friendly. It's a very balanced site, which presents opinions from all sorts or sources, and I feel like it's very trustworthy. My favorite part of it is the message boards. I love being able to connect with other moms that
TheBump
When I was engaged, I spent hours on TheKnot.com, and when I was a newlywed, TheNest.com was my new favorite. And when those newlywed days quickly switched over to pregnancy days about six months after we were married, well, it only made sense for me to sign up with TheBump.com. I think of this as the "fashionable" baby site. It is jampacked with great information, but there's tons of articles updated daily about current pregnancy topics — mainly about celebrities that are pregnant. I don't always agree with everything they say, but overall, it's a fun site. Plus, they compare your baby size each week in utero to some kind of fruit.
Mobile Apps
I write regularly on the website,
SmartPhoneHC.com
, where I review mobile apps and discuss other topics related to mobile healthcare. One of the first posts I wrote was about pregnancy apps, because, well, I had just given birth when I started out there! Definitely check out my full list
here
, but these are my two favorites:
This app was created by BabyCenter, and I love everything about it. You have almost instant access to
Full Term Labor Contraction Timer —
Sadly, this is only available for the iPhone and iPad…but I loved it so much, I couldn't leave it off this list! It's a free contraction timer, and by far, the best one I've seen. I have found memories of hiding under the covers in my room, timing what I thought was just stomach pains, and then realizing I was in labor (my contractions started out 3 minutes apart. It was crazy.) It's super simple to use, and free. When I got to the hospital, I showed the admitting nurse the contraction list to "prove" to her that I was in labor. Now that I think about it, I'm sure she probably just thought I was weird, but I was happy to have it at the time!
I also recently wrote a review about a suite of apps that was released recently by
Mobile Mom
, but it hasn't been posted yet. Nonetheless, definitely download them — they have an app for everything from pre-conception, to tracking your weight gain, to connecting with other moms! I just downloaded them on our iPad (and no, I'm not pregnant, or planning to be pregnant anytime soon), and they are pretty snazzy. Especially because they are free.
Social Networks
Intermountain Moms:
This is a Facebook page that is based in Utah, being run by people in Intermountain Healthcare. However, I think any mom could really benefit from being a member. Each week, there is a "Ask a Nurse" question session, and anyone can ask questions about pregnancy, babies, and children. There's also a lot of articles posted, and just interesting information. I've won a few prizes from them as well — once I even won a month supply of diapers! The people who run the page are very friendly, and I love visiting it ever now and then.
TheBump.com (Facebook):
This is obviously the companion page to TheBump.com, but it's really the page that usually gets me to go to TheBump.com. They just post random articles or ask questions, but it's kind of a fun page to be on.
Babble's Facebook Page:
Babble.com is a site that has tons of different articles, written by moms (and even some dads, I think!) While some of their articles that they post on the Facebook page are a little bit liberal for my taste, for the most part, I think they are pretty interesting. There's sure to be at least one funny, one factual, and one controversial article posted every day!
Magazines
I don't really remember how, but I got a subscription to both of these magazines for free.
Baby Talk:
This is definitely my favorite. Each month I got it, it would have an insert specifically for whatever age my son was. It always had interesting articles, and if it was on a controversial topic (like vaccines) it usually had both sides of the issue presented.
This website
gives instructions on how to get a subscription for free as well.
American Baby by Parents Magazine:
I also really enjoy reading this one. The articles are usually pretty interesting, and there is something for everyone (as in, it doesn't just focus on newborns, or on toddlers.) This magazine is often in doctor's offices, so if you frequent those places (or is that just me?), you've probably picked it up before. I just found this
link
to get a free copy, so definitely sign up!
Books
What to Expect . . . Series:
I picked up the book, "What To Expect When You're Expecting" at a garage sale while I was pregnant, because I remembered my mom having it back when she was pregnant with my little brother. Admittedly, I never read it. However, when Jack was born, my mom ordered me a copy of "What to Expect the First Year," and I have LOVED it. It contains so much information, and is recently updated. It has a lot of different sections, and it has a chapter for each month of the first year. I've found myself consulting it many times, and have read it almost cover-to-cover. If you only get a few books about pregnancy and babies…this the series to get. I think there is also "What To Expect the Second Year," and I definitely plan on getting it. I just checked out the website as well (linked above,) and I'm a fan.