I participated in a campaign on behalf of Mom Central Consulting (#MC) for Little Remedies. I received a product sample to facilitate my review and a promotional item as a thank you for participating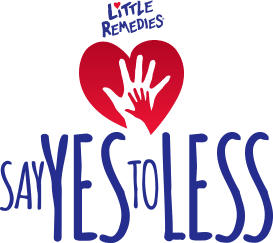 When we found out Jack had a fructose and lactose intolerance, we had to become very careful about the items we gave him. While we aren't perfect, and Forrest and I often eat things he can't, we've made a conscientious effort to eliminate products with high fructose corn syrup, artificial sweeteners, and, especially, less sugar. As we've done this, it's really opened our eyes to what we've been putting into our bodies, and it has caused us  to think twice about what we buy. We are definitely pledging to say yes to less.
On top of his food and digestive problems, Jack gets sick a lot. I feel like he always has a cough, cold, fever, or even just teething. And because of that, we are always on the lookout for the best remedies to treat his illness. We often use Little Remedies fever and pain reliever for just that purpose, when we can't get a natural remedy to work. It's important to us that the medicines we give Jack don't have a lot of "extra" stuff in it, and that it treats him quickly.
Even though we can't protect Jack from everything, here are a few ways we've tried to help prevent him from getting sick:
Washing his hands, a lot
Avoiding others who are sick, such as kids in the nursery at church, family members, and friends who come in contact with him
Use probiotics
Increase vitamin c
Wear hats, gloves, socks, and shoes when going outside or in public
So you might be wondering, what is this Say Yes to Less, pledge. Well, Little Remedies is encouraging everyone to take a good look at their lives, and find ways to have a simpler, healthier life, and eliminate those to have less of the unnecessary, and more of what counts. I absolutely love this philosophy, because really, I think all of us could benefit from eliminating the unnecessary things in our lives. There are SO many distractions to push us away from the things that matter most — our family, our friends, and our health.
For some, taking this pledge might be getting rid of negativity or gossip. For others (like us) it could be limiting sugar and artificial ingredients. And for others, it could be less distractions. I'm sure you all know — there are a LOT of distractions in this world, especially with more technology being released daily.
At this time of year, when we should be trying to spend more time with our families and simplify, I encourage you all to take the Say Yes to Less Pledge with your family. It only takes a minute or so to sign up.