2015 was a year that brought a lot of blessings. I am forever grateful for the birth of our sweet Oliver, moving to Colorado (despite how expensive it is!), and the success of our little business.
With that said, I feel like I've been pushed to the limits as far as stress goes. There have been many days where I've been on the verge of tears because I just don't feel like I have anything left in me. Part of this has to do with the fact that I just don't feel well most of the time. However, a large part of it is because there's just too much that I'm trying to do!
I don't usually come up with a "word of the year", but this year, I've decided my word is "Simplify." I really need to simplify everything in my life – for the sake of my sanity, my boys, and Forrest. I'm the type of person who has 40 tabs open on my computer at one time. And most of the time, that's pretty representative of my life.
I was looking around for quotes about simplifying, and I loved this. I decided to make it into a printable – if you are like me and need a reminder to simplify, be sure to print it off!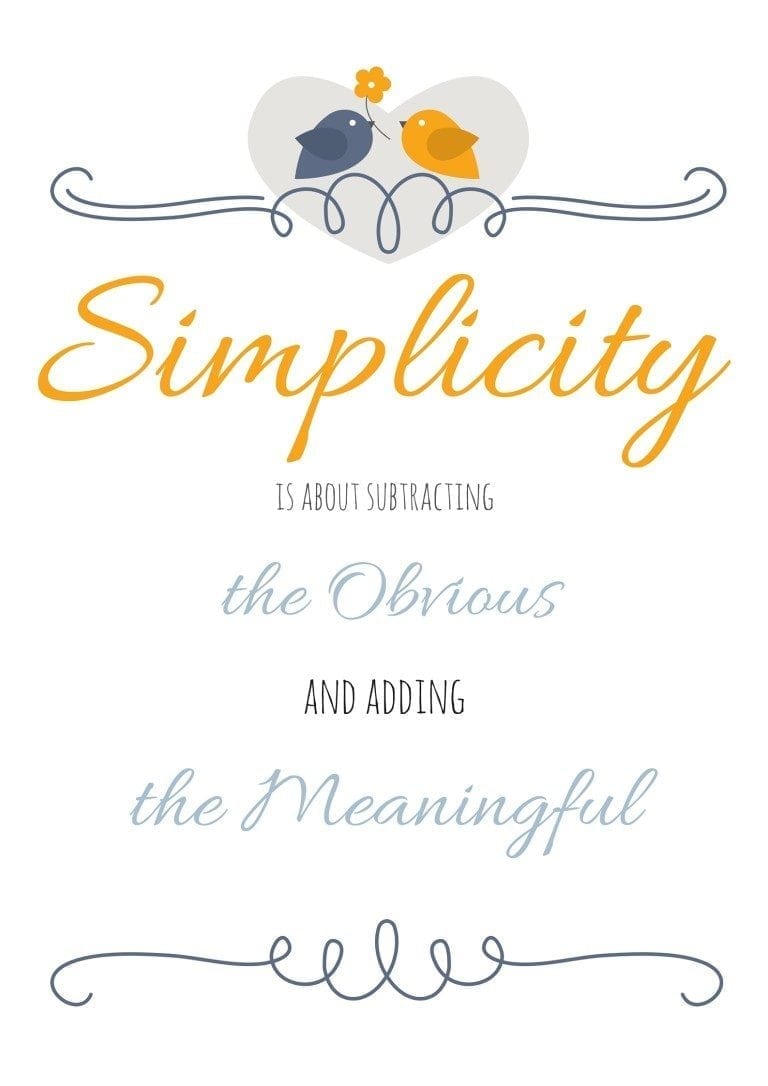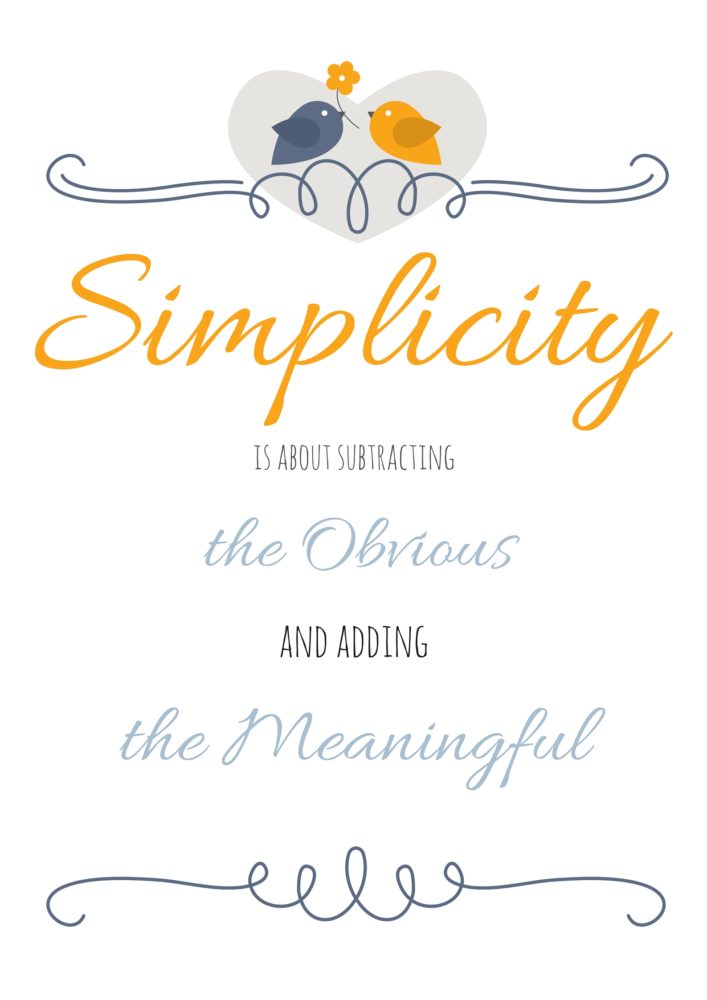 Here are a few ways I'm planning to simplify my life this year:
1) Meal Planning
I started last year with the desire to have a weekly meal plan and not go out to eat as much. Well, that was an epic failure, as I got pregnant in January, and even being near the kitchen made me sick for about six months. So, that didn't happen.
This year, I have no plans of being pregnant, so meal planning is back on the table (get it? I'm hilarious.) When I meal plan, it helps us save a lot of money, eat healthier, and I just feel more accomplished. It also eliminates the 5:30 stress when we say, "So…what should we have for dinner?" Which usually includes about an hour of deliberation.
2) Working Less
We are lucky to be able to have our own business and work from home. While my primary goal in life is to be a stay-at-home mom and raise my boys, the fact of the matter, I do work from home. Sometimes, it's a bit overwhelming, and I wish I could "just" be a stay-at-home mom. However, this is the life we've chosen, and there are many wonderful blessings to it. But I just need to cut back. If I'm not careful, I can let parts of all of this take over my life.
I love writing. It's an outlet for me, and it's something I've always enjoyed. Somewhere along the way over the past few years that we've been blogging professionally, I've taken on a lot of tech support and design jobs for others. Sometimes, I love it! I've met some wonderful people. But most of the time, it just brings me a lot of stress, tears, and exhaustion. Sometimes it feels like I work on other's sites more than
I'm always planning to post less here on Clarks Condensed. Toward the end of the year, I felt like I was just churning out post after post. While I do my best to be authentic and write quality posts, I couldn't take the time to promote all of them. I don't like this! I also haven't been able to write posts about things I'm truly passionate about lately. And from looking at my blog stats – these are the posts that resonate with my readers the most. I want to get back to writing about what I'm passionate about.
3) Go to Bed Earlier
One of the unexpected perks of my pregnancy with Oliver was that I honestly could not keep my eyes open past 9:30 or 10 for about half of it. Before I got pregnant with him, I went to bed around 1:00 AM every night – which was probably not healthy!
Most of the time, I'm not being very productive when I stay up later. I end up feeling more sluggish in the morning, and I get less done as a result. When I go to bed earlier, I find that I feel happier the next day, and I accomplish more.
4) Plan Less
Sometimes, I try to plan to cram as much as I possibly can into a day or week as I can…and then I get overwhelmed by the amount of things I need/want to get done, that I end up not doing anything! It's a problem. This happened this last December. I really had all these grand plans of things that I wanted to accomplish during the month, and many of them went undone. On Christmas Eve, I stayed up way too late trying to finish things I could have done earlier in the month.
I want to simplify my life by recognizing the important things that I need (and want) to get done, and spreading them out – not just saying I want to get all these things done at once. I also want to determine which things I really don't need to really accomplish.
5) Taking Time for Me
I feel like so often, I am focusing on getting things done for other people (mainly when it comes to work), that I don't ever do anything that I enjoy. I LOVE to sew, and I haven't done hardly any of that in the past year. There's just something else I "need" to do ahead of the things I "want" to do. While we all have responsibilities, and it's important to get our prior commitments done. But it's also important to take time to do things we enjoy – sew, play a game with our kids, or read a book. I honestly don't even remember the last book I read!
I hope that I can just come up with a schedule – I can work for certain hours, and then when those hours are up, I'm done. I think by going to bed earlier, I can accomplish this easier!
And honestly, I just want to spend more time with my boys. The last thing I want is for them to feel like they grew up with a mom who was always busy and stressed out. The second to last thing I want is to feel like I missed out on spending time with them doing less important things.
6) Get Rid of "Stuff" 
We have a lot of stuff. Being bloggers, we get a lot of random stuff in the mail. Some of it is awesome…but a lot of it just ends up getting shoved in the garage or a corner. Because we have so much stuff, it makes it hard to remember the things we like and want to use. I want to go through everything in our house, and it's not something we've used in awhile (or ever), I plan to get rid of it. I hope this will help our home to be less cluttered, and we can enjoy things we own a little bit more.
7) Simplify my Health
Some of you may know that I have struggled with my health for quite some time. In the past two months or so, it has gotten even worse. There are some days where it's all I can do to get out of bed (and thanks to dumb insurance companies, I haven't been able to get into the doctor this month.) I hope that in 2016, I can resolve some of these problems and simplify my health. It would be nice, when people ask me how I'm feeling, to just say "I feel great!" Right now, I feel like it's so complicated to explain how I feel – I don't even understand it.
I think my simplifying my life, it will help me have less stress..which will hopefully have a positive effect on my health. I plan to simplify the foods I eat – I want to eat healthier and just have simpler meals and snacks. Going back to the basics! I am signing up for this back-to-the-basics challenge to help me out (and buying this bundle of books on the same topic. It's a great deal!)
What is your word of the year? How do you plan to simplify?