I am participating in the Apparoo app of the week program and have been compensated for this promotion. 
Are you ever looking for some awesome new apps, that are safe, educational, and fun, for your kids? While we heavily monitor how much screen time Jack gets, when we let him use our iPad, I always like him to have some fun apps. Which is why I'm so excited to announce that over the next few months, I'll be sharing the "Apparoo App of the Week." Basically, it will be an app that is great for kids, which is being heavily discounted (and sometimes, free) for a small period of time. Hopefully you'll be able to discover some new apps for your kids…though I'll admit, the one this week looks like I'd enjoy it, too!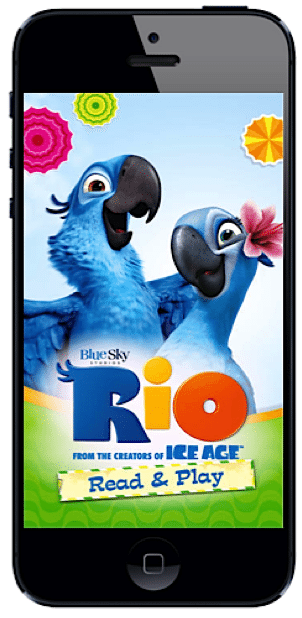 Shake your tailfeathers and join blue macaws Blu and Jewel for a colorful read-along adventure set in Rio de Janeiro. This delightful app, featuring characters from the popular animated film Rio, will appeal to fans of the film and newcomers alike. The narrated storybook will encourage your child's reading skills, the coloring tools will foster their artistic talent – and the bonus activities will grant you peace and quiet over at least two extra states on your next cross-country flight. A feast for the senses, this bright, fun-filled app is like a tiny little Brazilian vacation on your iPad!
COMMENT POLICY:
All we ask is that you be kind. We welcome differing opinions, but any comments containing personal attacks, sarcasm, etc. will be removed immediately. Keyboard warriors aren't welcome 🙂 All comments are moderated and may take time to be approved. Anything not pertaining specifically to the content of a post will be removed (including comments about ads).