I've already talked about the first two members of our family, but obviously, I've saved the best for last. Our little guy, Jack.
A big part of this blog will focus on motherhood, parenting, and pregnancy. While I'm not an expert on everything pertaining to these topics, I feel like I've gained (and continue to gain) lots of insights over the past 18+ months. Most of that has come from hands on experience with Jack, obviously.
I'll be the first to admit, when I first got pregnant, it was hard for me. It wasn't exactly in my immediate plans, and I was scared. I had two years left of school, we had only been married six months, and I had no idea how to be a mother. The next nine months were very difficult. I battled constant nausea, morning sickness, and depression. It was hard for me to even fathom that things would ever get better.
Don't get me wrong, there was times during my pregnancy where I was excited. When I found out that we were having a boy, I started to cry. I think that was the first time that I was actually really happy. I didn't have a preference for a boy or a girl…but when I saw on the sonogram what was coming, it felt right. I also loved feeling him move. That was an incredible experience that I won't soon forget.
By the time that the last few weeks of my pregnancy arrived, I was so ready to have the baby. Part of me (a large part) was terrified, but I was ready to be done with my pregnancy. I wasn't sure how everything was going to go — I had heard about how some mothers don't feel connected to their child the first time they saw them, and I was terrified that would happen to me. I wanted nothing more than to give the child I had carried all the love in the world, but I had a hard time doing that while I was pregnant.
The moment I heard his cry, that all disappeared. I instantly fell in love with the 6 pound, 11 ounce infant that was place on my chest.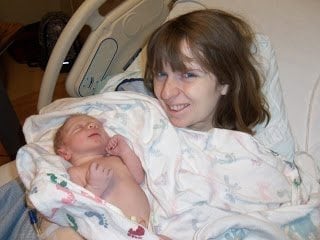 Since that moment, I have loved being a mother. Yes, it has been hard, but so worth it. There's nothing I love more than hearing Jack call me mama, and give me the biggest smiles. His laughter is the most beautiful sound. He gave me the chance to be a mother — and even though I didn't realize it until he was born, he was exactly what Forrest and I needed. While I was in the hospital, I felt very strongly that God sends us what we need — and that was Jack. His name means God has been gracious, and I feel that he definitely was by sending Jack to our family.
And really, how couldn't you love someone like this: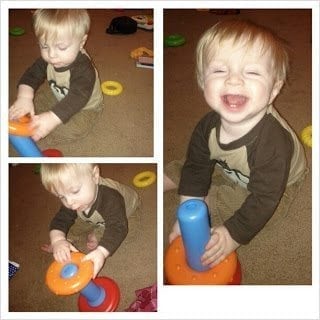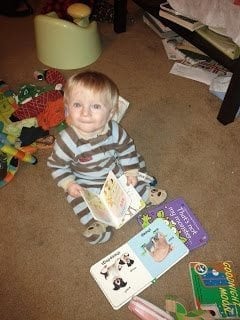 –>