I participated in an Influencer Program on behalf of Mom Central Consulting for Mustela. I received product samples to facilitate to my review and to thank me for participating.
There are so many things you have to do, and learn about, when you become a parent. One of those things is skin care! There will come a time when your child has a strange rash appear and you will be tempted to take them to the ER. Or they will have the dryest, flakiest skin on the planet, and nothing helps. Sometimes these problems are indicative of a more serious condition…other times, it's just a problem that comes with being a baby!
Either way, it's good to know what types of products you should use on your babies skin (or on your own, when you are pregnant.) There's a whole lot of products out there, and not all of them are created equal! Many products have strange ingredients in them that may or may not be good for anyone's skin…especially a baby or toddler! I don't know about you, but I'm kind of overly protective of Jack, and I sometimes worry about some of the things he's exposed to (whether it's under my control or not.)
I recently learned about a brand of products that are perfect for babies and toddlers — Mustela. It is the number one baby care and stretch mark brand in Europe, and the company has been around for over 60 years. One of their popular lines, Mustela Bébé, was recently revamped (after 10 years of skin research) to help protect little one's skin even more! It contains a patented, protective ingredient called Avocado Perseose.
The formula for their products was revamped after research showed that, before the age of two, babies' skin cells are very vulnerable and can easily be effected by air pollution, temperature, and UV exposure. This really stood out to me, because we live in an area that has terrible air quality. I mean, during the winter, there's times we feel like we can't even go outside. It always worries me how it effects Jack. This new line is meant to help protect your baby from those outside forces.
We've been trying out some of the products for a few weeks now, and I really like them. I even use some of them on myself! The Hydra Bebe body lotion is some of the best lotion I've ever used — it doesn't make your hands feel like they have something caked on them, or super moist. Jack has really, really dry skin on some parts of his body — especially behind his ears. We've been using this lotion there recently, and it has helped immensely. Thankfully, Jack LOVES when I let him use lotion, and he always insists on putting it behind my ears, too. We've been using it a lot — especially since it's still been pretty cold, and then tends to try out our skin even more. I put some on just about five hours ago, and my hands still feel nice and smooth.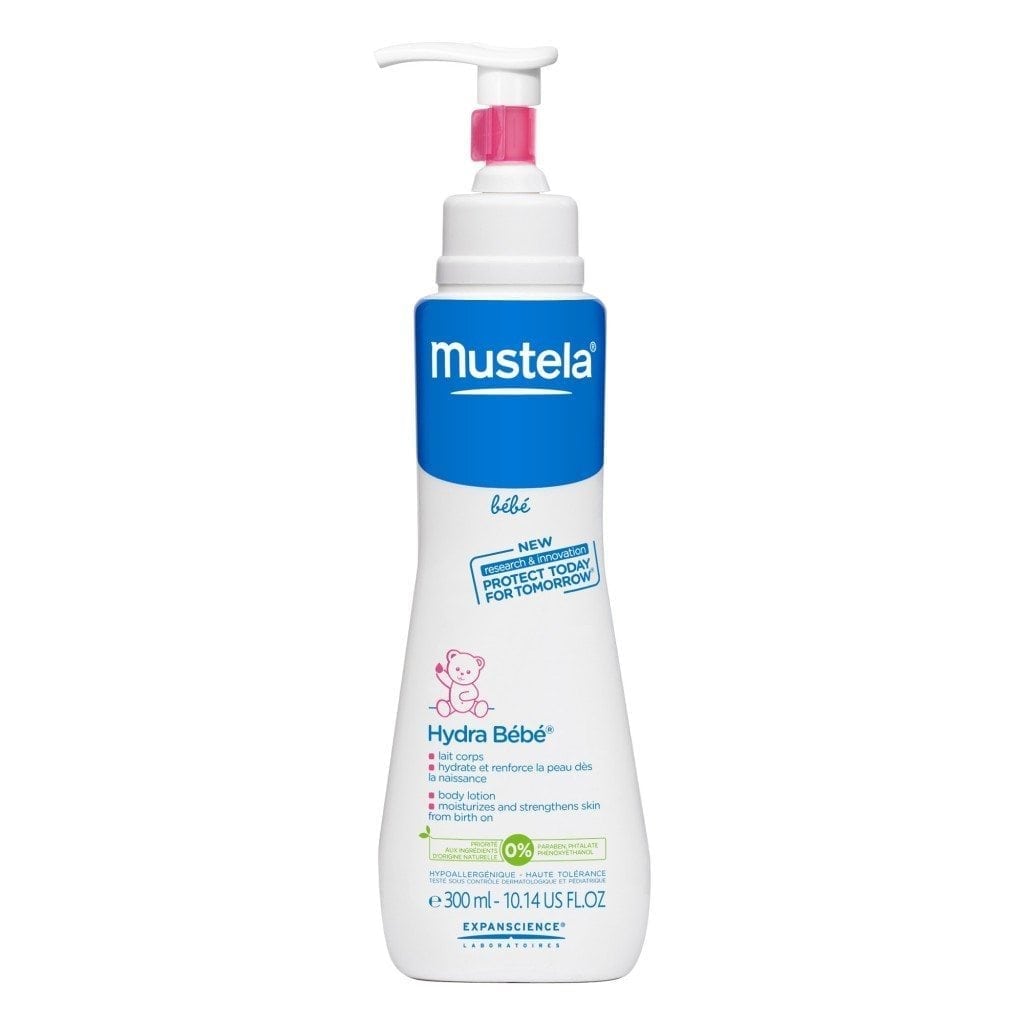 Mustela Bébé also has tons of other products, such as hair and body wash, a moisturizing cream that is specifically for eczema (which is a common skin condition in children — Jack has had it!), facial cleansing cloths, sunscreen, stretch mark lotion, and Jack's personal favorite — a hydra stick.
I was curious about some of the common skin conditions pregnant moms and babies have, and how these products can help, and we had the chance to interview Dr. Gohara, a board-certified dermatologist. I was actually sick on the day of the interview (I could hardly talk!) so Forrest conducted it. I thought her insights were interesting, and I thought I'd share them with you all:
On Stretch Marks
Not just moms have stretch marks, and although the Mustela stretch mark oil is designed for moms, it can help a lot of people. It has a lot of important natural ingredients in it that work together to help prevent an heal stretch marks. Some of the ingredients that are good for stretch marks are soy peptids, sunflower oil, and vitamin c.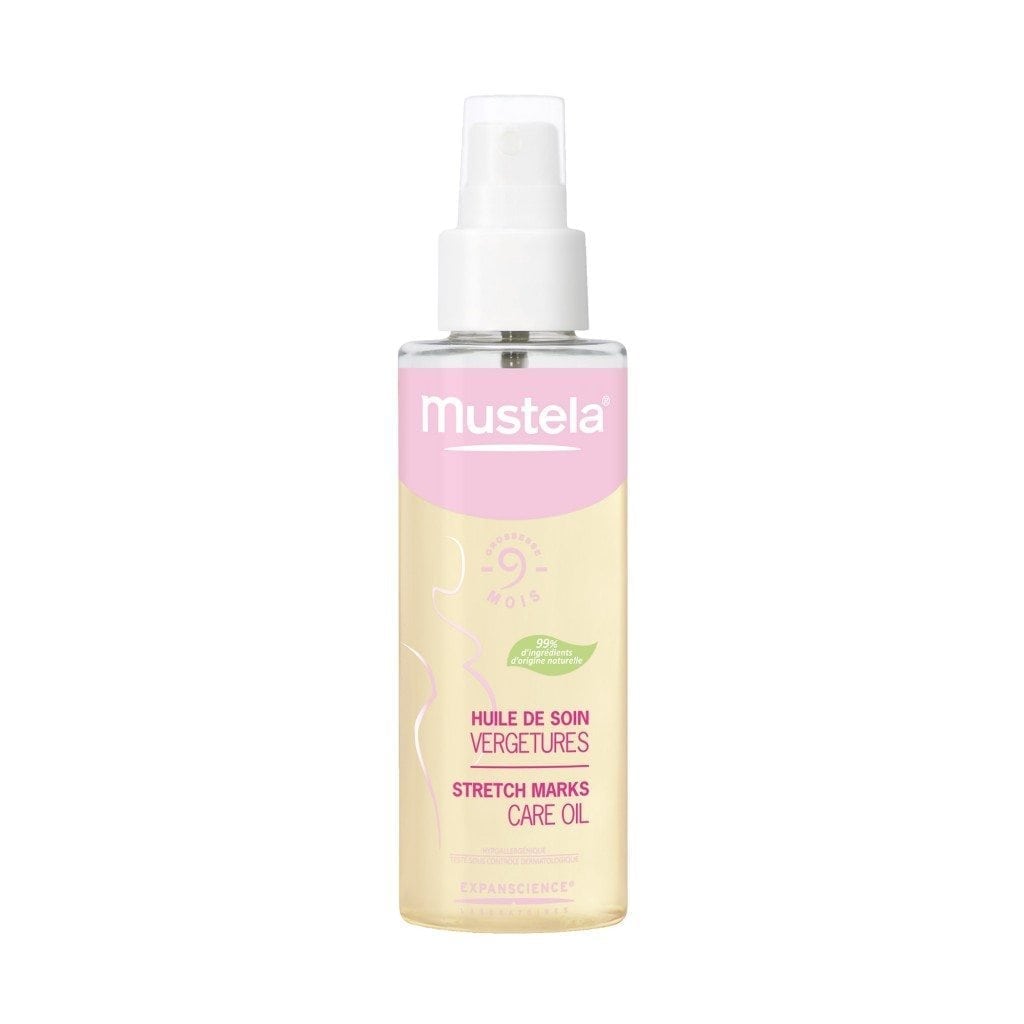 I was pretty fortunate to not really get any stretch marks with my last pregnancy (don't hate me!), but I'm definitely not banking on my luck going further with any other children, so I'm excited to have this on hand to try out.
What to Look For in Products:

It's very important to be proactive about what types of products you put on your baby's skin. They are very sensitive, and a lot of products on the market right now have ingredients that might not work so well with their skin. In general it's best to avoid anything that has wax or fragrances in it, and to look for ingredients like glycerin, avocado, and sun flower oil. And, as with most things, if you don't recognize an ingredient, it probably shouldn't be used on your body!
Overall, I have really enjoyed using the Mustela Bébé line, and I plan to continue to use the products. Jack has very sensitive skin, and he reacts to a lot of products more than other kids. We haven't found that with anything on the Mustela Bébé line, which is a relief. I'd love for you all to try these products, and with a purchase of $50 or more, you can use the code Mom314 to receive free facial cleansing cloths (makes cleaning up messy faces so much easier) and free shipping at www.mustelausa.com.