If you are breastfeeding and contract the coronavirus – should you be concerned? Here's what professionals say.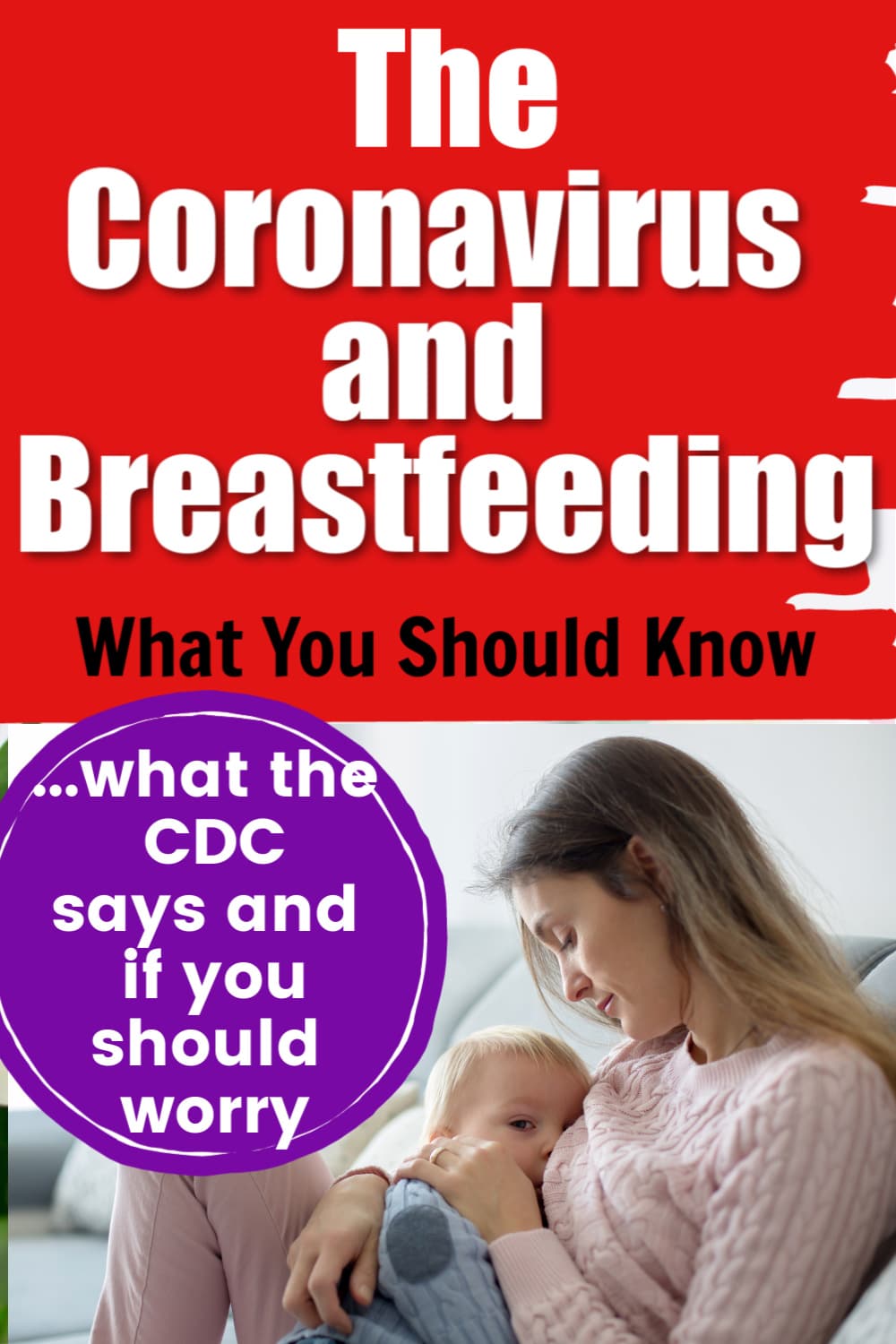 Unless you are living under a rock (and honestly, it might be nice to right now), I'm sure you are well aware of the strand of the Coronavirus – COVID-19 – that was just declared a pandemic by the World Health Organization.
The media makes it seem like the sky is falling – while others throw up their arms and say it's no big deal.
I tend to fall somewhere in the middle. I believe that all the stockpiling of toilet paper and water is a little excessive – but I do think we need to be cautious, especially around the most vulnerable and at-risk communities (the elderly, those with chronic illness, and those with lung problems).
I've seen a lot of people asking about breastfeeding and the coronavirus, so I thought I would share what information there is on this topic.
I am a Certified Lactation Educator, but this article is for educational purposes alone.
Is the Coronavirus transmitted through breast milk?
COVID-19 is new and there's a lot of unknowns about it – in fact, that's probably why there is so much hysteria.
We just don't know the impact it could have. As of right now, it is not known whether or not it is transmitted through breast milk, but it's not seen as a huge concern.
The limited studies have not detected in breast milk in mothers who have COVID-19 or SARS, which is similar in nature.
How could the Coronavirus affect breastfeeding?
The primary concern is that a mother with COVID-19 could transfer the virus to her infant via droplets while nursing.
This is a concern with any kind of infectious disease – such as the Flu – and the current recommendation is to continue to nurse through the flu. There are actually very rare circumstances in which a mother would be encouraged to discontinue breastfeeding.
The main concern I could see is if a mother was sick enough that she wasn't able to nurse regularly or gets dehydrated, which could result in a lower supply.
The good news is that it doesn't appear that this strand of the Coronavirus is affecting children – at least not severely.
What Should I do if I contract the Coronavirus?
According to the CDC, "Whether and how to start or continue breastfeeding should be determined by the mother in coordination with her family and healthcare providers."
Your breast milk is really the best defense you can give your child against most illness – the Coronavirus included. You must weigh the pros and cons, but chances are, the transmission of antibodies to fight it through your breast milk are going to be the best defense you can give your baby.
If you are confirmed or suspected of having COVID-19, make sure you are in touch with your doctor and take the following preventative measures in order to avoid transmission to your baby:
Wash hands thoroughly before touching baby – wash for at least 20 seconds!
Avoid touching baby's hands and face or anything that might go in baby's mouth
Wear a face mask while feeding baby if possible
Wash hands before touching any pump or bottle parts, and wash them thoroughly after use – here are the recommendations for proper pump care.
If you are feeding with a bottle, consider having someone else feed the expressed milk
If you are hospitalized, advocate for yourself to keep your baby with you if you can
Again, for the most part, there isn't a huge reason at this point to discontinue breastfeeding if you contract the coronavirus, however, make sure you keep in contact with your medical provider.
Preventative Measures
Obviously, if you don't have the coronavirus (or any other respiratory illness, such as RSV), the biggest thing you need to be doing is preventing transmission to you or your baby.
That includes:
Washing hands frequently
Avoiding touching your face or your baby's face/hands
Making sure anyone who touches your baby washes their hands first
Turning away sick people and avoiding places where there may be a lot of illnesses going around
What if I'm Pregnant?
The guidelines are pretty similar – make sure to head over to Pulling Curls to learn more specifically about Pregnancy and the Coronavirus.
This post was written based on information from the CDC regarding breastfeeding, pregnancy, and COVID-19. No information in this post should be taken as medical advice.