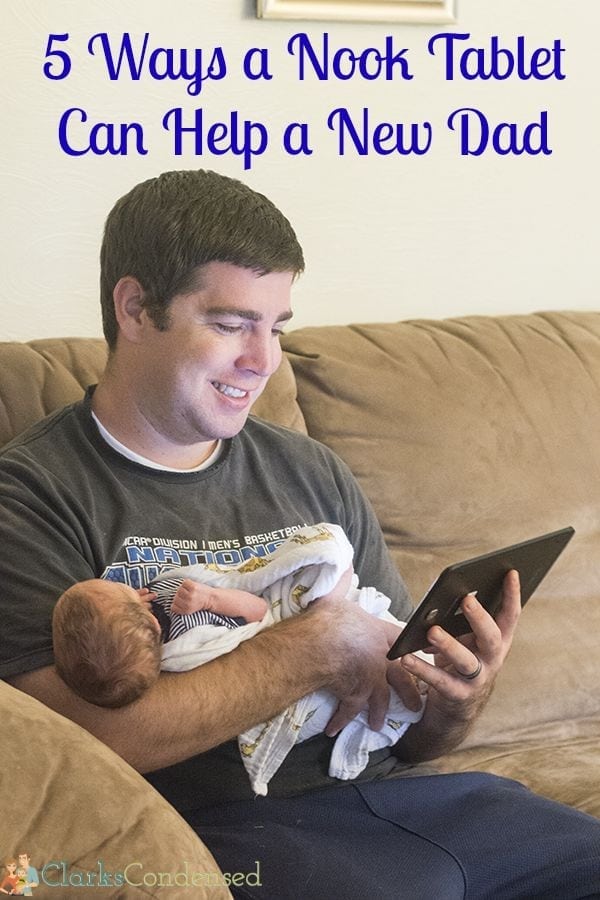 Be sure to scroll to the bottom for a chance to win a $20 NOOK giftcard!
Katie and I just had another baby boy, Oliver. Just about a day before she went into labor, we were sent a Galaxy S2 NOOK tablet to try. It is clearly the best NOOK yet, and I have really enjoyed using it. I was able to use it at the hospital for a lot of things, and it got me thinking about how useful tablets can be for new dads. One thing about new dads is that they often need to step up and do more around the house. Mom has to recuperate and focus on the new little baby, and that often means leaving the house less often to rest and not get the baby sick.
Jack was hospitalized with an illness when he was eight days old, so we are firm believers that babies should be sheltered for a little while. That means new dads often spend a lot more time at home, and they have to be a little more quiet to not wake the sleeping baby. I have found the Samsung Galaxy S2 NOOK, or just the NOOK, to be very versatile and useful during this newborn stage. Here are five specific ways in which I think a NOOK can be useful for a new dad.
1. Entertainment
One important thing to do with a newborn is to stay relaxed and to not get cabin fever. If you're not used to spending a lot of time at home, then helping to take care of newborn might be a huge lifestyle change. I like to escape a little bit with books, movies, TV shows, and music. The NOOK makes accessing all of those different types of media very easy. You can shop for all different types of media in their store, and your library will have it all in one place. The NOOK is basically a quality Samsung tablet fine-tuned for reading and entertainment. It has a great processor, screen resolution, and useful reading mode. I was very impressed with its battery life, which is saying a lot because I rarely find electronics to have good battery life. Plus, since it is an Android device you can download your favorite apps from the Google Play Store. It is a mobile, crumb and water drop resistant entertainment center that you can hold in one hand with some headphones while you silently hold your baby with your other arm. I have already really enjoyed watching Fast & Furious 7 and reading The Scorch Trials. I read The Scorch Trials while I was at the hospital when Oliver was born. The NOOK was very good at keeping me entertained during the hours of waiting around at the hospital. I liked the 8″ screen. Plus, it has 32 GB of built-in storage which is expandable with a microSD card up to 128 GB. I had a phone recently that I would have loved to have had an expandable storage option, so I now always look for this feature when purchasing a new electronic.
One cool media option for kids are the read-a-long books. The two that I read with my son, Jack, used voice actors to read the children's book to you. You could also record yourself reading the book. So you could pick between reading it by yourself, using their stock audio, or reading it to a recording. Jack really enjoyed these books. It was kind of like an audio book and traditional book combined. I'm not sure how good this is, but there are times when we just want our kids to sit still and be quiet for a second while we take care of something. A tablet like the NOOK always seems perfect for such moments, especially with a new baby around.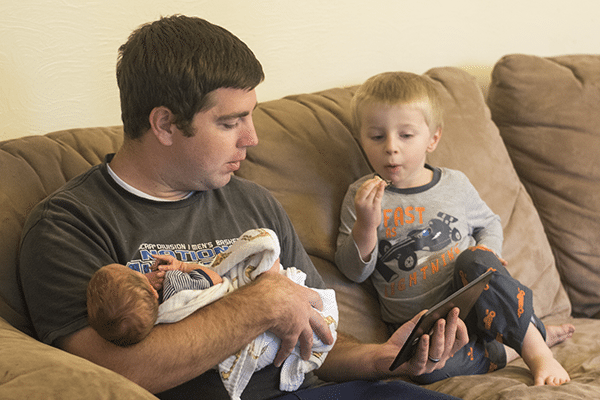 2. Workstation
For the work that you can't get away from while you are enjoying your newborn, the NOOK comes preloaded with very useful Microsoft and Google office apps. You can use Word, Excel, or Google Docs. I really like these types of synced documents and files that you can work on across devices and locations. Plus, using a tablet in some places allows me to do more than I would with a smartphone, without carrying around my laptop, which can be cumbersome.
3. Home Automation
It is amazing what can be automated in our homes today. The simplest things are plugs and light bulbs. I'm the one tasked at our house with turning all the lights off in our house at night and making sure all of the doors are locked. However, sometimes things happen where a baby might have a hard time sleeping, and you're stuck late at night wanting to turn a light on or off without actually moving too much. Jack had a hard time sleeping most of his life, but so far Oliver has slept a lot better. However, it would be nice just to use my tablet to turn off all of the lights in my house before I go to sleep.
Tablets, such as the NOOK, have the ability to download apps that work with light bulbs and plugs to make this possible. You may have to install a special kind of light, but it definitely might be worth it.
4. Universal Remote
Katie and I have a product that we can control with a tablet that works as a universal remote. Now, with my NOOK I can turn on my television, DVD player, or my PS3 by using a Universal Remote app. I can control them with it as well, which makes typing things a lot better on a tablet than with traditional remote. Once again, the idea is versatility when you need it. Instead of taking precious time and energy digging around for a couple of different remotes I can just use my NOOK for a variety of devices. During late nights of taking care of your new baby, it can be nice not to have to find the exact remote you are looking for!
5. Remote Computer Access
I have a desktop that I have more powerful programs and large media files on that I occasionally need to access from somewhere else. One program that I like to use is TeamViewer. It is free for personal use. We set up the program and Katie's grandpa's computer so we could help him with problems from two states away. Plus, you can download an app on your smartphone or tablet. My smartphone wouldn't work, because everything would be sized down to unusable sizes. However, with the NOOK I can still manage to do a little work and email a few files from that computer that someone might need.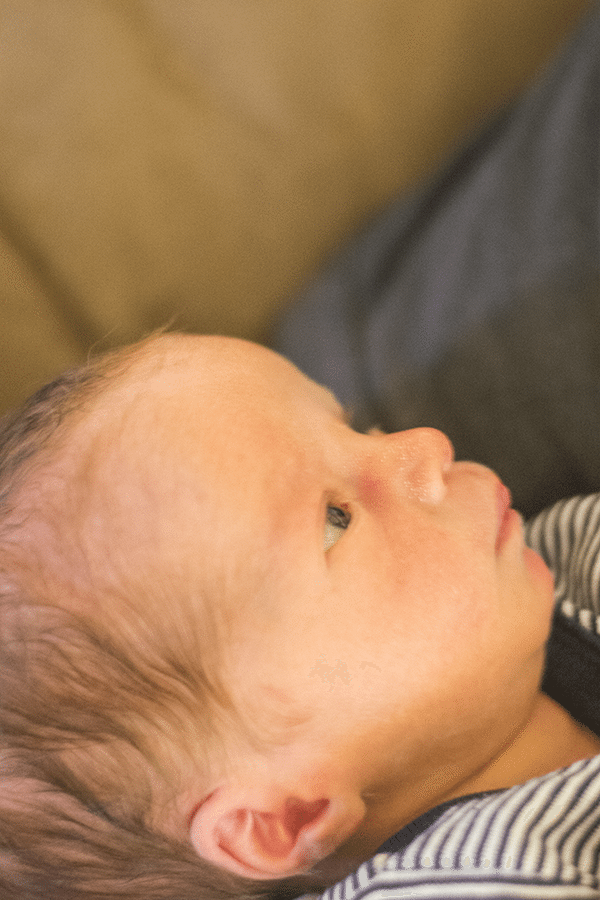 Having a newborn is a big adjustment, even if it isn't your first one. I think it is helpful to have a mobile, versatile, and entertainment tool like the Samsung Galaxy S2 NOOK that can help you to seeming be in more than one place while you are exactly where you need to be.