This definitely isn't your cafeteria school tator tot casserole! This 20 minute, one dish tator tot casserole has tator tots (of course!), turkey sausage, veggies,and spaghetti sauce, and is topped off with mozzarella cheese. It's sure to be a hit for the whole family!
This post brought to you by American Frozen Foods Institute and the Frozen Food Roundtable. All opinions are 100% mine.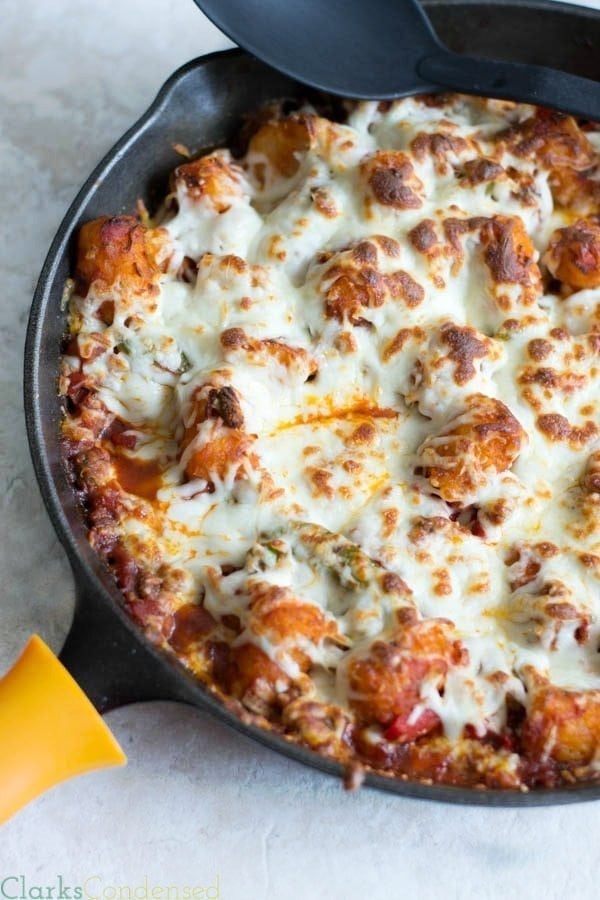 Sometimes I think people give frozen food a bad wrap. Sure, there's some that you could do without but for the most part, having frozen food can be really helpful — especially when you are as busy as we are. Freezing simply helps keep foods fresh, at their just picked, just baked, and just crafted peak of freshness.
Jack always wakes up from his nap around 3:30, and because I can't stand being in the house all day, we usually go somewhere — sometimes just the store, other times the splash park, etc. While I always intend for us only to be gone for an hour or so, it often ends up being more, and we come home tired and hungry (and if you know me, that is not a good combination!) Because of this, we often turn to pre-prepared foods to help create a delicious meal. While I love meals that are all made from scratch, that just isn't always a possibility at this point in our life. This is where one of the benefits of frozen foods comes in.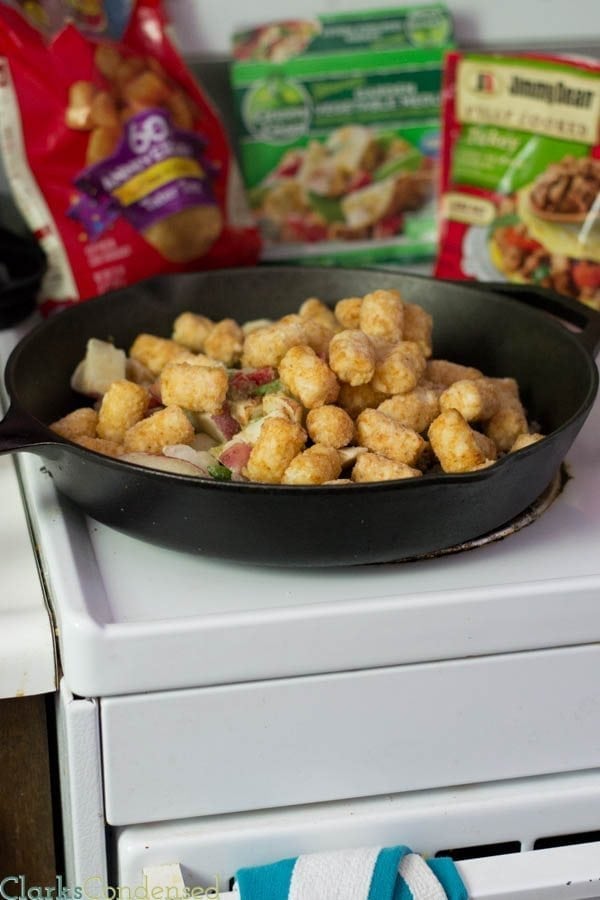 Using frozen food in some of our meals makes it easy to know how many calories will be and what the nutritional content is. I've become an avid label reader (both for my sake and to help prevent Jack from eating something that will make him sick), and it's nice to be able to just glance at the ingredients and know whether or not it's something we can eat.
Sometimes it's kind of fun just to take food from the freezer and make a fun little feast out of it. Just the other night, we made a yummy, one skillet tator tot casserole and served a frozen TGIFriday Spinach Artichoke Dip as a side dish, and then had some pie for dessert. We love getting the Edward individual pies, because there is enough for Forrest and I each to have a slice, but then there's not a whole pie leftover tempting us!
Let me talk a little more about this tator tot casserole. It's definitely not the tator tot casserole you had in your elementary school cafeteria! It can be made in 20 minutes and tastes pretty gourmet if you ask me. Because I used a package of frozen steamable veggies from Green Giant, some Ore-Ida tator tots, Jimmy Dean pre-cooked turkey sausage crumbles, as well as some spaghetti sauce and mozzarella cheese, all I had to do was mix and throw it in the oven!
The spaghetti sauce I used was a bit spicy, so I don't think I'd use the same kind next time, but beyond that, I love this dish! It was full of flavor, had lots of vegetables in it, and was one of the easiest meals I've ever made. And even though spinach artichoke dip with chips seemed like an unlikely pairing, it actually served to be quite complimentary. There is only 30 calories in two tablespoons, which I think is pretty awesome for such a tasty treat!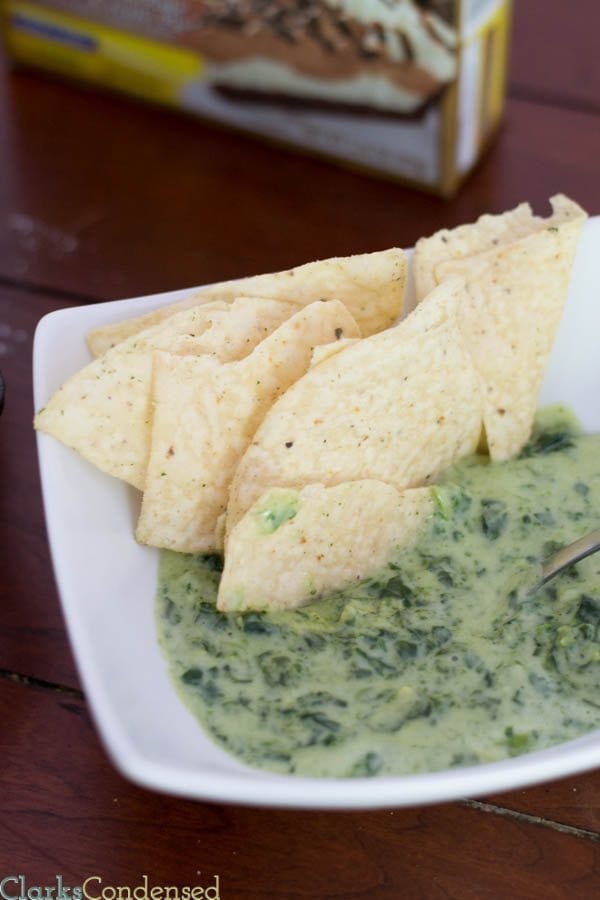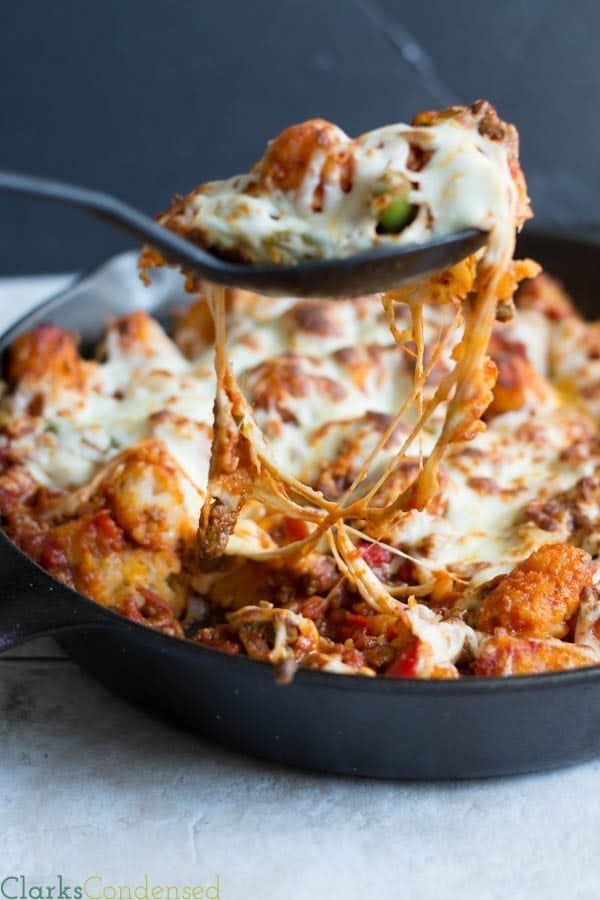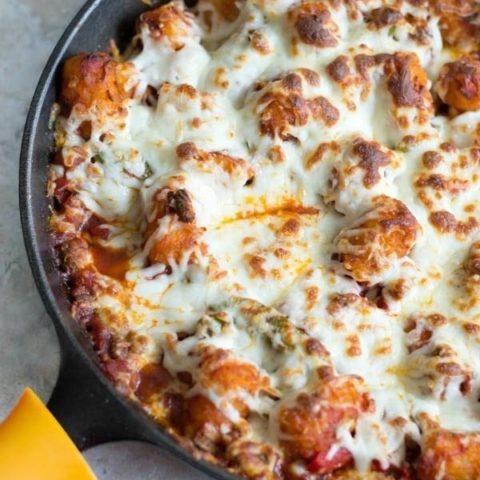 Revamped Tator Tot Casserole
Ingredients
1 package Jimmy Dean precooked turkey sausage crumbles
1 package of Green Giant Roasted Veggie Medley Steamables
1/2 package, 16 ounces of Ore-Ida Tator Tots
1-2 cups mozzarella cheese
1 jar of spaghetti sauce
Instructions
Preheat oven to 400 degrees.
Combine all ingredients,except cheese, into a cast iron skillet or an oven safe baking dish. Place in oven and cook for 15 minutes.
Place on broil for three minutes to melt cheese.
So next time you are in a rush but still want to make a tasty, nutritious meal, remember that fresh vs frozen doesn't have to be a bad thing. Be sure to check out Frozen. How Fresh Stays Fresh to learn more.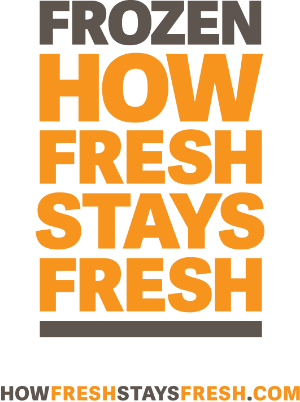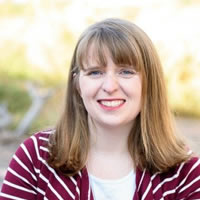 Katie is a Colorado-native, BYU graduated, and most importantly, wife to one and mother to three beautiful boys. She is passionate about sharing her experiences with others – especially about pregnancy, breastfeeding, cooking, and crafts. She is an International Board Certified Lactation Consultant. She loves spending time with her family and helping others find joy in family life.