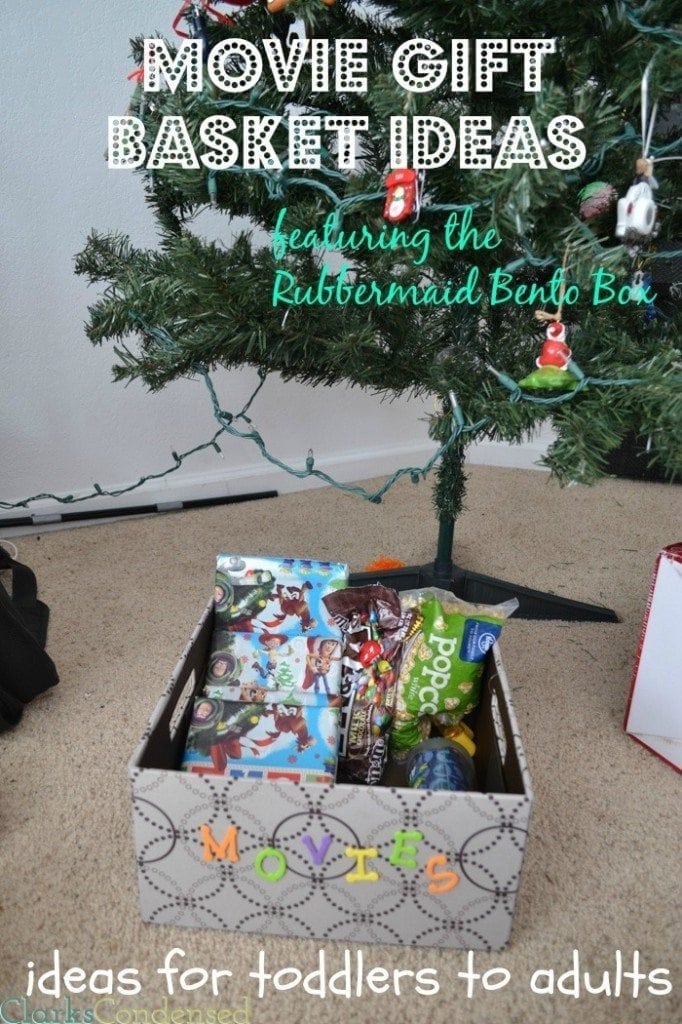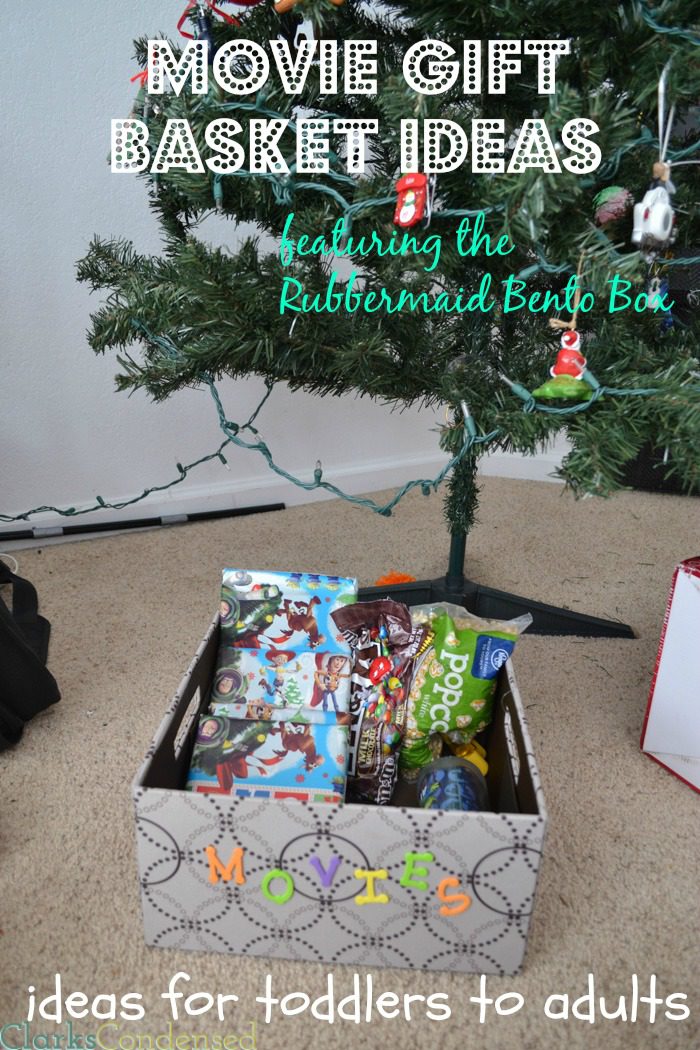 Do you have a movie lover in your house?
We sure do.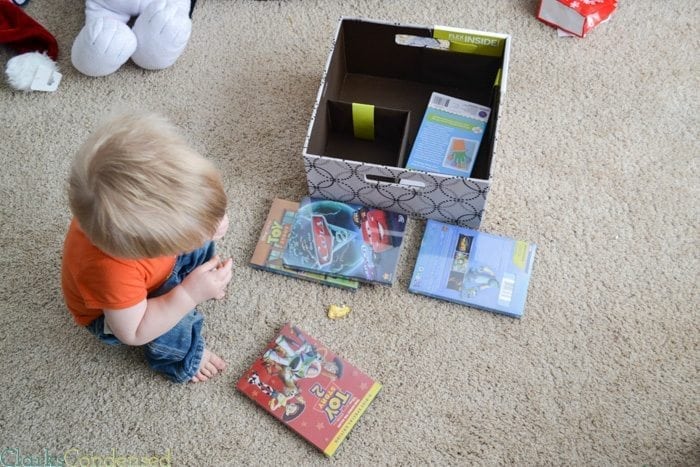 Despite his love for movies, we sure do have a hard time keeping track of them. We don't currently have a shelf that we can put them on, or an entertainment center. So, many times we find our movies scattered around the room. Like this: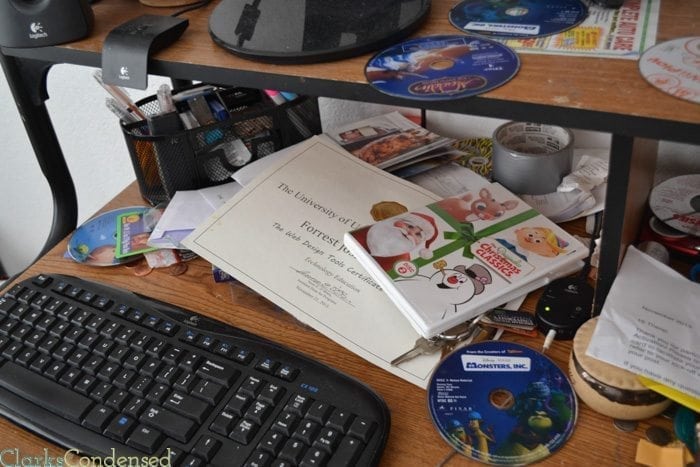 or this: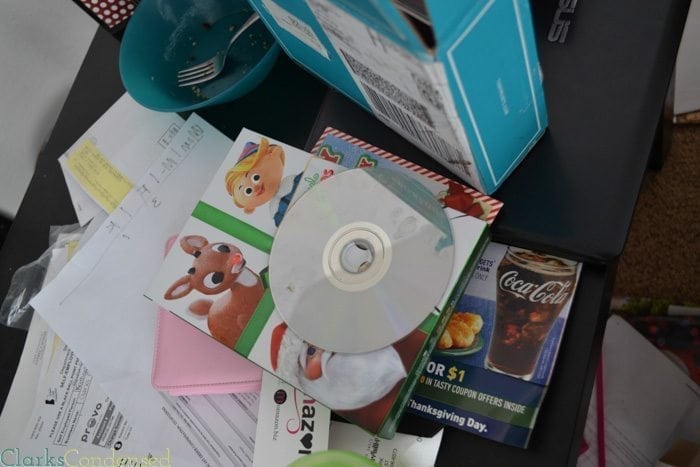 Not exactly ideal, right? I feel like I'm always finding them underneath the couch, on top of tables, etc. Simply because we haven't found a better way to store them. This leads to them getting lost, and believe me, when Jack wants to watch "Ba" (short for, Simba) or Mu (Monster's Inc) me trying to explain to him that I can't find it doesn't go over as well as I would like.
So, when I scored a deal on some new Disney movies for Jack's Christmas presents, I knew I had to come up with a better way of storing them. Enter, the Bento Box.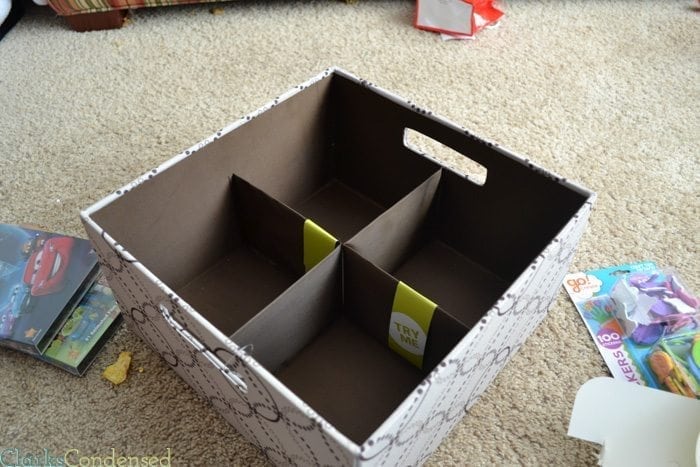 The Bento Box is a storage system sold at Target. The boxes come in a variety of sizes and shapes, and are extremely sturdy. We picked one up at Target recently, and I absolutely love it. As soon as I found out about this box, I thought it would be the perfect way to store our movies. And not just store them, but present Jack his new movies in! Because really — how many of us wrap presents in flimsy boxes that just get thrown away? By wrapping his movies up, and putting them in this box to present to him, he'll have a place to put them right back, rather than us just throwing them into a big pile.
Anyways,  since I didn't just want to give Jack a boring box (though, to be perfectly honest, he'd probably be thrilled with that,) I thought I'd dress it up a little bit, and make it into a movie gift basket. Movie gift baskets are perfect for people of all ages — from toddlers to adults — and it makes this gift a little more exciting than just a box with some movies wrapped up in it.
We found this foam letter stickers at Target for under $2.00, so we thought it would be fun to put "movies" on the front of the box. No mistaking where the movies will be stored from now on!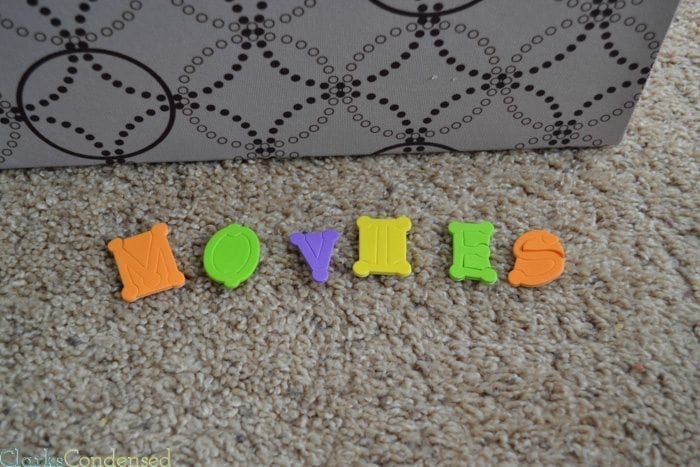 Jack had fun watching me put together this box. That's the great thing about only having one child, who still doesn't have the greatest long-term memory. We can shop for his Christmas presents, and wrap them, in front of him…and he won't know the difference!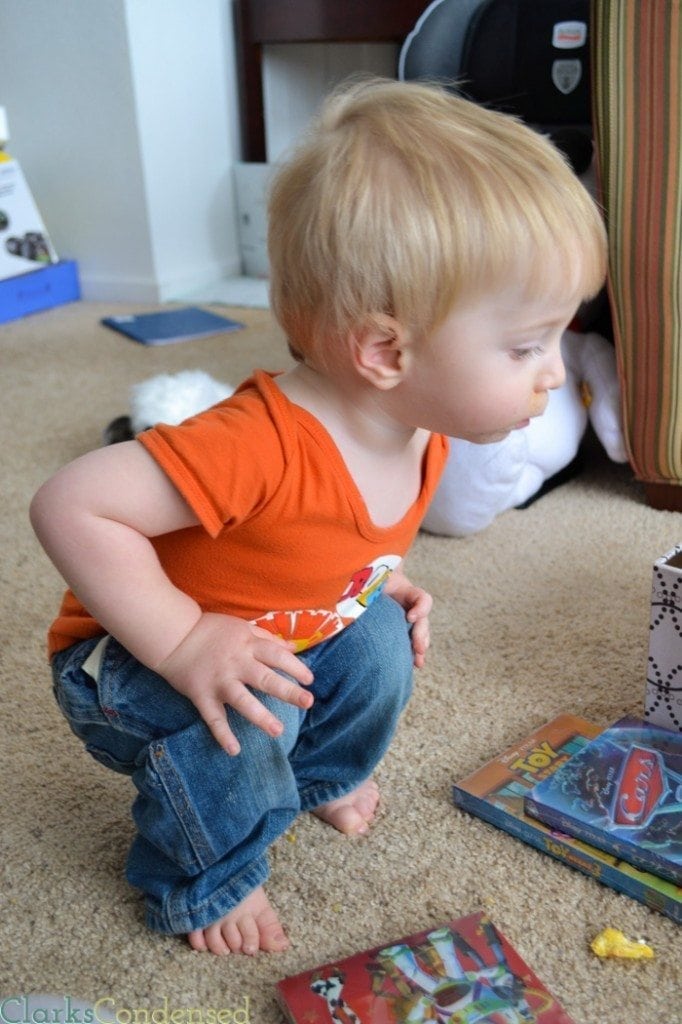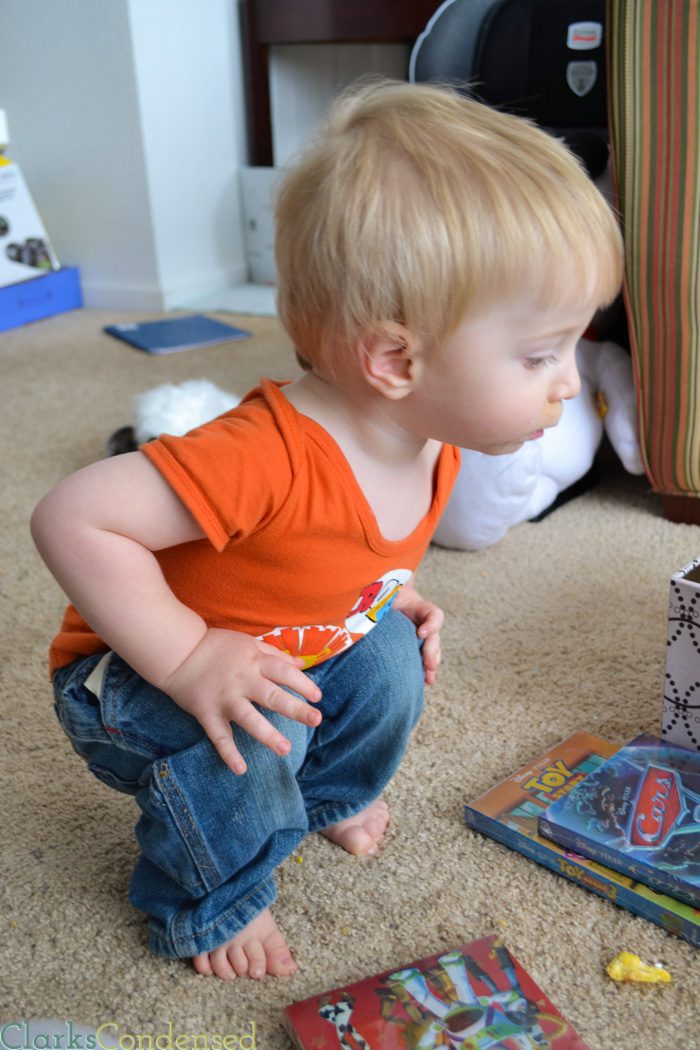 In the box, I put four Disney movies — Toy Story 2 and 3, Cars 2, and Monster's University. Then, I put a brand new sippy cup (featuring Buzz Lightyear — Jack's favorite), some popcorn kernels, and some M&Ms. To be perfectly honest, I will probably replace the M&Ms with a treat Jack can actually eat (like puffs), since he can't really have M&Ms. But you get the idea, right?! I also wrapped his movies in Toy Story wrapping paper that we found at the dollar store.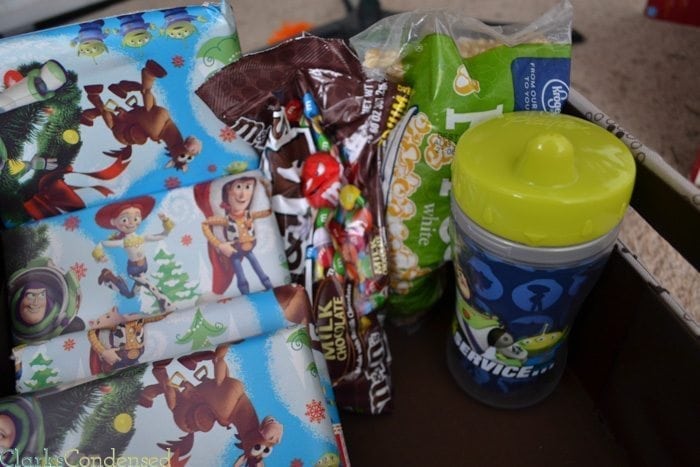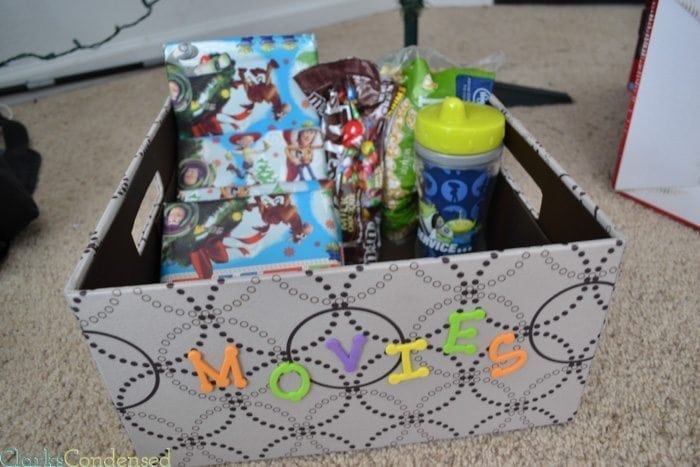 Here are a few more ideas for a movie basket:
Gourmet Popcorn
Big Boxes of Candy
Popcorn Bowl
Soundtrack from the movies in the box
Fuzzy Socks
Soda (in glass bottles, if you can find them)
Mixings for a dirty coke (Coke, lime, and coconut syrup)
Toy from the movie (for kids)
Gift Certificate for Netflix or Redbox
Cookies
New pajamas
Popcorn seasoning
Throw blanket
Chips
Salsa and Bean Dip
Stuffed animal
A snuggie
Hot cocoa and new mugs
I really am so excited to give this gift to Jack, and to actually have a place to store our movies! Our movie collection will likely outgrow this Bento Box eventually, but for now, it's the perfect size for our little apartment and little family. I'm not worried about Jack accidentally demolishing it, and it's stylish so it won't stand out against the rest of our decor.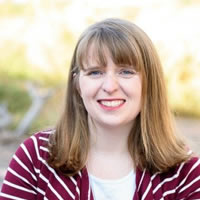 Katie is a Colorado-native, BYU graduated, and most importantly, wife to one and mother to three beautiful boys. She is passionate about sharing her experiences with others – especially about pregnancy, breastfeeding, cooking, and crafts. She is an International Board Certified Lactation Consultant. She loves spending time with her family and helping others find joy in family life.