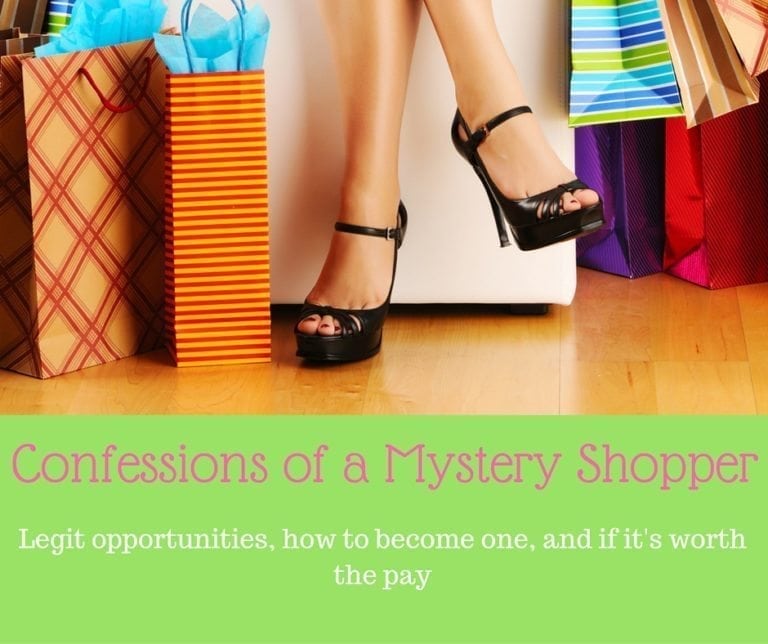 Ever since I was in high school, I've always looked for extra ways to make money – from taking surveys to make some extra cash, to being a ChaCha Guide, to using my smartphone to make money, I've always enjoyed making a little extra cash.
Something that I've dabbled in over the past several years has been Mystery Shopping. When I first looked into this years ago, it seemed like all I could find were non-legit companies (or one that made you pay a hefty fee to get started.) However, a few years back I started finding companies that were legit, and it's something I've enjoyed doing.
I know people that make a decent amount of money from Mystery Shopping. I am not one of those people. It's more something I do just for fun, because it is enjoyable.
I have people that ask me about mystery shopping quite often, so I thought I'd share a few thoughts about my experience. Hopefully it will help you decide if it's right for you!
What is Mystery Shopping?
Companies pay for a mystery shopping company to provide them with insights to how their company is doing. The mystery shopping company is tasked with finding individuals to go into these companies and act like they are a consumer.
Before a mystery shop, you are typically given a set of requirements – what to buy/ask, specific parts of the store to look at, etc. You are not supposed to go in with a pad of paper, a camera (unless specifically asked to), etc. The point of mystery shopping is to see what a normal shopping experience is like for a regular consumer.
There are tons of different mystery shopping opportunities – I've participated in ones for restaurants, a massage place, and store. I've seen them for car dealerships, car repairs, hotels, airports…everything! If it's a business that has customers, they may just have mystery shoppers coming in. I've included a list toward the end of a bunch of different mystery shopping opportunities.
Hopefully this will give you some good information on whether or not mystery shopping is right for you! I have heard great things about this book on Mystery shopping in case you want to learn more!
Who Should be a Mystery Shopper?
I think a lot of people hear the term mystery shoppers and immediately think it's something they could do. I mean, most of us like to go out to eat or shop, right?
Well, mystery shopping is a lot more than that. It's definitely not something everyone can do or will even enjoy doing. Here are a few things to ask yourself if you are considering mystery shopping:
Do you have a good memory?
Are you good at paying attention to details (such as remembering names, describing how people look, etc.)
Can you follow exact instructions?
Do you enjoy writing?
Do you like to eat out?
Do you like expressing your opinion as a consumer?
Are you passionate about customer service?
You shouldn't sign up for mystery shopping if you are looking for something to get rich with quick. There are people who make a lot of money with mystery shopping, but the majority do not. I wouldn't plan on quitting your full-time job to become a mystery shopper. It does require time and often gas (though there are some things you can do at home!) and you need to factor that in. It usually takes me about an hour to finish up a report after doing a mystery shop.
What is required of Mystery Shoppers?
This will vary widely depending on the company you are working with. Most of them have very specific instructions for what you need to do.
For instance, one time I did a mystery shop for a local pizza chain. Before I went in, I downloaded the instructions and what I would have to fill out afterward. I was supposed to look at the cleanliness of the premises (outside and inside), comment on person who took my order (there were specific things they were supposed to go), describe the food when it came out, describe the food when we got home, etc. The shop also began with me calling to place an order. I had to write down how many times it rang, exactly what they said when they answered, note any specials they mentioned or if they tried to upsell me, etc.
It can take a lot of work. As I said earlier, you really need to be good at paying attention to details. You should not take your instructions with you or a pen and pad of paper. You don't want to draw any attention to you or sound like you are reading a script. Glance at a person's name tag, but don't make it super obvious that you are trying to remember details about them.
The follow-up reports can be a bit time-consuming, and I've found the companies are very particular. I feel like you can never be too detailed in them. Don't be offended if you get yours sent back asking for more details – this feedback is very important to companies!
What is the compensation for Mystery Shoppers?
This varies widely among different companies. Some of the companies I've worked for mainly just pay for the cost of the product or service, though occasionally they pay above that. With these companies, they are mainly just helpful for if you are wanting to be able to go out to eat or get luxury services for free. I often find that they are willing to pay above and beyond if you are willing to take a last minute shop.
Personally, we love going out to eat, so I don't mind doing shops that only pay for the cost of product…I mean, if we are going out to eat anyways, I might as well have someone else paying for it. However, it can make your dining experience a little less enjoyable if you are having to pay attention to everything going on around you. I don't mind, though!
Many companies will pay for the cost of a product plus payment. It really just depends on the company. You have to sign up and see what opportunities are available to gauge whether it is worth it to you or not.
Really, I think Mystery Shopping is great if you want to make some extra cash and do some fun things with it along the way!
Beware of Scams
There are a lot of mystery shopping scams out there. I remember when I first got into mystery shopping, I got frustrated because all these companies were trying to get me to pay money to become a mystery shopper. It just didn't seem right!
And it's not. If a company is requiring that you give them your credit card number to sign up, or to pay to be put in their directory, don't do it. No legitimate mystery shopping company will require you to pay money to see a list of jobs. It's important to make sure that the company you are working with is a member of MSPA.
Most mystery shopping companies aren't going to send out emails trying to recruit people to join. I mean, after you join with a company you'll get offers. But I've never seen a legit mystery shopping recruiting new people through email. My mom sent me one a few weeks ago that was offering her lots of money. It was sent from a really spammy email address, so I told her to proceed with caution. If you do get an email, make sure that the email is sent from an actual email address and thoroughly check out the company before you agree to anything!
As with most things, if it seems to good to be true, it probably is.
Applying
With most of the companies, I will mention below (besides the smartphone one) you will have to fill out an application. Some of them can pretty lengthy. My best advice? Be detailed. Most of them require you to describe a customer service experience or to read a description of something and answer questions. You need to show them that you know how to pay attention to details and describe them well. Be honest with your answers!
I recommend setting up a separate email for mystery shopping. That way, you can make sure you don't miss an email for a shop, and your personal email doesn't get filled up with all the shop offers!
Mystery Shopping Companies
Now, this is probably what you were waiting for – what are the best mystery shopping companies. These are companies that I've either personally used or I have vetted out for their legitimacy.
There are a few different types of mystery shopping opportunities I have found – ones where you have to go into the store or business, phone call only, or ones that you can complete from your smartphone. There's really something for everyone.
In person Mystery Shopping
BestMark – BestMark is a great company. I feel they pay decently. They have a lot of automotive related shops, though I've seen several restaurants and concerts popup.
iSecretShop.com -This is the company I use the most. They have TONS of restaurants. I've found that once you do one shop successfully, they really like to have you on board in the future. They have a mobile app which makes Mystery Shopping easier.
Market Force
Coyle Hospitality – This one is pretty cool. It mainly has to do with travel and hospitality. I think a lot of them are spa related, but I've heard that you can get hotel stays and fun vacations!
Intelli-shop
Consumer Impressions
Amusement Advantage – This is for amusement parks!
Experience Exchange
Certified Associates – This one is great for movie lovers!
Baird Group – Okay, this one is a little weird to me, but it's medical mystery shopping. They have a variety of different opportunities – from making appointments, to acting like you are looking for options for a friend or family, to acting like you have an illness (non-threatening). I personally wouldn't do this…because it seems weird. But some people might enjoy it!
Restaurant Cops – this one is obviously for food lovers!
Advanced Feedback – if you like looking at homes or apartments, this real estate mystery shopping opportunity might be right for you!
Confero
Phone Opportunities:
Call Center QA
Perception Strategies
InteliChek
Smart Phone:
These ones are nice because you can just do them when you are out and about. I've seen opportunities pop up at different restaurants, local grocery stores, etc. The thing I like about these ones are that you can just sign up for them while you are on the go. Most of them don't require a ton of work, and they are kind of fun!
I just discovered this one recently, and I think it works pretty well. It tells you about shops near you, what's required, and it gives you a certain amount of points for it, as well as tells you how long it will take. Most of the ones I've seen require one photo. You can redeem your points for gift cards to tons of different place (Target, Starbucks, Whole Foods, Old Navy, etc.) It's pretty cool! If you sign up, be sure to put in my referral code – QC7P. It's pretty cool!
Field Agent has a bunch of different opportunities – some of them just have you scan the UPC codes of products, some require auditing a product display, and others are more involved. They all pay cash, and I feel like it pays pretty well. For instance, for the "scavenger hunt" ones, you just have to take a picture of the product and the UPC code (you can even just take a picture of the product if you have it at home – no travel necessary) and you get around $6.50 for it! I love how easy all the tasks are.
This is similar to Field Agent, because you fill out a profile and find "gigs" that fit your talents — such as taking pictures of photo displays, taking surveys, mystery shopping, and more. The jobs do pay quite well (between $6 and $220) and you can get notifications whenever a new job appears in your area.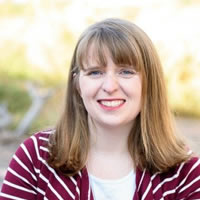 Katie is a Colorado-native, BYU graduated, and most importantly, wife to one and mother to three beautiful boys. She is passionate about sharing her experiences with others – especially about pregnancy, breastfeeding, cooking, and crafts. She is an International Board Certified Lactation Consultant. She loves spending time with her family and helping others find joy in family life.