A delicious combination of brown sugar crumble with raspberry pie filling, used in alternating layers, makes this berry crumble simply irresistible! Dairy free and individual portion options provided.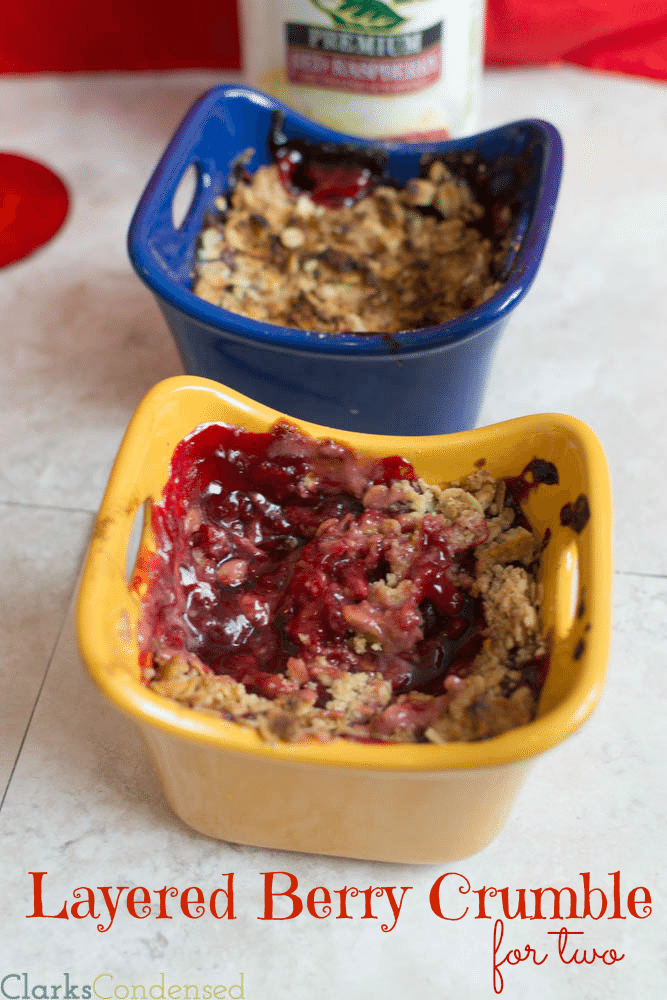 I was sent samples of Lucky Leaf pie filling and the Rachel Ray Stoneware to facilitate this post. 
If you are looking for a delicious dessert for an at-home Valentine's Day date, no need to look any further! This layered berry crumble is definitely what you should make — it's super easy, and absolutely delicious.
Forrest likes to talk about how much he loved when his mom would make a cobbler or crumble after dinner when he was growing up. I don't really ever remember having either of those foods growing up, but since we've gotten married, I've come to really love it, too. There's just something so yummy about a good, berry crumble, especially because it's such a simple dish.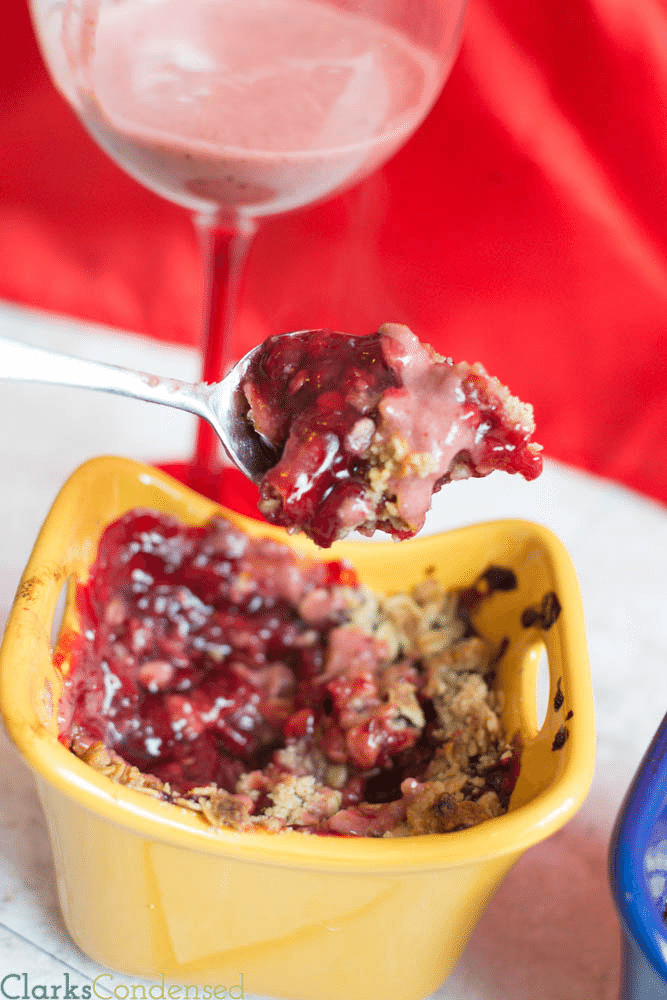 Just to make it even easier, we decided to forego buying fresh berries, and used Lucky Leaf's Raspberry pie filling. Their pie fillings have no high fructose corn syrup, and tastes just like raspberries. While I love fresh berries as much as the next person (maybe even a little more) using the pie filling makes this dish come together in a snap.  You can use pretty much any pie filling in this dish, and I'm pretty positive it will turn out great.
We used Rachel Ray Stoneware Ramekins, and it turned out absolutely perfect! I highly recommend buying those, because not only are the super cute, but they are perfect for making smaller versions of your favorite dishes. However, if you don't have anything similar like this, just double the recipe and put it in a 8×8 dish and you'll be good to go! I made it dairy free by using vegan buttery sticks, but using regular butter will work just fine as well.
Forrest and I thought that layering the crumble was a good idea — it helped even out the flavors a little bit, and you got a bite of the crumble topping and the fruit in each bite. Our favorite part is the topping. This would be delicious with a scoop of ice cream (or if you are looking for a lighter option, this skinny chocolate mousse from Chelsea's Messy Apron looks delicious!)
Layered Berry Crumble for Two
Ingredients
1/2 cup flour
1/2 cup oats
1/4 cup brown sugar
1/4 teaspoon cinnamon
1/4 teaspoon nutmeg
1/4 cup butter, or Earth Balance Butter Vegan Baking Sticks, for dairy free
1/2 can Lucky Leaf Pie Filling, we used Raspberry
2 ramekin baking dishes, or if you want to use an 8x8 dish, just double the ingredients above
Instructions
Preheat oven to 350 degrees.
In a bowl, mix together flour, oats, brown sugar,cinnamon, and nutmeg.
Cut the butter into the flour mixture with a knife or pastry cutter.
Press a layer of mixture into the bottom of the ramekin (or 8x8 dish), then a layer of pie filling, then another layer of mixture, then pie filling, and one final layer of the flour mixture.
Bake for about 40 minutes, or until the crumble starts to brown.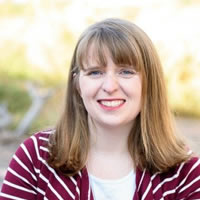 Katie is a Colorado-native, BYU graduated, and most importantly, wife to one and mother to three beautiful boys. She is passionate about sharing her experiences with others – especially about pregnancy, breastfeeding, cooking, and crafts. She is an International Board Certified Lactation Consultant. She loves spending time with her family and helping others find joy in family life.